The Cross Canada Cycle Tour Society       July 2023,  Volume 40, Issue #7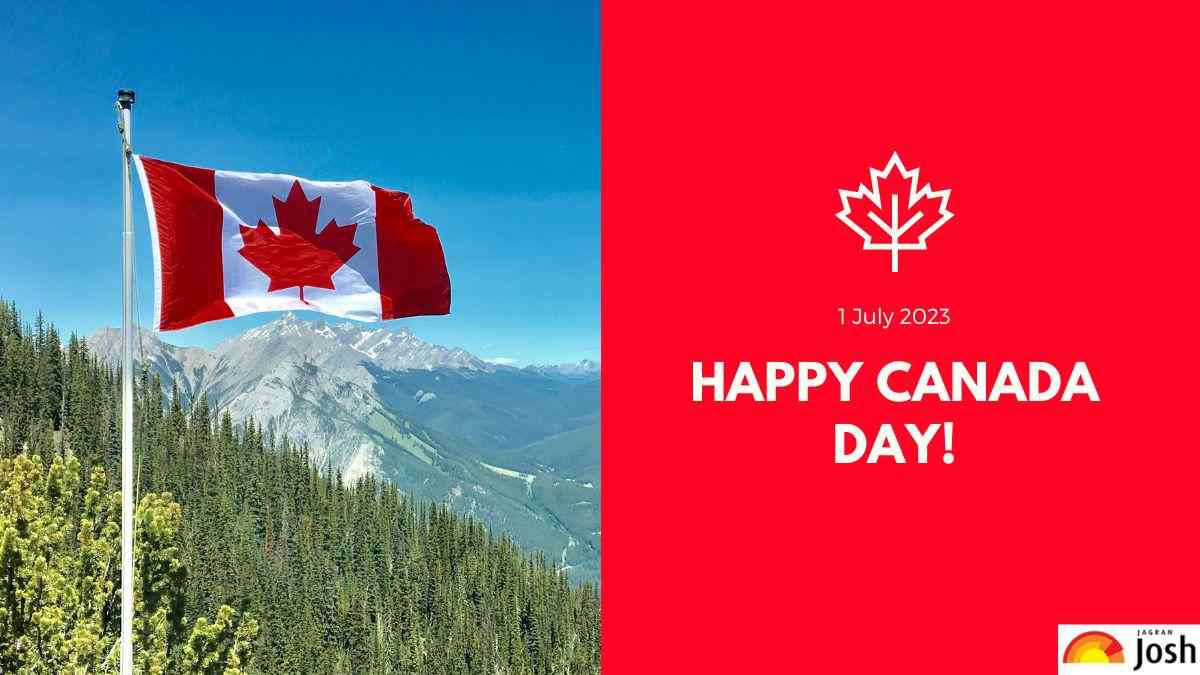 Kudos to Bruce McLean.  Thanks For All the Hard Work!
From the Hub and Spoke Director's Desk – July 2023
Greetings from Ottawa to all CCCTS members! The summer cycling season is upon us and we have already completed 2 successful hub and spokes, with two more planned (Napanee in September, and Saint Augustine Florida in November). As with our tours, we are finding most of these events are popular and generally fill up during the lottery period.
So what's the big deal with a hub and spoke? Why would I do a hub and spoke when I can tour exotic destinations in Europe and Asia? Well, it turns out that many chapter members actually prefer hub and spokes because they allow us to experience a region or city in more detail…all while staying put and not packing and unpacking our bags every day. Relax, socialize, eat and ride! Hub and spokes are well suited to everyone, including those who may feel uncertain about having to ride every day. They provide a great venue for socializing and for sharing a love of cycling with CCCTS friends, often from all across Canada and the US.
So…if you're interested in leading a hub and spoke, let me know. All you need to do is pick a destination with a variety of good safe cycling roads, find a hotel that can accommodate the group, and develop a daily plan with route choices and possibly some group food experiences. My hope for the next few years is that we can offer hub and spokes in our major chapter locations, and that more members will consider attending in other parts of the country. For example, Ottawa is considering hosting a hub and spoke around the time of the tulip festival in May 2024, and we hope that many of our BC and other Canadian and US friends will plan this into their 2024 travel itineraries.
We have just completed two successful…and very different…hub and spokes.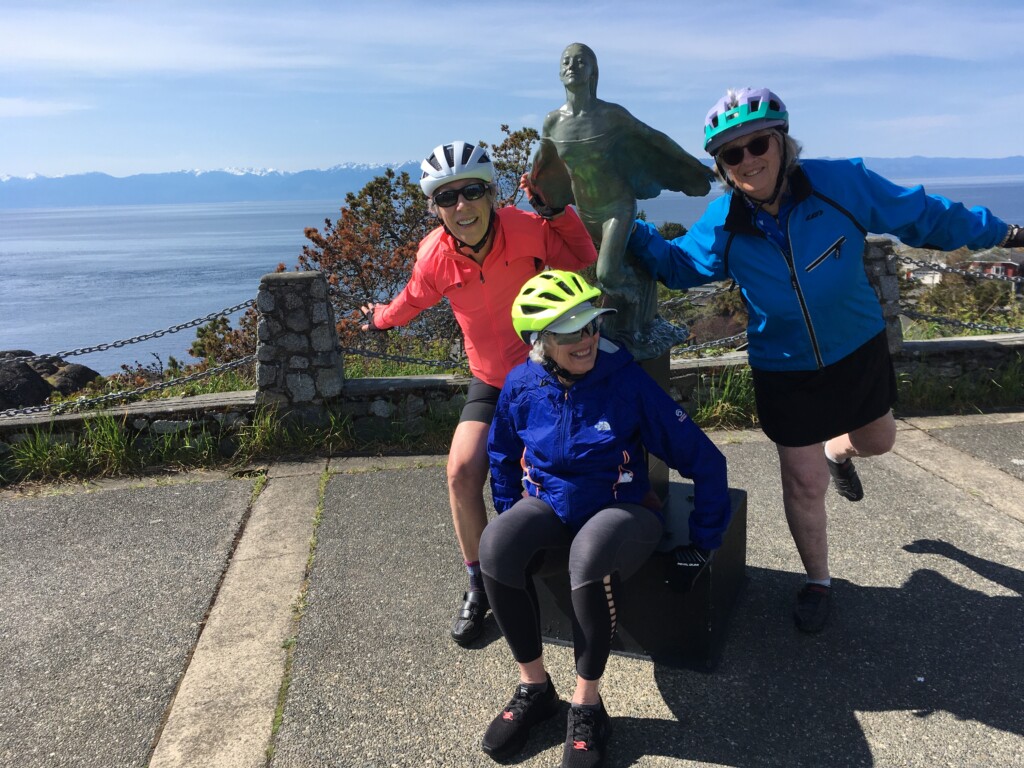 In early May 50 CCCTS members from BC, Ontario and the US gathered in Victoria for a 5-day hub and spoke. A huge thank you to Diane Swindell and Chris Hodgson for your leadership in organizing this, and to the 20 Victoria chapter volunteers who made the event a success. The tour offered six rides every day, and although some were cancelled due to ferry cancellations, there was still plenty of variety. Highlights included the Galloping Goose trail, azalea and rhododendrons in bloom, happy hours at Arbutus Park and an authentic 10-course Chinese dinner.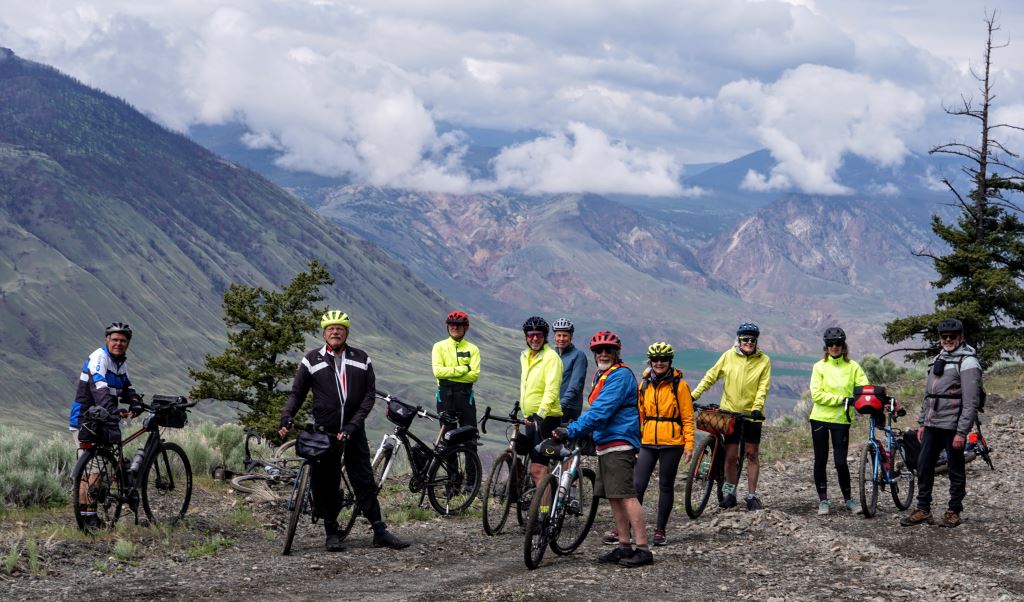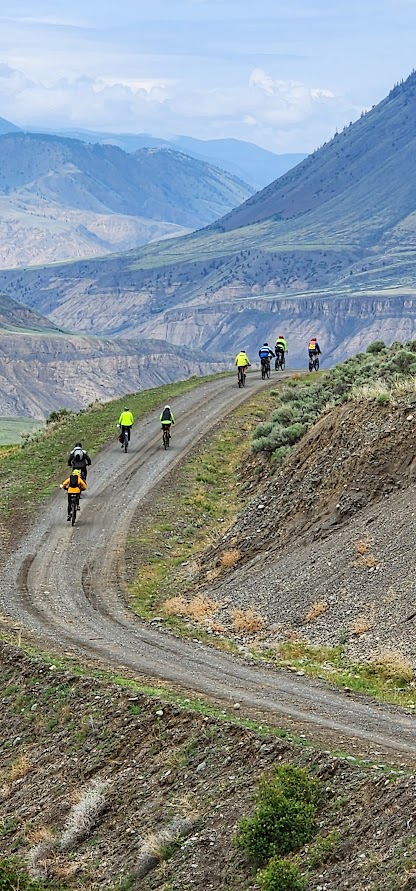 A Hub and Spoke can also include more than one "hub"…and it can also use gravel roads to access awesome scenery that the usual paved roads miss out on. In late May 15 gravel riding enthusiasts explored the beautiful Fraser River canyons and grasslands in the Clinton, Hat Creek and Lillooet region. They camped in tents or RV's in Clinton and Lillooet, proving that there is no need to sacrifice creature comforts on a Hub and Spoke. This Hub and Spoke, the second in the area, was hosted by Salmon Arm, B.C. Club members, Pat Hutchins, Craig McBride and George Zorn. Got an idea for a gravel roads Hub and Spoke in your area?" We hope more gravel roads Hub and Spoke and Tour events will be hosted by Club members in 2024!
Linda Graupner
Director, Hub and Spokes
Linda.graupner@sympatico.ca
Trip Reports
Tours
Hub and Spokes
Upcoming Tours
Napanee Hub and Spoke 2023
Status: Ride is full, wait list only.
Dates: Sun, 17 Sep 2023 ‐‐ Sat, 23 Sep 2023

Join us for a fall Hub and Spoke based out of Napanee Ontario, located midway between Toronto and Ottawa. Enjoy a variety of rides south of Napanee to Prince Edward County and Lake Ontario, as well as north of Napanee into the rolling hills of the Canadian Shield.
| | | | |
| --- | --- | --- | --- |
| First Name | Last Name | Chapter | Provence |
| Norm | Radford | Ottowa | NCR |
| Theresa | Davies | Vancouver | BC |
| Shawna | Fletcher | BC Interior | BC |
| Joan | LeDrew | Fraser Valley | BC |
Published at least ten times a year by The Cross Canada Cycle Tour Society, a non – profit organization for retired people and others who enjoy recreational cycling. 
Items for the NEWSBRIEF must be received by the 28th of the month. The Editor reserves the right to edit for clarity, brevity and suitability of publication. The views expressed in the "NEWSBRIEF" are not necessarily those of the CCCTS or the Editor.
Submissions for NEWSBRIEF should be emailed to alaird212@gmail.com