The Cross Canada Cycle Tour Society       September 2023,  Volume 40, Issue #8
Tours
From the Tour Director's Desk – August 2023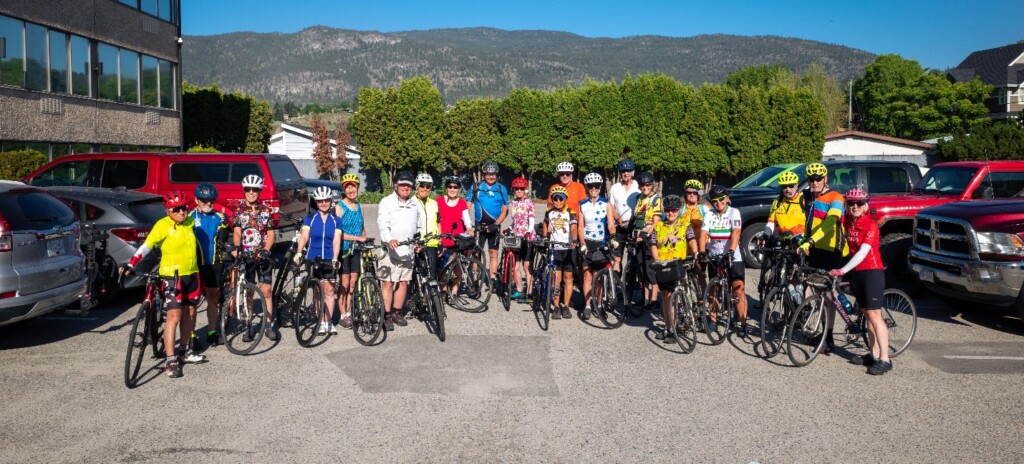 Okanagan Tour Group Starting Off in Vernon
We have had two more tours complete since I last wrote to you. The Okanagan tour, which involved cycling out of Vernon, Penticton, and Oliver was absolutely fantastic! I can personally attest to this since Dan and I were there. What spectacular scenery, cycling, and company. Dianne and Garry planned out every detail of the tour superbly and I came home thinking I will have to up my game with the tours we lead. We really enjoyed all the beautiful wineries. The Georgian Bay tour also completed in the east. We heard from tour members that it was another wonderful tour led by the east crew. Believe me, we would have been there if it were possible to be in two places at the same time. Each of our CCCTS tours and hub & spokes are so unique and excellent that I really hate to miss any of them. Check out the recently posted tour reports for both tours.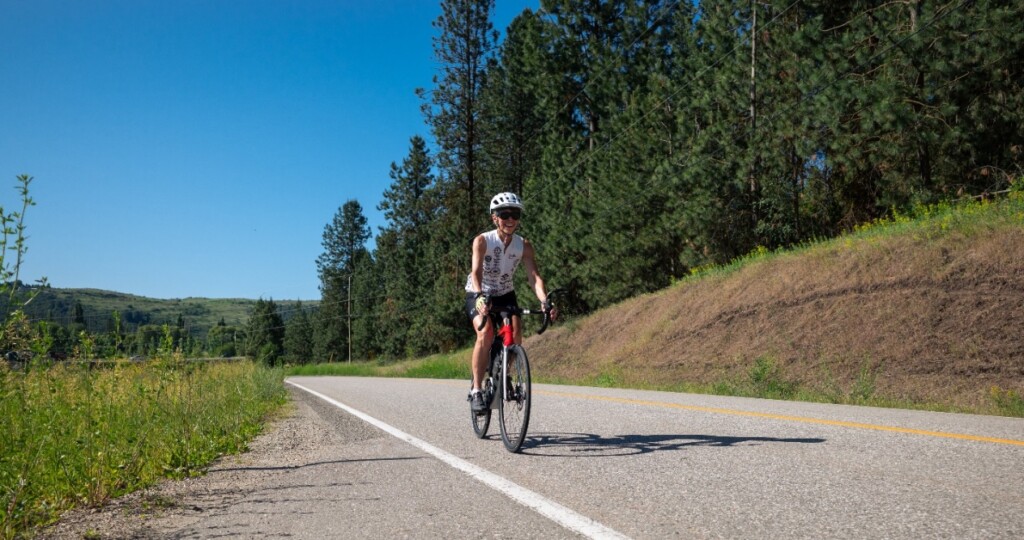 One of the Fearless Okanagan Leaders – Dianne White
The Central Europe tour is currently underway, traveling through the Czech Republic, Austria, Slovakia, and Hungary. The tour is coordinated by our own stellar Janet Whitehead and Clark Woodland and led by Sitnica (Alen Augustin). We have personally travelled through some of these areas. The culture, food, and scenery are the best. The Croatia tour takes off in a few weeks with first-time CCCTS tour coordinators Diane and Gene Schneidmiller and led by our favorite Sitnica/Alen Augustin. You cannot beat Croatia – the coastline, islands, scenery, friendly locals, beautiful hotels, and yes, the food. And you absolutely cannot beat Alen's tours. We are so lucky to have him leading tours for our little club. And, yes, the Columbia River Loop tour will be leaving in a few days too, that is led by yours truly and her husband. We will be wandering around parts of south-central eastern Washington and crossing the Columbia River into Oregon too.
We are busy planning tours for 2024 and 2025. Our calendar of planned tours is filling out. Details for each tour will be posted when tour proposals and budgets are finalized and have been approved by the Board. We would like to publish our tour details sooner, but we have to wait until our tour leaders and contractors are ready and that can take time as they work with hotels, bike rental agencies, etc., etc. This list in the Newsbrief is meant to give you a heads up for your travel planning purposes until the final tour details are ready for publication. So, please watch your CCCTS emails and the website since tours will be posted one at a time as they are ready, and all members will be notified via email when a new tour posts. Tour plans are always changing. As of today, here is the best information we have on the tours that will be offered for the remainder of 2023, 2024, and 2025:
Columbia River Loop (September 5-13)
Croatia – Adriatic As It Used To Be (September 18-October 4)
Japan – Kyoto and Noto Peninsula (October 8-23)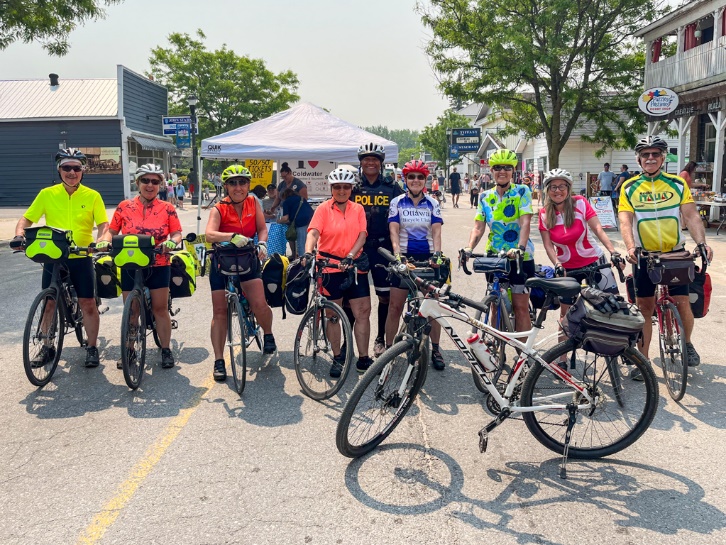 Georgian Bay crew with local police
2024
Portugal – Alentejo and Algarve – April 17-May 2
South Korea – springtime
Spokane-Coeur d'Alene via Hiawatha Trail – early to mid-June
Washington State TBD Location – summer
Going to the Sun – Glacier/Waterton Park – September
Ireland – Mizen to Malin (September 6-20)
Slovenia – September 10-24
Sri Lanka – October (leaving on or after October 10)
2025
Morocco – April or May
Cross Canada First Section – Victoria/Vancouver to Winnipeg – summer
Northern Thailand – November or December
Please give me a call or send an email if there is a tour you would like to lead. I am open to any tour idea you have as long as it is a safe place for cycling. (Robin Howe, robincooksandsews@gmail.com, 206.899.7255)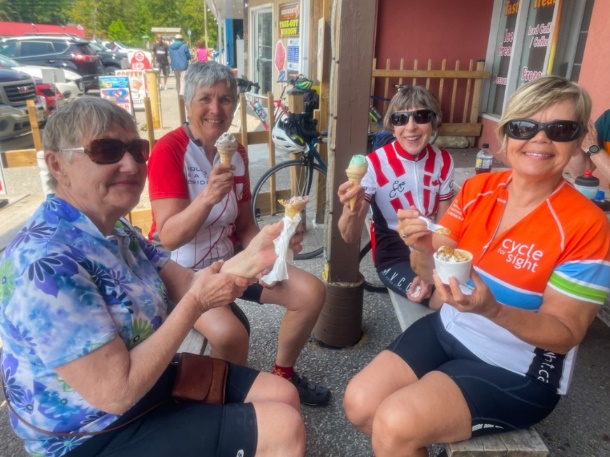 Georgian Bay Tour ladies enjoying ice cream
Cycling Across Canada – Plan B – Yes, Plan B is a "Go"
– Beginning 2025 with Victoria/Vancouver to Winnipeg
Sadly, we did not get enough club members to express an interest in cycling all the way across Canada in 2025. So, the Board pulled the plug on "Plan A". However, after discussions with my CCCTS partner, Hub & Spoke Director Linda Graupner, and CCCTS past President, Allan Buium, we decided there is more than one way to cycle across Canada. The club has changed and we're living in a new era. It is perhaps time for us to consider cycling across Canada in a new way too.
Plan B
Plan B involves three tours over three consecutive years with each tour about 6 weeks long. Club members will be able to sign up for one section of the ride, two, or all three. At this point, we think the three rides would be:
2025 – Victoria/Vancouver to Winnipeg – Leaders, Robin Howe and Beverly Wagner
2026 – Ottawa to St. Johns, Newfoundland
2027 – Winnipeg to Ottawa (through Ontario if it is deemed safe for cycling, or dipping into the northern US if it isn't)
Since we are throwing out the way the club rode the Cross Canada in the past, we decided to change up the ride format too with the objective of making it more "senior-friendly" and more fun.
Plan B is different from the club's past Cross Canada rides:
Speed – Slower Instead of the 4 weeks the club used to take to ride to Winnipeg, we will take closer to 6 weeks. Ride Canada yes, but let's take the time to really See and Experience Canada. Of course, you can pedal your bike as fast as you like and we won't try to slow you down.
Daily Distances – Shorter Instead of over 100k almost every day, we will have some shorter days where it's possible.
Lodging – More Motels/Hotels Camping nights will still be greater than 50%. We do need to put the club's camping gear to good use.
Days off – More When there are cool things to see and do other than riding, non-cycling activities will be included as part of the tour and included in the tour fee. Museums, cultural centers, local music performances, special meals, hiking, swimming, and anything fun we can think of. There is a LOT to see and do in Canada in addition to cycling. All tour members will be assigned a week to help with the planning for these extra-curricular activities.
Fun Quotient – Higher In addition to cycling Canada, the primary objective of this tour will be to have FUN. The Tour Director may bring her JBL speaker and Spotify account to help liven up our campground time.
Here are some draft preliminary details for the first leg of the journey:
Timeframe – About 6 weeks in the summer of 2025 (exact timing will be chosen with the objective of optimizing weather and conditions),
Route – Begin in Victoria/Vancouver, B.C. and end in Winnipeg, Manitoba,
 Daily Distances – Longest days up to 120k plus, but efforts will be made to include some shorter days and/or rest days after the really long days,
Cost – Cost of the tour is not yet known but a rough estimate is $5,000 CAD per person.
 Group Size – Minimum 16, maximum 24-30,
Method of Travel – Follow the "CCCTS camping system", which involves renting a truck to carry gear and for emergencies, group cooking in teams, using CCCTS camping equipment, etc.,
Camping vs. Motels – Average 4 nights of camping and 3 nights in motels/hotels per week,
 Non-Cycling or Layover Days – Average 2 days off the bike per week, when there are other fun/interesting things to do nearby,
 Food/Meals – This tour will eat well. All tour members will serve on a cook team and each team will cook approximately 1 day per week. There will be plenty of nutritious and delicious food provided as part of the tour (no scrimping on the food budget) for 3 meals per day (most days) plus snacks. We may have group cooking on some of the layover days and even some motel days when it seems like the best plan. But some layover days will present an opportunity for tour members to eat out, including tour-hosted group meals to enjoy local specialties.
Driving – We are planning to have a dedicated driver so tour members can ride the entire distance. If possible, we will find a volunteer (tour fee covered) like someone's spouse or friend.
E-Bikes – E-bikes are welcome, since we will use campgrounds set up for power plug-ins. A spare battery on the truck will be required,
Planning Committees – All participants will be required to serve on one or more planning committees (e.g., Route, Accommodations, Safety, Equipment Management, Food)
Senior Advisory Expertise – In order to try to plan a safe and successful tour, we will be consulting with Allan Buium and Faye Wilson on all important matters. Allan and Faye have led many club camping tours over the years and Faye cycled the Cross Canada with the club in 1990 and 1993.
We have been assessing interest in the Plan B Cross Canada and particularly for the first section – Victoria/Vancouver to Winnipeg. I'm pleased to report that we do indeed have enough interest for this tour to go. So far, we 26 people so far that want to go. They stretch all the way across Canada and the USA. Currently, we have 4 couples, 12 single women, and 6 single men (lucky guys).
It's not too late to express interest in this ride. If you think you want to join the Victoria/Vancouver to Winnipeg adventure in 2025, please send me an email at robincooksandsews@gmail.com.
Much help will be needed to make this tour go and especially for the second and third sections of the country. We could use leaders for those segments. Please keep it in mind and send any offers of leadership and assistance our way.
Happy late summer!
Robin Howe, CCCTS Tour Director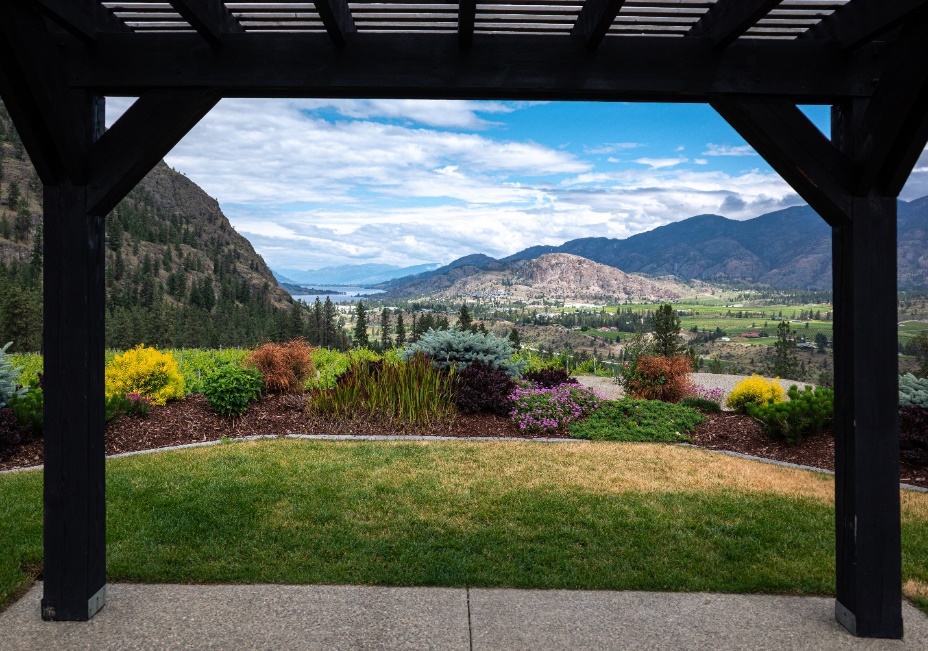 Stunning Okanagan Scenery
Upcoming Tours
Hub and Spokes
Napanee Hub and Spoke 2023
Status: Registration closed
Dates: Sun, 17 Sep 2023 ‐‐ Sat, 23 Sep 2023

Join us for a fall Hub and Spoke based out of Napanee Ontario, located midway between Toronto and Ottawa. Enjoy a variety of rides south of Napanee to Prince Edward County and Lake Ontario, as well as north of Napanee into the rolling hills of the Canadian Shield.

St. Augustine, Florida 2023 Hub and Spoke
Status: 2 slots are available.
Dates: Tue, 7 Nov 2023 ‐‐ Wed, 15 Nov 2023

St. Augustine ranks as the oldest city in the US, and has plenty to offer the history buff and recreational cyclist, including Spanish architecture, sandy beaches and seafood feasts. Our 8-day hub and spoke will enable us to explore iconic landmarks such as Flagler College and the St. Augustine Lighthouse, and to take in sweeping views of the Atlantic Ocean from our bicycle saddles.
Chapter News
Ottawa.
The Ottawa Chapter hosted their annual picnic at Rockcliffe Park recently.  A goodly crowd of 36 gathered in he east end park after cycling from various parts of the city.
Marg Hurley led a group from Britannia Trolley Station in the "wild west end" of Ottawa, Geoff Kennedy led another group from Hogs Back Park in the "sedate area" of central Ottawa, while others found their own way there including a few of us from the "exotic east end"!
Everyone brought their own sandwich complimented by sweets, fruit and drinks provided by Bill Lumley with Chapter funds. 
It was a beautiful day with excellent weather, excellent company and an excellent venue.
Upon leaving, many cycled over to see the newly-renovated River House which features a wrap-
around balcony, a bistro and an area for swimming in the Ottawa River.
Barbara Wilson, the NCR Rep, would like to thank the Chapter members for their support, encouragement and assistance in making this a very successful event.

Fee Survey Results.
Thanks to all who responded to our survey.  The results are in!  Here is a summary:
54 responses were received, with all chapters being represented
A slight majority would support an increase to H&S registration fees (which are currently $25)
1/3 of respondents would support an increase to Tour registration fees (which are currently $100)
There is widespread support (59% for H&S and 80% for Tours) for allowing refunds to those who do not make the initial "go list" and who cancel while still on the waitlist, especially if that is done in a pre-determined period after the lottery
Lots of interesting suggestions were provided to reduce H&S/Tour cancellations – the most popular suggestions were to enforce a "no refunds" policy and to increase registration fees and/or tour deposits
There is strong support for leader compensation (67% for H&S and 74% for Tours), and many suggestions regarding the form that this compensation should take; the most common suggestion is that the leader's tour cost or accommodation costs be covered
Many respondents advocated for a higher level of compensation for self-organized tours (vs H&S's and tours organized through a contractor)
The Board will be reviewing the club's existing guidelines for fees, cancellations and leader compensation over the next couple months, in light of the above findings.   Stay tuned for our next post-survey update!
Recognition
This month we are recognizing long-time Ottawa-based CCCTS member Geoff Kennedy.  A master of route designing, Geoff loves to come up with ideas for locations and then create routes, and enjoys leading in conjunction with other tour organizers.  Asked why he likes to do this, Geoff responds:  "I've always been very interested in maps…so I find it fairly easy to look at maps and visualize a route. It's especially gratifying when the route turns out to be as good, or sometimes even better than I thought it might be." 
Of course, the tour planning has evolved since Geoff began proposing routes for the club in the early 2000's.  The internet has made it easier to find information on routes and accommodation, and websites such as RWGPS have made route planning quicker and easier.  But Geoff's own knowledge is always beneficial.   His favourite trip was a Hub and Spoke in Northumberland County in 2012, which he co-led with Don Taylor, Ed Weber and others.  Having grown up in this area, Geoff was able to share his knowledge of this cycling destination and identify fun cycling routes and accommodation choices; this expertise, plus a friendly group of riders, made for an excellent tour!
His advice to others considering organizing trips:
Choose a good cycling destination – one that has interesting ride possibilities, good accommodation options and is reasonably accessible.
Design a preliminary proposal and discuss it with your cycling friends to see if they agree.
Choose some co-leaders to help you with the organization – friends you have worked with before, members who have special expertise, etc.
Allow enough time for the planning and organization.
When asked about the challenges of finding cycling routes, Geoff notes that road construction, very steep grades and impassable trail sections can make it more challenging.  Finding solutions to these that satisfy all the participants can be a challenge, but Geoff says he has learned to not make pre-judgements about a rider's strength, endurance, or good humour.
Geoff credits Penny Estabrooks and Peter Wood for talking up CCCTS and convincing him to join a Hub and Spoke planned for Prince Edward County in 2004.  Since that initial introduction Geoff has gone on to develop cycling routes for over 20 pannier trips and Hub and Spokes for the club.  Thank you Geoff for all these amazing trips!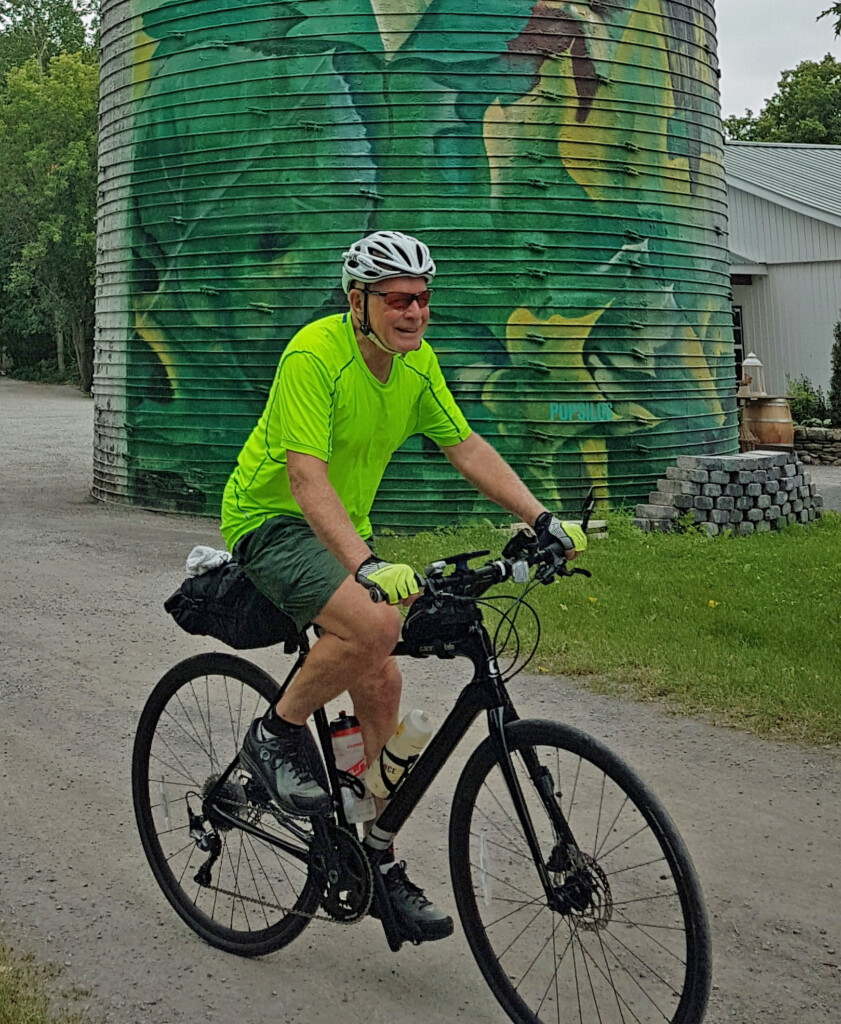 Obituary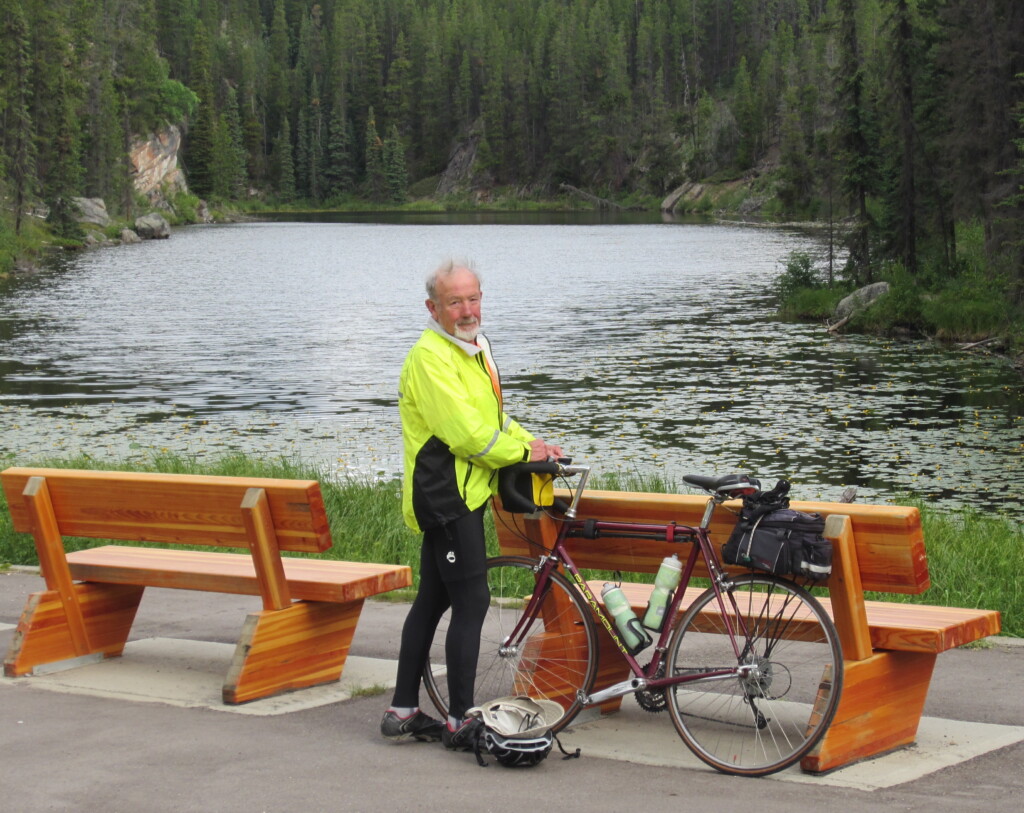 On August 17, 2023, CCCTS lost a long time member when Paul Westmattelmann passed away at age 88. Paul joined CCCTS March 31, 1997 and held membership number 795. He was an active member for 25 years. Club records show that he participated in twenty rides since records were begun in 2008, but we know he was equally active from 1997. His last ride was the twelve day "Washington Wheatlands" ride in May of 2022 at the age of 87.
Rocky Mt. Tour between Jasper and Mt. Robson 7-12-2013
Paul was born in Germany in 1935, the son of a Westphalian farming family. Growing up during the Second World War, he knew that he didn't want to be a farmer so in 1956 he immigrated to Canada. He arrived in Halifax and was put on a train to Toronto. Paul found work in the logging camps and by picking tobacco. Someone at his rooming house noticed how smart Paul was and suggested that he study engineering at Ryerson Institute of Technology in Toronto. Paul was accepted and because of hard work in his new language graduated as an engineer. He practiced structural engineering for his working career. He moved to Vancouver for better employment opportunities. He received Canadian citizenship in April of 1968. During an economic downturn in BC he moved to Seattle in 1968.
Where ever Paul lived he immersed himself in strenuous outdoor activities—mountain climbing, backpacking, kayaking, and bicycling. His first transcontinental ride was in the mid-sixties; just Paul and a friend on regular bikes from Toronto to Vancouver following Trans-Canada 1. He said that traffic was light and they rarely saw another cyclist. He also did the Southern Tier route from San Diego to Jacksonville. In the summer of 2012 Paul and Dorothy and my wife Elaine and I spent 28 days riding from Ottawa to Halifax,
In 1992 Paul met his partner for the next 31 years, Dorothy Schedvin. Dorothy is also a club member and had been on many rides. Since 1999, they have owned a home in Des Moines, Washington.
Paul has also traveled the wider world by bike. He has toured Australia and New Zealand but he was most proud of his Tour d'Afrique over two seasons. In 2005, at age 69 he rode from Cairo, Egypt to Nairobi, Kenya followed in 2006 from Nairobi to Cape Town, South Africa—11,900 kilometers. In 2014 he did a bike and barge from Paris to the Loire and in 2019, he rode from Salzburg to Budapest along the Danube.
There are many of us in the club who have memories of Paul and he will be missed.
Dick Carpenter
New Members for July and August
| | | | |
| --- | --- | --- | --- |
| First | Last | City | Chapter |
| Fay | Baker | Nanoose Bay | Greater Victoria |
| Robert | Baker | Nanoose Bay | Greater Victoria |
| Heather | Schoenberg | Cumberland | Comox Valley |
| James | Spears | Vancouver | Metro Vancouver |
| Kelly | Christensen | Courtenay | Comox Valley |
| Jan | Sherman | Vancouver | Metro Vancouver |
| Keith | Ritchie | stittsville | The National Capital Region |
| Gary | Romkey | Gloucester | The National Capital Region |
| Nanci | McConnell | Surrey | Fraser Valley |
| Aline | Lavoie | Surrey | Fraser Valley |
| Linda | McNeill | Surrey | Fraser Valley |
| Tom | Hughes | Lake Country | BC Interior |
| Barbara | Brousseau | Lake Country, BC | BC Interior |
| Linda | Hensman | Surrey | Fraser Valley |
| Selen | Sierra | Ottawa | The National Capital Region |
| Pierre | McConnell | Surrey | Frazer Valley |
Published at least ten times a year by The Cross Canada Cycle Tour Society, a non – profit organization for retired people and others who enjoy recreational cycling. 
Items for the NEWSBRIEF must be received by the 28th of the month. The Editor reserves the right to edit for clarity, brevity and suitability of publication. The views expressed in the "NEWSBRIEF" are not necessarily those of the CCCTS or the Editor.
Submissions for NEWSBRIEF should be emailed to alaird212@gmail.com