October 2021 Newsbrief

The Cross Canada Cycle Tour Society        Oct 2021,  Volume 38, Issue #10
Beginning October 1 2021, participants in all CCCTS club activities must be fully vaccinated for COVID 19.
CCCTS – Powered by Volunteers!
Celebrating 38 years of Cycling Adventures
Since 1983 CCCTS volunteers have organized and hosted over 370 ride events! Click this link to see a list.
Over the years CCCTS Ride Leaders and Board members have shared high quality, safe, affordable and enjoyable cycling experiences with fellow members. Consider for a moment which CCCTS cycling adventures have been your favourites Why have these Club cycling experiences been special for you?
Do you have an idea for a 2022 CCCTS Hub & Spoke or Tour adventure that you'd like to develop and share with fellow members? Our Club is powered by volunteers. Please contact Doris Maron, Robin Howe or George Zorn to discuss your 2022 Club Hub & Spoke or Tour ideas. We'd be happy to chat with you! Contact information is posted on the Club's website here and below. Also, Tour Trip Descriptions and H&S Trip Descriptions (2013 to present) and Tour Trip Reports (2006 to present) and H&S Trip Reports (2008 to present) are archived on the Club's website for reference.
Thank you to the following 2021 Ride Leaders who planned and shared great ride experiences during this time of COVID adaptation and transition, of unprecedented wildfire impacts in B.C., "heat dome" scorcher days and many weeks of fire smoke! In 2019 the Club and Volunteer Ride Leaders hosted 292 CCCTS members on five Hub & Spoke events and five Tour events. Over the years that number of events has been about average. In "COVID 2020", 48 members participated in two January H&S Rides (pre-COVID). Thirteen H&S and Tour events were cancelled in 2020. This year Ride Leaders hosted 102 members for five H&S rides and two Tours. Only two H&S events were cancelled this year. Two H&S events were postponed to 2022.
Thank you 2021 CCCTS Volunteer Ride Leaders!
Maureen Weston (Board Member) and Gino Salamatian: May 17-21 Sorrento/Shuswap H&S,
16 on Go List – cancelled due to in-B.C. COVID travel restrictions.
Jeanetta Zorn and George Zorn (Board Member), Pat Hutchins, Carol and Glen Evans:
June 22-25 Shuswap – N. Okanagan H&S, 18 on Go List.
Doris Maron (Board Member) and Deanna Simmons: June 26 – July 2 Shuswap H&S,
15 on Go List – part of the "Heat Dome" period. Afternoon highs in the mid-40's.
Donna Kerkhoven, Allen & Ilka Olsen, Don Mais and Victoria Chapter Volunteers:
July 19-23 and July 26-30 Victoria H&S, 16 on Go List each week.
Diane Swindell and Chris Hodgson: Aug. 30 – Sept. 2 B.C. South Gulf Islands H&S, 15 on Go List.
Jean McDonald, Paula McGahon, Charlotte and Bill Eberlein:
Sept. 6-10 Shuswap – N. Okanagan H&S, 18 on Go List – cancelled due to Wildfire concerns.   
Doris Maron (Board Member) and Deanna Simmons: Sept. 7-16 South Alberta Tour #1, 16 on Go List
Alexandra and Bernard Phillion: Sept. 10 -14 South Alberta Tour #2, 16 on Go List
Please consider volunteering as a Tour or Hub & Spoke Ride Leader for 2022! Why? Robin Howe writes…,
"It's a chance to lead a Club Ride exactly the way you want it to be – e.g., camping/hostels/hotels, group cooking/restaurants/gourmet dining, location and country, supported/unsupported, professionally guided/self-guided, long cycling days/shorter days, lots of cultural and sightseeing activities included or just more cycle focused. Within reason (and of course with Board approval and in compliance with Club policies), leaders pretty much have carte blanche with the type of tour or Hub & Spoke they can put together.
It's an opportunity to show off your home province, town/city, state, country and help other people appreciate it the way you do. Maybe you lived in another country or area of Canada or the US at some point in your life and have a special knowledge and affection for that area. 
It's an opportunity to give people a fantastic vacation and that will make you happy too.
It's a way to give back to the Club for all the great tours/hub and spokes that you have been on that other Club members led."
Board approved Tour Leader / Co-Leaders and Hub & Spoke Leader / Co-Leaders fees exemptions and Co-Leader Ride Participant Selection flexibility has been recently added to the October 2021 CCCTS Ride Guidelines for Leaders and Participants.: see 5d1 pg. 10, 5d2 pg. 11 and Appendix C pg. 21.
Southern Alberta Tour (2)by Barbara Mathias

Participants: Bernie and Alexandra Phillion, Dan Carey, Robin Howe, Sharon Folkes, Paul Quinn, Margaret Phelan, Brian Livsey, Leslie Rodgers, Ed and Deb Kinnear, Garry Esau, Dianne White, June Gallagher, Rick and Barb Mathias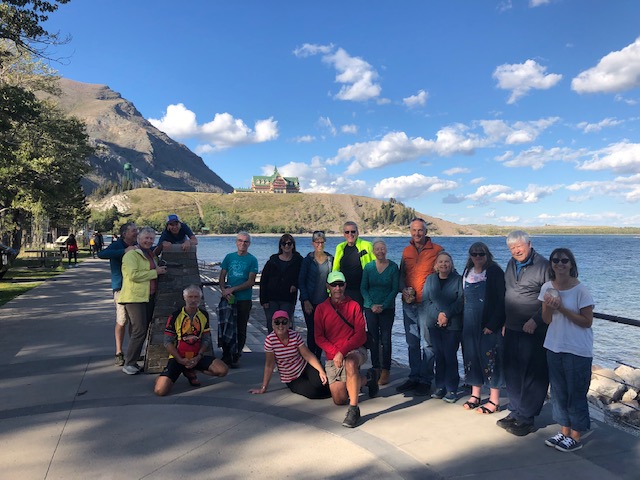 Bernie and Alexandra Phillion stepped up to lead a second group of 16 cyclists, as the first one led by Doris Maron was full, on a hub tour of three scenic and historic areas of Southern Alberta – in geology-rich Drumheller,
in the beautiful mountains and trails of Waterton National Park,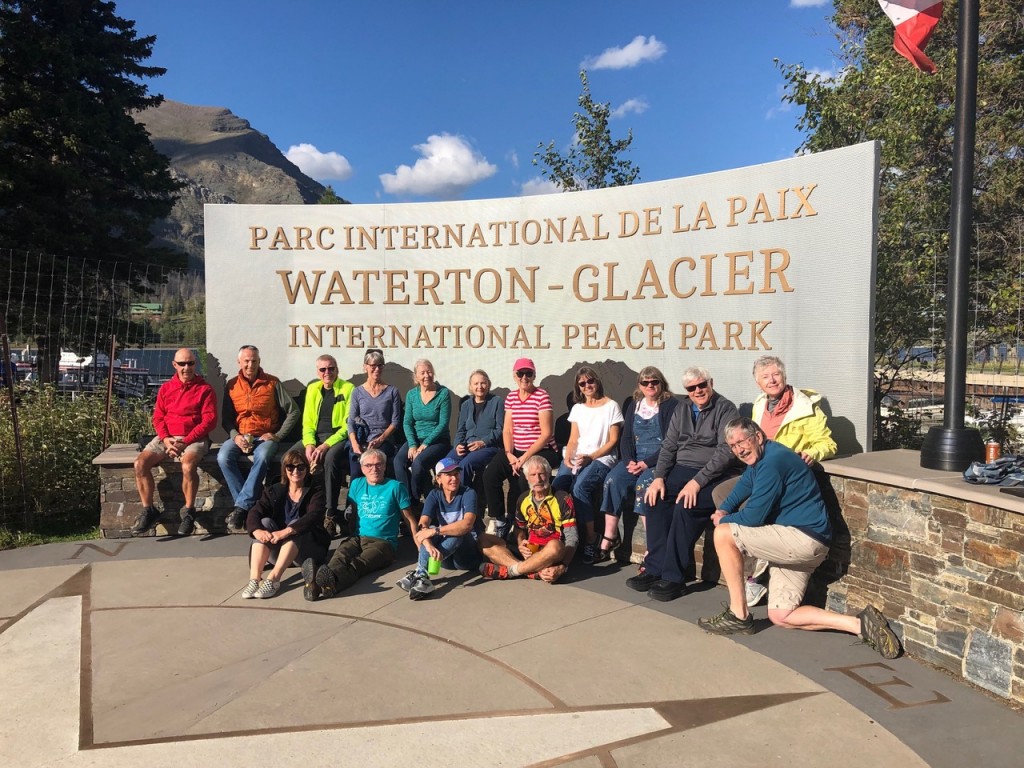 and in Canmore under the gaze of the Three Sisters peaks east of Banff National Park.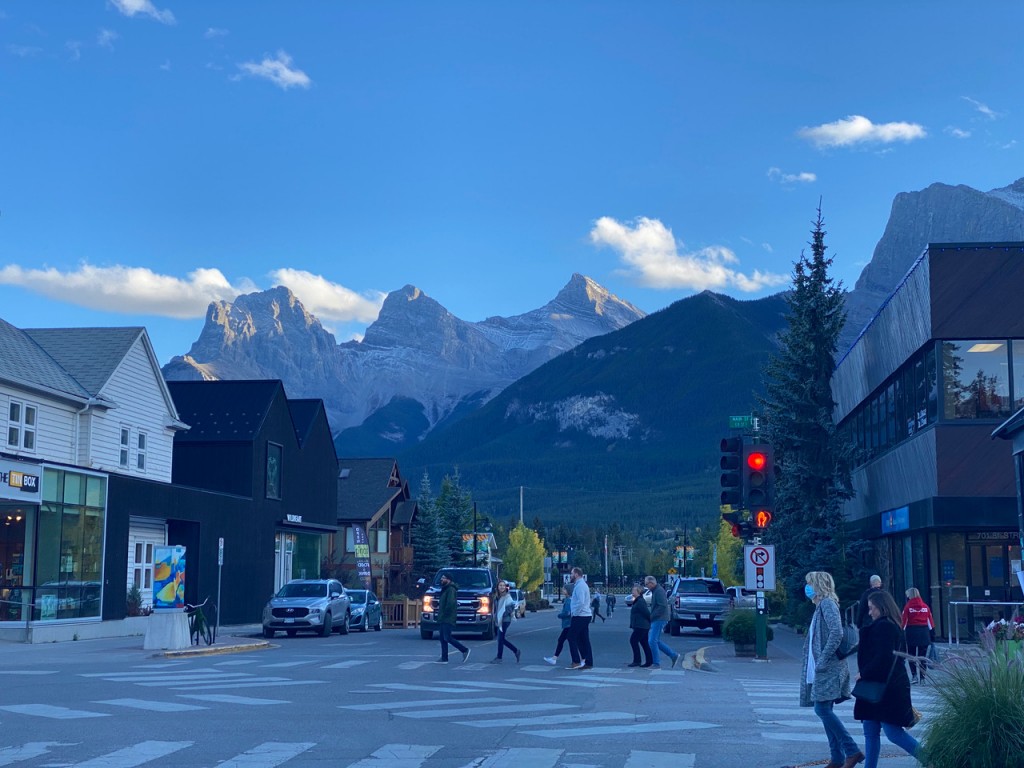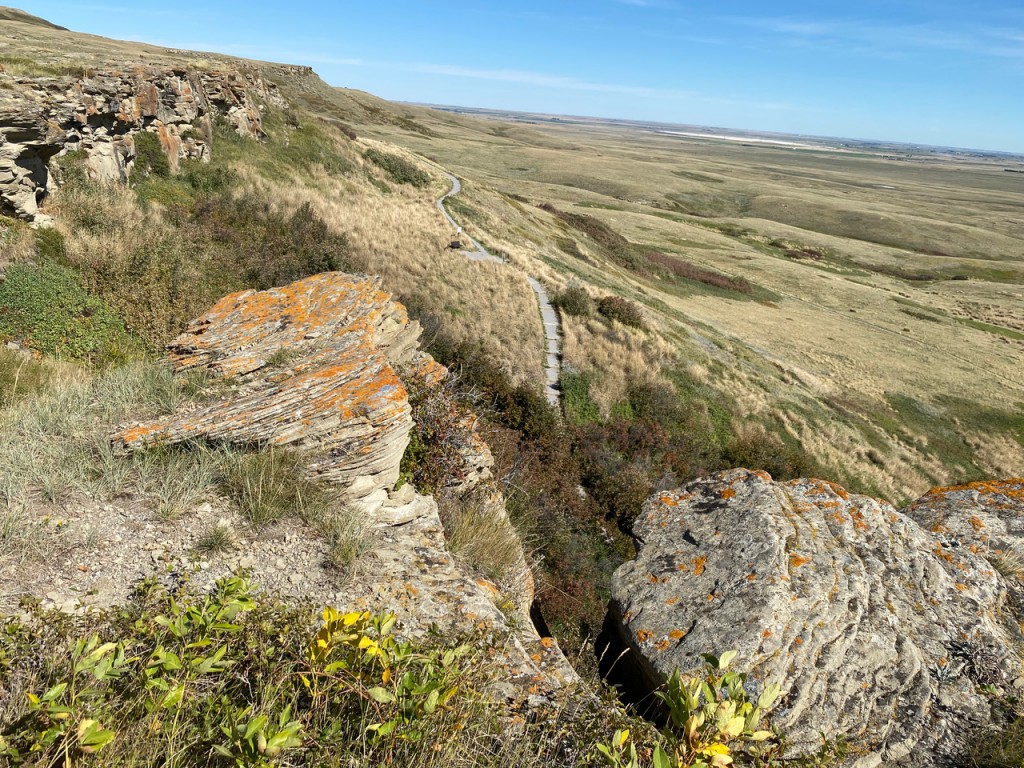 The first day of 10 was a travelling day with a 5 PM meet and greet at the Quality Hotel, gathering outside on the lawn as the hotel did not offer a group space given Covid restrictions.
The daily 5 PM meeting became the only opportunity to socialize. Name tags were thoughtful for trying to identify those new to us, and the leaders set out the core plan – enjoy yourselves and make plans together during the meeting. Strange days in the time of Covid…
Weather in Alberta became a partner in the planning – rain, "Chinooking winds", and beautiful big prairie skies and vistas especially for the days driving to other locations…
First Hub:
Drumheller has the dinosaur theme laced throughout the town – some 40 colourful dinosaurs are to be found on street corners. Also on offer was a Blues, Boogie and BBQ concert at the outdoor Badlands amphitheatre on Saturday evening, when the rain stopped and the town dried up for some exploring. There is also a Passion Play staged annually in August that looked intriguing for future visits.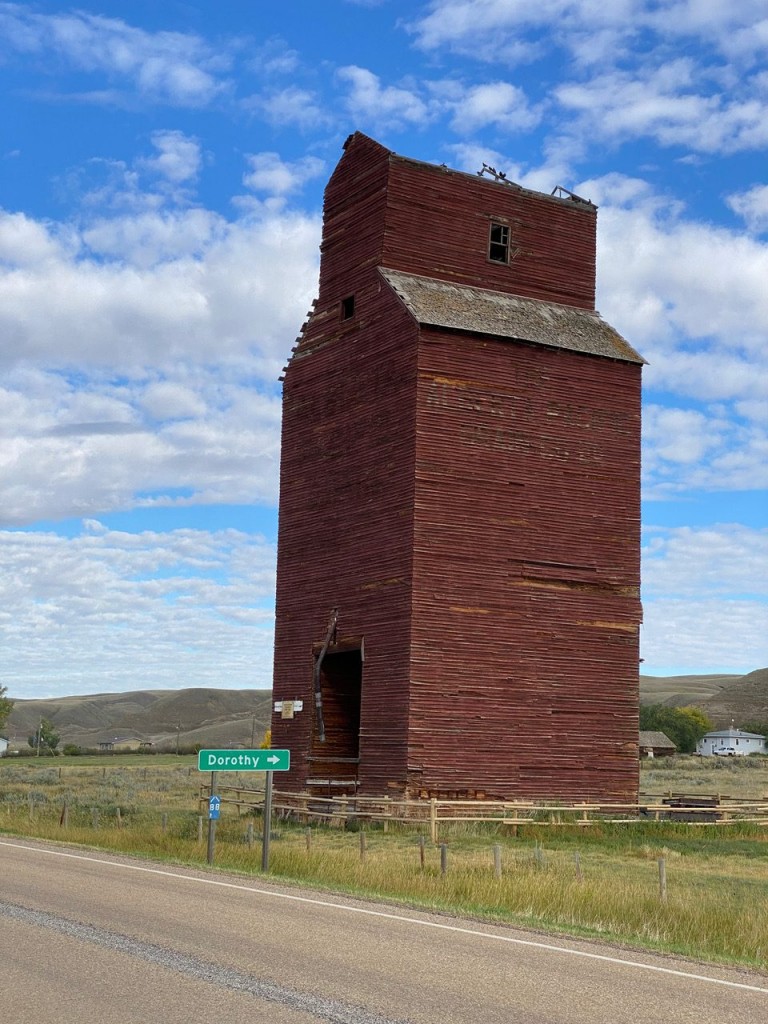 The geology of the area is absolutely unique. One cycles from the Red Deer River bottom up to the prairie flatland through exposed striations of millennia of changing earth forms, glaciations, seas and vegetation. The light bands represent river, the dark bands decayed flora. The Royal Tyrell Museum is a highlight of the area. It is world class and needed at least 1.5 hours to cover the many rooms of fossil discoveries and dioramas. One ride journeyed past the Tyrell, up to the viewpoint of Horse Thief Canyon, down to the tiny winch ferry across the narrowed river, and back to Drum through farmland.
The second ride took us out past the Hoodoos – stone columns with cap rocks – to Wayne over the Road of 10 (plus 1) bridges,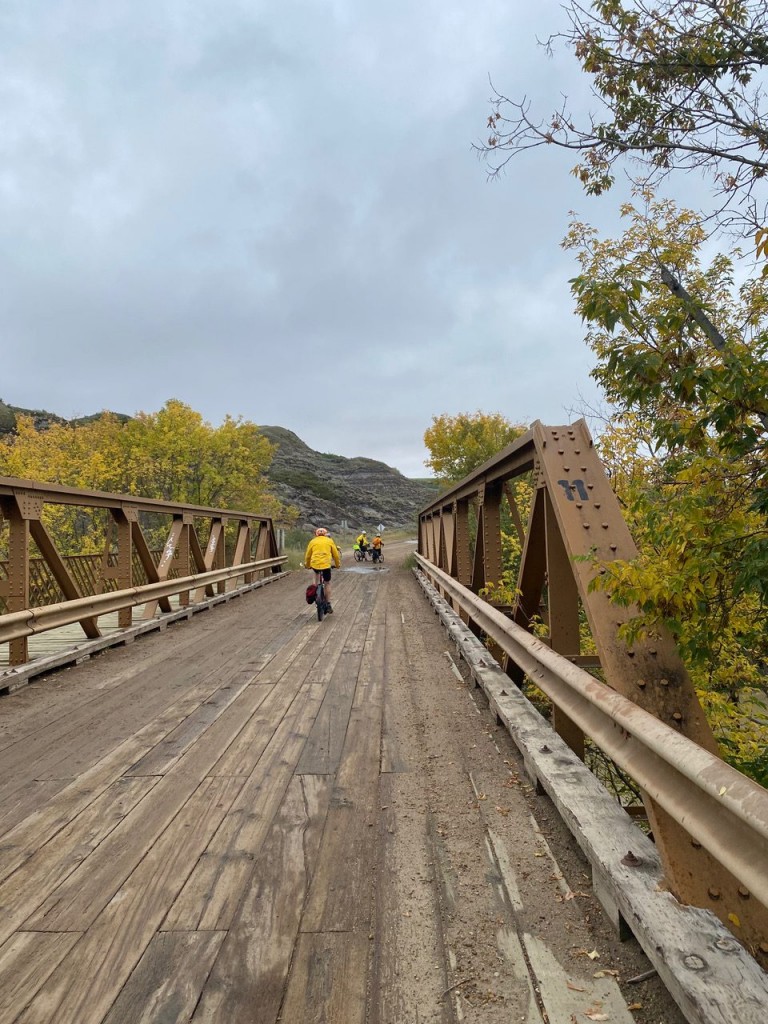 and the Last Chance Saloon, where the line ups were long and the brisket delicious.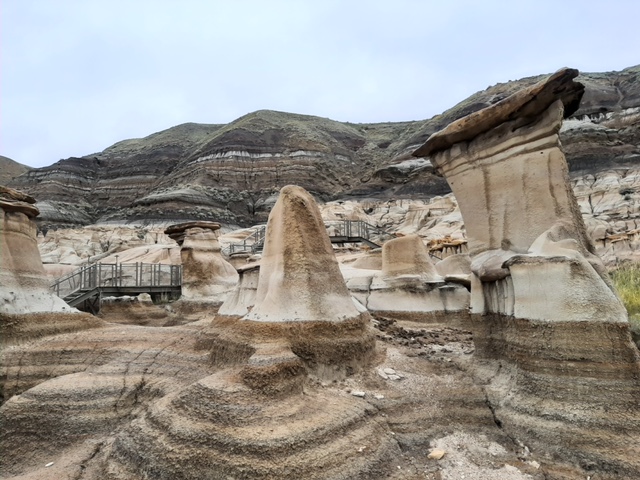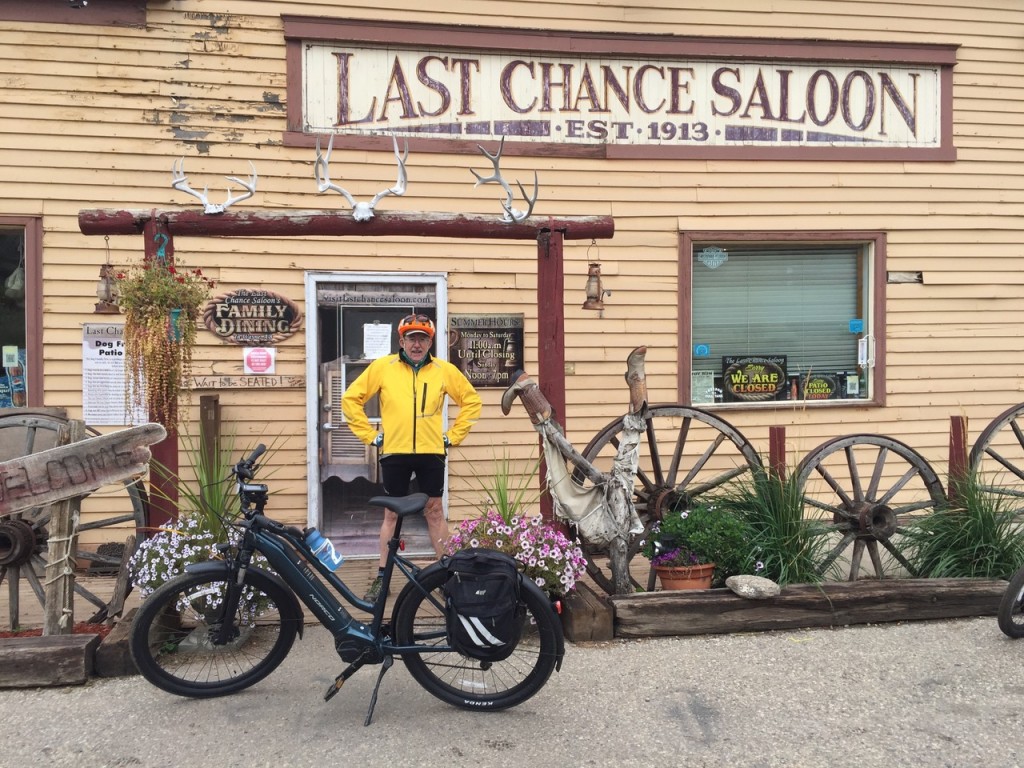 Day 4 was driving south to Waterton through rolling prairie and ranch land… the big blue sky of Alberta over it all.
Second Hub:
The Bayshore Lodge in Waterton has been the choice of previous CCCTS tours, on the shore of the lake with restaurants across the street. The mountain slopes above the town were burned bare in 2017 – the town was saved by firefighters but it is odd to see the rock colours through the grey tree trunks.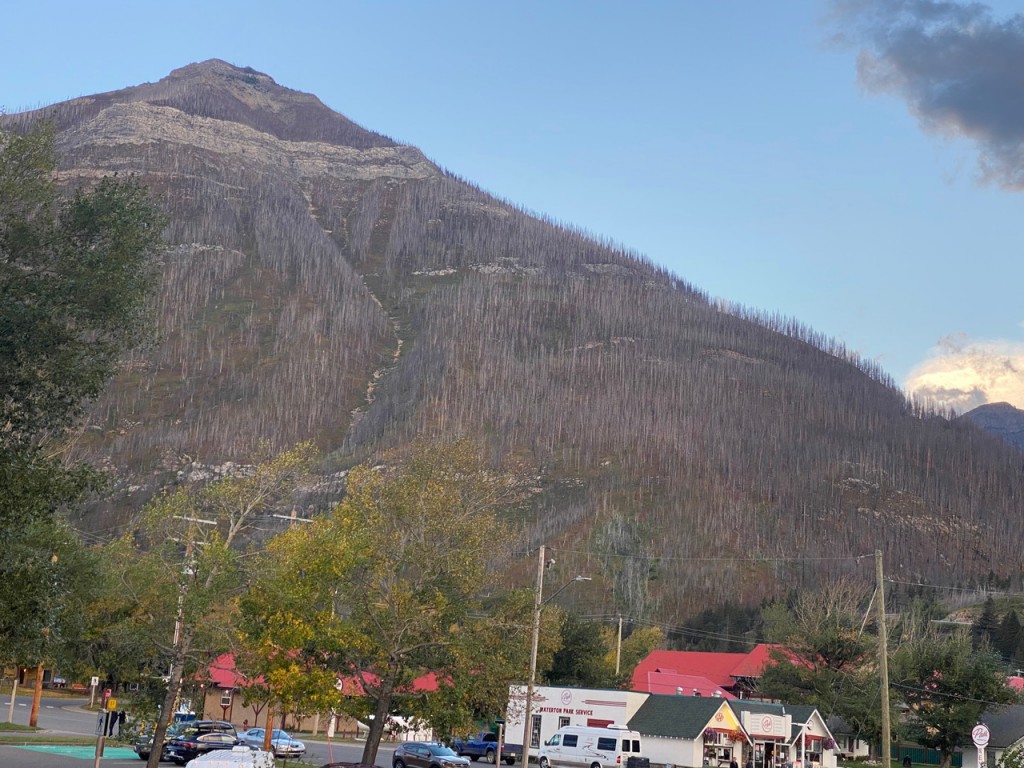 Waterton shuts down after Thanksgiving, with only two hotels and two restaurants open through the winter. We heard tell of two metres of snow falling to hamper movement.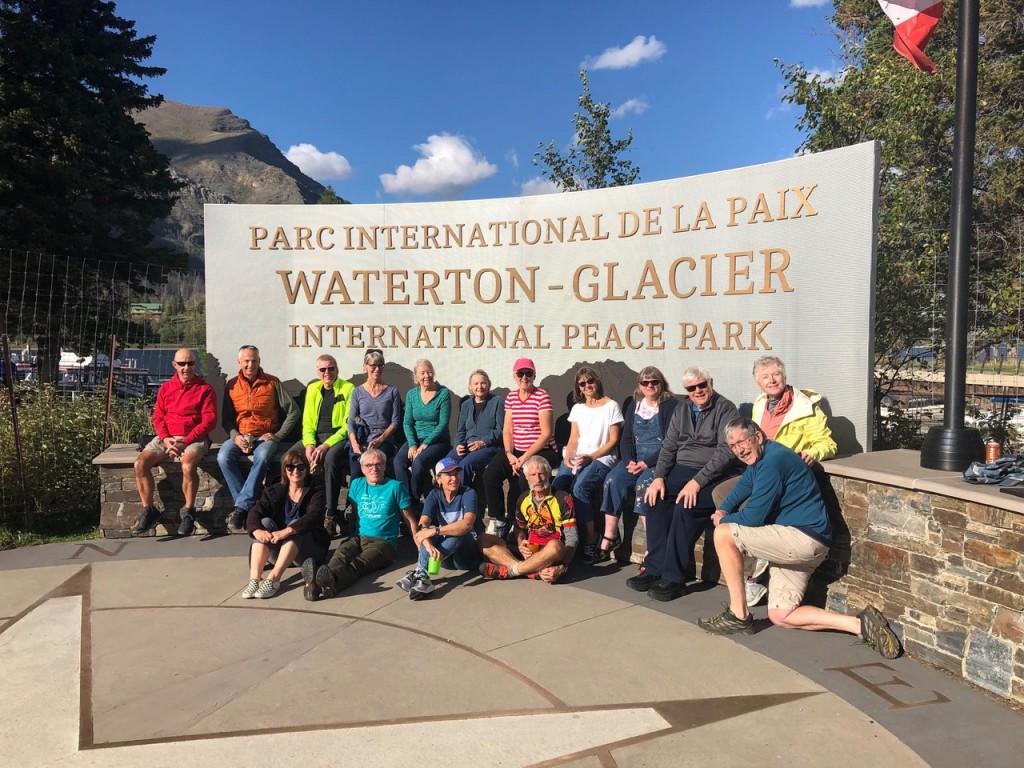 Weather in the form of wind and rain limited our cycling, but there are some awesome hikes, a boat ride to hike up to Crypt Lake, many trails within the park to explore between showers, and a British tea served daily at the Prince of Wales hotel dining room.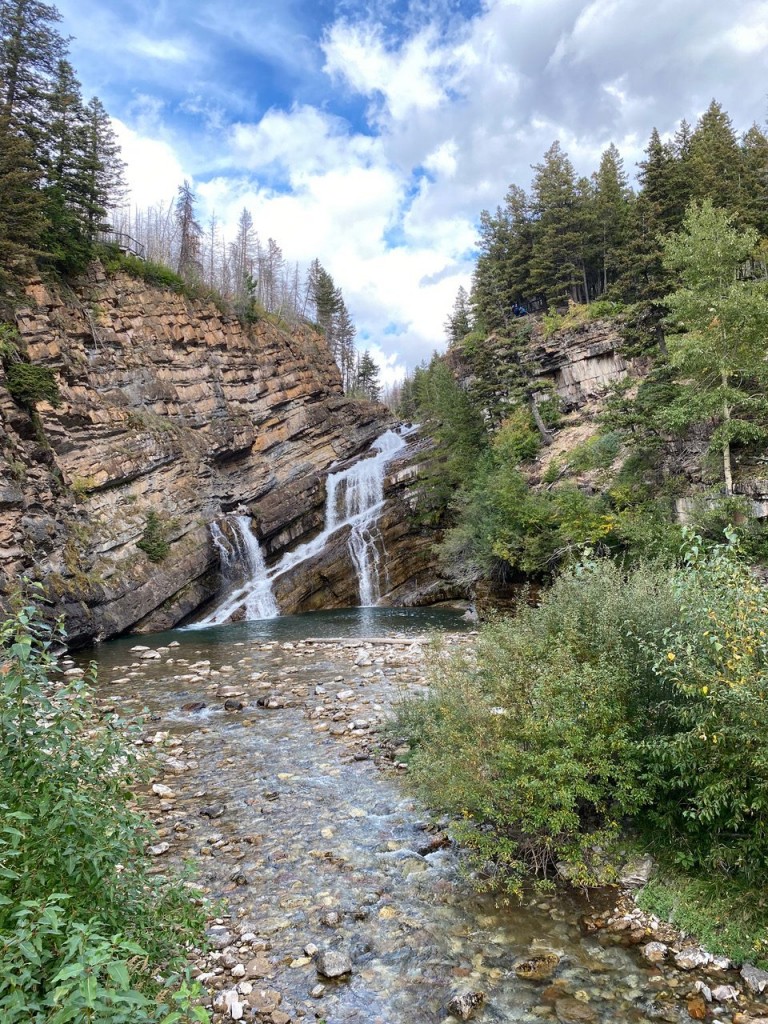 Some chose to forego cycling on a fine day, to jump at the chance to visit the World Heritage site 'Head Smashed-in Buffalo Jump'… another noteworthy view of history in Alberta. The Remington Carriage Museum was also deemed a fascinating visit.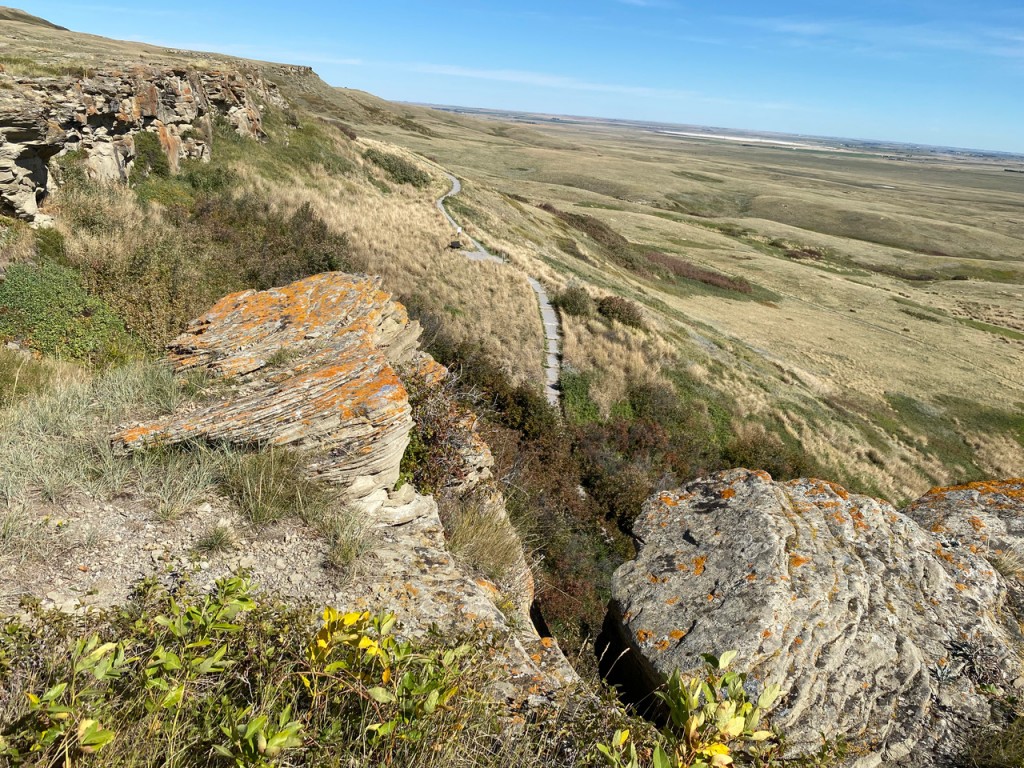 The drive northwards on Route 22 to Canmore struck us as surprisingly beautiful, past wind farm turbines, wide open valleys with vast grain fields being harvested between the Porcupine Hills to the east, and the foothills of the Rockies to our west. A herd of mountain sheep strolled across route 66 near Bragg Creek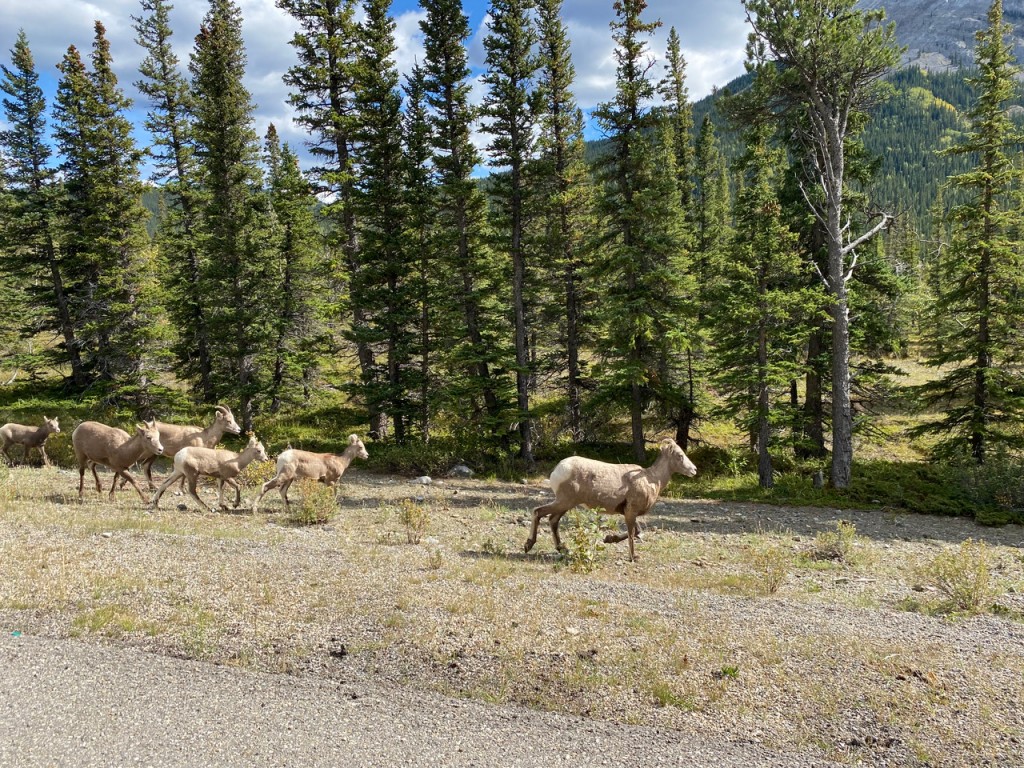 Third Hub:
The Rundle Mountain Lodge was comfortable with many dining choices within walking distance. Longtime CCCTS member Jim Allen came out from Calgary with wife Gloria to the hotel to catch up with cyclists he has ridden with in many countries. He and Dan Carey could discuss their cycling shoulder injuries and rehabbing…
Temperature early on the first morning was minus one – finger nipping but rose to 6 degrees for the first group ride start on the Legacy Trail from Canmore to Banff, with some planning to go clockwise around Lake Minnewanka. Banff is growing into a larger European styled town with traffic-calming malls and multiple stores for shopping, eating, browsing. As we split into those bakery-bound and those who would grab a coffee before heading up to the lake circuit, one person got to test the Alberta emergency service. Riding with the group through some bus barricades hidden by the first cyclists, one suffered a blunt blow to the abdomen from the end of the wooden arm, necessitating an ambulance ride, care and assessment in the Banff, Canmore and Calgary Foothills Hospitals, where all tests were expedited, and our patient was allowed home in two days. Discharge instructions: no cycling, no alcohol for many weeks to allow healing of the lacerated liver. It was such a flukey accident, and we were glad to hear that all would be well.
Many of the group found that one of the main pleasures of that day was riding together for the first time in the tour, where previously we were choosing our own itineraries depending on the weather, distancing and lack of socializing due to Covid restrictions in Alberta.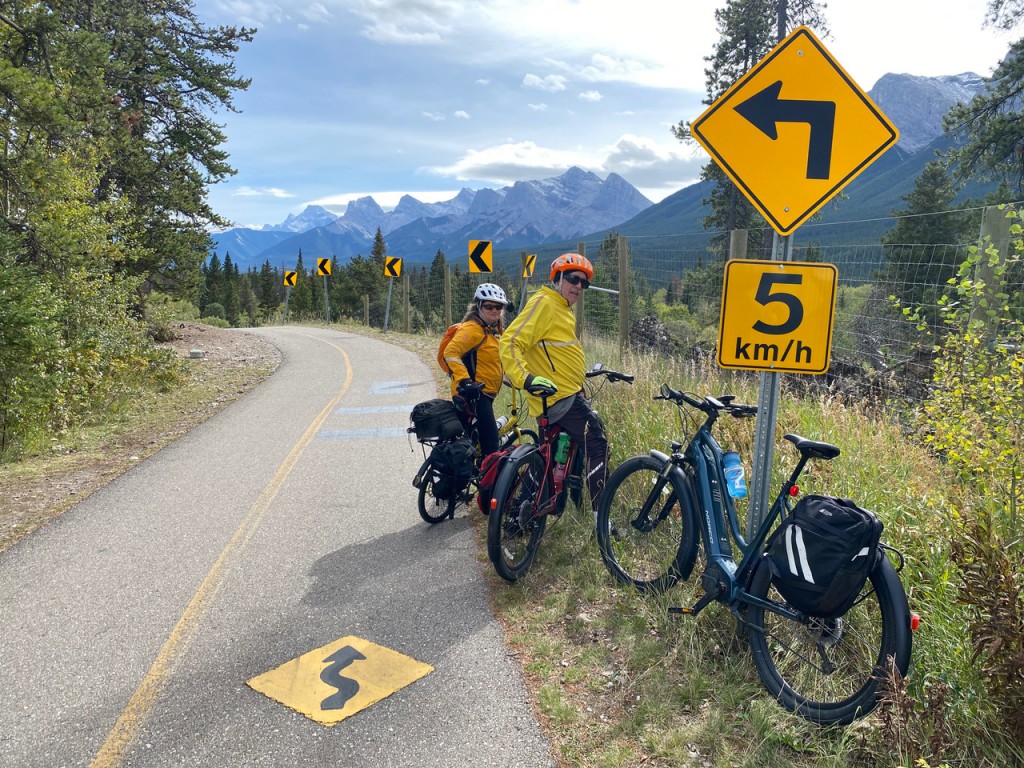 Some other points:
1. Bernie's useful bespoke tool .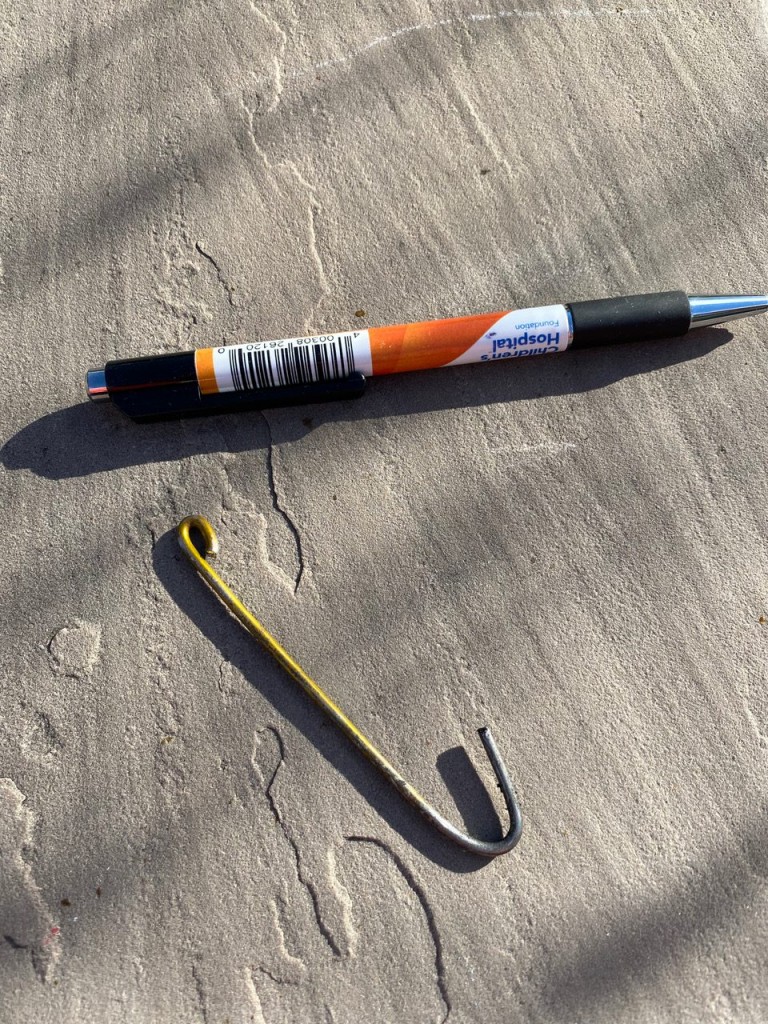 2. Prevailing winds – head winds and tail winds rather like sailing, go out with the tailwind and come back later with the reversed so tailwinds both times – suggestion from Jim Allen
3. Mostly courteous drivers, except one guy in a pick up that yelled at our cyclist for his "Idaho stop", a slowdown only, going through a stop sign with lots of visibility.
4. "Drive the route first" was used by several riders. Practical and meant one had at least seen the area if and when the rain discouraged cycling.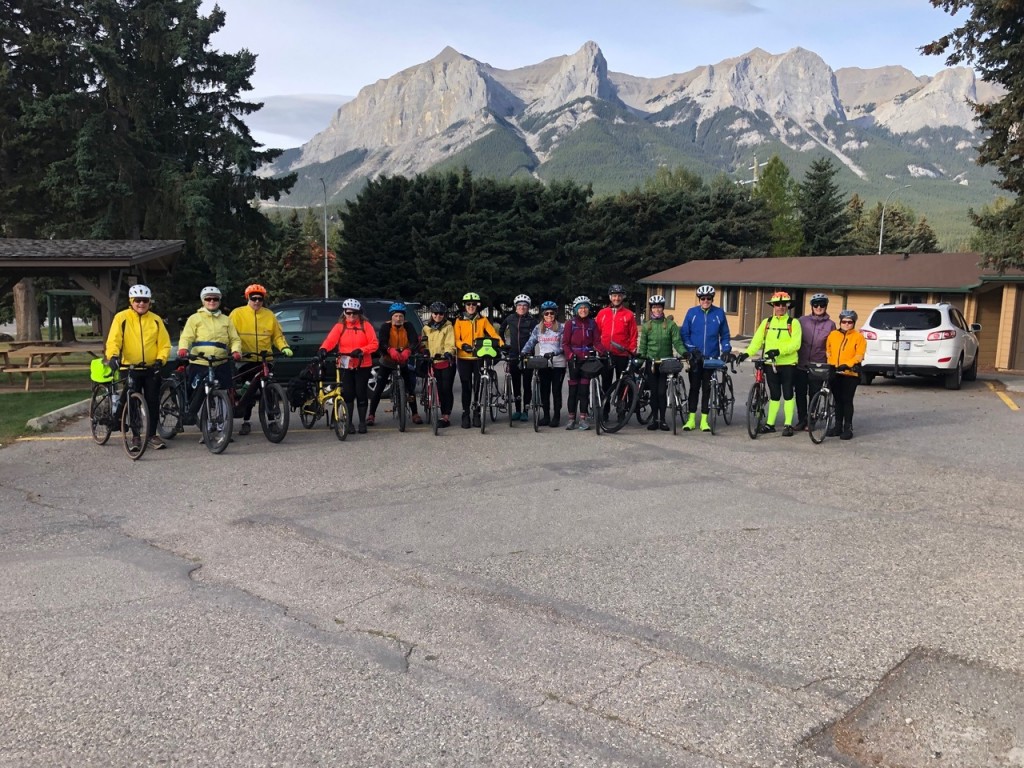 Altogether, this tour presented an opportunity to gather with friends and finding new friends, to explore some of southern Alberta's historical interest, and to choose one's activities with an eye on the weather. We all appreciated the leadership of Bernie and Alexandra. Thanks again!
The Tired Cyclist
A tired cyclist stuck his thumb out for a lift: After 3 hours, hadn't got anyone to stop. Finally, a guy in a sports car pulled over and offered him a ride. But the bike wouldn't fit in the car. The driver got some rope out of the trunk and tied it to his bumper. He tied the other end to the bike and told the rider: "If I go too fast, ring your bell and I'll slow down."
Everything went well until another sports car blew past them. The driver forgot all about the cyclist and put his foot down. A short distance down the road, they hammered through a speed trap.
The cop with the radar gun and radioed ahead that he had 2 sports cars heading his way at over 120 mph. He then relayed, "and you're not going to believe this, but there's a cyclist behind them ringing his bell to pass!".
My dog used to chase after people on bike
So I took the bike away from him.
Videos
Tours
Only two tours this year because COVID but hopefully next year will be better.
2021-S. Alberta Tour (2)
Status: Completed

Beginning in Drumheller we will spend 2 days exploring the bad lands of Southern Alberta, the Tyrell Museum, Historic Coal Mine and Historic Rosedeer Hotel. Day 4 we drive to Waterton Lake National Park to enjoy the spectacular scenery, and ride in the area for 2 days. Day 8 we drive to Canmore where we'll ride and hike in the foothills of the Southern Rockies between Canmore, Banff & Johnson Canyon. There will be ample time to make a stop in Banff for lunch, coffee or just to browse around the area.

2021-South Alberta Tour
Status: Completed

Beginning in Drumheller we will spend 2 days exploring the bad lands of Southern Alberta, the Tyrell Museum, Historic Coal Mine and Historic Rosedeer Hotel. Day 4 we drive to Waterton Lake National Park to enjoy the spectacular scenery, and ride in the area for 2 days. Day 8 we drive to Canmore where we'll ride and hike in the foothills of the Southern Rockies between Canmore, Banff & Johnson Canyon. There will be ample time to make a stop in Banff for lunch, coffee or just to browse around the area.
Hub  Spokes
New Members
| first_name | last_name | city | province |
| --- | --- | --- | --- |
| Peter | Freeman | Salt Spring Island | BC |
Published at least ten times a year by The Cross Canada Cycle Tour Society, a non – profit organization for retired people and others who enjoy recreational cycling. 
Items for the NEWSBRIEF must be received by the 28th of the month. The Editor reserves the right to edit for clarity, brevity and suitability of publication. The views expressed in the "NEWSBRIEF" are not necessarily those of the CCCTS or the Editor.
Submissions for NEWSBRIEF should be emailed to alaird212@gmail.com