Georgian Bay Pannier Tour Trip Report
May 28th – June 4th, 2023
Prepared by Bonnie Evoy and Bill Bourne
Over hill, over dale,
As we hit the dusty trail
And those bikers go rolling along
In and out, hear them shout
Truckers back and car about
And those bikers go rolling along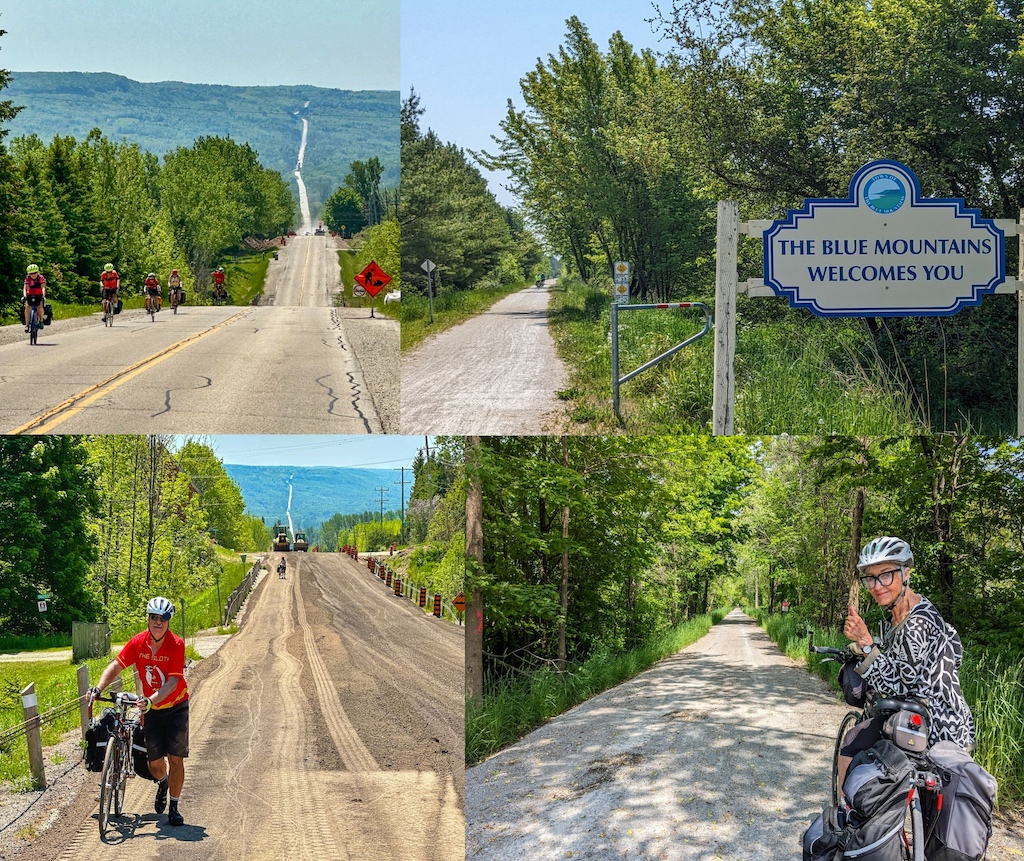 Thirty lucky cyclists were able to join our wonderful leaders, Dale and Dave, on this self-supported tour that took us over many hills and dusty trails, as well as some mountain biking "dipsy-doodles" in the Lake Huron and Georgian Bay district. Try to imagine your perfect bike trip and it might begin to encapsulate our experience. As Peter said: "it was a wonderful trip, meticulous planning and organization, warm companionship….whether we were rockin' the rail trails, grinding up the grades, or gorging around Georgian Bay."
Note: There are photo albums and additional information available on a CCCTS Georgian Bay Pannier Trip Web Page
For another trip report click the link below.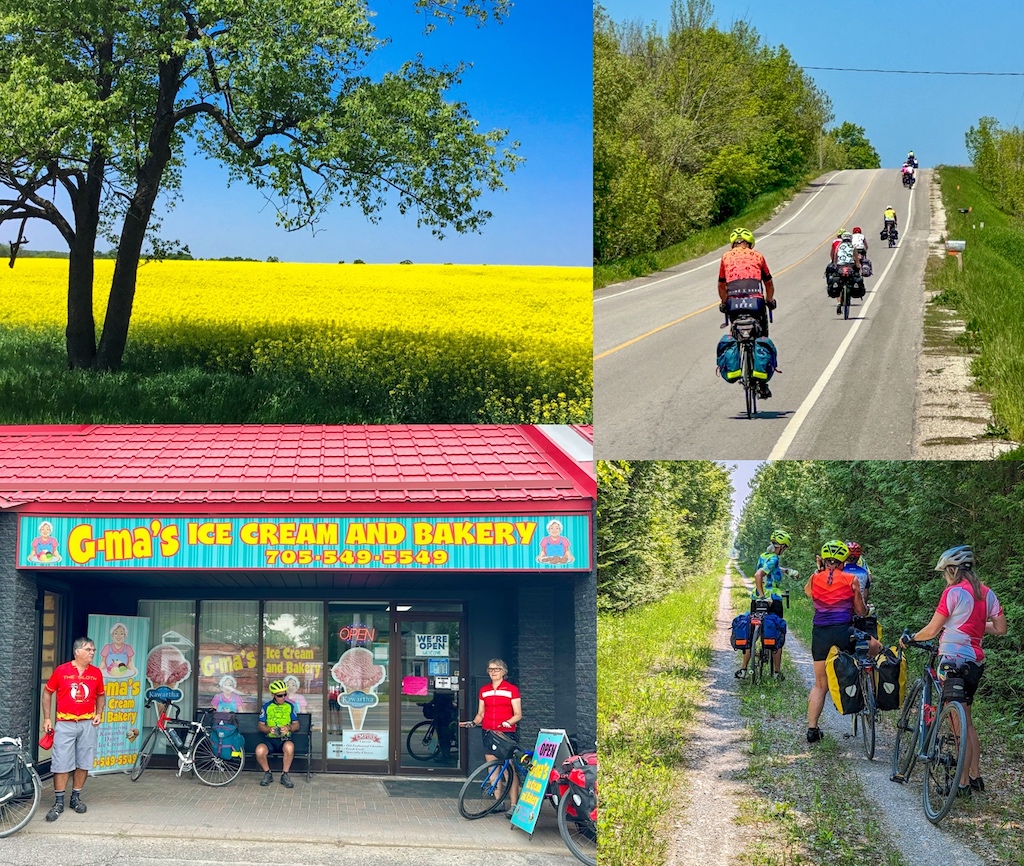 We started out with a short ride in Barrie before heading out to the Blue Mountain escarpment near Collingwood. Every day we were offered a short or a long ride, between 65-100 kms, and some days there were even up to 4 options! Our first day took us through Angus and Creemore for a desperately needed pint of beer or non-alcoholic beverage. It was a lovely spot to imbibe!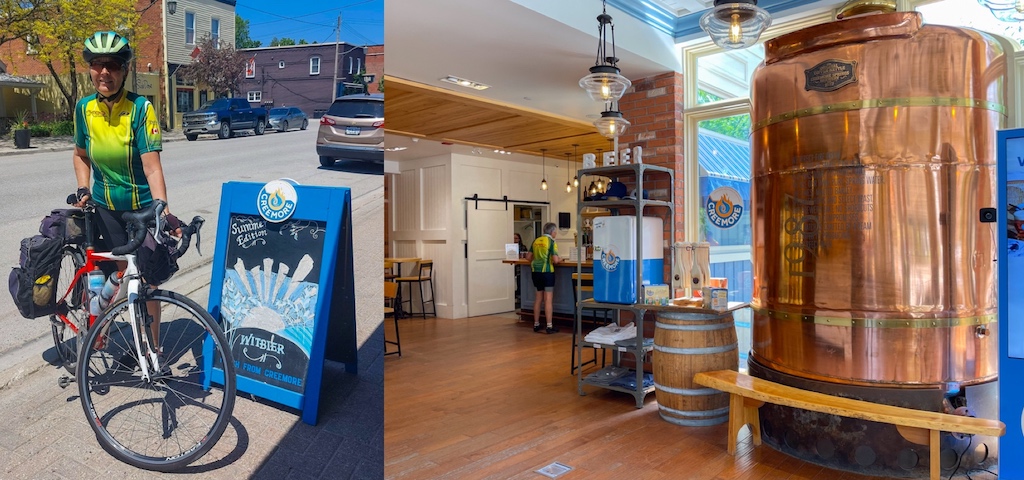 Some of us needed a wee bit of rest from all the hills before finishing in historic Collingwood.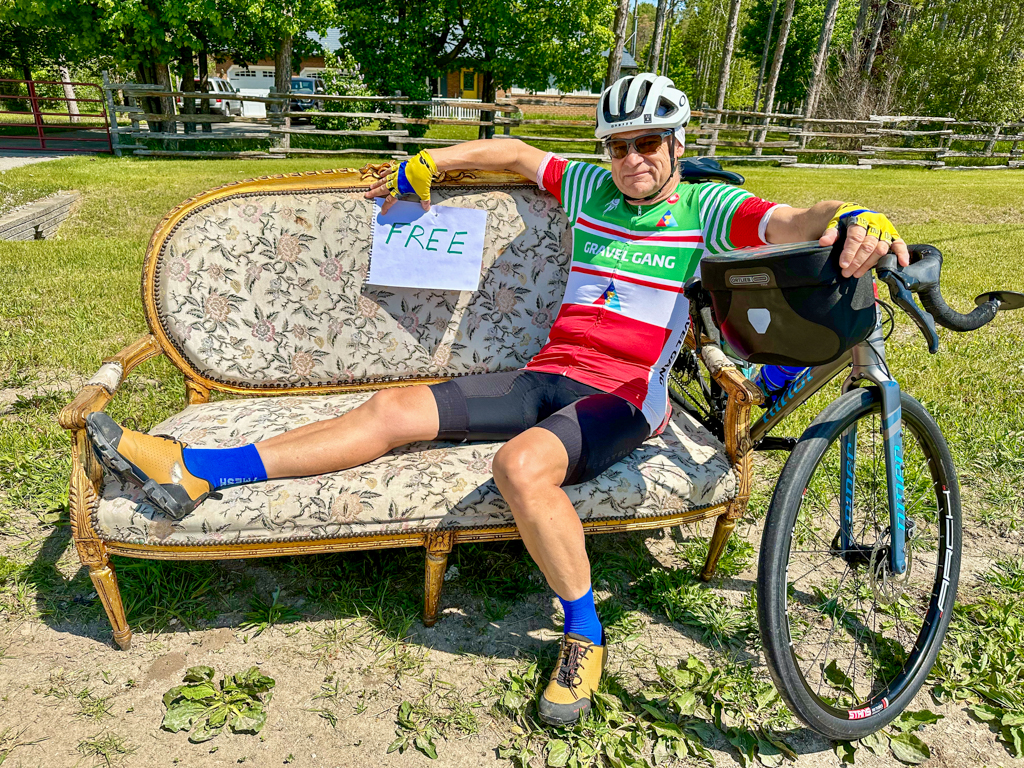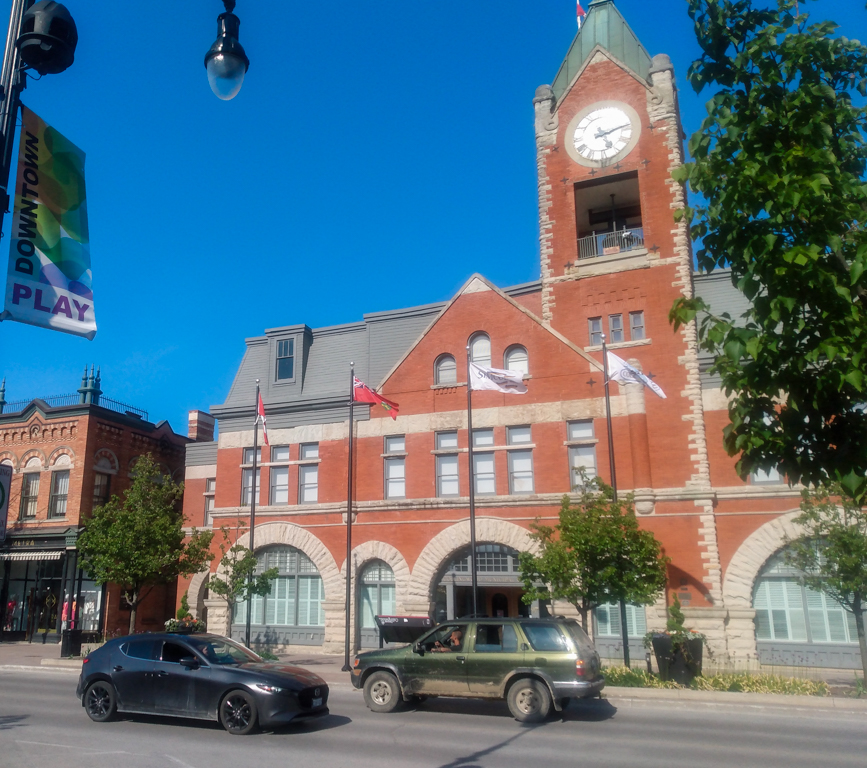 On the second day, we travelled from Collingwood to Owen Sound where we visited some amazing coffee shops, like the Thornbury Bakery Café which we couldn't get enough of. Indeed, on the return trip to Collingwood, we even did a detour just to hit it one more time.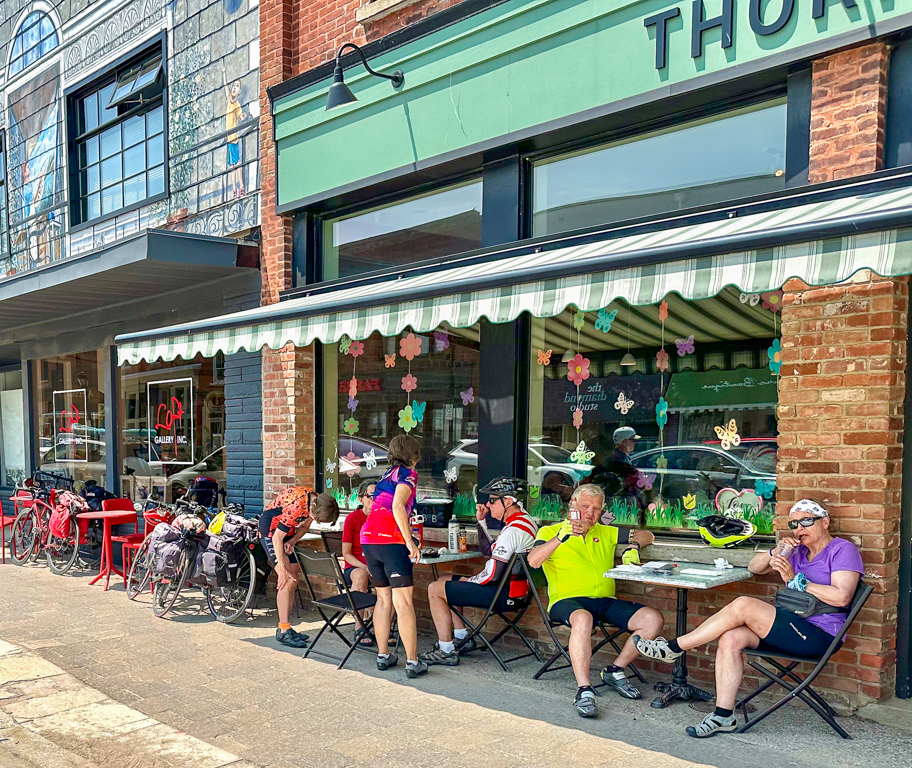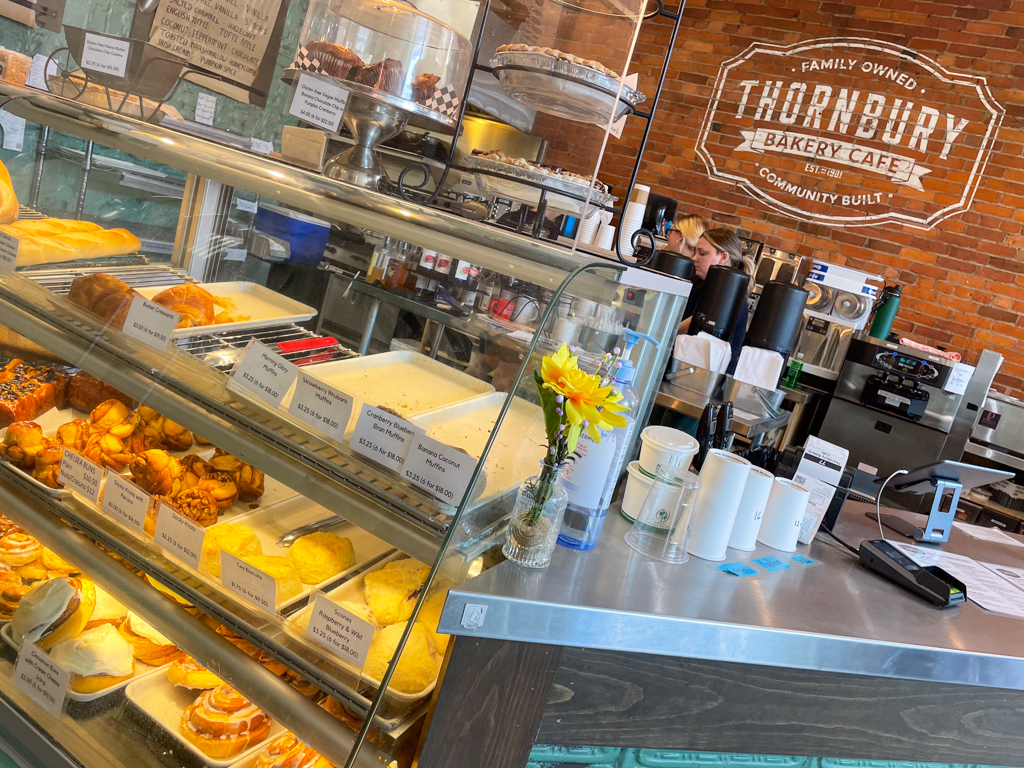 Both routes on the second day were subject to undocumented roadworks. Although it was doable for the riders on the short ride, the long day cyclists had 3.5kms of soft, sandy gravel on the top part of a 5.5km climb! Quite a number chose to walk through the worst parts.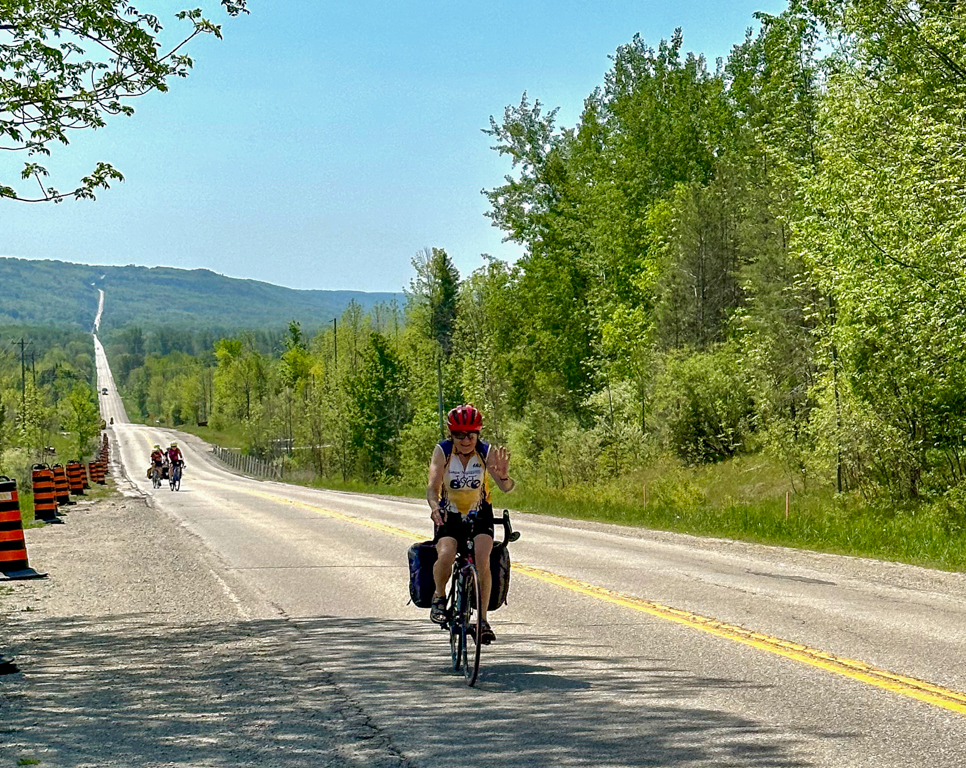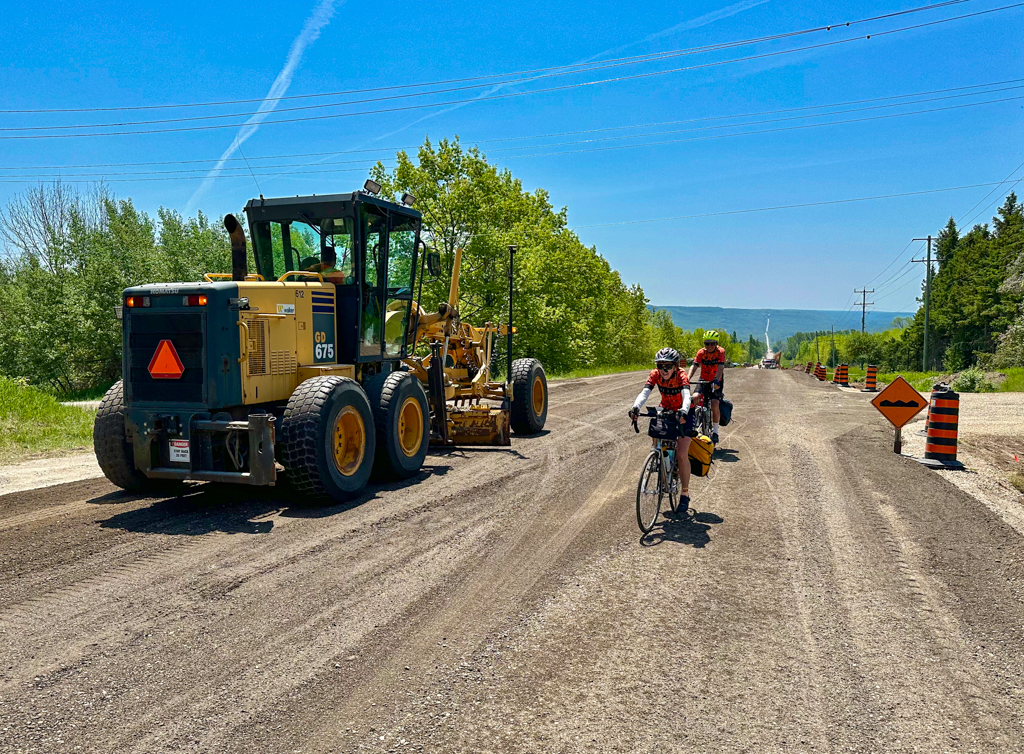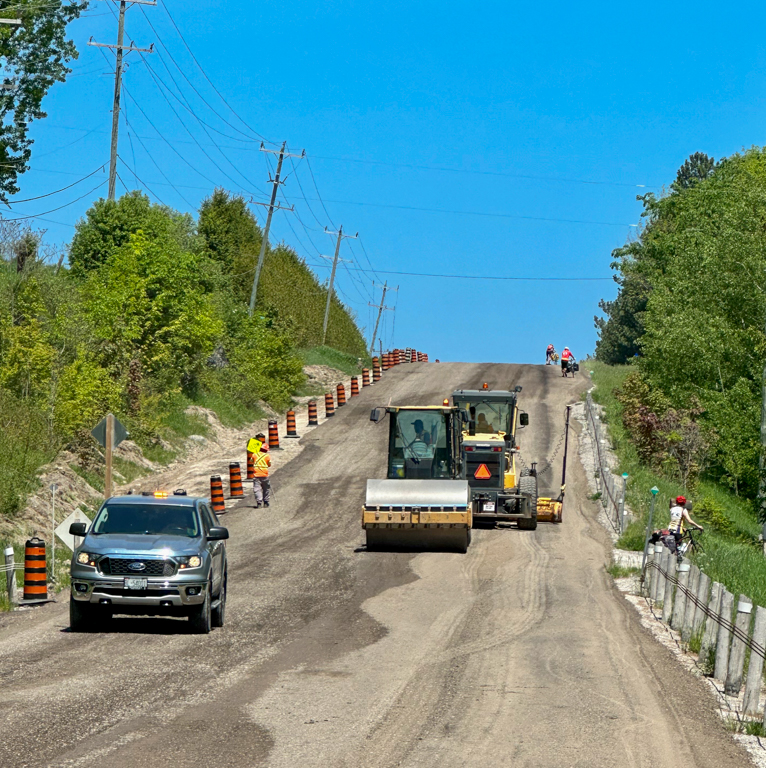 In Meaford, we ambled some more just to take in the beautiful harbour before ascending to Owen Sound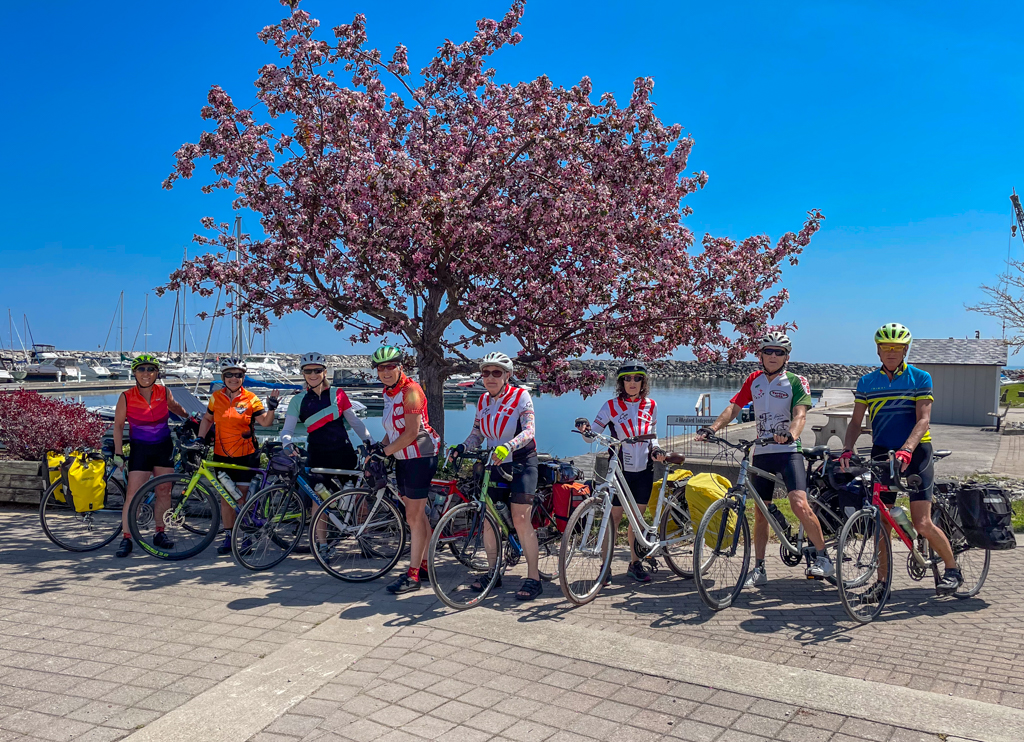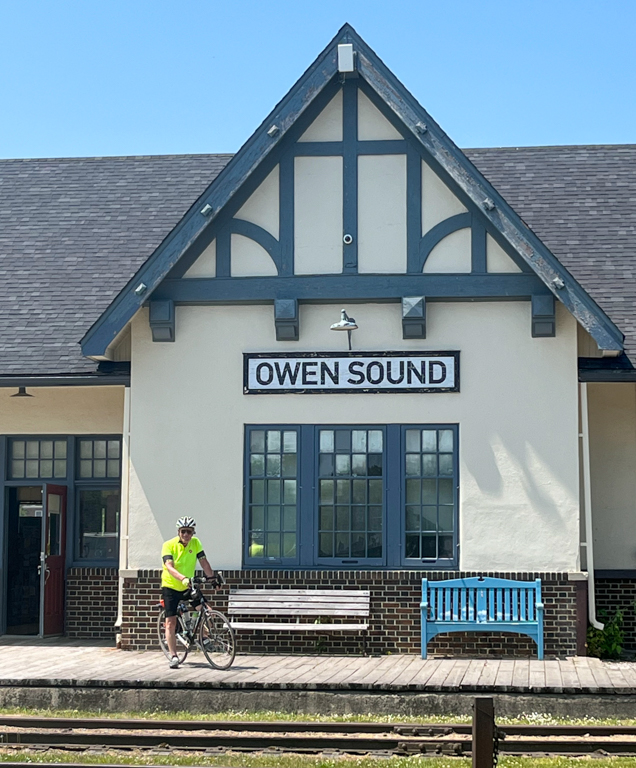 Everywhere we went, there were stunning vistas of water with gorgeous cottages, that were palatial houses, abutting the coastline. And of course, many old abandoned farmhouses and barns from the region's long history. Nowhere was this more noticeable than the Big Bay loop along Georgian Bay. It was one of our favourite days as the hills were manageable as we visited well known spots like Wiarton and its most famous denizen, Willie.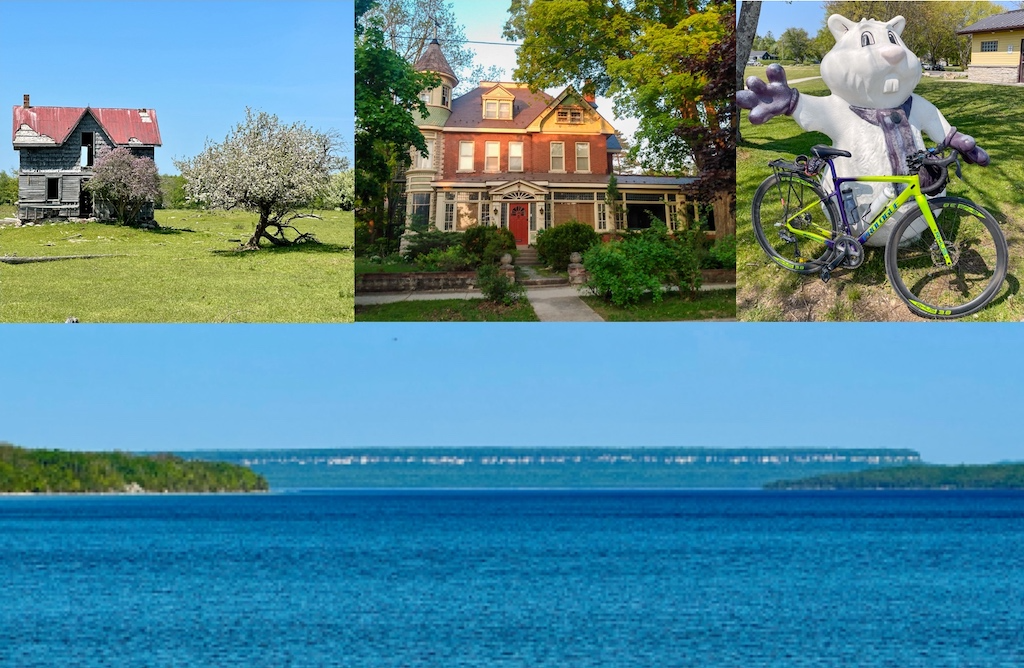 In our quest to beat the heat of the day, we first thought "maybe tea at the Kemble Women's Institute" – But a stone monument was wholly unsatisfactory! We then searched valiantly for an ice cream spot, including a stop at the Big Bay General Store, to no avail. Everything was closed! So, when we got back to Owen Sound, many of us ventured way down the hill to obtain some Kawartha Dairy ice cream! Well worth the climb back up!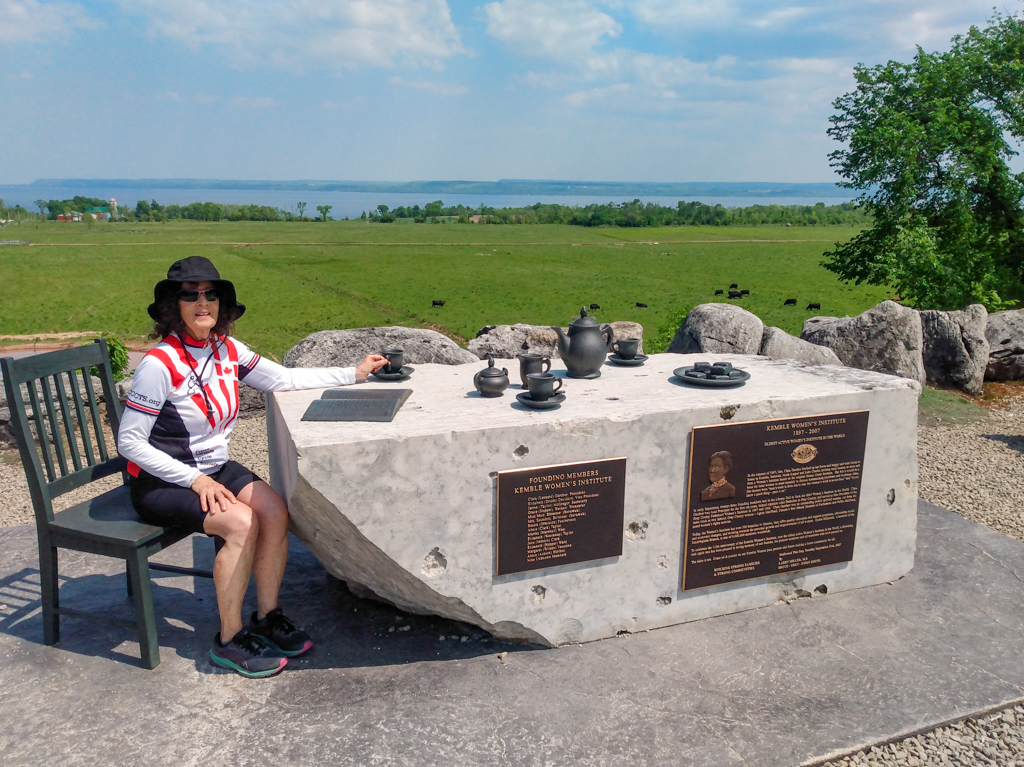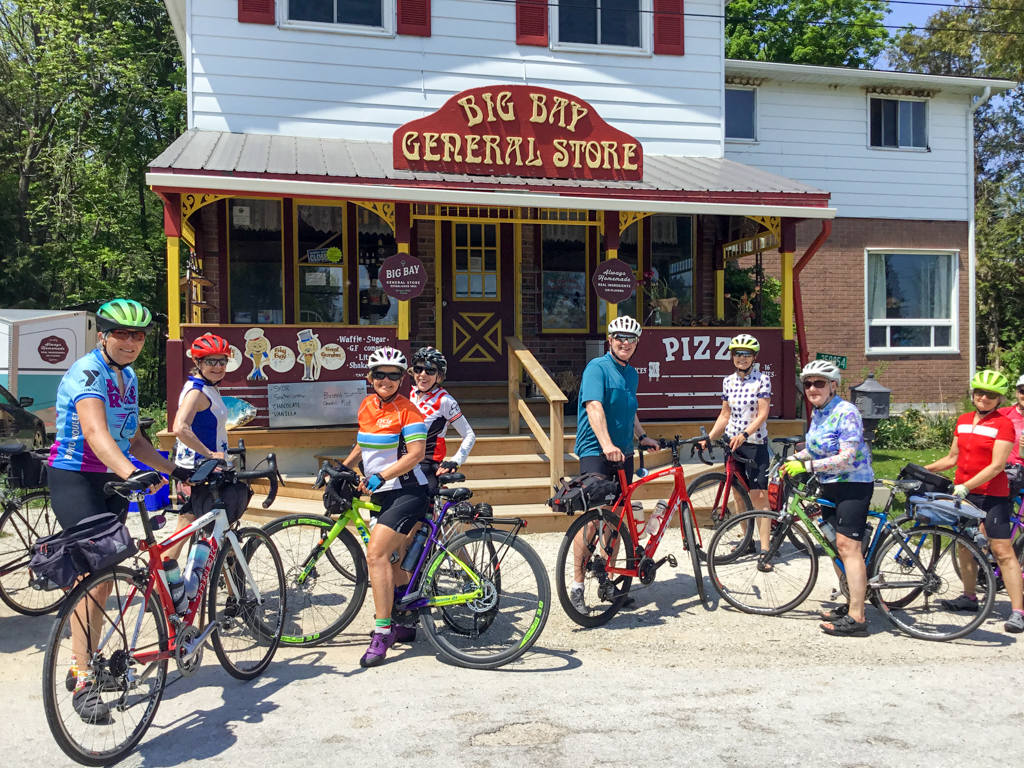 Day 4 brought us back to Collingwood. With another stop at Thornbury of course for more great baking! And a visit to the Thornbury fishway which allows salmon (yes there are salmon in Georgian Bay) and trout to get around a dam in the river in order to spawn.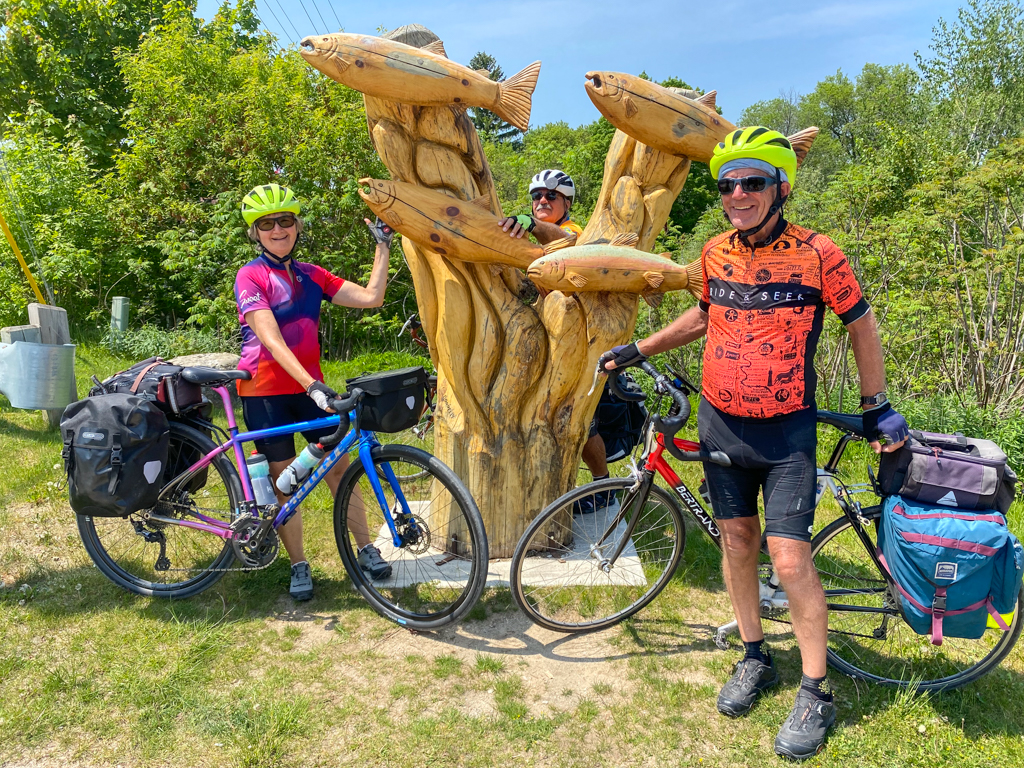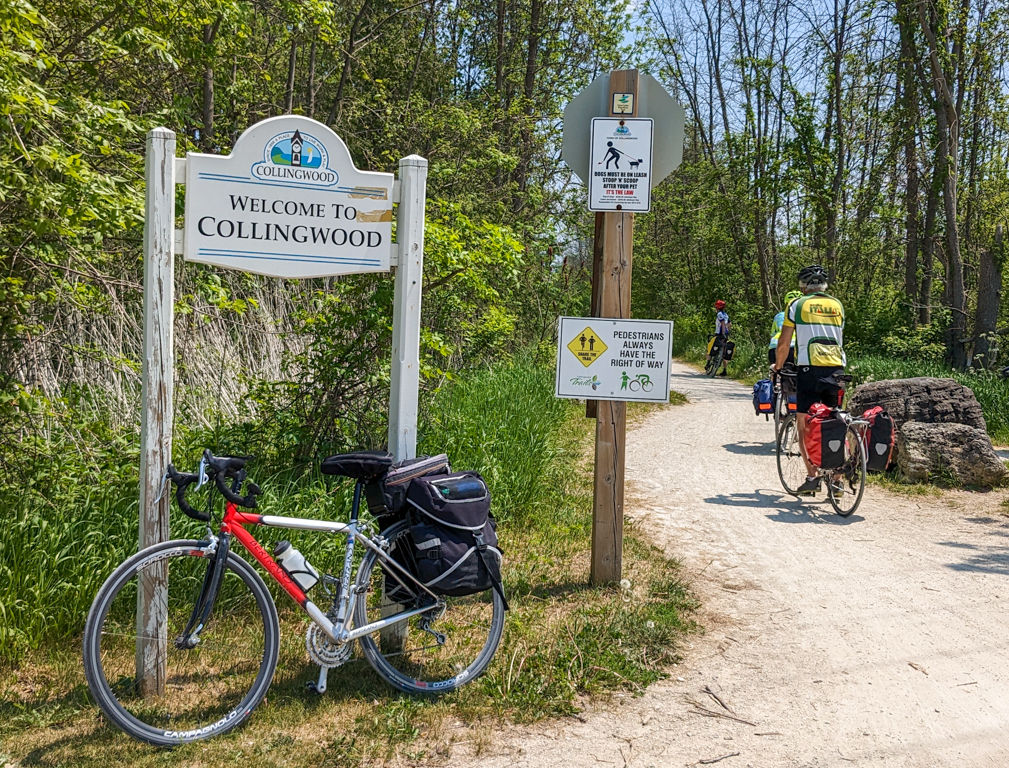 But our main entertainment that day was from one of our very own members Luc Leduc, The Duke of Magic, who left us amazed with his magic act at the Side Launch Brewery that night. It was a ball!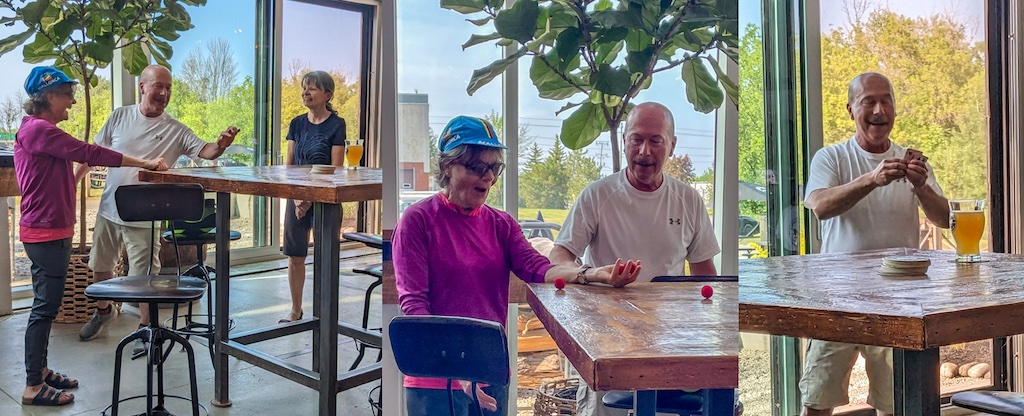 The event was arranged by our amazing leaders and we enjoyed some of the best tacos we've ever tasted from the food truck and some delicious drinks served by the very amenable staff there.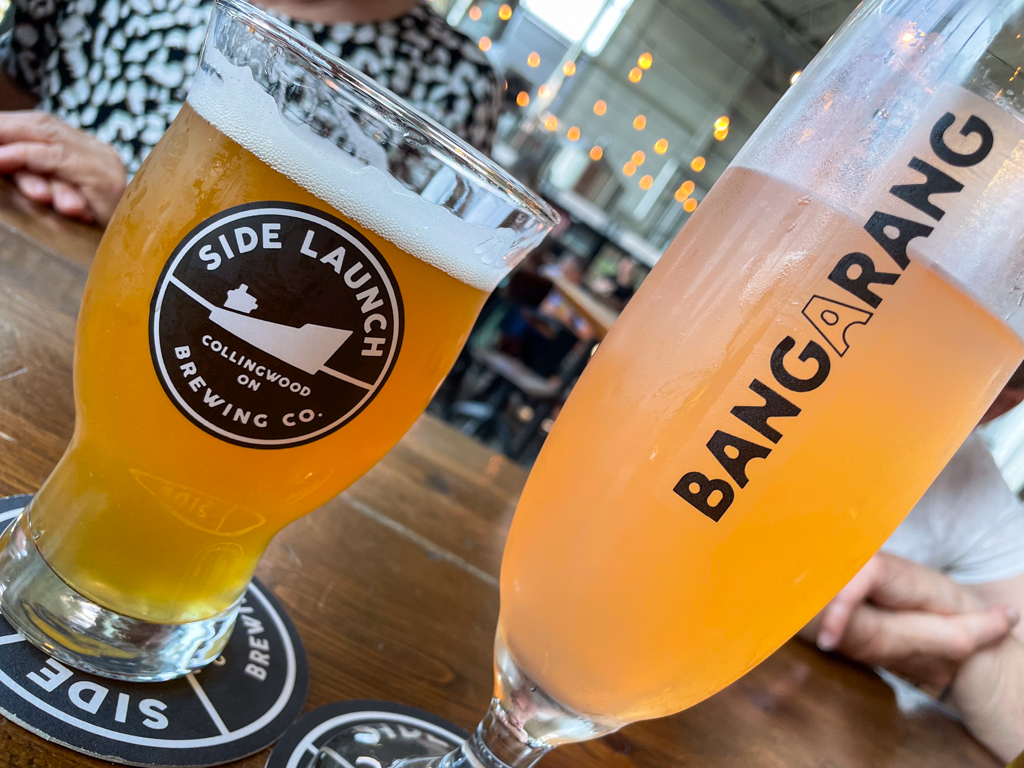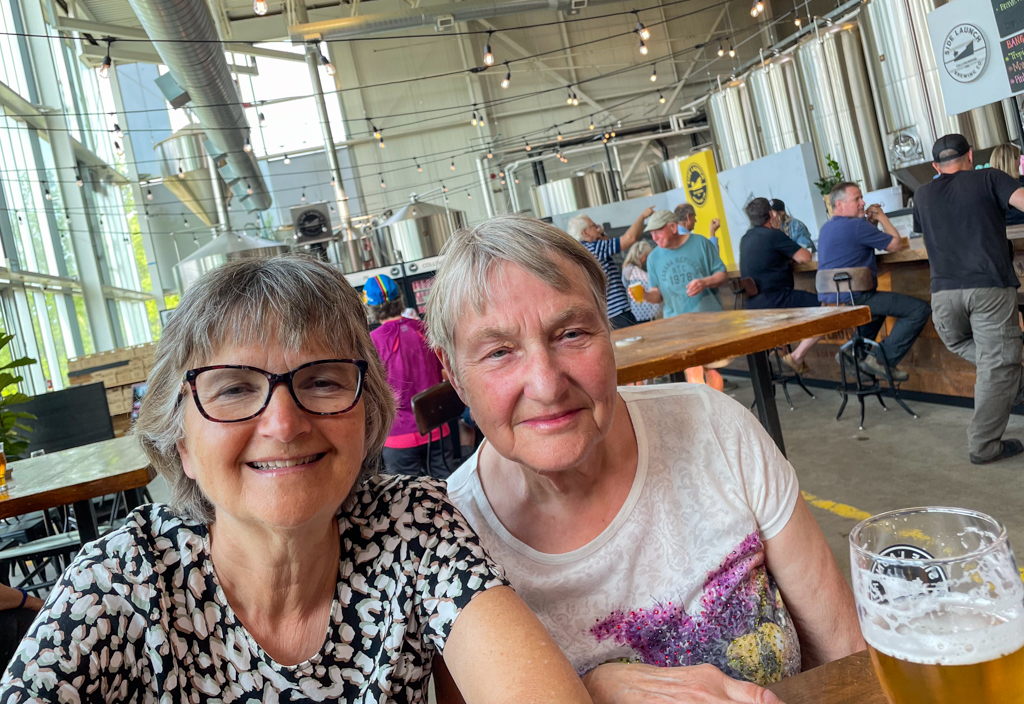 Day 5 route followed the waterfront trail past Wasaga Beach (The world's longest freshwater beach) to Penetanguishene before continuing on to Midland.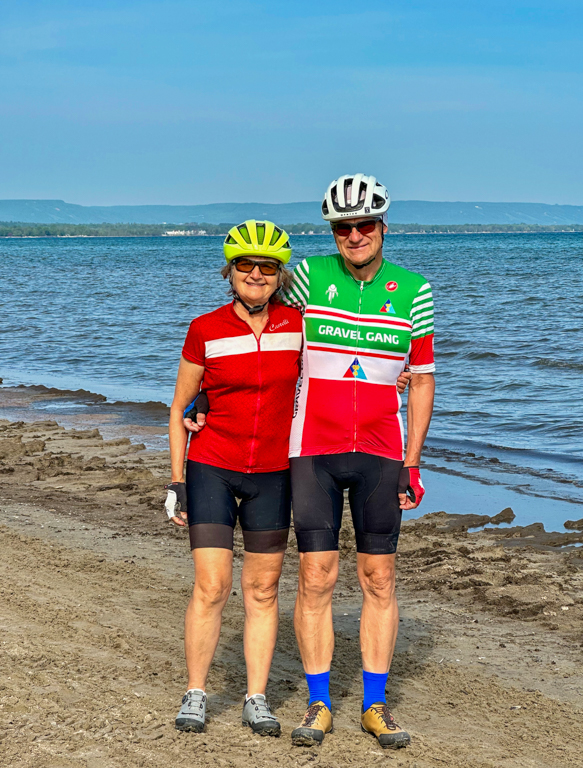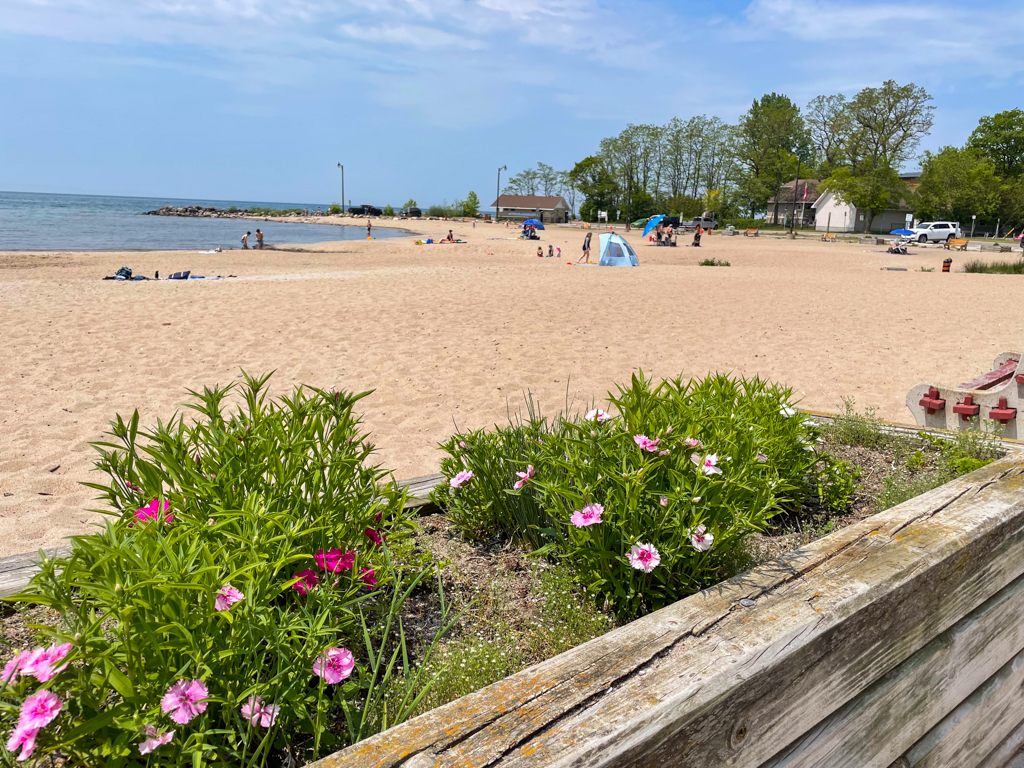 We arrived at Balm Beach for lunch and it provided a unique look into the arcade business that has operated since 1934…and more ice cream, of course.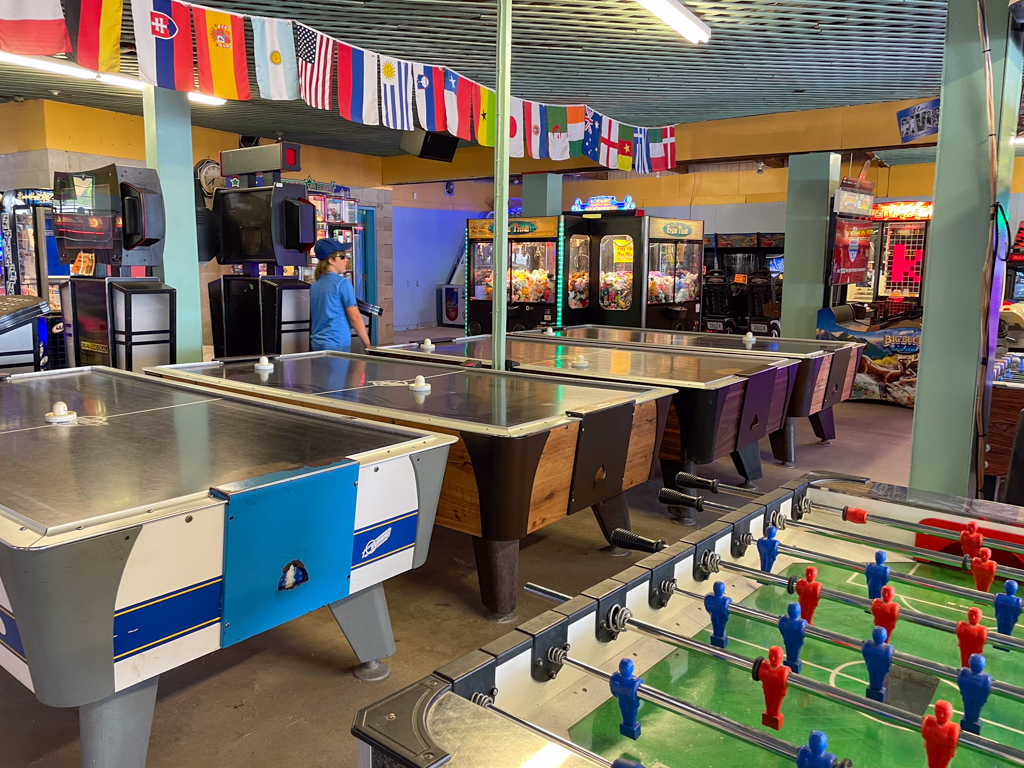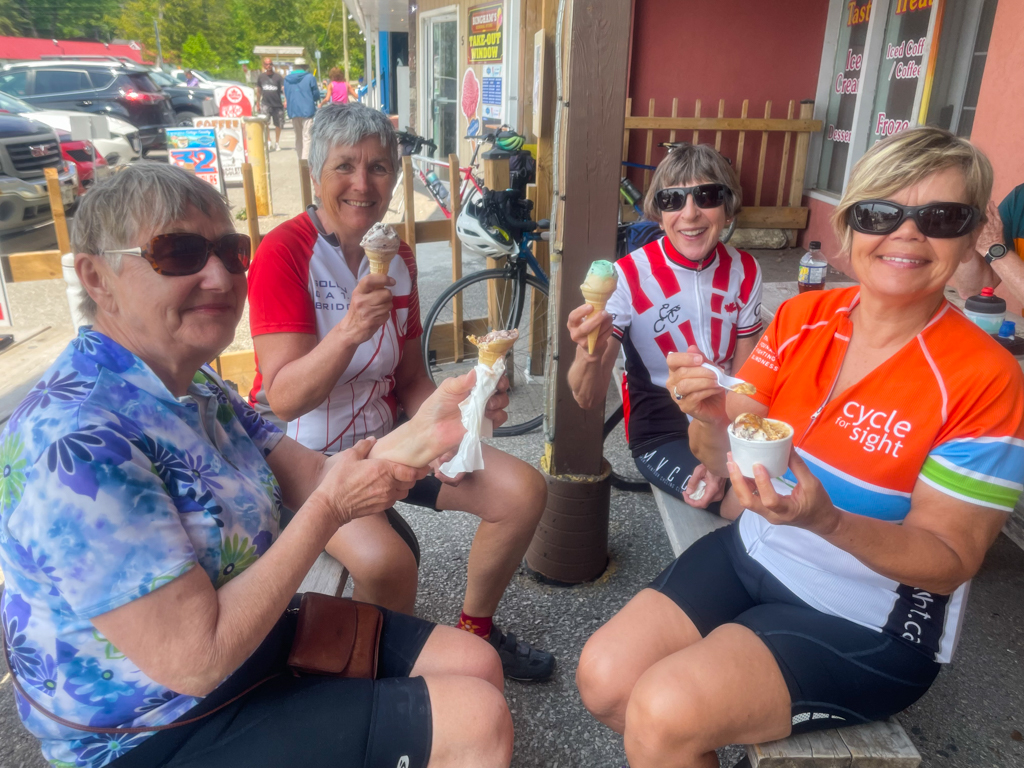 And we even had entertainment: poor Odette was sending a text message when a ring-billed gull swooped down and gobbled up her hamburger. Fortunately, the owners made her another one so she could keep charging up those hills. Resort beaches attract gulls – on our last dinner, a gull waited patiently and decided that we were finished our meal as it swooped down on our table to grab the remaining bits…while we were still sitting there! Discretion prevents us from going into details about a poor wild turkey who was startled as we rode by and was decapitated when it flew up into the path of a passing truck. You've heard of raining cats and dogs, well how about feathers?
After lunch we picked up the Tiny Trail where the mountain bike portion either terrified you or thrilled you with delight. (The township is named Tiny – so everything is Tiny here!)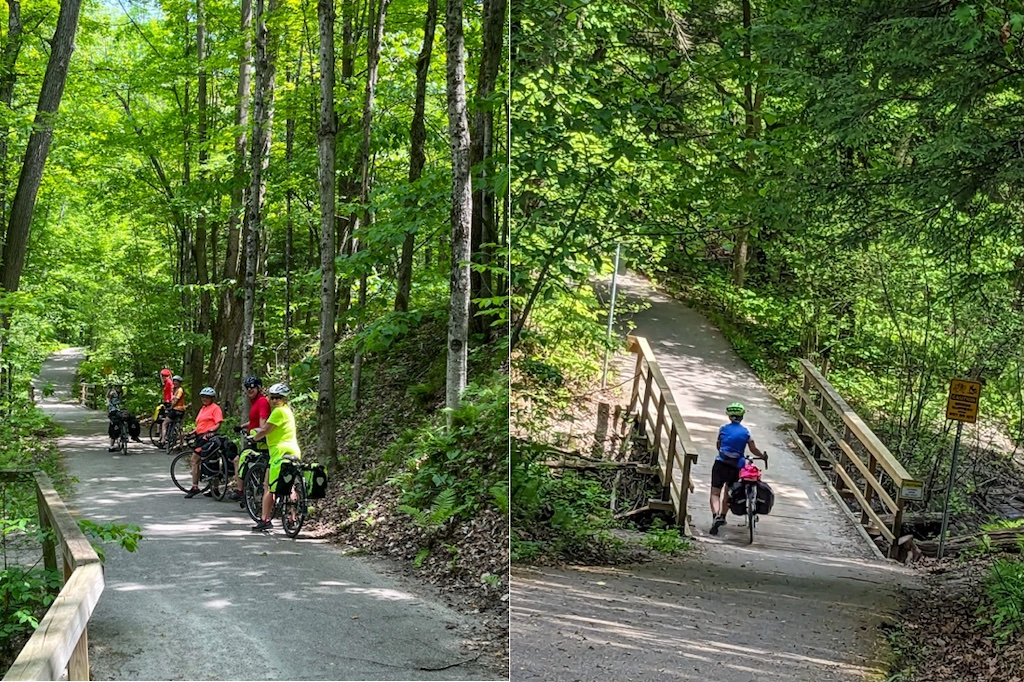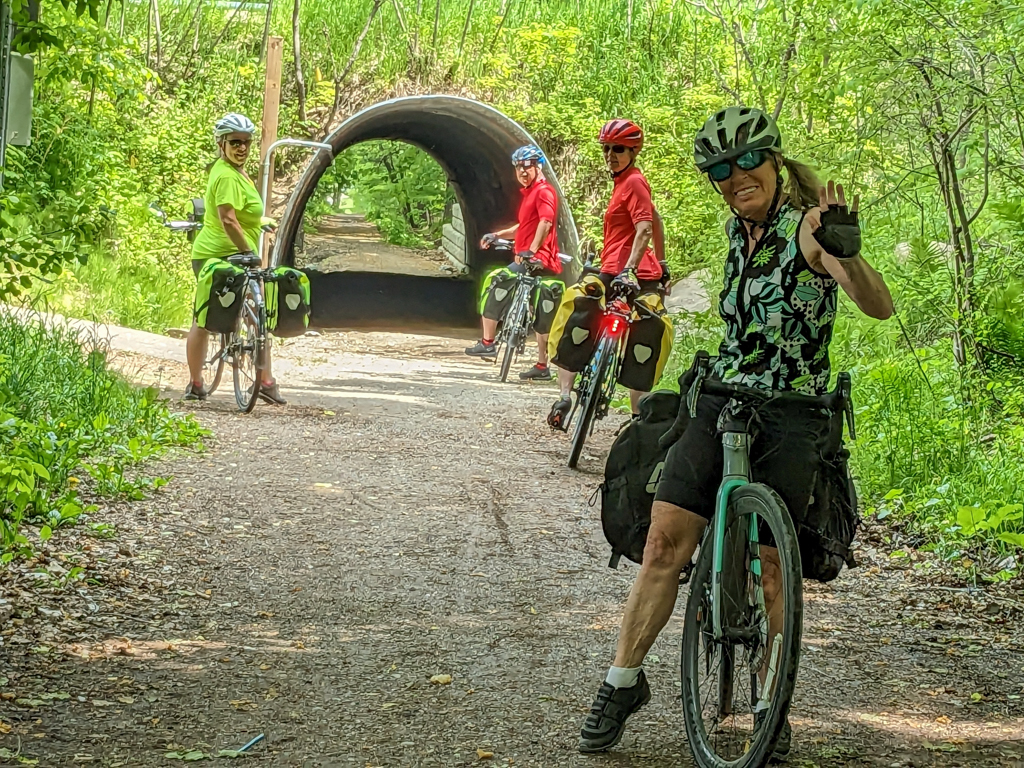 In Penetanguishene, we went by the harbour and some lucky souls were even able to board the Tall Ship at Discovery Harbour for a private tour.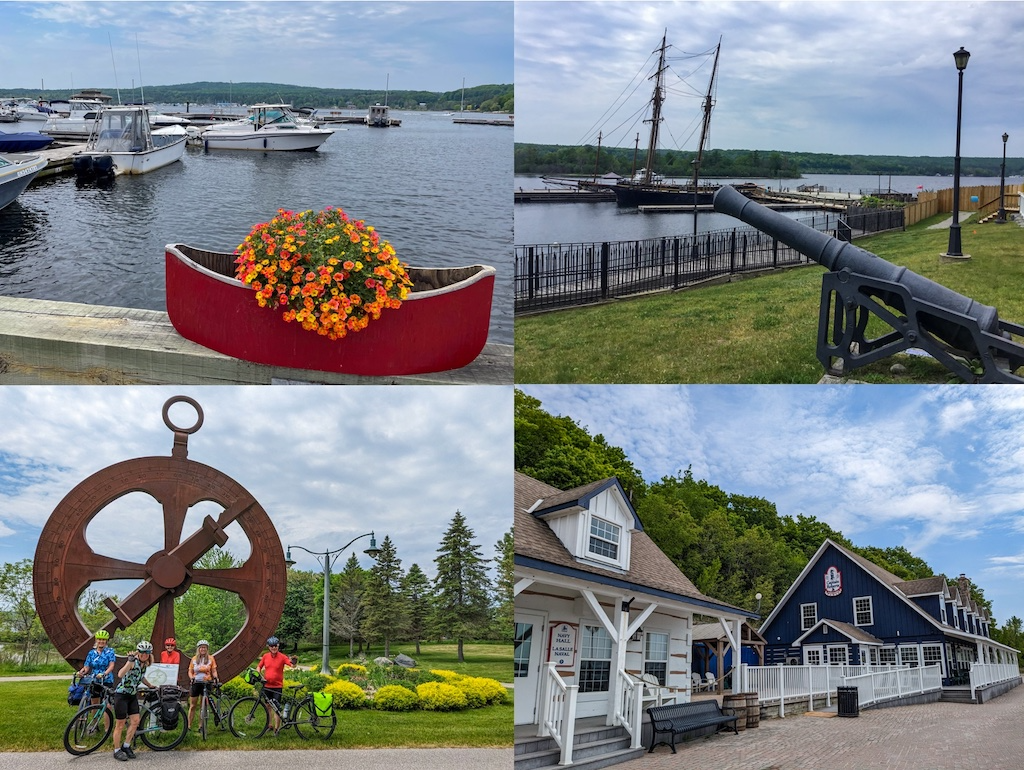 The next day's ride was to Orillia. Georgian Bay is Canada's butter tart region and it was butter tart season! One of our members, who shall remain nameless, availed himself of 8 tarts in one day. No he didn't eat them all 🤪. With so many bake shops selling seemingly infinite variations of butter tarts, we just had to sample as many as possible, and engage in heated debate as to who had the best butter tart. We like to think that the butter tarts and the craft beer was offset by all the cycling – but…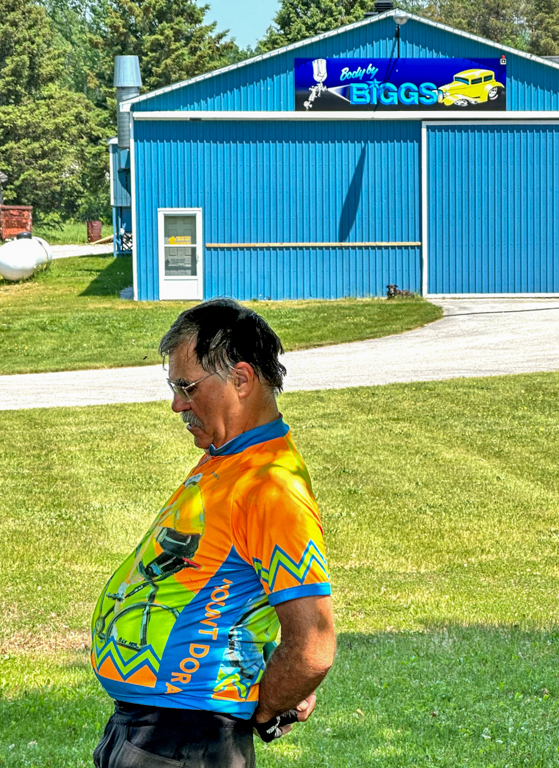 We decided today was a "coffee stop day" and planned to stop at 3 bake shop cafes. First up was Cheeky Mama Bakery & Cafe where we, literally, ate all the butter tarts in the store. When Glen and Carol arrived, there were none left, and it was only through the kindness of a stranger that they got to enjoy the "The Best Butter Tarts You Will Ever Experience" (according to Cheeky Mama).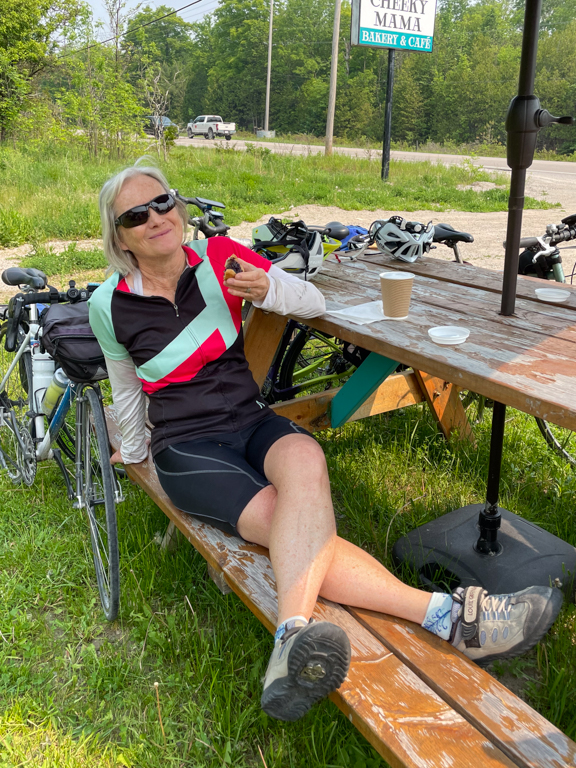 The second stop at Coldwater was a wonderful discovery, and a highlight of the trip. Coldwater was having a pioneer festival that day and Em's Cafe didn't disappoint with lunch. It was a picturesque quirky town with lots going on – from Joshua Sheppard playing guitar to our very own Carole playing piano and merchandise for sale with numerous activities around town.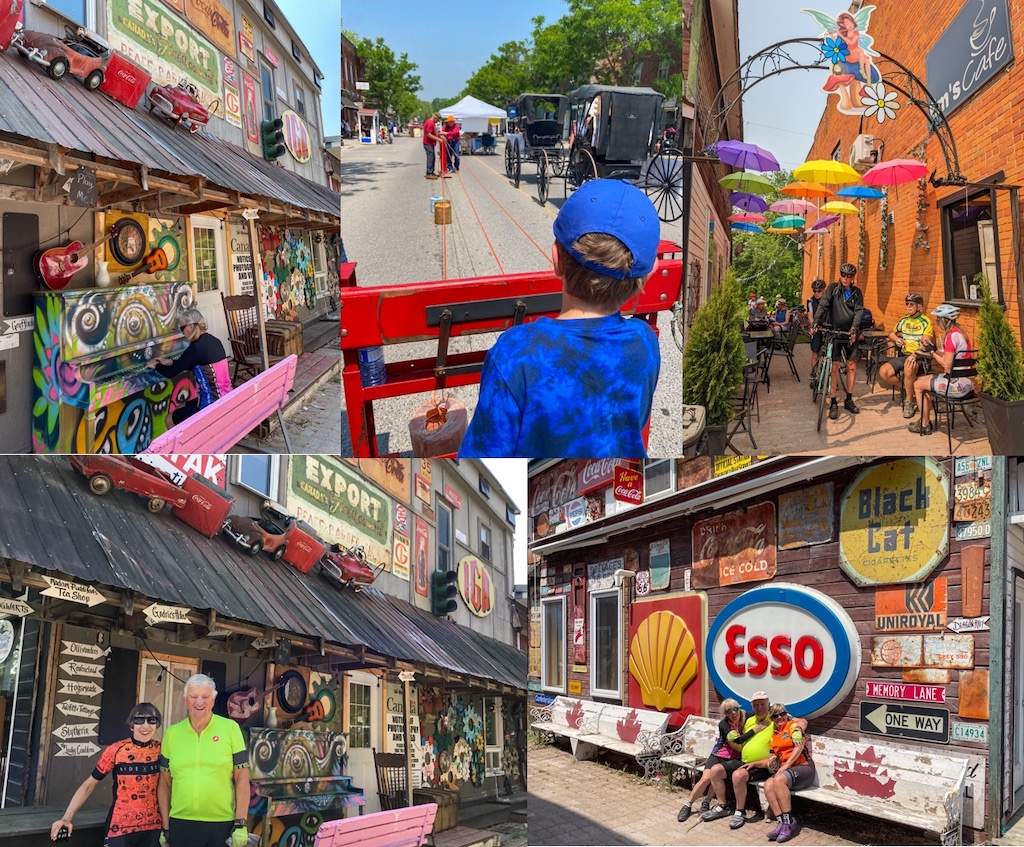 No more so than when an obliging OPP bicycle patrol officer kept one of the groups in stitches. He even insisted on escorting them out of town with shouts of "Clear the way, senior citizens coming through….. clear the way, they are out of control."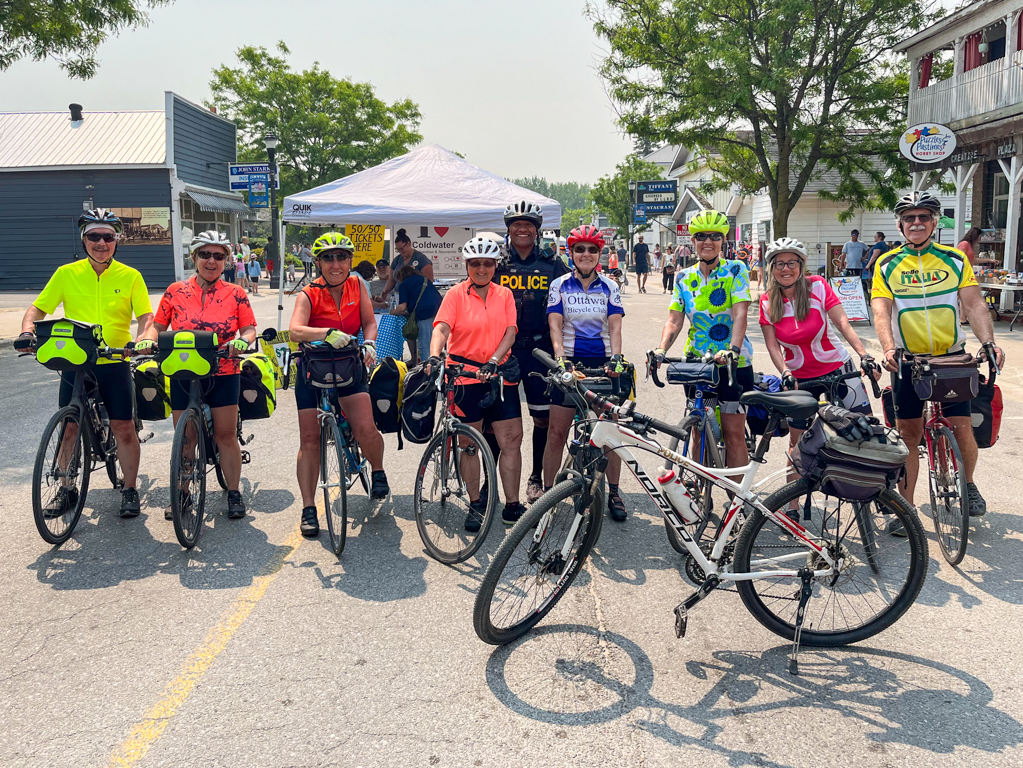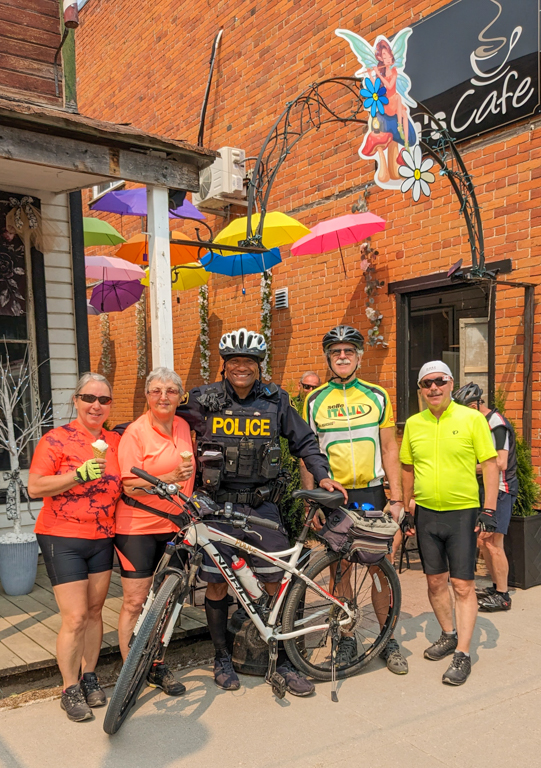 A couple of intrepid souls from Vancouver even waited until St. Marie Among the Hurons, Ontario's first European community, was open and visited the Martyr's Shrine while still completing the ride.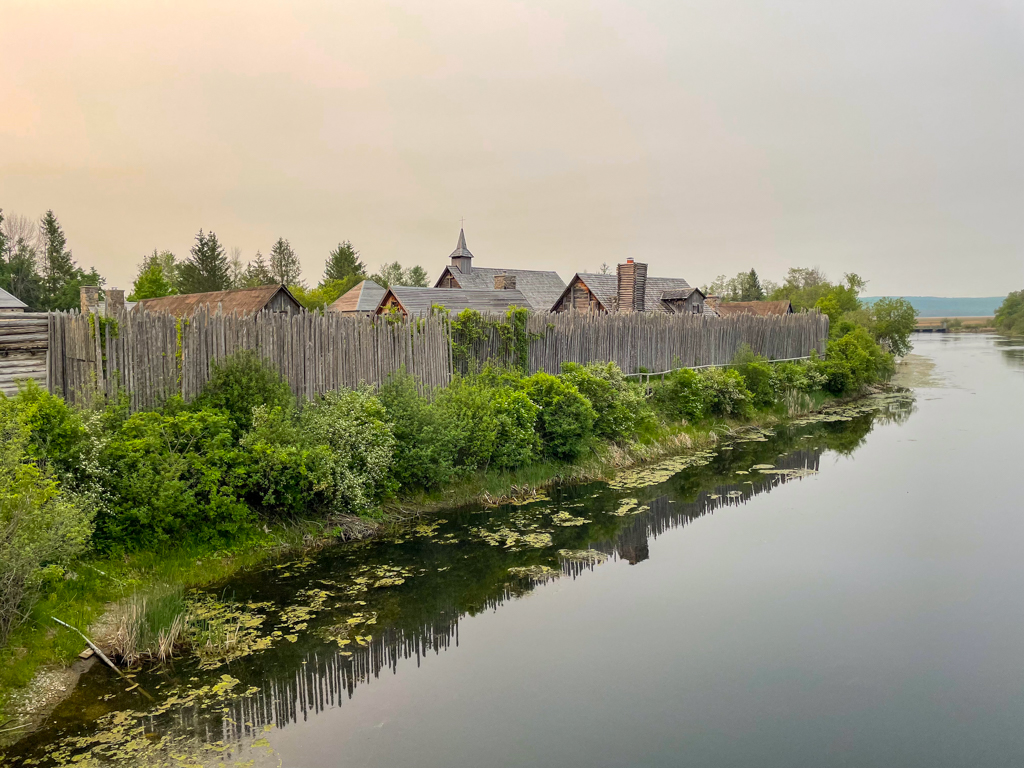 If it wasn't the scenery leaving us agog, it was the animals we met along the way. A snapping turtle delighted us as we watched her laying eggs. I know, at one point, I'm sure she was saying "this is hard enough without an audience", so we left her in peace.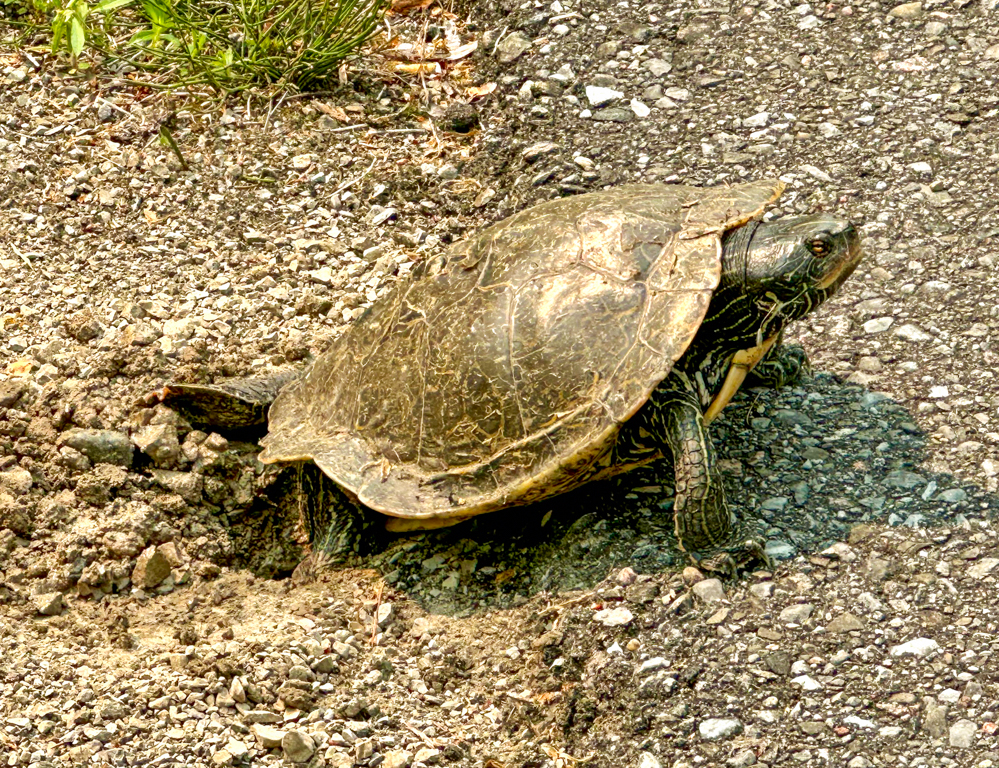 After butter tarts, cafes, festivals, and multiple routes, and in some cases steep hills, we all ended up at Orillia where most enjoyed a scoop of ice cream at Paco's Taco's and some local beer.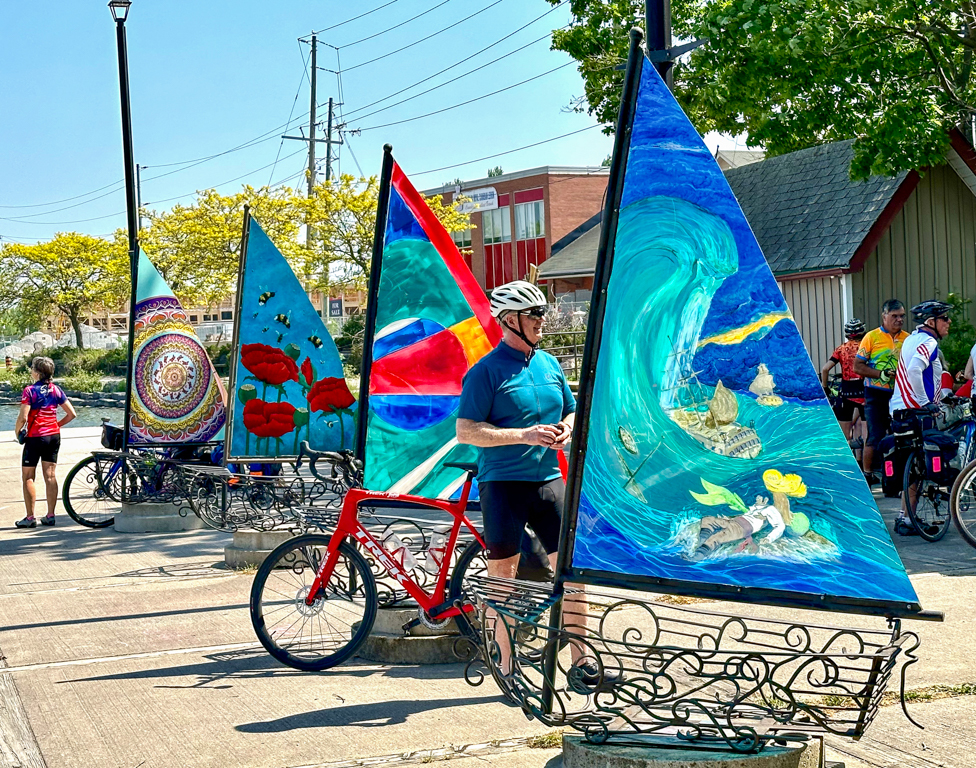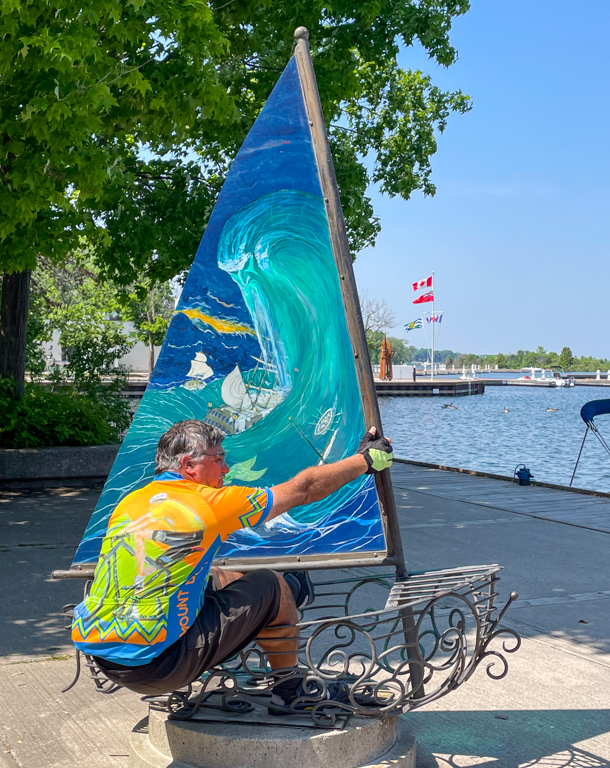 The last day was a breeze as we traversed the Lake Country – Oro-Medonte Rail Trail with some adjacent lakeside roads to bring us into Barrie where there was a festive atmosphere for the half marathon.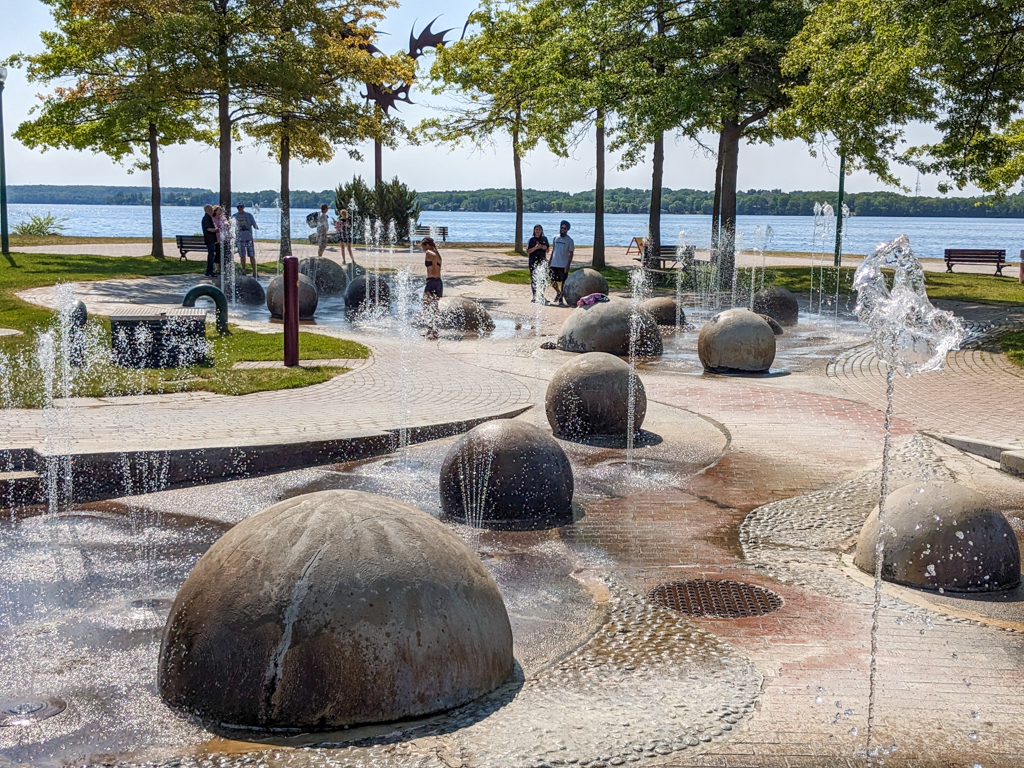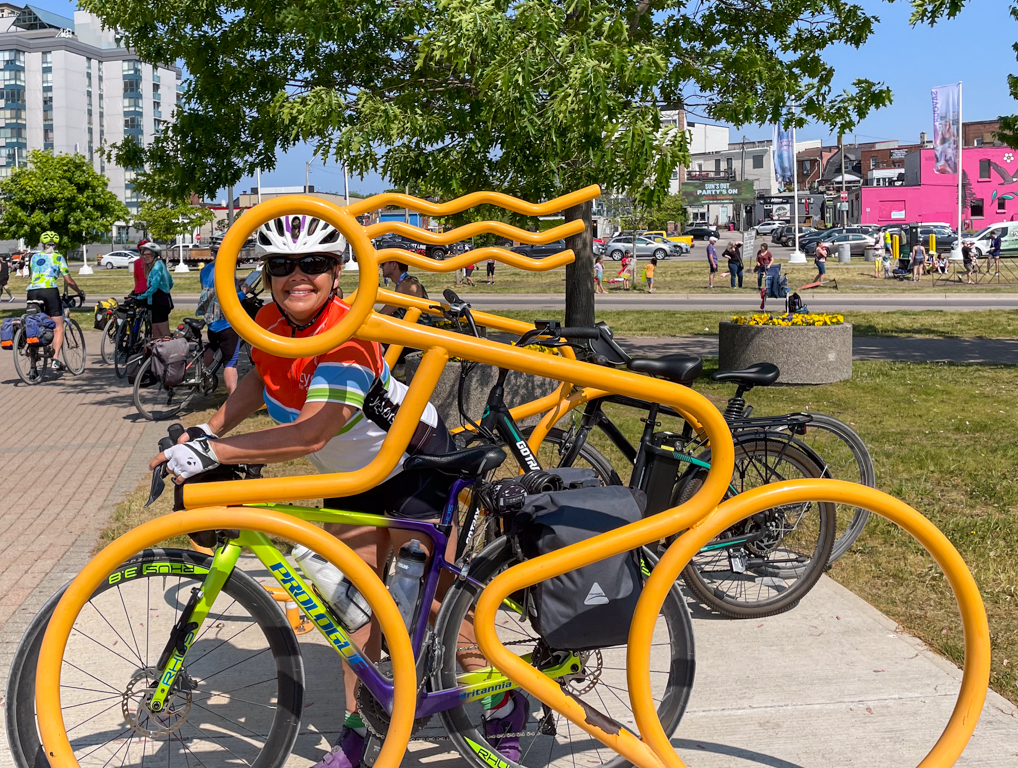 It was a fabulous holiday! So much gratitude is extended to our organizers Dale, Dave, who also did an excellent job of supplying us with goodies every happy hour with their band of volunteers, to Nel, our co-organizer, who also led the rides each day, to all our ride leaders who did such a commendable job, and to Geoff who designed such beautiful and challenging routes. And to all who participated and made this such a fun, fun holiday – un gros merci!