Leader: Maureen Weston 250-721-4101
Co-leader: Margaret Kavanagh 250-291-1398
Tour Contractor: Wild Atlantic Tours
Trip Dates: Fri, 6 Sep 2024 -- Fri, 20 Sep 2024
Trip Classification: Advanced (must plan to ride the whole distance)
Trip Fee: $50 CAD
Trip Numbers: minimum 18 , maximum 24
Trip Registration Opens: Mon, 10 Apr 2023 5:00 PM (pacific time)
Registration Lottery Ends: Sat, 15 Apr 2023 5:00 PM (pacific time)
Trip Registration Closes: Mon, 15 May 2023 5:00 PM (pacific time)
Ride Description: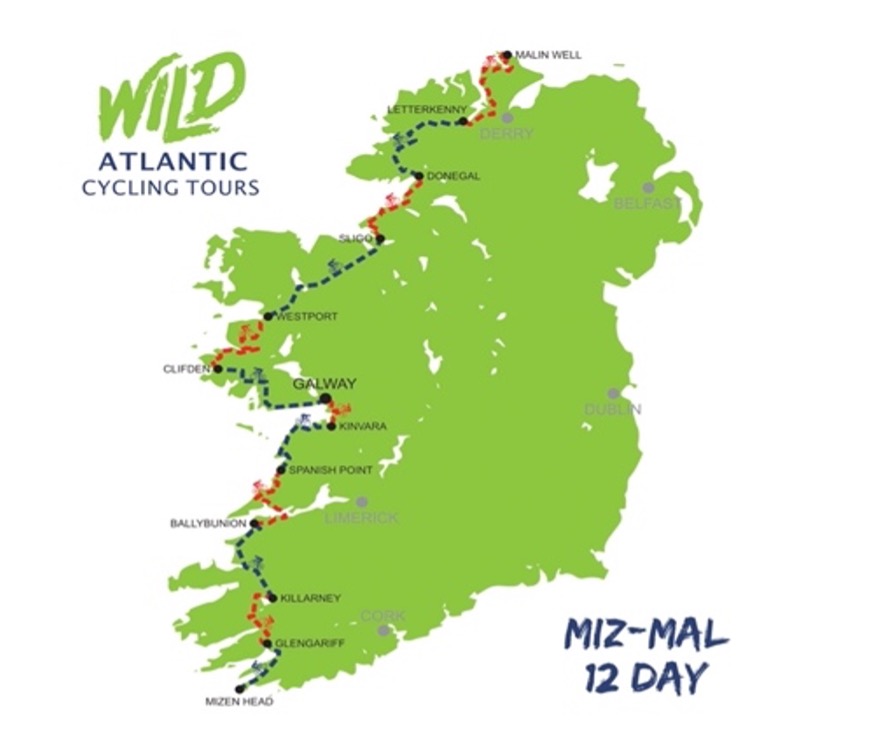 The ride fee is £2,904, which will be paid directly to Wild Atlantic Tours. The Single Supplement fee is £980.
Wild Atlantic Cycling Tours (wildatlanticcyling.com) is an award winning company based in Belfast, Ireland. They specialize in long distance, point-to-point supported tours for the avid and active cyclist.  Check out the reviews for this tour: https://www.tripadvisor.co.uk/Attraction_Review-g186600-d13945666-Reviews-Wild_Atlantic_Cycling_Tours-Cork_County_Cork.html.
The west coast of Ireland is rich in awe-inspiring landscapes, fascinating characters, and foot-tapping music. Cycling Ireland End to End from the most southerly point to the most northerly will leave you with rich memories, new friends, and a thirst for more! There is no better way to explore the wild beauty of the Wild Atlantic Way than from the saddle. The grandeur of the Cork and Kerry mountains. The warmth and joy of a night in a Galway pub. The lunar like landscape of the Burren. The packed mountain ranges dominating the horizon of the Connemara National Park. The giant Sea Loughs of the Inishowen Peninsula. Your Ireland end-to-end journey of 14 days has a breath-taking finish on the rocky promontory of Malin Head. 
Accommodation Reservations:
You will sleep and eat breakfast in local, good quality hotels or guest houses in shared or single rooms. There is a supplement for a single room (Single supplement £980) and the number of singles is limited and subject to availability.  Please notify the Tour Coordinator when you register if you are interested in a single room
Support on the road
An experienced crew will support the trip both on the road and with the van if help is required. However, all participants must be capable of riding the entire distance and will only be provided SAG support as a last resort.  Should a participant not be able to complete the tour it will be their responsibility to make return arrangements, with assistance from CCCTS organizers as needed.  All belongings will be taken ahead to your next stopover and there will be mechanical assistance if required.
Meals and Snacks:
All breakfasts are included. Lunch is included and will be in local restaurants, hotels, cafés, or pubs. There is a lot of choice when it comes to stopping off for coffee on the way as well. Evening meals are NOT included in the price. On occasions you may choose to have an evening meal together with the group, or you are free to stroll around and explore the local cuisine.  Water, fruit, bars, and snacks are available without limit each day from the support van. Gels, shot blocks, GUs or energy drinks are participants' responsibility.
Riding Conditions:
The road surface is predominantly chip seal which is good for the ever-changing weather. The temperatures will be around 14-19°C, but the west coast attracts low pressures, and it gets its fair amount of rain, so be prepared. The beauty about changeable weather is that every day can be different. Clouds form overhead and completely change the look of the landscape. One hour you can be bathed in sunshine, the next you can be marveling at the cloud shadows, colors and rainbows against the green fields, mountains, and bluffs.
Fee Includes:
Registration Fee Includes:
If needed, Tour Coordinators' miscellaneous expenses such as phone calls, printing, etc.
Credit card stripe fee of 3% applicable to $50 registration fee only.
Fee to Wild Atlantic Tours Includes:
Lodging for 14 nights based on two persons sharing a room including a night in Dublin on 6 Sept and a night in Belfast on 19 Sept. Single supplement £980.
Transportation from Dublin to Cork at the start and from Malin Head to Belfast at the end of the tour. Transportation will also be provided from Belfast to a Dublin on the very last day exact location TBD.
Maps and GPX files will be emailed to participants by the tour company before the tour starts
Food/Meals as per the description
Support vehicle provided
Fee Does Not Include:
Airfare to and from Dublin
Group outings and activities outside of this description
Meals other than those noted above
Tour Coordinator fee: both tour coordinators will pay their own way
Bike box storage and return £70
Bike rentals

Road bike £351 for 13 days
Regular hybrid bike £351 for 13 days
Hybrid E-bike £429 for 13 days

Tips for contractor guides/staff

Medical Travel/Trip Cancellation Insurance. Participants must ensure they have travel medical insurance coverage and should strongly consider obtaining

t

rip cancellation insurance before making any flight or tour payments.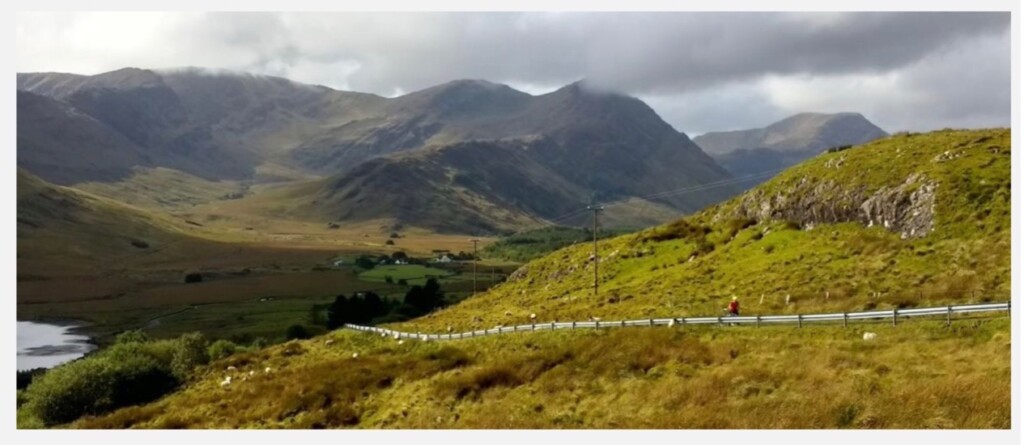 Itinerary:
The distances range from 60-106km with an average of 88km per day.   Climbing averages 800m or 2700' per day with a maximum of 1130m or 3800'. Note: there are no rest days!
Friday September 6 Day 0 - Arrive in Dublin and stay at Maldron Hotel at Dublin airport arranged by Wild Atlantic.
Saturday September 7 Day 1 – Meet with the Tour company and drive from Dublin to Cork, stay at Cork airport hotel.
Sunday September 8 Day 2 - Mizen Head to Glengarriff 60km/635m
From our hotel in Cork, we take a coach transfer to Mizen Head – one of the extreme points of Ireland.  We then cycle the beautiful Mizen Peninsula with its Atlantic breakers and rugged coastline.  We pass through the pretty town coastal town of Bantry and on to Clengarriff.
Monday September 9 Day 3 - Glengarriff to Killarney 82km/490m
This day includes 3 climbs. The Caha pass culminates at the summit with a tunnel hewn into the rock.  The 2nd climb takes us up a scenic pass to Molls Gap.  Then it's a descent to the Black Valley followed by the 3rd climb to Killarney via the Gap of Dunloe.  Killarney is a treat with lively night life, restaurants, pubs, music, and a breath-taking National Park.
Tuesday September 10 Day 4 – Killarney to Ballybunion 102km/808m
A mostly flat day of rolling rural landscapes with one climb. We head east on the Dingle Peninsula and traverse the peninsula with sea views and a thrilling descent.  We stop in Ballybunion with steep and rocky cliffs and surfing beaches.
Wednesday September 11 Day 5 – Ballybunion to Spanish Point 82km/490m
From Ballybunion we take quiet rural roads by the Shannon Estuary to Tarbet.  Then it's a pleasant and relaxing 20-minute ferry ride (included) across the estuary with its colony of bottlenose dolphins.  The brave can take a dip in the Atlantic Ocean at Spanish Point.
Thursday September 12 Day 6 – Spanish Point to Ballvaughan 80km/882m
 Today we are rewarded with some stunning cycling landscapes.  We head north along the Wild Atlantic Way and stop off at the Cliffs of Mohr.  The day's only real climbing is a scenic one to it awe-inspiring cliff viewpoint.  Then it's the coast road through the beautiful village of Doolin and on to the Burren – a limestone plateau with its truly unique landscape, stone walls, and views of the Atlantic Ocean and Aran Islands.
Friday September 13 Day 7 – Ballyvaughan to Galway 73km/608m
From Ballyvaughan we head south a little into the lesser explored areas of the Burren.  The isolated country roads lead us past ancient stone walls and a Poulnabrone dolmen dating back to the Neolithic period.  We continue a gentle descent through the Caher Valley to the bustling town of Galway.
Saturday September 14 Day 8 – Galway to Clifden 96km/604m
Today we head in mostly a westerly direction to the historic town of Clifden.  We ride through the bogs of Conemara past shimmering lakes, rivers, and views of the Maamturk and Twelve Ben Mountain ranges.  This is one of the most remote days and you can cycle for miles without seeing much sign of human existence.  It all changes when we reach Clifden a popular spot for hikers and outdoor enthusiasts.
Sunday September 15 Day 9 – Clifden to Westport 78km/809m
Leaving Clifden we embark on a truly spectacular day of mountain passes and fjords.  Heading NE into the mountains of County Mayo we lunch at the Killary fiord among the heather covered mountains.  Our biggest climb is the Sheefry Pass where we cycle tiny roads through sheep farms to the summit.  Your reward is a long thrilling descent into Westport.
Monday September 16 Day 10 – Westport to Sligo 106km/823m
Today we are off the beaten track on quiet, rural roads through picturesque small villages and towns.  The terrain is gently undulating with few significant climbs.  We reach Sligo on quieter roads via Oakfield.  In Sligo you will have time to enjoy its scenic river walks and cathedral.
Tuesday September 17 Day 11 – Sligo to Donegal Town 85km/732m
We leave Sligo heading NE towards Rosses Point via the coastline.  You can visit the grave of the poet Yeats as we pass the Drumcliffe Cemetery.  From here we make a short loop around Mullaghmore with its fantastic headlands, vast sandy beach, and small fishing village.  We continue to Donegal the home of Ireland's country music.
Wednesday September 18 Day 12 – Donegal Town to Letterkenny 90km/1130m
Today we ride north into the heart of County Donegal – Ireland's most remote county.  It is also a day with lots of climbing.  We pick our way through quiet roads passing through pretty villages such as Glenties, and along the shore of Lough Fin.  From here it's into the bogs, mountains, rivers, and lakes of Glenveagh National Park.  The views are stunning as we tackle the biggest climb of the day from Lough Barra to one of the Parks most photographed viewpoints.
Thursday September 19 Day 13 – Letterkenny to Malin Head 88km/882m
Leaving Letterkenny, we pass through Buncrana – the gateway to the Inishowen Peninsula.  Heading north, the peninsula is hilly with spectacular surprises around every bend.  The tidal sea loughs are vast and unique with backdrops of distant headlands, sand dunes, and mountains.  Malin Head is the most northerly point and with its windy location it both looks and feels it.  From here we head south by transport to Belfast for the night for one night at a Titanic Hotel arranged by Wild Atlantic.
Friday September 20 Day 14 – The morning will be free to tour Belfast with return to one location in Dublin (possibly Maldron Hotel at the Dublin airport) where the tour concludes.
Registration and Participant Selection: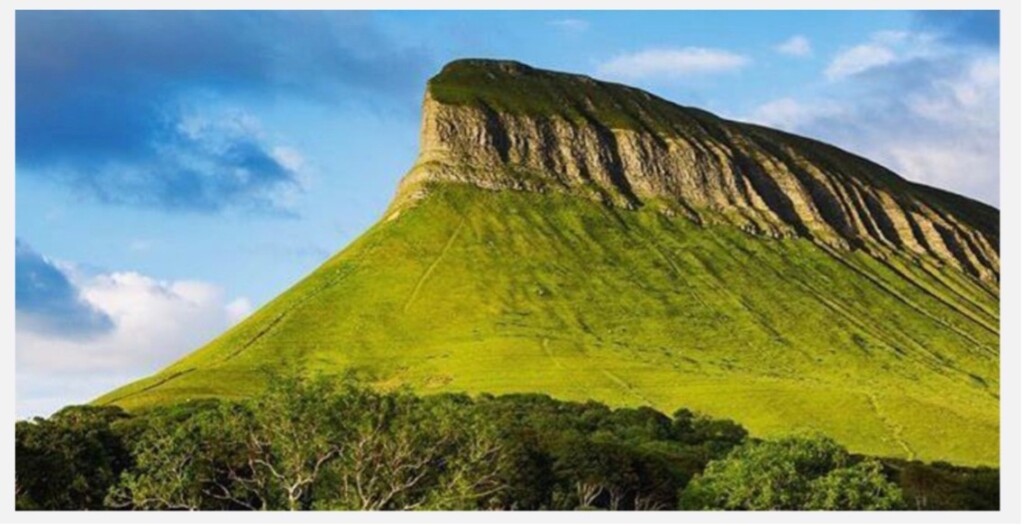 Registration will be on the CCCTS website on the date shown. A computerized lottery system and waitlist will be utilized if the ride is over-subscribed. The lottery signup will run for 6 days, after which the Ride Leaders will review the results.
The selection process will consider the following criteria in evaluating candidates:
fitness and riding ability and experience required for the tour,
a history of demonstrating safe riding practices,
acceptable social behavior.
The leader may interview riders or others who know them to verify their suitability for the tour. The leader has the ultimate authority in accepting participants for the tour.
The leader will notify registrants of their selection status. The tour will be cancelled if the minimum number of registrants is not met by May 15 2023. Registration fees will be refunded if the tour is cancelled.
After you have been notified you are selected for the tour, the tour fee of £400 is due on 31 May 2023 paid directly through the Wild Atlantic website. (https://www.wildatlantictours.ie/)
Wild Atlantic's Cancellation Policy
£400 deposit is due on completion of the Booking Form. Your place on the tour will be confirmed as soon as the deposit is received.
The balance is due no later than May 06, 2024.
If you need to cancel a tour the cancellation charges below apply.
- More Than 90 Days before departure - 100% refund or 100% future trip credit
- 61-90 Days 75% refund or 100% future trip credit
- 31-60 Days 50% refund or 75% future trip credit
- 30 Days or Less No refund and no future trip credit
We cannot make exceptions to this policy for any reason including personal emergencies, unexpected weather, natural disasters, or terrorism. Wild Atlantic Cycling also reserves the right to cancel any trip using our discretion if the safety of our travelers or staff should be compromised. In the event of cancellation, Wild Atlantic Cycling is not responsible for any loss incurred for non-refundable travel costs. In this case, a refund of payments received by Wild Atlantic Cycling will constitute the full and final settlement.
Tours are subject to reaching the minimum bookings required. We advise you contact us before booking flights or other travel. In the unlikely event of having to cancel a tour, we will endeavor to do so by the date your balance is due (May 06, 2024). You will have the option of transferring to an alternative tour or a refund of all monies paid to us by you. In the case of inadequate group size, Wild Atlantic Cycling is not responsible for any additional expenses that may be incurred by you in preparation for the tour.
Accommodation is on a Sharing basis unless you specify Single at time of booking. If you book on a general Sharing basis, we will attempt to place you with someone of the same gender. If this isn't possible you will need to upgrade to a Single and will be asked to pay the single supplement.
Wild Atlantic Cycling may occasionally have to cancel a tour. We will do our utmost to avoid this. If a tour you have booked on does not run, for whatever reasons, you will be notified as early as possible, and all monies will be refunded, or an alternative tour proposed. Our scheduled tours nearly always run. However, we recommend that you contact us before booking flights or ferries, etc.
COVID/ Communicable Illnesses Information:
CCCTS requires all participants to be fully vaccinated for COVID-19, and proof may be requested by the leaders.
Everyone should bring three COVID test kits with them on the tour and take responsibility for self-testing if they feel ill.
Participants are asked to refer to the document: CCCTS Communicable Illnesses Plan 2023, posted on the club website, for specific information related to health safety while touring.