Leader: George Zorn 250-832-9335
Co-leader: Craig McBride (250) 833-6626
Co-leader: Pat Hutchins (250) 804-6792
Trip Dates: Tue, 23 May 2023 -- Sun, 28 May 2023
Trip Classification: Intermediate to Advanced
Trip Fee: $120 CAD
Trip Numbers: minimum 8 , maximum 13
Trip Registration Opens: Sun, 5 Mar 2023 5:00 PM (pacific time)
Registration Lottery Ends: Sun, 12 Mar 2023 5:00 PM (pacific time)
Trip Registration Closes: Tue, 11 Apr 2023 5:00 PM (pacific time)
Ride Description: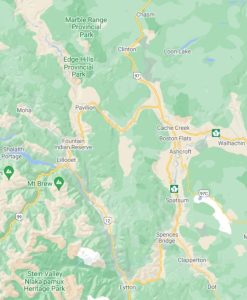 Regional map of area of bike rides
Above photo: High Bar Road along the Fraser River - Jurgen Harding, June 14, 2022 
Explore five scenic, beautiful areas following roads less travelled along and near the mighty Fraser River on the dry side of B.C.'s Coast Mountains. Building on our Club's June 2022 Hub and Spoke gravel roads cycling experiences and September 2022 cycling recces, this group supported camping and four cycling days Hub and Spoke ride will be based from a campground hub in Clinton for three nights and followed by a 2-night hub based at Lillooet's Seton Dam Campground. Bring your camera, binoculars and mountain bike, gravel bike or wide-tire hybrid bike for a BC backroads cycling adventure!
June 2022 CCCTS Hub & Spoke Trip Report with a Drone Video and Cycling Group web album 
Two YouTube videos and Photos of the High Bar Road, Fraser River grasslands, Big Bar Ferry Road west of Clinton:
Photos, October 2021 - Pavilion Mtn., Diamond S Ranch, Fraser River: North of Lillooet, and 2021 McKay Creek Wildfire (45,000 hectares) in background.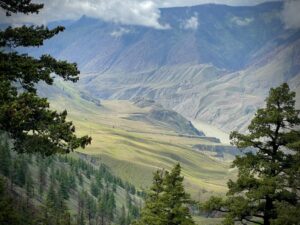 Fraser River grasslands from High Bar Road switchbacks
Pat Hutchins photo, June 14, 2022 
Accommodation Reservations:
A group booking has been made at the Clinton Pines RV Park & Campground for six shared campsites. Once your Hub and Spoke "Go List" status is confirmed, please contact Dianne Andreesen at the Clinton Pines to confirm your campsite and to arrange payment. Campsite sharing with more than one tent is possible. There are motels and B&B  options in Clinton.
The quiet, well-kept Seton Dam BC Hydro Campground near Lillooet is non-reservable, no campsite fees. Water, Pit Toilets, Picnic Tables, spacious in-the-trees campsites. Nearby in Lillooet warm shower options: the community indoor pool and a community campground near the Bridge of the 23 Camels. Seton Lake beach is close by for a refreshing swim on a warm day.  There are motels and B&B  options in Lillooet.
Riding Conditions:
Intermediate - Advanced Ride Classification. Cycling on gravel roads. High Bar Road descends from 1520M elevation near the Jesmond Road junction thru Edge Hills Prov. Park, past Cougar Point at the top of the switchbacks, down along the Fraser River at 280M elevation. The road drops about 1240 meters over 15K with some >20% downhill grades for ~800M at the bottom of the hill, below the switchbacks. The group who cycled this section in June 2022 had no problems biking down this road grade. 
Steep drop-offs on some road sections each day will require your vigilance.
See the Ride with GPS links in the Itinerary section below for each day's ride route climbs, descents and grades and in the Itinerary section's Summary Table.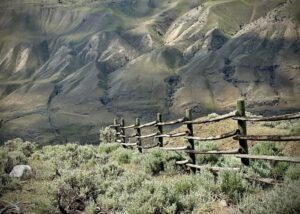 Pat Hutchins photo - June 14, 2022
Fee Includes:
Fee of $120 per cyclist includes: 
$100 per cyclist for staging and accompanying vehicles' fuel expenses and a tad for vehicle wear and tear. The three staging and accompanying vehicle's drivers, who will also be cycling, will not pay this fee.
"Staging" means vehicle owners will transport all cyclists and bikes to the start of the day's ride from our campground and back to the campground from the end of the ride.
"Accompanying" means shared driving of the three vehicles by the group of cyclists along the day's ride route to provide group support: carry the groups lunches and water, sag support, first aid support, road radio communications.
Staging and accompaniment vehicles:
Craig McBride's pickup truck with bike carrying capacity 
George Zorn's RAV4, towing a utility trailer  for bikes and gear

Do you have a high clearance pickup truck or SUV with seatbelts for 5 cyclists including the driver and 5-bikes plus gear carrying capacity to contribute? Driving distances are: i) Staging: 372K (you drive), ii) Accompanying: 245K (shared driving by cyclists). Must have minimum $5M Liability Insurance.  Please discuss with George Z. A Salmon Arm CCCTS cyclist's vehicle may be available. To be confirmed.  
Participating cyclists will share a portion of the driving of these three accompanying vehicles on each day's cycling route but not on each day's staging sections. 
$20 per cyclist to cover trip incidentals: kitchen supplies, road channel radios rentals, bike transport gear to protect bike paint.   
Fee Does Not Include:
No Breakfast, Lunch or Dinner costs are included in the Registration Fee.
Cook Teams will be set up well in advance of the ride dates to plan and look after each day's Breakfast and Supper preparations for the entire cycling group, including the arrival day dinner and departure day breakfast. It is expected that food costs for the four Ride Day  meals will be shared equally by all participants on a Cook Team basis. One group Dinner is planned at Lillooet's Ft. Beren's Winery, "The Kitchen" on Ride Day 4.  
Cook Teams will coordinate the gathering of a kit of shared kitchen equipment including stoves and fuel, pots, utensils, coolers, wash basins, dish soap, water containers, dish towels, tarps &/or pop up awnings, etc.
Participants will bring their own lunch fixings. Joint cooler storage is necessary because  space will be limited to transport gear.
Participants will bring their own plate, bowl, mug, and cutlery.     
Itinerary: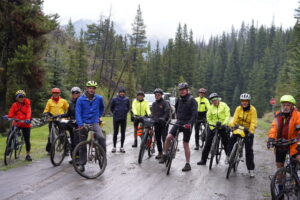 "Ready to ride" - June 14, 2022 CCCTS cyclists - top of High Bar Road
Explore four scenic ranch roads less travelled on the dry side of B.C.'s Coast Mountains, initially based in Clinton at the Clinton Pines RV Park & Campground for three nights camping. Nights four and five will be based near Lillooet at the Seton Dam Hydro campsite: no reservations, no campsite fees. Thanks, B.C. Hydro! 
NOTE: Drivers of non-accompanying vehicles or RVs will need to drive these vehicles 108K via Hwy 97 and Hwy 99 from Clinton to Lillooet's Seton Dam Hydro campsite on Ride Day 3 while others cycle the West Pavilion Road with the accompanying vehicles. Alternatively, there may be Clinton residents who are willing to shuttle non-accompanying vehicles or RVs to Lillooet for a fee. To be confirmed. 
Arrive at Clinton Pines RV Park & Campground the afternoon before Ride Day 1.
Note: Ride with GPS links are linked below for each day's ride and in the Summary table below.  
Ride Day 1: cycle the spectacular Fraser River grasslands, canyons and benches between High Bar and Big Bar. Views across the Fraser River to Watson Bar Creek.
36K cycling, 1572M descent, 712M climbing.

Ride Day 2:  Pavilion Mountain, Marble Canyon, Upper Hat Creek grasslands, the Cornwall Hills and Oregon Jack Creek.
67K cycling, 1924M descent, 816M climbing. 
Ride Day 3: the scenic West Pavilion Road road, with a Fraser River crossing  on the Big Bar Reaction Ferry. We'll explore the Watson Bar Creek grasslands down to the Fraser River and then ride south to Lillooet to camp there for two nights.
76K cycling, 3221M descent, 1210M climbing.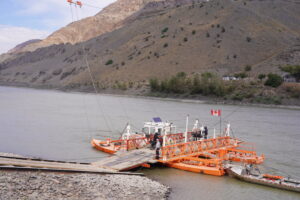 Big Bar Reaction Ferry,  Sept. 4, 2022. Fraser River crossing - closes for high water periods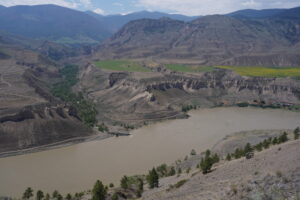 Watson Bar Creek along west side of Fraser River from High Bar Road - June 14, 2022

Cyclists' tents, sleeping bags, personal gear bag, folding chairs and group kitchen gear can be be transported with the three cycle route accompanying vehicles to Lillooet.

Drivers of non-accompanying vehicles or RVs will need to drive these vehicles 108K via Hwy 97 and Hwy 99 from Clinton to Lillooet's Seton Dam Hydro campsite (no reservations required and no charge). Local Ride Day 3 alternative cycling options and "hanging out" options are available in the Lillooet area. Details to be provided based on what you want to do.  Suggestion: Drivers of non-accompanying vehicles coming from Clinton prepare Ride Day 3 dinner for the group, including those cycling the W. Pavilion Road from Big Bar Ferry.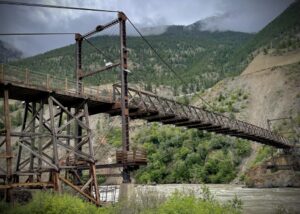 Pat Hutchins photo - June 16, 2022.
Lillooet Suspension Bridge, one-lane, was constructed in 1913.
The "Bridge of the 23 Camels", two-lane was built down river in 1981.

Ride Day 4: The forests are more dense and green today than what we saw on Ride Day 3, as we start cycling south of Lillooet to Lytton on the Texas Creek – North Spencer Road on the west side of the Fraser River. We cross the Fraser River a second time on the Lytton Reaction Ferry, approx. 185K downstream by our cycling route from the Big Bar Reaction Ferry. We'll drive north on Hwy 12 back to our Lillooet area campsite for a celebration dinner at Fort Berens Winery , "The Kitchen Restaurant".
66K cycling, 1394M descent, 1333M climbing.
Next day: depart for home after Breakfast in camp or consider exploring more of the Lillooet region.  
PLEASE NOTE: this Hub and Spoke's Start Date, May 23, 2023 and End Date, May 28, 2023 are based on predictions of the expected early June start of Fraser River highwater closures for the Big Bar Ferry and the Lytton Ferry.    
Summary Table of  Cycling Distances, Climbing / Descending Elevations
and Ride with GPS Route links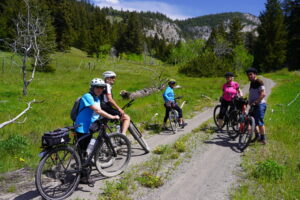 June 15, 2022 CCCTS cyclists on Oregon Jack Creek Road
Registration and Participant Selection:
Registration Lottery will be on the CCCTS website during the dates and times shown. A computerized lottery system and waitlist will be utilized if the ride is over-subscribed. A $120 CDN payment is required at the time of registration. The lottery signup will run for seven days, after which the Ride Leader will review the results.
The selection process will consider the following criteria in evaluating candidates:
fitness and riding ability and experience required for the tour,
a history of demonstrating safe riding practices,
acceptable social behavior.
Rider Selection criteria will include the group's need for three suitable support vehicles.
The leader may interview riders or others who know them to verify their suitability for the tour.
The leader will notify registrants of their selection status. If the ride is filled registration will continue until the Registration closing date shown.
Payments are considered non-refundable in the event of cancellation, unless you choose to remain on the Wait list until after the Hub & Spoke start date or due to BC Public Health Officer COVID restrictions or Ride Leader cancellation for safety reasons or road access issues.
 If an applicant has paid the registration deposit, is accepted on the H&S ride, then withdraws, the deposit will NOT be returned.
*** As of early February, 2023  the CCCTS Board requires all participants to be fully COVID vaccinated. Proof of COVID vaccination may be requested by the Ride Leader.  All Ride Participants should bring a COVID rapid test kit with them on the trip and take responsibility for self-testing if they feel ill.
Participants
:
Chris Bowman, Peter Donkers, Jürgen Harding, Paul Helms, Pat Hutchins, Susan Johnson, Thom Harvey Kline, Nancy Knight, Craig McBride, Judy Murray, Jacob Van Der Heide, colleen vanderheide, George Zorn