The Cross Canada Cycle Tour Society       September 2022,  Volume 39, Issue #8
From the Tour Director's Desk – September 2022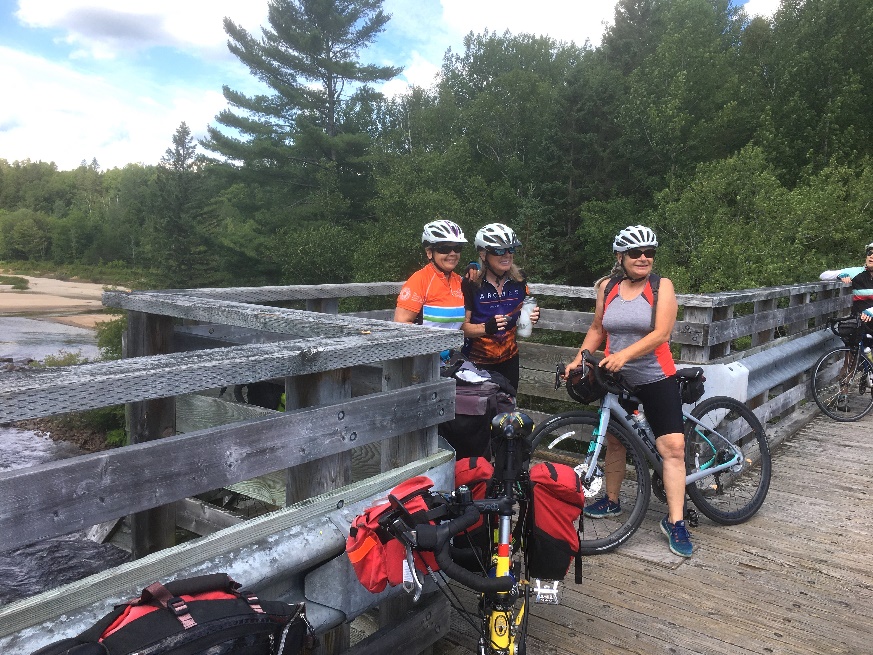 Laurentian Tour – 3 Ladies on Bridge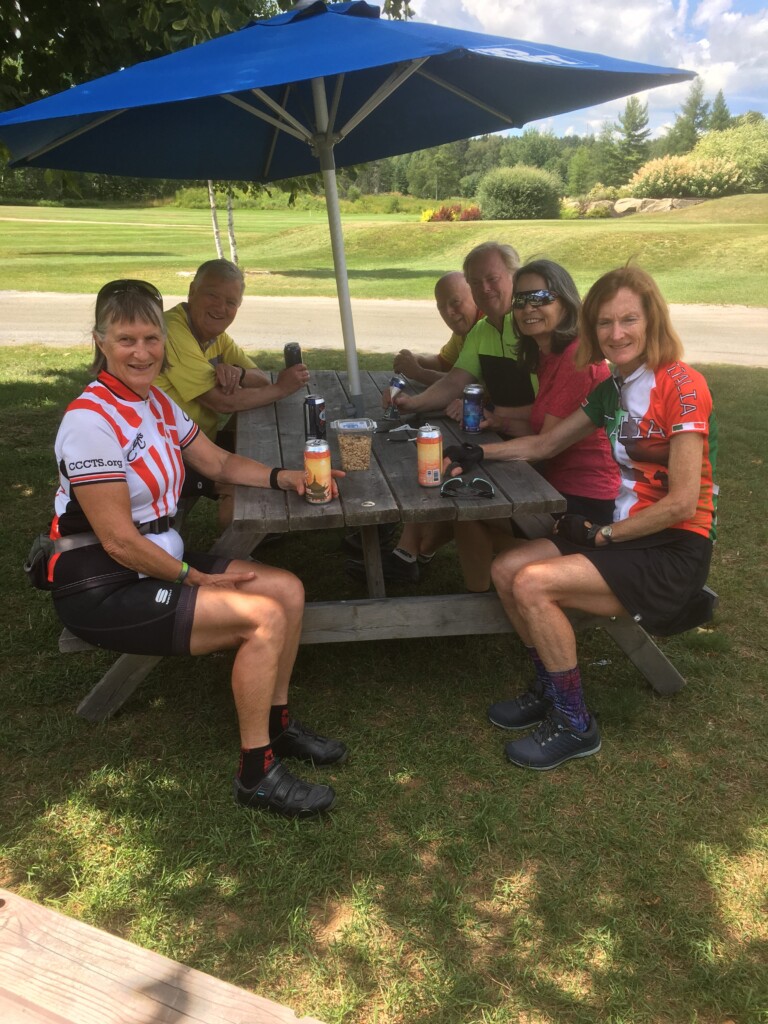 Laurentian Tour – Picnic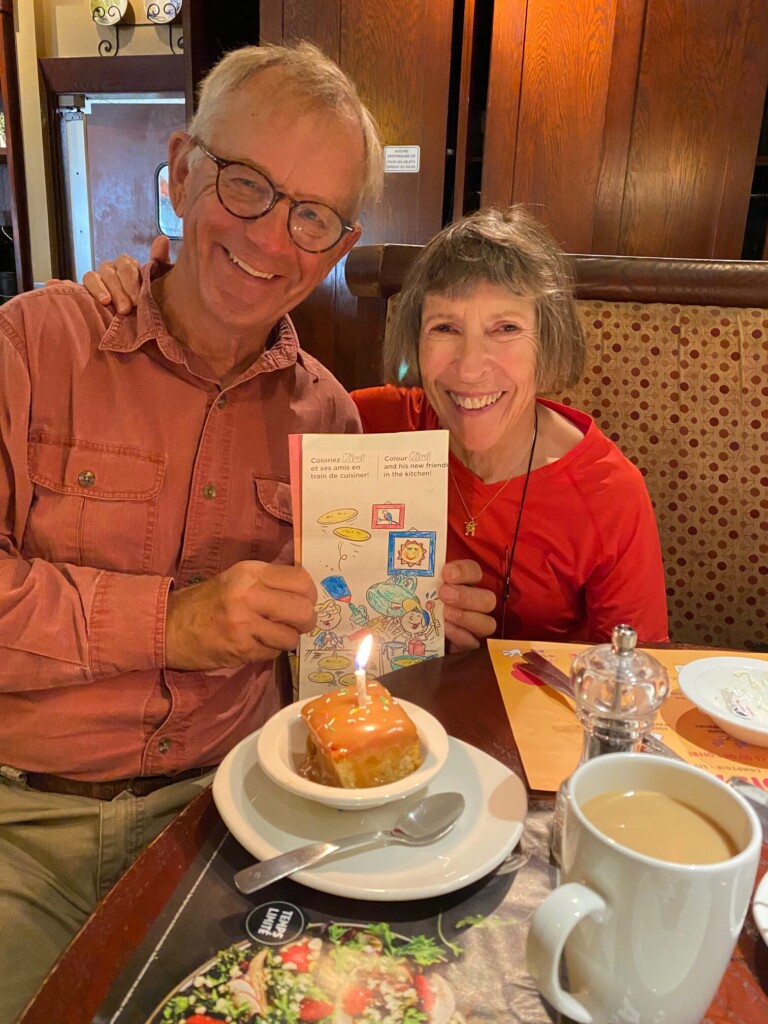 Laurentian Tour – Peter's Birthday
The 2022 summer tour season is drawing to a close. We only have two tours left to go – Sunshine Coast group 1 and 2, which depart mid-September. We hope they have a great time on this lovely route. We really enjoyed cycling on the Laurentian Pannier tour with the Ottawa Chapter members. They are such a friendly and welcoming group and it is wonderful how they stay active as a club all year long with regular rides during the cycling season and cross-country skiing and snowshoeing during the winter. The Southern Rockies tour also completed last month and we heard that it went very well. See the tour reports posted on the club website under the Tours section – https://cccts.org/category/tour/?post_type=trip_report.
We are starting to post some of our 2023 tours. The January Thailand tour still has plenty of space if you want to make a late registration. Sunny cycling by the beach and Thai cuisine might appeal during the wet, cold winter most of us will be in the midst of. We just posted the early spring Mallorca tour. This tour should be fabulous with a local tour contractor who knows everything there is to know about the area. I'm thinking coastline cycling, beautiful hotels, and great Spanish food. Our Okanagan tour has also posted and includes stays in Vernon, Penticton, and Oliver. You won't want to miss that tour in the Okanagan's late spring sunshine with many opportunities to visit the myriad of excellent local wineries. Registration opens in October. We will post and open registration for our September 2023 Croatia tour soon. How could you miss with the scenery, sunshine, and great food in Croatia? And we plan to post our first winter cross-country ski tour soon, as well. That one will take place in eastern Washington – the Bavarian-themed town of Leavenworth and the Methow Valley. As of today, here's what our plan looks like for 2023 tours:
Thailand – Bangkok to Phuket (January 8 thru 23)
X-C Ski in Leavenworth and the Methow Valley, Washington State (mid-February)
Arizona (March)
Mallorca (March 24 thru April 4)
Portugal (April)
Okanagan (June 3-12)
Washington State tour – TBD location (Summer)
Croatia (September 18 thru October 4)
PEI and Isle de Madelaine (September)
Japan – Kyoto and Noto Peninsula (last two weeks of September)
Details for each tour will be posted when tour proposals and budgets are finalized and have been approved by the Board. Watch your CCCTS emails and the website since tours will be posted one at a time as they are ready and tour plans are always changing.
Please give me a call or send an email if there is a tour you would like to lead. We are open to any tour idea you have for cycling or winter cross-country skiing as long as it is a safe place for travel. (robincooksandsews@gmail.com, 206.899.7255)
Happy Cycling!
Robin Howe, CCCTS Tour Director
Trip Reports
We had a lot of events this summer.  Below are links to the trip reports in no particular order which are published on the CCCTS website.
Comox Valley Hub and Spoke 2022
Shuswap Hub and Spoke 2022
Laurentian Pannier Trip July 2022
Upcoming Hub and Spokes.
2022 Granby Quebec Hub and Spoke
Status: 1 slots are available.
Dates: Sun, 25 Sep 2022 ‐‐ Sat, 1 Oct 2022

Welcome to Granby in the beautiful Eastern Townships of Quebec where the National Capital Region is planning to have a H&S from Sunday September 25 till Saturday Oct  1.
Upcoming Tours.
Videos
Published at least ten times a year by The Cross Canada Cycle Tour Society, a non – profit organization for retired people and others who enjoy recreational cycling. 
Items for the NEWSBRIEF must be received by the 28th of the month. The Editor reserves the right to edit for clarity, brevity and suitability of publication. The views expressed in the "NEWSBRIEF" are not necessarily those of the CCCTS or the Editor.
Submissions for NEWSBRIEF should be emailed to alaird212@gmail.com