The Cross Canada Cycle Tour Society       August 2022,  Volume 39, Issue #7
From the Tour Director's Desk – August 2022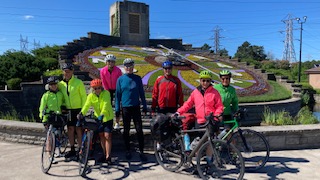 Photo from Niagara Erie Group 1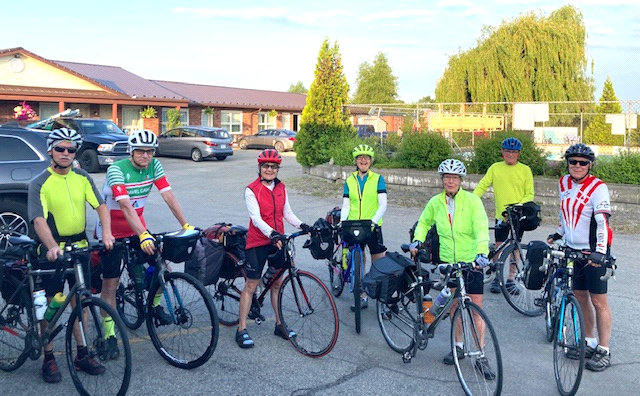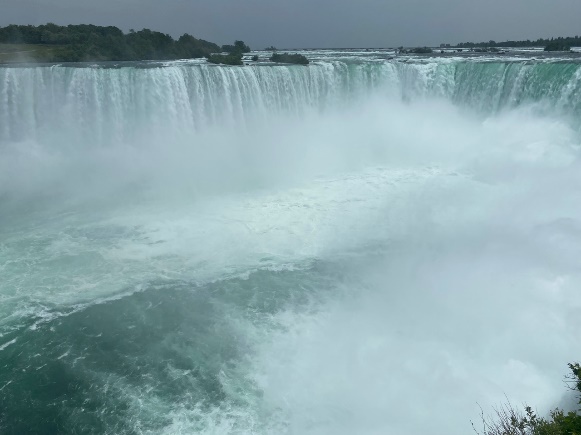 Photo from Niagara Erie Group 2 Niagara Falls
The 2022 summer tour season is fully underway. The two Niagara Erie pannier tours have completed and we heard that a good time was had by all. See the tour reports posted on the club website under the Tours section – https://cccts.org/category/tour/?post_type=trip_report. The Southern Rockies camping tour is currently in progress, and the Laurentian Pannier tour will just be completed by the time this Newsbrief is published. Sunshine Coast Group 1 and Group 2 tours depart in September and they are both full. Our January 2023 Thailand tour is open for registration and there is still plenty of space available.
Thailand is now fully open for visitors and COVID entry requirements are limited to proof of vaccination. Visas can be obtained upon arrival. If you are interested in cycling in the warmth and sunshine in winter, beach walking, swimming, cultural immersion, and enjoying the fabulous Thai cuisine all along the way, you may want to join us for this tour.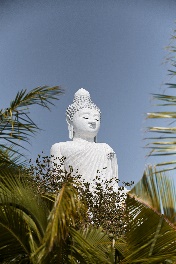 T
We will post the details for one of our 2023 tours soon – Okanagan, involving stays in Vernon, Penticton, and Oliver. You won't want to miss that tour in the Okanagan's late spring sunshine with many opportunities to visit the myriad of excellent local wineries. Registration will open this fall. We will also post and open registration for our September 2023 Croatia tour this fall, another one of my favorite places to cycle – gorgeous scenery, great hotels, delicious food, sunny weather. How could you miss? As of today, here's what our current lineup looks like for 2023:
Thailand – Bangkok to Phuket (January 8 thru 23)
X-C Ski in B.C. or Washington State (mid-February)
Arizona (March)
Mallorca (late March/early April)
Portugal (April)
Okanagan (June 3-12)
Washington State tour – TBD location (Summer)
Croatia (September 18 thru October 4)
PEI and Isle de Madelaine (September)
Japan – Kyoto and Noto Peninsula (last two weeks of September)
Details for each tour will be posted when tour proposals and budgets are finalized and have been approved by the Board. Watch your CCCTS emails and the website since tours will be posted one at a time as they are ready.
Please give me a call or send an email if there is a tour you would like to lead. We are open to any tour idea you have for cycling or winter cross-country skiing as long as it is a safe place for travel. (robincooksandsews@gmail.com, 206.899.7255)
Happy Summer Cycling!
Robin Howe, CCCTS Tour Director
Safety Reminder for all members!
All participants on Club Tours and Hub and Spokes are asked to complete a Medical Information Form and to give a copy of it in a sealed envelope to the Ride Leader before the start of your event. It is VERY IMPORTANT that you always carry this form with you, and especially when you are on the bike. Even though the Ride Leader will have a filed copy, they may not be close by if an emergency arises.
The Medical Information form is found on the CCCTS website under Publications/Forms. Here is a link: https://cccts.org/club-document/medical-information-form/
Please note that the Ride Leader will return your sealed medical information to you at the conclusion of the club event.
You may also wish to provide your travel mate with copies of the following documents in a sealed envelope, to be returned to you at the end of the event:
Passport, bank, BC Health, travel insurance cards
Travel insurance phone number – most want you to contact them at the time you are seeking treatment.
Medical conditions, medications
Emergency contact names and numbers
Happy travels and safe cycling!
Maureen Weston,
Board member, Safety File
2022 Shuswap Hub and Spoke Trip Summary
June 28-July 2, 2022
by Lorna Ramsden
Organizing five days of cycling with eleven different route options for 22 cyclists on bikes ranging from gravel to road to e-bikes was no easy feat, but our gracious and organized hosts, Bill and Charlotte Eberlein did it, along with local and knowledgeable co-leaders George and Jeanetta Zorn and Lorne Hunter.
A big thank you to all of you. You made our week unforgettable. Highlights of the trip included the scenery, fabulous routes, happy hours, connections with old friends and making new ones, and the fact that the trip wasn't canceled (no smoke, no fires, no heat dome, and no COVID border restrictions). Some of us were on our fourth attempt to go on this ride. The Shuswap Hub and Spoke is a wonderful opportunity to get out and explore some of BC's finest scenery.
Day One
Twenty-two cyclists arrived at the beautiful Sorrento Center on the Shuswap Lake. Everyone got settled into various types of accommodation ranging from cabins and trailers to tents and vans. Then, we waited out the thunder and lightning storm that rolled in that afternoon in hopes that we could cycle the 3:15 pm Sorrento Loop ride. Unfortunately, the storm continued but didn't dampen the festivities at our first happy hour at 5:00 pm when the sun made its appearance.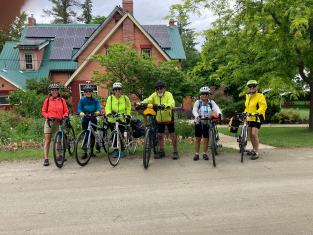 Day Two
We met at 9:30 am for our first official ride and divided into three groups ready to tackle our various distances of 43.8K, 57.2 K and 73.4K. Starting from the Sorrento Centre we cycled to White Lake via historic "Notch Hill", which once was a bustling Canadian Pacific Railroad center with one of the steepest grades on the BC line at 1.9%. Needless to say, we climbed a few hills that day. Along the way we passed the "Coal Rail Car Water Sprayer", an attempt by the railway to keep the coal dust down to safeguard the environment. White Lake is a "marl lake", (highly alkaline and rich in carbonate minerals) with a healthy population of Western Painted Turtles. We had occasional light rain showers, but it was warm and spirits were high. The ride was gorgeous, winding back and forth and up and down through farmland with sweeping views of the lush and green Shuswap area.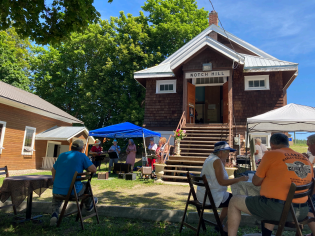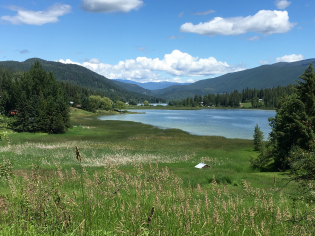 Our happy hour that evening included an excellent presentation from a knowledgeable local birding expert, Geoff Styles, along with his co-presenters, Grayson and Julianne Styles, and even the non-birders in our group found it interesting! We had great fun trying to identify both birds and bird songs during the rest of our rides.
Day Three
Our second ride began with a drive to Blackburn Park in Salmon Arm. The sun greeted us and stayed for the day with warm, but not too hot, temperatures. Again we divided into three groups to cycle 41.4 K, 63.8K and 76.2K. The ride took us through the fertile Salmon Valley along country roads and farmland with beautiful Mount Ida's basalt cliffs as our backdrop. The Salmon Valley is a flood plain. Historically, after the glaciers melted, this region lay under water. Glacial Lake bottoms are typically flat. That being said, the ride included many ups and downs, and for some of us, the notorious long and steep "Yankee Flats Road". The ride ended with a steep and well deserved descent into Salmon Arm and back to Blackburn Park.
We ended our day with a group dinner for large appetites hosted by the Sorrento Centre.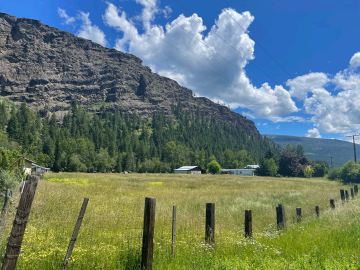 Day Four
Our third ride began just outside of Salmon Arm in the Deep Creek area. We divided into two groups, 46.5K and 71.1K. Again we cycled through stunning scenery and farmland and just to keep us on our toes, beautiful, quiet country roads with a sprinkling of broken pavement, pot holes, trenches, and some road construction. We passed some gorgeous sights including the Carmelite Monastery and the Fieldstone Granary. The day had some ups and downs in elevation but nothing compared to the biggest hill of all (12%) up to Farmstrong Cidery where a few of us indulged in their delicious food and beverages. We just happened to pass by Lorne H's home along the route so he kindly invited us over to end the ride with a cold beverage.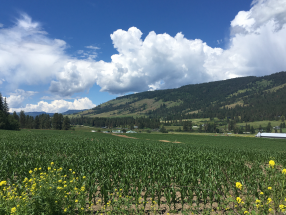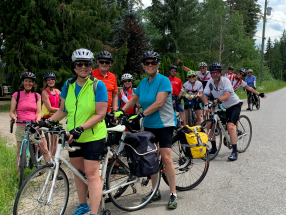 Our happy hour that evening was bittersweet as it was our last social together and a few people would have to leave early the next morning. Pictures, hugs, and emails were exchanged in the hopes of seeing each other again.
Day Five
Our last ride was an "out and back" starting at the Sorrento Centre and heading to Blind Bay along Shuswap Lake. Riders went as far as their travel plans allowed to Blind Bay (24K), Eagle Bay (49.1K) or Wild Rose Bay (69.8K). A highlight included pictures of us hamming it up alongside an "Old People Crossing" sign. This ride included beautiful views of the lake and surrounding mountains.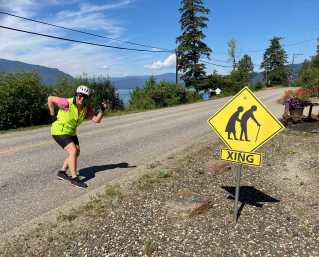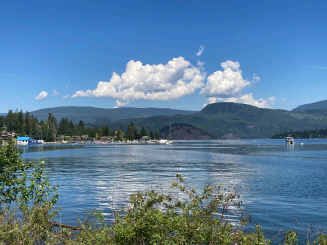 Ride Participants: Mike Bonner, Geoff Burton, Sharon Cotterill-Cook, Donna Devine, Peter Donkers, Bonita Douglas, Bill Eberlein, Charlotte Eberlein, Sharon Folkes, Lise Fraser, Lorne Hunter, Lynne Jordan, Donna Kerkoven, Sherry Long, Jude Loukras, Dan Ramsden, Lorna Ramsden, Lani Schultz, Paul Westmattelman, Cornelia Yule, George Zorn, Jeanetta Zorn.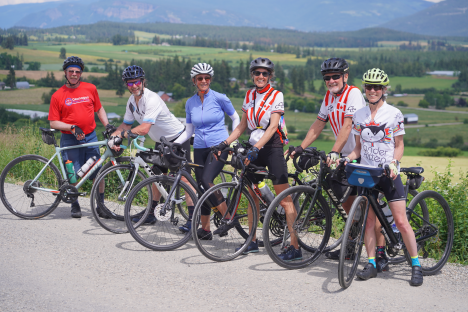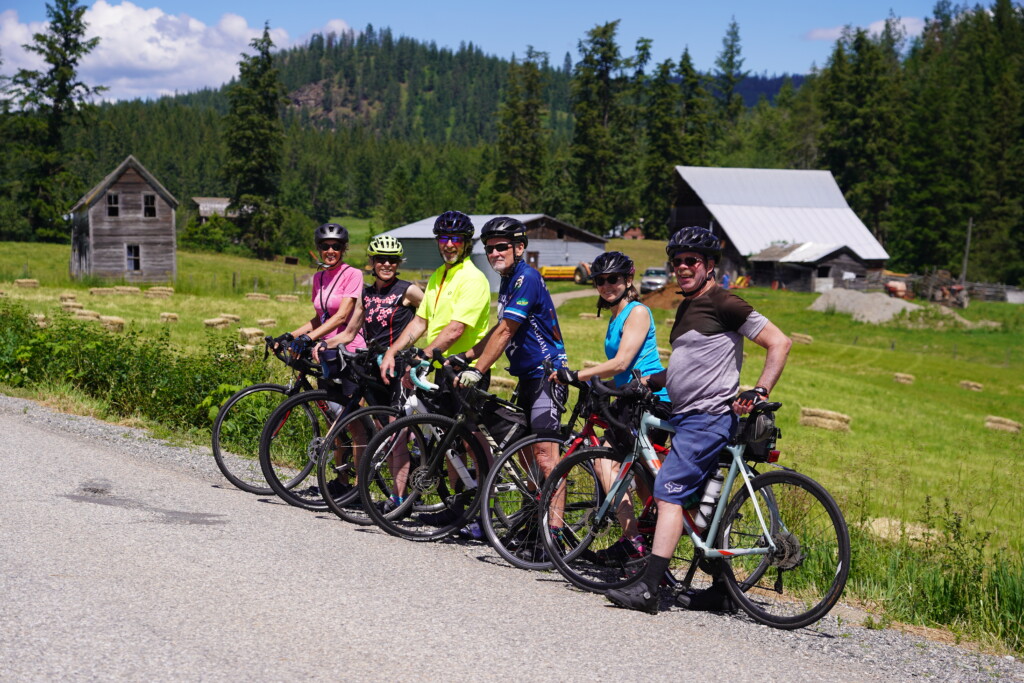 In The News
Here is long time member Sonia Bardatti proving once again that age is just a number.
Check out this link to read about her plan to rollerblade from Port Hardy to Parksville on Vancouver Island.   Sheesh!!!   I need to lie down!!
https://www.capitaldaily.ca/news/80-year-old-rollerblading-parksville-port-hardy
Videos.
Marketplace
Hi CCCTS friends, how do I make a guidebook?  With A LOT of help!  
• I am pleased to announce the release of Let's Go Biking Vancouver Island, Gulf Islands and Sunshine Coast. 
This book is a compilation of easy and fun routes and rides and was created with input from people from all over Vancouver Island, including many CCCTS members! 
(Note: add the letters CCCTS after your name on the order form or send an email to colleen@letsgobiking.net when you place the order and I'll add the neckwarmer)
Let's Go Biking to Vancouver Island, the Gulf Islands and Sunshine Coast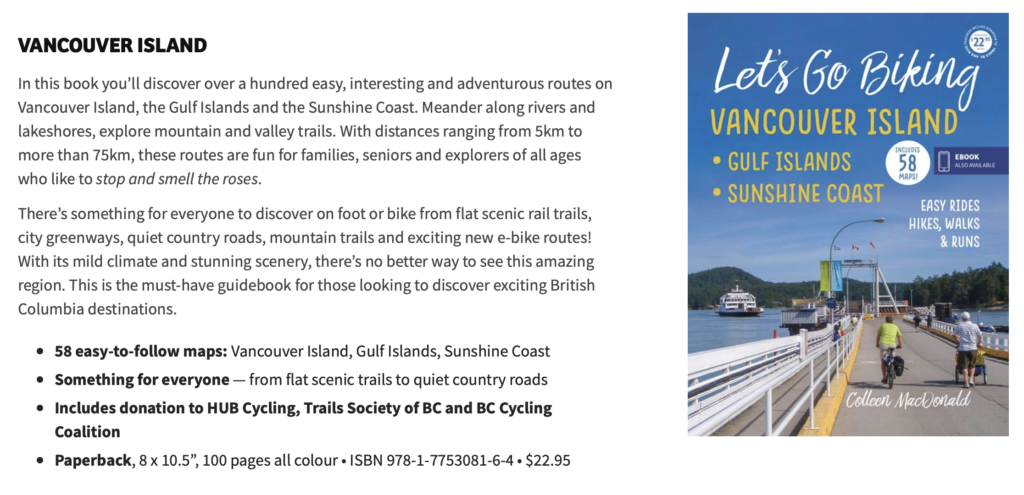 New Members
| first_name | last_name | city | province |
| --- | --- | --- | --- |
| Mary | Davidson | Denver | CO |
| Brian | Flynn | Courtenay | BC |
| Mark | van den Eerenbeemt | Courtenay | BC |
| Ryan | Cerezo | Surrey | BC |
Published at least ten times a year by The Cross Canada Cycle Tour Society, a non – profit organization for retired people and others who enjoy recreational cycling. 
Items for the NEWSBRIEF must be received by the 28th of the month. The Editor reserves the right to edit for clarity, brevity and suitability of publication. The views expressed in the "NEWSBRIEF" are not necessarily those of the CCCTS or the Editor.
Submissions for NEWSBRIEF should be emailed to alaird212@gmail.com