Leader: Robin Howe 206-899-7255
Co-leader: Dan Carey 206-282-5978
Tour Contractor: Spice Roads
Trip Dates: Tue, 15 Oct 2024 -- Wed, 6 Nov 2024
Trip Classification: Intermediate
Trip Fee: $100 USD Note that the fee for this trip is NOT in Canadian Dollars.
Trip Numbers: minimum 10 , maximum 24
Trip Registration Opens: Mon, 11 Dec 2023 5:00 PM (pacific time)
Registration Lottery Ends: Mon, 18 Dec 2023 5:00 PM (pacific time)
Trip Registration Closes: Thu, 15 Aug 2024 5:00 PM (pacific time)
Ride Description:
Ride Fees in USD
Registration fee of $100 USD (which will be refunded to those 1) not selected, 2) who are selected if funds are not used for the tour).
Tour fee =

$4,590 if 19-24 participants,
$4,750 USD if 12-18 participants.
Single supplement = $1,050.
All fees are quoted in USD.
Please note this tour will include a service component to assist a local Sri Lankan community. The exact details are still being worked out but we will spend 1-2 days performing service in the middle of the tour, most likely in a technical or advisory  capacity (e.g. teaching).
This adventure is the final word in Sri Lanka cycling tours! Over the course of 23 exhilarating days we explore the island's pristine beaches, ancient rock fortresses, temple-studded cities, lush national parks, and tea field-covered mountains. We leave no stone unturned as we delve deep into Sri Lanka's rich heritage and natural beauty.
The journey begins in the coastal city of Negombo, from where we'll venture inland along winding village roads. Inching our way north, we'll discover stunning heritage sites such as the country's largest Buddhist cave temple in Dambulla and the mighty Lion Rock citadel in Sigiriya. We spend two nights in the sacred city of Anuradhapura before reaching Mannar Island where we are greeted by the Indian Ocean and the island's resident flamingoes. Continuing to the northernmost tip of Sri Lanka, we do some island hopping at Jaffna and then begin our migration back south! We pass through Polonnaruwa where we'll explore regal ruins of a once glorious Kingdom and then spend two nights in Kandy, the gateway to the Central Highlands. Next up, we embark on one of the world's most scenic train rides, passing through a landscape of endless tea terraces draped over steep hillsides. Now at higher altitude we enjoy the fresh mountain air, discover British colonial retreats, learn about Sri Lanka's tea, and trek up to stunning Adam's Peak. A thrilling descent down from the Highlands brings us to the southern coast where we'll trade our bikes for jeeps as we venture into Yala National Park for a chance to spot wildlife, including elephants (if we're lucky!). We round off the adventure with a mix of great riding and beach relaxation near the coastal town of Mirissa. The tour ends with a transfer to Sri Lanka's capital, Colombo.
The route is designed for you to take in the best of Sri Lanka's culture, countryside, and wildlife, complemented by a diverse array of Sri Lankan cuisine and comfortable accommodation for a good night's rest.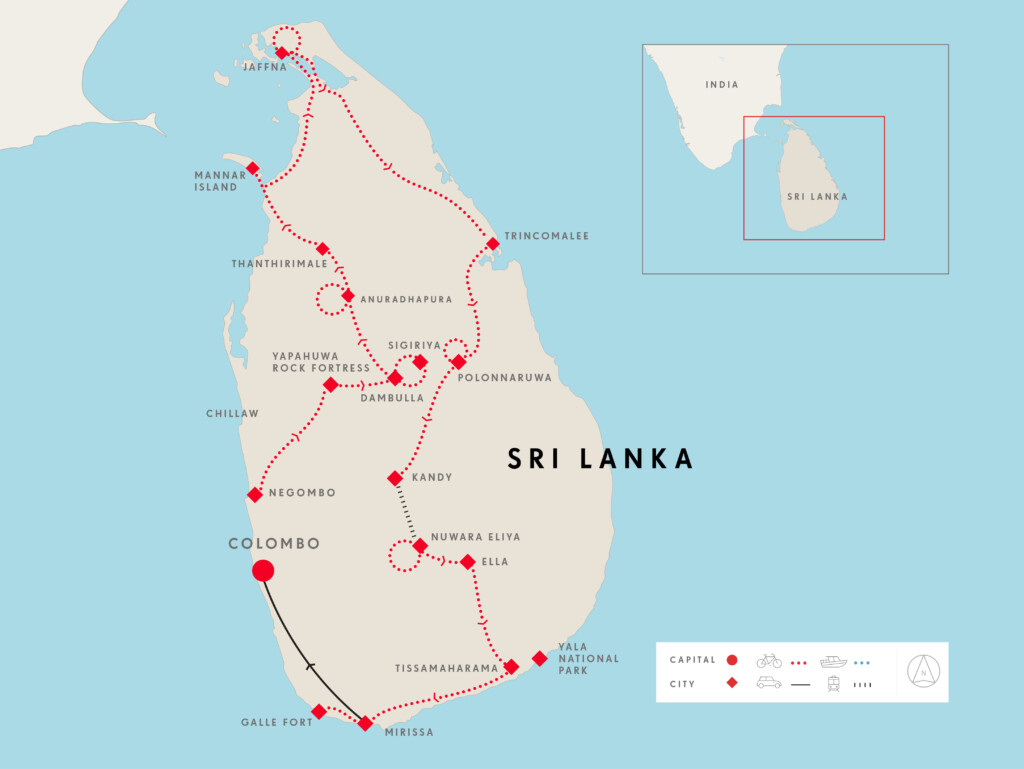 Accommodation Reservations:
We stay in 4- and 3-star hotels all across the country. All are well appointed, modern hotels with great facilities and the creature comforts needed by hard-working cyclists.
Riding Conditions:
We cycle a total of 950 km. The average daily riding distance is around 60 km, with some shorter days for heritage site loops and one longer day coming down from the Highlands. Many of the roads are paved and in good condition, though on rural roads and village paths, we will encounter hard-packed dirt roads in varying conditions (though still very suitable for cycling!). There are some off-saddle days to give our legs a break. The majority of the riding is on flat terrain, but during the time in the Central Highlands we'll have some climbs to conquer. In October, the weather is generally warm and pleasant, but the occasional rain shower should still be expected.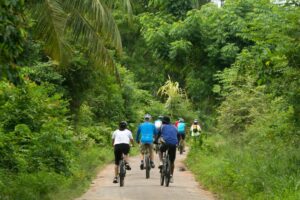 Fee Includes:
English speaking guides
Two guides for 12 - 18 riders
Three guides for 19 - 24 riders
Transfers and support by A/C vehicle as per itinerary
One minibus + one bike truck for 12 - 15 riders
One medium sized bus + one bike truck for 16 - 24 riders
Airport transfer on arrival and departure days
22 nights accommodation in twin/ double shared room as mentioned in the itinerary
Meals as mentioned in the itinerary (B = Breakfast, L = Lunch, D = Dinner)
Entrance fees to sites as mentioned in the itinerary
Day 02: Sri Munneswarem Kovil and Yapahuwa Rock Fortress
Day 03: Dambulla Golden Cave Temple
Day 04: Sigiriya Rock fortress
Day 05: Jaya Sri Maha Bodhiya
Day 06: Ancient City of Anuradhapura
Day 07: Thanthirimale Ancient Temple
Day 12: Ancient City of Polonnaruwa
Day 15: Three Temples Loop in Kandy
Day 16: Tea Making at Tea Factory and Hortons Plain National Park
Day 18: Buduruwagala
Day 19: Yala National Park and Ruhunu Maha Kataragama Dewalaya
Drinks & snacks while cycling
Fee Does Not Include:
All international air tickets
Any transfers not mentioned in the itinerary and tour price inclusions.
Bike Hire and Helmet (Bike rentals are available for $400 USD for a mountain bike and $1,000 USD for an ebike.)
Visa
Meals other than mentioned in the itinerary
Tips for guide, driver, boat crew & hotel porters
Maps and navigation aids
Travel insurance
Any services non-mentioned in the itinerary
Tour Coordinator fee (waived)
EXTRA CHARGE PER ITEM

Description

Price (USD)

Counting Unit

Pre-trip accommodation at Jetwing Blue Hotel with Half Board

160

Per Room Per Night

Post-trip accommodation at Galle Face Hotel with Half Board

195

Per Room Per Night
Itinerary:
Itinerary:
CUSTOM TOUR FOR 23 DAYS / 22 NIGHTS
Cycling Sri Lanka- Negombo to Colombo
 DAY TO DAY ITINERARY
B=Breakfast    L=Lunch    D=Dinner
Day 1: October 15, Negombo Arrival
Upon arrival at Bandaranaike International Airport make your way to the hotel in Negombo (approx. 45 minutes drive). After checking in, enjoy hotel facilities and relax before meeting with your guide in the evening for a trip briefing and welcome dinner.
Arrival Flight: TBA
Accommodation: Jetwing Blue Hotel
Meals:  - / - / D
Ride: N/A
 Day 2: October 16, Negombo – Yapahuwa
We start our sojourn of Sri Lanka with an ocean-side ride following the old coastal roads to Chilaw. We break at the resthouse close to the fishing harbour before turning inland to the storied Hindu temple of Munneswaram. Here we will do a small puja to bless our adventure ahead. We then transfer by vehicle to Yapahuwa (around 1.5 hours) where, in the afternoon, we will visit the Yapahuwa Rock Fortress to enjoy the stunning medieval art and architecture as well as the views across the surrounding countryside.
Accommodation: Yapahuwa Paradise Hotel
Meals:  B / L / D
Ride: 45 km
Day 3: October 17, Yapahuwa – Dambulla
Today we cycle through the heart of the central Sri Lankan countryside, cruising along winding village roads that pass by fields growing rice, turmeric,chillies and many other varieties of crops. Our final destination is Dambulla which is famous for its 2nd century Buddhist cave temple, also known as the Golden Temple. This is the largest and best-preserved cave temple complex in the country containing more than 150 Buddha statues. We will explore the cave temple in the afternoon and we stay overnight in a peaceful hotel on the shores of lake Kandalama.
Accommodation: Amaya Lake Hotel
Meals:  B / L / D
Ride: 58 km
Day 4: October 18, Dambulla Loop to Sigiriya
We ride through the countryside on a mix of tarmac and red dirt roads, passing orchards, paddy fields, and elephant grass. At certain points we have excellent views of the ancient 5th century rock fortress Sigiriya (Lion Rock), our destination. We park the bikes and walk through the old water gardens before climbing 300 m to view the ruins of King Kasyapa's summer palace on the summit. On the walk up, we pass the impressive frescos that depict more than 500 ladies. After our descent, we head to a local restaurant for lunch and then cycle back to our hotel in Dambulla.
Accommodation: Amaya Lake Hotel
Meals:  B / L / D
Ride: 64 km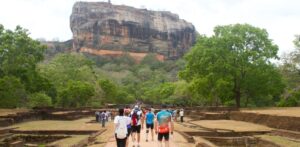 Day 5: October 19, Dambulla – Anuradhapura
Today we start with a short 25 km vehicle transfer out of Dambulla. From our cycling start point we then ride along beautiful village roads cutting through rice fields against a backdrop of jungle-clad hills, some with gleaming white temples perched on top. We continue all the way to Anuradhapura, the oldest and grandest of all the ancient Sri Lankan cities which flourished for more than 1,300 years. We will arrive here in time for lunch and then relax before heading out again in the late afternoon to visit the sacred Jaya Sri Maha Bodhi tree, an important pilgrimage site for Buddhists.
Accommodation: Rajarata Hotel
Meals:  B / L / D
Ride: 64 km
 Day 6: October 20, Anuradhapura Loop
Today is a gentle city tour ride on the streets of Anuradhapura, a sacred city that has been designated as a UNESCO World Heritage site. The majority of the attractions are archaeological sites, such as the awe-inspiring temple ruins of the Abhayagiri Dagoba. We'll be accompanied by an expert local guide to give us an insider's perspective on the various sites. After stopping for lunch we have the rest of the afternoon at leisure and you can explore further if you like, such as visiting the nearby Mihintale mountain, the fabled birthplace of Buddhism in Sri Lanka.
Accommodation: Rajarata Hotel
Meals:  B / L / D
Ride: 30 km
 Day 7: October 21, Anuradhapura – Mannar Island
Today's picturesque ride takes us from inland to the sea. Coming out of Anuradhapura, our route takes us along the edges of Wilpattu National Park and we'll take a worthwhile detour to visit Thanthirimale. This is an ancient temple complex with impressive Buddha statues swallowed by the jungle for centuries, only re-discovered in the 1960s. From there, we'll continue cycling along the border of the national park - this is elephant country and, if we're lucky, we may see them grazing in the distance! After cycling close to 80 km we'll call it a day and jump into the support vehicle for a roughly 2 hour transfer to Mannar Island. Once an important port town, Mannar is now a sleepy backwater, known for its Dutch fort, Baobab trees, birdlife and the annual migration of flamingos. Feel free to explore at your own will or simply head to the beach for a dip in the Indian Ocean and a cold beer!
Accommodation: Palmyrah House
Meals:  B / L / D
Ride: 77 km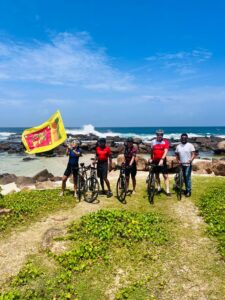 Day 8: October 22, Manner – Jaffna
Today we ride to Sri Lanka's northern tip. We begin with a transfer from Manner Island back to the mainland where we'll saddle up and head towards Jaffna. The road sees little traffic now but saw some major battles during the conflict era and the thick jungle hiding the scars of war is gradually being resettled. At Pooneryn there is a long causeway that crosses the Jaffna lagoon which makes for interesting photos with its prawn farms and crab nets on either side. We'll arrive in Jaffna by mid-day and you can spend the evening at leisure relaxing or exploring the town, considered as the cultural capital for Tamilians in Sri Lanka.
Accommodation: North Gate Hotel
Meals:  B / L / D
Ride: 85 km
Day 9: October 23, Jaffna Peninsula Loop
Today we explore the Jaffna Peninsula by bike. We ride through Jaffna town with its lively markets and small fishing port, passing the old Star Fort built by the Portuguese in 1618. We then cross the causeway to Kyats Island where, after cycling north we then cross to Karainagar Island by ferry. Here we ride to Casuarina Beach at the northern tip of the island and then make our way back to Jaffna where we'll arrive in time for lunch and then some R&R. We'll re-group again in the evening for dinner.
Accommodation: North Gate Hotel
Meals:  B / L / D
Ride: 67 km
Day 10: October 24, Jaffna – Trincomalee
Having now thoroughly explored Sri Lanka's northern tip, it is time to start heading south! Riding from the hotel we leave the Jaffna Kingdom behind us cycling through the Elephant Pass, a long causeway that spans the width of the Jaffna Lagoon, a strategic point that connects the Northern peninsular to the mainland. Now part of a bird sanctuary it was once the gateway to Jaffna. We end our ride at a small war monument of a captured LTTE (i.e. Tamil Tiger) tank, before loading the bikes and driving to Kilinochchi, the former headquarters of the LTTE. We stop for lunch and then continue to Trincomalee (around 3h45m). Relax at the hotel or visit Fort Frederick and look out to sea from Swamy Rock Temple.
Accommodation: Trinco Blu by Cinnamon
Meals:  B / L / D
Ride: 57
 Day 11: October 25, Trincomalee – Polonnaruwa
Today it is time to start heading back inland. But we won't do so before enjoying one last great coastal ride on the east. The natural harbour at Trincomalee is considered one of the finest in the world, as we ride, we get a view of China bay and Marble beach before ending the ride at the village of Verugal. From here we transfer 2 hours by vehicle to Polonnaruwa, where we will be staying at a lovely resort on the banks of Parakrama Samudra, a giant man made reservoir.
Accommodation: Sudu Araliya Hotel
Meals:  B / L / D
Ride: 66 km
Day 12: October 26, Polonnaruwa Loop
Today we ride through the historic park of Polonnaruwa, the 10th century capital and best preserved of the ancient cities. Abandoned in the 13th century, it was rediscovered in the 18th century and is now a UNESCO World Heritage Site. The Brahmanic monuments built by the Cholas and the chiseled stone monuments show us the glory of the ancient Rajarata Kingdom. We will complement the 18 km tour of the monuments with a 20 km cycle in the surrounding countryside to give us a full view of this ancient landscape.
Accommodation: Sudu Araliya Hotel
Meals:  B / L / D
Ride: 38 km
Day 13: October 27, Polonnaruwa – Kandy
Today's ride begins with a scenic stretch along the huge lake known as the Sea of Parakrama, named after the great king who built it. We will see fishermen laying out their nets in tiny catamaran boats, followed by pelicans and stocks with huge flocks of cormorants taking to the skies. It's a peaceful ride with jungle on one side and rice fields on the other. The Jungle is part of the Angamedilla nature reserve and home to sloth bears, leopards, elephants, and langur monkeys. We end the ride on the other side of the nature reserve and transfer by vehicle to Kandy (around 2.5 hours), the spiritual and cultural capital of the hill country and Sri Lanka's second largest city.
Accommodation: Hotel Suisse
Meals:  B / L / D
Ride: 51 km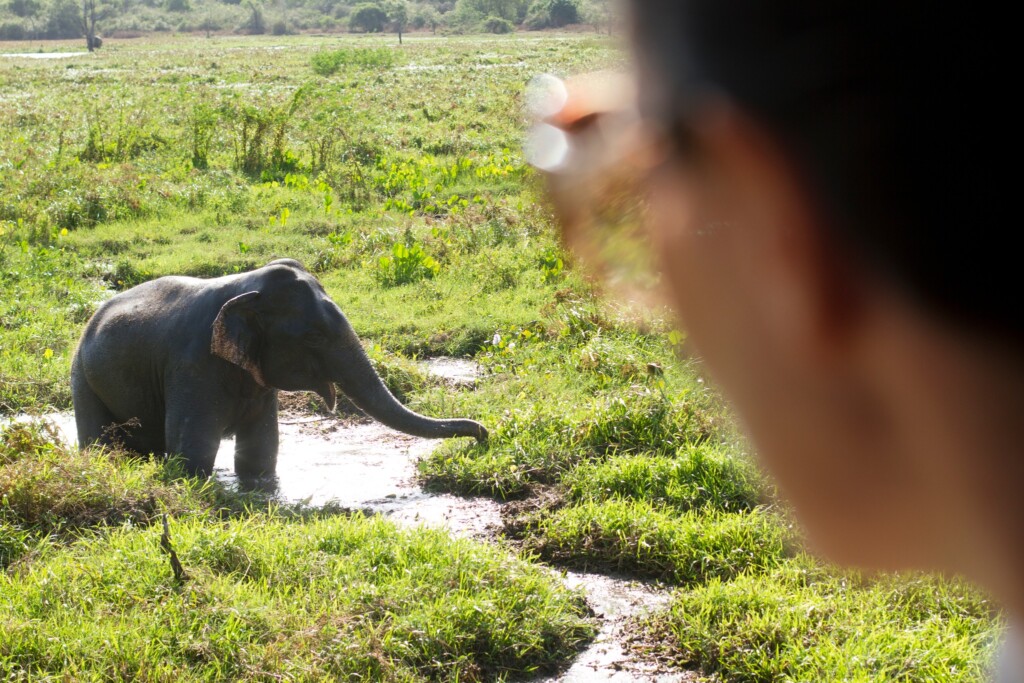 Day 14: October 28, Kandy Rest Day
Today we take a break from biking as we enjoy a day immersing ourselves in the city of Kandy. Nestled among hills and surrounding a lake, picturesque Kandy has long been an important religious center of the Sinhalese and a place of pilgrimage for Buddhists. Today, you can explore the old shops, antique and gem specialists, and bustling markets. A must see is the UNESCO World Heritage Site of the Temple of the Sacred Tooth Relic - Sri Lanka's most important Buddhist relic, a tooth of the Buddha.
Today is entirely at your own leisure and you can pay for all expenses on your own account, including lunch and dinner. Your guide will, of course, be more than happy to make recommendations.
Accommodation: Hotel Suisse
Meals:  B / - / -
Ride: N/A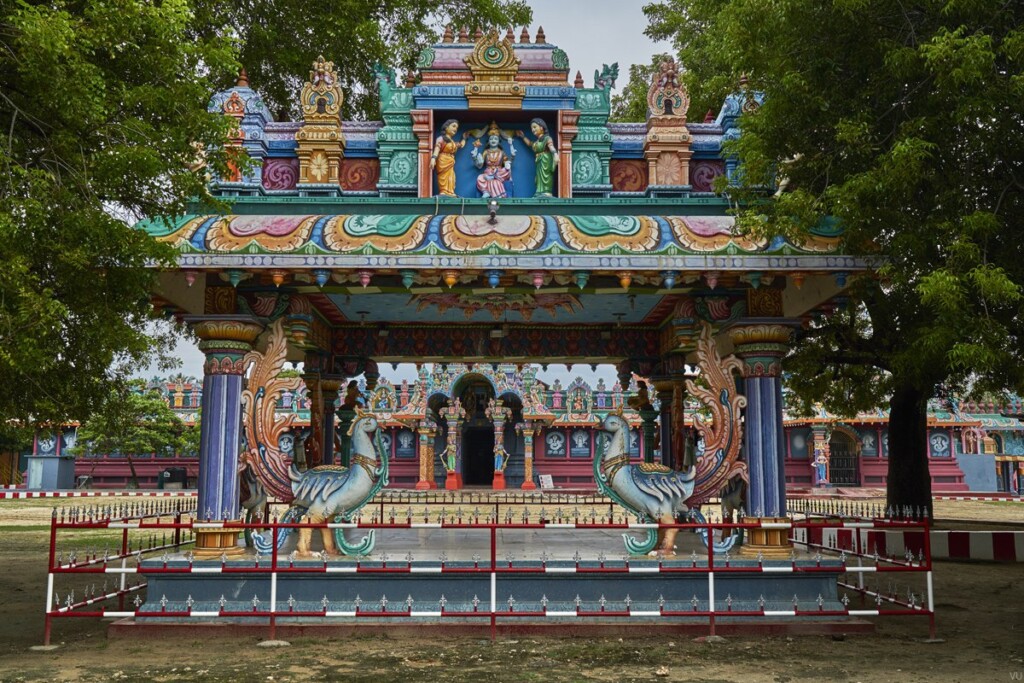 Day 15: October 29, Kandy – Nuwara Eliya
Today is another day off-saddle but it will still be action-packed! For the first part of the day we'll transfer to Gampola (around 1 hour) and explore its triad of medieval temples by foot. The temples date from the Gampola period 1314 - 1415 AD when the Royals retreated to the hills and made Gampola the new capital. The palace was destroyed, but 3 main temples still exist, one made of stone, one of wood and the other brick, all enjoying lavish royal patronage, with a fusion of Hindu and local deities. The walk takes us along the edge of rice fields and up stone steps through the small villages known for their brass metalwork. Their foundries make brass temple ornaments and oil lamps, which you would typically see in people's homes. We then catch the train to Nuwara Eliya - this is an incredibly scenic ride with views of steep hills covered in tea terraces as far as the eye can see. Upon arrival in Nuwara Eliya we'll transfer to the hotel and enjoy dinner. This area was a popular retreat for the British during the colonial period.
Accommodation: Hotel Hill Club
Meals:  B / L / D
Ride: N/A
Day 16: October 30, Nuwara Eliya
Today is a fun mix of cycling, tea, and trekking in Nuwara Eliya, an area known as "little England", so called because during colonial times the British raj developed the area into a holiday locale to escape the stifling heat of the lowlands. We begin with an exploration of the town before riding out to a nearby tea estate and learn about the tea-making process. Then we give our bikes a rest for the afternoon while we go trekking in Hortons Plain National Park. The stunted ridge forest is home to many of Sri Lanka's endemic birds as well as leopards, purple-faced leaf monkeys and large sambar deer can often be seen grazing on the plains.
Accommodation: Hotel Hill Club
Meals:  B / L / D
Ride: 25 km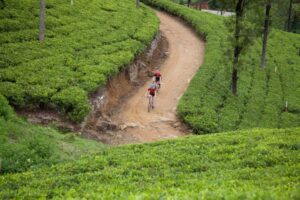 Day 17: October 31, Nuwara Eliya - Ella
The ride today will take us deeper into the heart of Sri Lanka's tea country. We begin with a steady 20 km descent to Welimada town, weaving down the tea-covered slopes of the central mountains. From there it is onwards to Ella, the route there requiring a few manageable climbs, though always worth it with vantage points for scenic views as a reward. This being the highest elevation area in Sri Lanka, on a clear day you may see the Indian Ocean shimmering in the background. We roll into Ella in time for lunch and, in the afternoon, go on a trek (2-3 hours) up to little Adams Peak. Ella is small but compact with plenty of restaurants to choose from - dinner is on your own tonight.
Accommodation: Oak Ray Ella Hotel
Meals:  B / L / -
Ride: 57 km
Day 18: November 1, Ella  – Tissamaharama
Get ready for one of the longest rides of the trip, but it will certainly be one to remember. First, we descend close to 1,000 meters down the Ella gap, passing waterfalls and an ever-changing scenery as we head towards the southeast corner of Sri Lanka. We break up the journey with a visit to Buduruwagala, an ancient rock temple with impressive Buddha statues carved into stone. Then, after lunch on the road, we complete the ride to Tissamaharama, the gateway to Yala National Park and another one of the countries' old and storied cities, though with fewer remaining monuments and a very laid back vibe.
Accommodation: Kithala Resort
Meals:  B / L / D
Ride: 98 km
Day 19: November 2, Jeep Safari to Yala National Park
Today is off saddle as we give ourselves the best chance (but not guaranteed) to see leopards, wild boars, crocodiles, elephants, wild buffalo, eagles, and other wildlife in Yala National Park. In the early morning we will jump into a jeep and drive along the grassland and lagoons spotting for wildlife. We'll be out for around 3 hours and then head back to our hotel for some time to relax. In the evening we will head to Kataragama, a pilgrimage town with an important multi-faith temple which hosts colorful and vibrant rituals.
Accommodation: Kithala Resort
Meals:  B / L / D
Ride: N/A
Day 20: November 3, Tissamaharama  – Mirissa
Our ride today traverses a drier zone, a contrast to the lush hill-country and jungles we have seen the previous days. Cycling along county roads we'll encounter cactus trees and wading birds around the edges of lagoons and salt pans, the main industry of the area. We end the ride close to the town of Hambantota where we jump into the support vehicle and  transfer the rest of the way to the beach town of Mirrisa where we stay for the next 2 nights.
Accommodation: Mandara Mirissa Hotel
Meals:  B / L / -
Ride: 46 km
Day 21: November 4, Visit Galle Fort
Around an hour west of Mirissa is Galle Fort, a historic masterpiece and the largest European built fort still standing in Asia. Originally built by the Portuguese, the Dutch expanded the fort to its present size, and later the British added the court complex and several other outstanding buildings. The different architectural and cultural influences meld to create a fascinating town. We'll enjoy the sights of Galle with a walk around the ramparts and backstreets.
Those wanting to be more active can hop on the bikes ride to Koggala lake and end the ride at a beachside restaurant. 
Accommodation: Mandara Mirissa Hotel
Meals:  B / - / D
Ride: 26 km (optional)
Day 22: November 5, Mirissa – Colombo
The time has come to close the loop on our epic Sri Lanka adventure. This morning we transfer from Mirissa to Colombo (around 2.5 hours), the country's vibrant capital city. On arrival you can explore the city and do some shopping before we regroup in the evening for a farewell dinner.
Accommodation: Galle Face Hotel
Meals:  B / - / D
Ride: N/A
Day 23: November 6, Colombo Departure
Depending on your departure time, make your way to the airport to catch your flight home or onwards to the next destination of your holiday.
Accommodation: N/A
Meals:  B / - / -
Ride: N/A
Total Distance: 954 km
*** End of Spiceroads Services ***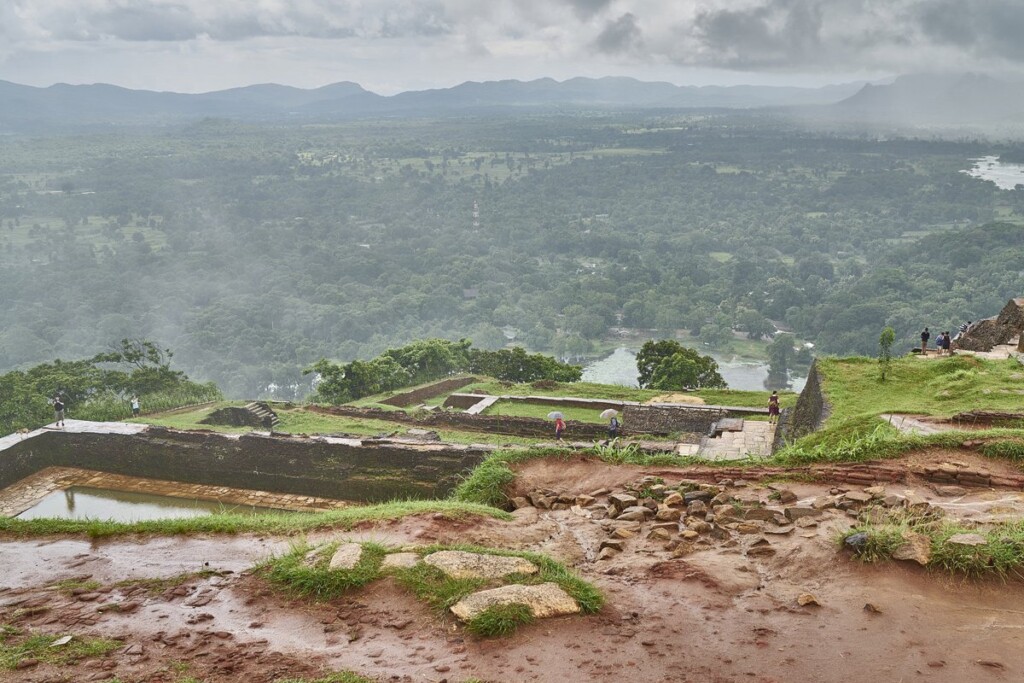 Registration and Participant Selection:
Registration will be on the CCCTS website on the date shown. A computerized lottery system and waitlist will be utilized in the event that the ride is over-subscribed. A $100 USD payment is required at the time of registration. The lottery signup will run for 7 days, after which the Ride Leader will review the results.
People registering for this tour should understand and accept that international travel could come with some risks. We recommend you visit the Canadian Travel Advisory site at - https://travel.gc.ca/travelling/advisories – for current conditions. However, of course, as for anywhere conditions can change at any time
The selection process will consider the following criteria in evaluating candidates:
fitness and riding ability and experience required for the tour,
a history of demonstrating safe riding practices,
acceptable social behavior.
The leader may interview riders or others who know them to verify their suitability for the tour.
The leader will notify registrants of their selection status. If the ride is not filled to capacity, registration will continue until the closing dates shown.
Tour member selection is done primarily by lottery results but the leader will have the final decision on who is accepted or not accepted for the tour.
After you have been notified you are selected for the tour, 30% of the tour fee in USD (varies based on numbers registered for the tour) will be due within 30 days.
SPICE ROADS BOOKING CONDITIONS & TERMS OF SERVICE
 PAYMENT TERMS
A deposit of 30% of the full payment is required upon booking confirmation.
The balance of full payment is required 60 days before departure.
International transfer fees or bank charges may not be deducted from the amount listed on your invoice. These fees are an additional charge that the transferor is responsible for paying.
CANCELLATION POLICY
Number of days before the trip starts

Cancellation fee per person

61 days or more:

full cash refund (less bank charges and any fees*).

40-60 days:

full credit (with no deductions for admin or any other

small-print item) to use on any Spiceroads tour with

no time limit.

15-39 days:

We will refund 30% of the tour price in cash (less bank

charges and any fees*) or credit (no fees).

0-14 days

Sorry, no refund is possible.
* Bank fees and any tour costs incurred by the company as a result of the cancellation.
(Examples of costs that may be deducted include non-refundable purchases of specific equipment and cancellation fees for accommodation or services)
BANK TRANSFER INFORMATION
Beneficiary Name:                 CURRENXIE Push Bike Marketing
Destination Bank:                   Citibank, N.A., Hong Kong Branch
Account Number USD:           390200560
SWIFT code:                             CITIHKKX
Address:                                 Room 1202 Golden Star Building 20, Lockhart Road, Wanchai, Hong Kong

For more information please click the below link. Please ensure that you have read our booking conditions and terms of service ahead of the tour start: https://www.spiceroads.com/tour_info/booking_conditions
IMPORTANT NOTES
We can arrange individual and private pre and post-tour nights if required. Please inquire with us for more information.
Check-in is available from 14.00 on arrival day and check-out at 12.00 on departure day. Early check-in or late check-out is subject to availability and may be provided at additional cost.
Please note that all the mentioned services have yet to be booked, they are proposed for your information only. We will not make any reservations before we receive your confirmation to do so.
Should one or some of the proposed service/s not be available at the time of booking, we will try to find other similar options to avoid changes to the program.
It is the traveller's responsibility to ensure to meet the passport, visa, health, and immigration requirements applicable to your itinerary.
Spice Roads insists that all clients must take out suitable travel insurance before joining one of our tours. The insurance must include adequate coverage for any personal accident and medical expenses. You should also ensure that there are no exclusion clauses limiting protection for any dangerous or unusual activities that might be included in their tour.
The information in this document is given in good faith and covers the average range of conditions likely to be found on this trip. Please note that the itinerary is subject to change due to unforeseen circumstances, however, we will always do our best to adhere to this original itinerary.
Communicable Illness Information:
CCCTS riding guidelines including applicable Covid and communicable illness guidelines will apply.  CCCTS requires all participants to be fully vaccinated, and proof may be requested by the leaders.
Everyone should bring a COVID test kit(s) with them on the tour and take responsibility for self-testing if they feel ill. 
Air Travel Emissions to this tour:
A return flight from Vancouver to the start of this tour (Columbo, Sri Lanka) is 24,300 km or more and will produce about 4.7 Tonne of total emissions per person.  Compare to one year of driving a gasoline powered car which produces 2.0T.    See https://cccts.org/club-document/air-travel-emissions-from-cccts-tours/ link for details.
Please note that Spice Roads will be providing tour members with an option to purchase carbon credits  to help offset the impacts of travel. Spice Roads is partnering with Sustainable Travel International, which funds a variety of carbon-offset projects all over the world, including alternative energy, reforestation, coastal and freshwater ecosystem, and carbon sequestering projects. Sustainable Travel International states on their website - "Through our work, governments, companies, NGOs and local communities can unite and use tourism to achieve the right balance between economic development, green growth, and protection of their natural and cultural assets."