Leader: Robin Howe 206-899-7255
Co-leader: Dan Carey 206-282-5978
Tour Contractor: Spice Roads
Trip Dates: Mon, 22 Apr 2024 -- Mon, 6 May 2024
Trip Classification: Intermediate
Trip Fee: $100 USD Note that the fee for this trip is NOT in Canadian Dollars.
Trip Numbers: minimum 10 , maximum 25
Trip Registration Opens: Mon, 30 Oct 2023 5:00 PM (pacific time)
Registration Lottery Ends: Sun, 5 Nov 2023 5:00 PM (pacific time)
Trip Registration Closes: Wed, 6 Mar 2024 5:00 PM (pacific time)
Ride Description:
Ride Fees in USD are:
Registration fee of $100 USD (which will be refunded to those 1) not selected, 2) who are selected if funds are not used for the tour).
Tour fee =

$4,250 USD if 21-25 people,
$4,400 USD for 16-18,
$4,950 for 13-15,
$5,550 for 10-12.
Single supplement fee is $1,195.
Dubbed the "Land of the Morning Calm," South Korea evokes images of misty mountains, serene rivers, and ancient heritage. Yet, amidst this tranquility, throbs an electrifying pulse in the metropolitanism of its bustling cities and the technological dynamism that pervades Korean society. 

This 15 day cycling tour is the ultimate exploration of South Korea - discovering both the old and the new - as we traverse 615 km of varied terrain from the vibrant capital, Seoul, to peaceful Jeju Island. We begin by cycling directly from Seoul, heading southward along river-hugging bike paths that meander through the countryside. We then ascend Juwang Mountain and its landscape of limestone cliffs and deep gorges before arriving on the rugged shores of the East Sea. We follow the coast to Busan – South Korea's second largest city – where we catch an overnight ferry to Jeju Island. Our final days are filled with views over volcanic landscapes and the ocean as we circumnavigate Jeju on coastal bike paths. The tour ends in Jeju City.

While the majority of the ride takes place on flat bike paths and mildly undulating rural roads, there are a series of notable climbs which will test our legs! These are rewarded with pleasant downhills. The cycling is further complemented with off-saddle explorations of heritage sites, such as the 600-year-old village of Andong and the ancient Buddhist city of Gyeongju. We'll enjoy soaks in hot springs, let loose on the delectable world of Korean cuisine, and spend our nights in cozy accommodations.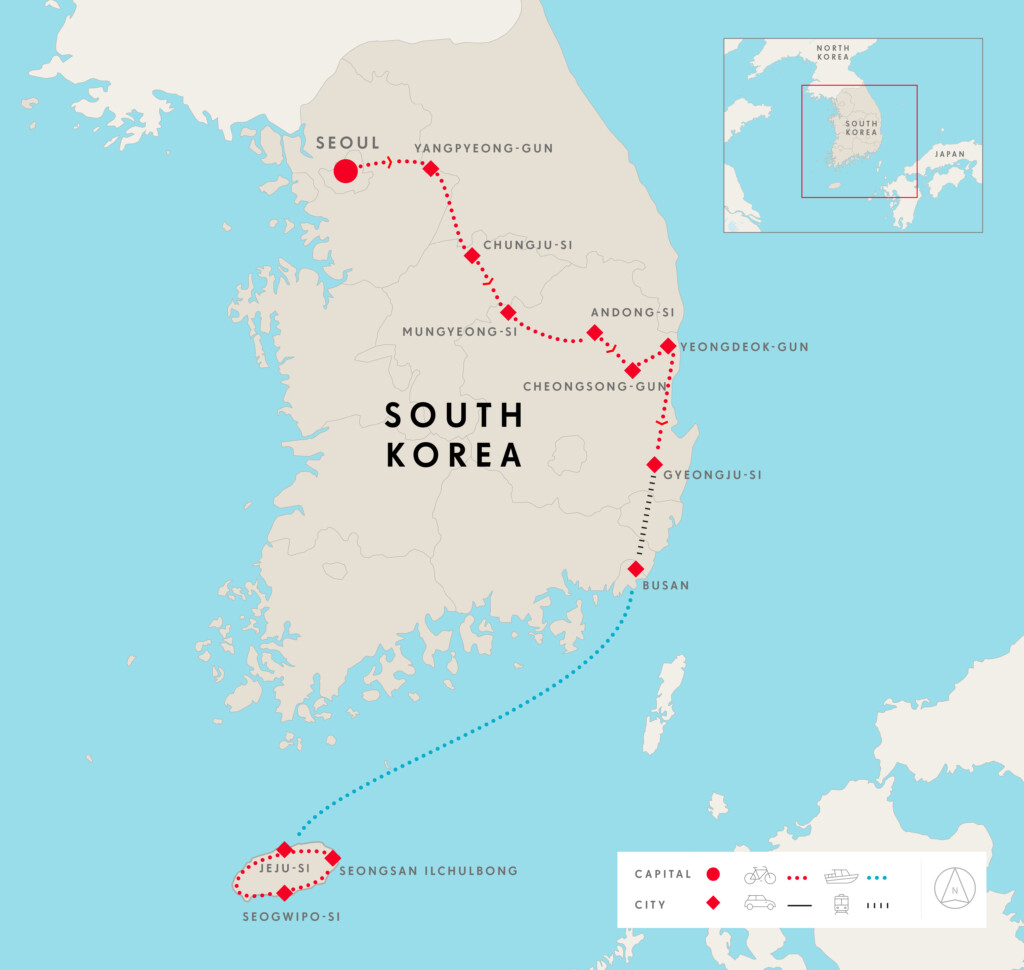 Accommodation Reservations:
Nice hotels, including some traditional Korean accommodations and hot spring resorts and hotels.  
Riding Conditions:
Almost all cycling will be on paved roads and South Korea's incredible system of bicycle trails. The weather should be good with warm but not hot temperatures. Some rain should be expected.   There will be plenty of climbing.
Rental bikes are available for a cost of $390 USD for "regular" bikes and $590 USD for ebikes.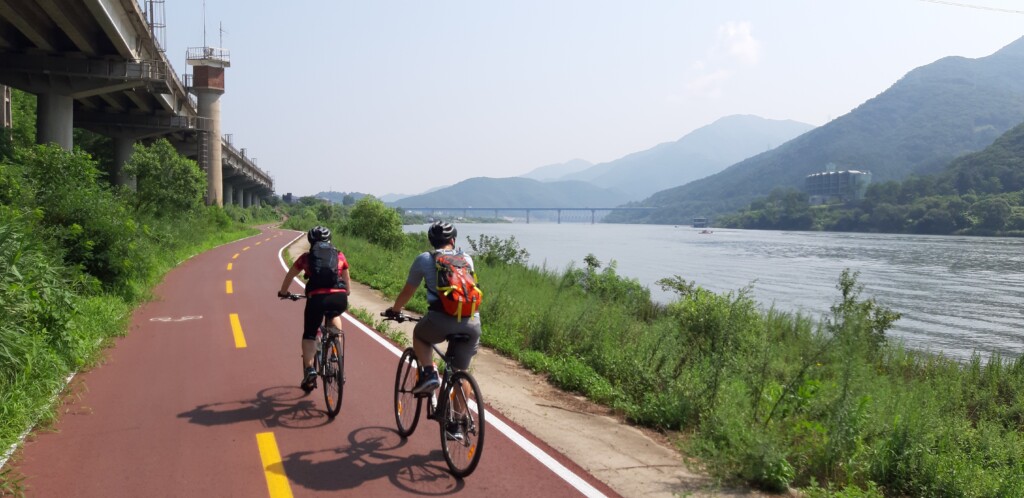 Fee Includes:
English speaking guide
Two guides for 10 - 20 riders
Three guides for 21+ riders
Two A/C vehicles for Transfers and support as per itinerary
14 nights accommodation in twin/ double shared room as mentioned in the itinerary (If you are traveling solo and would like a roommate, we will attempt to find one for you. If you are traveling solo and would like your own room and will pay the Single Supplement fee, please notify the leader about this when you register since it affects the number and type of rooms needed.)
Ferry to Jeju Island on Day 11
Meals as mentioned in the itinerary (B = Breakfast, L = Lunch, D = Dinner)
Entrance fees to sites as mentioned in the itinerary
Drinks & snacks while cycling
Fee Does Not Include:
All international air tickets
Pick up/drop off at the airport and transfer not mentioned in the itinerary and tour price inclusions.
Bike Hire and Helmet
Visa
Meals other than mentioned in the itinerary
Tips for guide, driver, boat crew & hotel' porters
Maps and navigation aids
Travel insurance
Any services non-mentioned in the itinerary
Tour Coordinator fee (waived)
Itinerary:
CUSTOM TOUR FOR 15 DAYS /14 NIGHTS
Cycling Korea - Seoul to Jeju
 DAY TO DAY ITINERARY
B=Breakfast    L=Lunch    D=Dinner
Day 1 (Monday, April 22, 2024): Welcome to Seoul
Welcome to South Korea and its electrifying capital city, Seoul. Upon arrival, make your way to the hotel in downtown Seoul. Depending on your arrival time, you can check-in and relax or, if you've got the energy for it, ramble through the city and check out some food markets, historical sites, and bustling shopping districts. At 18:00 (06:00 PM) our guide will meet you at the hotel and take you for a welcome dinner and trip briefing.
*Airport transfer is not included in the price. Please let us know if you would like us to include this for you.
Arrival Flight: TBD
Accommodation: Kensington Hotel
Meals:  - / - / D
Ride: N/A
 Day 2 (April 23): Seoul to Yangpyeong
It's time to get in the saddle and start riding! This morning, we'll do a bike fitting and then hit the road, starting directly from our hotel in the middle of Seoul. We avoid traffic by sticking to a dedicated bike path and pass by some of the city's impressive landmarks before gradually transitioning into suburban and eventually rural scenery. We break for lunch in the area of Paldang Dam on the Han River and then continue the rest of the way to Yangpyeong, enjoying views of the wide river next to us and mountains in the distance.
Accommodation: Chereville Spa Tourist Hotel
Meals:  B / L / D
Ride: 75 km
 Day 3 (24 April): Yangpyeong to Chungju
Today's ride is along the Hanghang Bicycle Path, a purpose-built cycle path that stretches most of the way along the Han River towards the city of Chungju which lies at the heart of the Korean Peninsula. The ride is entirely flat along the river road dotted with pine trees and gliding past small islands and fishing weirs. Chungju is famed for its hot springs so this afternoon you have a chance to soothe those muscles from the first few days of riding.
Accommodation: UN Tourist Hotel
Meals:  B / L / D
Ride: 65 km
Day 4 (25 April): Chungju to Mungyeong
Today we're going to be tackling a few hills as we start to traverse more mountainous terrain. After an initially flat ride starting from Chungju, the climbs will come in quick succession, starting with Sojoryung Mountain (262 km) where an approximately 2..5 km long ascent is followed by a long and rewarding downhill. Then we hit the next climb of Ihwaryung Mountain (548 m), requiring a climb of approximately 5 km, followed by a winding descent into the city of Mungyeong where we will stay overnight. The views from the top of the mountains are certainly worth it and we'll have plenty of opportunities to break for some rest and refreshments. The area is also of historic importance as it contains fragments of the old road from Busan to Seoul, including impressive gateways which still stand today. If you still have some energy after today's challenging ride, you can discover Mungyeong in the afternoon as well as treat yourself to a soak in the hot springs!
Accommodation: Mungyeong Hot Spring Hotel
Meals:  B / L / D
Ride: 73 km
Day 5 (26 April): Munkyeong to Andong
Today's ride will cover a large swathe of central Korea's agricultural region, making for a pleasant day of cycling along scenic bike paths. We pass by apple orchards, rice paddies and streams before following along the Nakdong River taking us to Andong, a treasure trove of Korean history and traditions. We'll get oriented and have dinner together - we spend 2 nights here to give us some reprieve from the cycling so far and to fully immerse ourselves in this culturally endowed region.
Accommodation: CM Park Hotel
Meals:  B / L / D
Ride: 72 km
 Day 6 (27 April): Andong Hahoe Village (no cycling)
A full day off the bikes to explore this traditional village from the Joseon Dynasty. This UNESCO World Heritage site has preserved Joseon period-style architecture, tiled and thatched roof houses, and folk traditions of clan-based villages. Leisurely strolling through the narrow roads and learning about many different aspects of traditional Korean lifeways makes for a great rest day. Lunch and dinner are on your own today as it's all about going at your own pace before we continue with the group riding again the following day.
Accommodation: CM Park Hotel
Meals:  B / - / -
Ride: N/A
 Day 7 (28 April): Andong to Cheongsong
Back on our bikes today we will head from Andong to Cheongsong, again venturing off into more undulating terrain as we cross into the southern portion of the Taebaek mountain range. Before getting into the hills we'll stop by Andong Lake, one of the largest freshwater reservoirs in South Korea. From there, we'll leave bike paths behind for a change and ride along scenic roads with beautiful views of the surrounding mountains. There are a few climbs to test our legs, but nothing too strenuous or taxing. The mountainous geography of the area also means the temperature is cooler than other parts of Korea we have been - the perfect opportunity to take a dip in an onsen as we are, once again, in hot spring territory.
Accommodation: Mt Juwang Spa Hotel
Meals:  B / L / D
Ride: 69 km
Day 8 (29 April): Cheongsong to Yeongdeok
Today marks a major milestone of the trip as we arrive on the Peninsula's East Coast, completing our traverse across inland South Korea. The transition won't come easy, however, as we'll need to conquer Juwang mountain (721 m) to make it across to the coast! The ride from Cheongsong begins with roads through the mountains before skirting along the edges of Juwangsan National Park, renowned for its limestone cliffs, deep gorges, waterfalls and dense forests. This is where we'll tackle the ride's main feat: ascending to Juwang Mountain. It is a steady and scenic climb best taken at a methodical pace. Once at the top, we'll take a breather and then enjoy a consistently downhill ride to the coast! The salty air of the East Sea will be our welcome and tonight we'll feast on fresh Korean King Crab in Yeongdeok town.
Accommodation: Korean Motel
Meals:  B / L / D
Ride: 54 km
 Day 9 (30 April): Yeongdeok to Gyeongju
Today is the last cycling day on the mainland. Views of the East Sea accompany us along the way as we cycle on coastal bike paths and quiet back roads going south from Yeongdeok. The route is mostly flat, with some undulations towards the end as we approach our destination, Gyeongju. This fascinating 2,000 year-old city contains vestiges from the ancient Silla Kingdom (15 BC - 800 AD) - the monuments scattered around the city are so plentiful that Gyeongju is lovingly referred to as a "museum without walls". We'll spend 2 nights here to soak up the energy and give ourselves a rest before the final leg of the journey.
Accommodation: Korean Traditional House hotel (Hwangnamguan)
Meals:  B / L / D
Ride: 82 km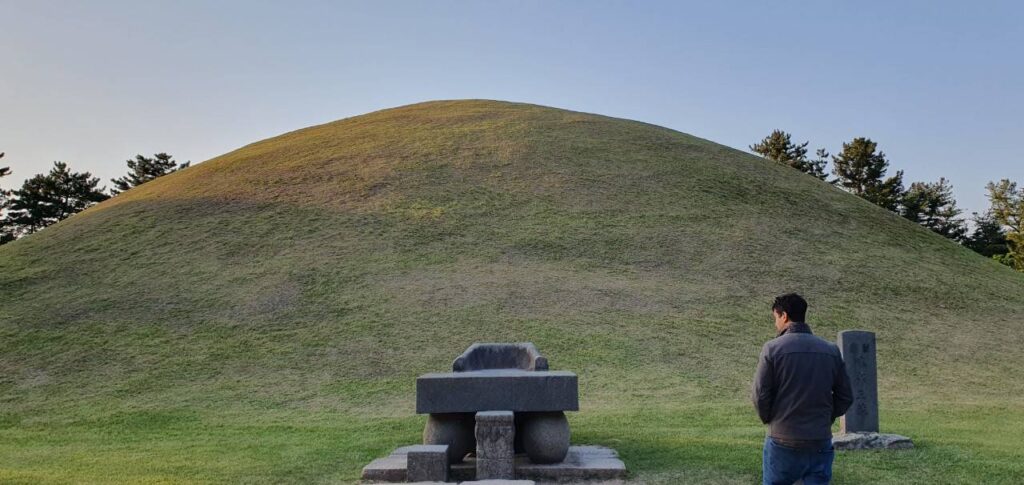 Day 10 (1 May ): Discover Gyeongju City (no cycling)
Today is a free day for you to discover Gyeongju's many historic treasures. More than any other area of South Korea, Gyeongju is filled with tombs, temples, rock carvings, Buddhist statues and palatial ruins, the totality of which is designated as a UNESCO World Heritage Site. Spend the day at your own pace discovering must-sees such as Daereungwon Tomb Complex, Yangdong Folk Village, Seokguram Grotto and Bulguksa temple. Lunch and dinner are on your own today.
Accommodation: Korean Traditional House hotel (Hwangnamguan)
Meals:  B / - / -
Ride: N/A
 Day 11 (2 May): Train to Busan & Ferry to Jeju Island (no cycling)
Today is an exciting transfer day as we start the journey to Jeju island. We first head  to Busan by train and upon arrival,we have a chance to explore the city by bus. Busan is Korea's second most populous city and there's no shortage of things to see. Our stops today include Gamcheon Cultural village, Jagalchi fish market, Haedong Yonggungsa Temple and Nampodong Street. We will make the most of our time here and then, by 17:00 (05:00 PM) board an overnight ferry to Jeju Island. The travel time is around 12 hours in total.
Accommodation: Overnight on board ferry.
Meals:  B / L / D
Ride: N/A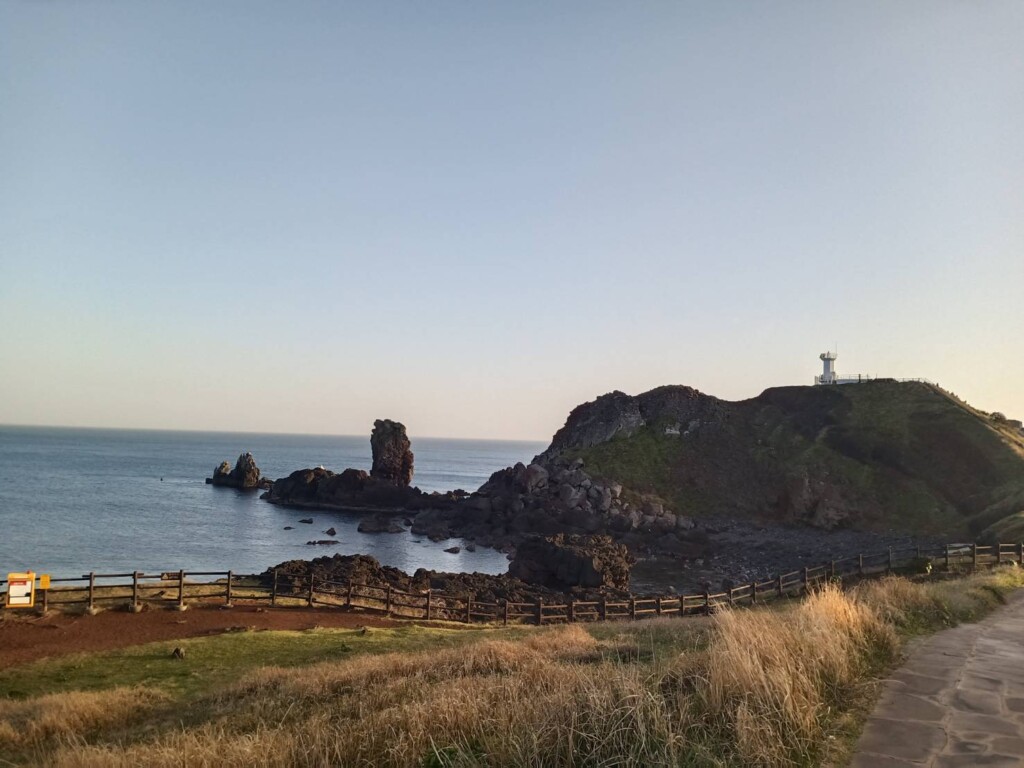 Day 12 (3 May): Arrival at Jeju and start riding to Seogwipo
Arriving at Jeju Island by ferry affords the opportunity to see the picturesque sunrise over the ocean. We will arrive by 07:00 AM and after disembarkation we'll jump directly into the saddle to start cycling. Jeju is a favorite holiday destination for Koreans due its warm climate, volcanic scenery and beaches. It is also a paradise for cyclists as there is a dedicated cycle track which encompasses the entire island, making it possible to circumnavigate the entire island by bike! We'll be tackling a large portion of this loop over the next 3 days, starting with a ride to Seogwipo, the island's second largest city. Beautiful ocean views accompany us along the way.
Accommodation: Lemain Hotel
Meals:  B / L / D
Ride: 67 km
Day 13 (4 May ): Seogwipo to Seongsan Ilchulbong
This morning we will have a chance to explore Seogwipo, checking out the Olle Market and several other markets renowned for their street food. In the afternoon we will cycle eastwors up the coast to Seongsan Ilchulbong, renowned for some stunning volcanic formations.
Accommodation: Jeju Billie Log Pension
Meals:  B / L / D
Ride: 62 km
Day 14 (5 May): Seongsan Ilchulbong to Jeju City
This morning we have a very early start (05:00 AM) to witness the sunrise at Seongsan Ilchulbong. This is one of the most beautiful parts of Jeju island and is at its most magical during the early hours of the morning. It isn't nicknamed "Sunrise Peak" for no reason! We will walk to the top of the volcanic crater and enjoy the unparalleled views. We'll head back to the hotel for breakfast and then embark on the final ride of our Korean cycling adventure, following the coastal route to Jeju City. We'll have a farewell dinner this evening.
Accommodation: Best Western
Meals:  B / L / D
Ride: 56 km
 Day 15 (6 May): Jeju – Departure
Time to say goodbye! Depending on your onward travel plans, head to Jeju airport to catch your flight or extend your stay for a couple of days of beach relaxation.
*Airport transfer is not included in the price. Please let us know if you would like us to include this for you..
Accommodation: N/A
Meals:  B / - / -
Ride: N/A
*** End of Spiceroads Services ***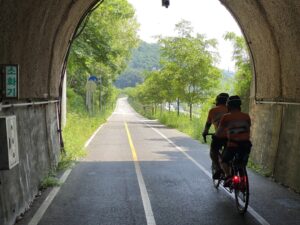 Registration and Participant Selection:
Registration will be on the CCCTS website on the date shown. A computerized lottery system and waitlist will be utilized in the event that the ride is over-subscribed. A $100 USD payment is required at the time of registration. The lottery signup will run for 7 days, after which the Ride Leader will review the results.
The selection process will consider the following criteria in evaluating candidates:
fitness and riding ability and experience required for the tour,
a history of demonstrating safe riding practices,
acceptable social behavior.
The leader may interview riders or others who know them to verify their suitability for the tour.
Tour member selection is done primarily by lottery results but the leader will have the final decision on who is accepted or not for the tour.
The leader will notify registrants of their selection status. If the ride is not filled to capacity, registration will continue until the closing dates shown.
After you have been notified you are selected for the tour, the tour fee deposit of 30% of the tour fee (varies based on numbers of registrants) is due to Spice Roads on December 1, 2023 date. The remaining 70% of the tour fee will be due by February 15, 2024.
SPICE ROADS BOOKING CONDITIONS & TERMS OF SERVICE
Full payment is required 60 days before departure.
International transfer fees or bank charges may not be deducted from the amount listed on your invoice. These fees are an additional charge that the transferor is responsible for paying.
SPICE ROADS CANCELLATION POLICY
(If you cancel and we cannot find a replacement for your spot.)
| | |
| --- | --- |
| # of days before trip starts | Cancellation fee per person |
| 61 days or more: | full cash refund (less bank charges and any fees*). |
| 40-60 days: | full credit (with no deductions for admin or any other small-print item) to use on any Spiceroads tour with no time limit. |
| 15-39 days: | We will refund 30% of the tour price in cash (less bank charges and any fees*) or credit (no fees). |
| 0-14 days | Sorry, no refund is possible. |
* Bank fees and any tour costs incurred by the company as a result of the cancellation.
(Examples of costs that may be deducted include non-refundable purchases of specific equipment and cancellation fees for accommodation or services)
BANK TRANSFER INFORMATION
Beneficiary Name:                 CURRENXIE Push Bike Marketing
Destination Bank:                   Citibank, N.A., Hong Kong Branch
Account Number USD:           390200560
SWIFT code:                             CITIHKKX
Address:                                 Room 1202 Golden Star Building 20, Lockhart Road, Wanchai, Hong Kong

For more information please click the below link. Please ensure that you have read our booking conditions and terms of service ahead of the tour start: https://www.spiceroads.com/tour_info/booking_conditions
IMPORTANT NOTES

We can arrange individual and private pre and post-tour nights if required. Please inquire with us for more information.

Check-in is available from 14.00 on arrival day and check-out at 12.00 on departure day. Early check-in or late check-out is subject to availability and may be provided at additional cost.
Please note that all the mentioned services have yet to be booked, they are proposed for your information only. We will not make any reservations before we receive your confirmation to do so.
Should one or some of the proposed service/s not be available at the time of booking, we will try to find other similar options to avoid changes to the program.
It is the traveler's responsibility to ensure to meet the passport, visa, health, and immigration requirements applicable to your itinerary.
Spice Roads insists that all clients must take out suitable travel insurance before joining one of our tours.
The insurance must include adequate coverage for any personal accident and medical expenses. You should also ensure that there are no exclusion clauses limiting protection for any dangerous or unusual activities that might be included in their tour.
The information in this document is given in good faith and covers the average range of conditions likely to be found on this trip. Please note that the itinerary is subject to change due to unforeseen circumstances, however, we will always do our best to adhere to this original itinerary.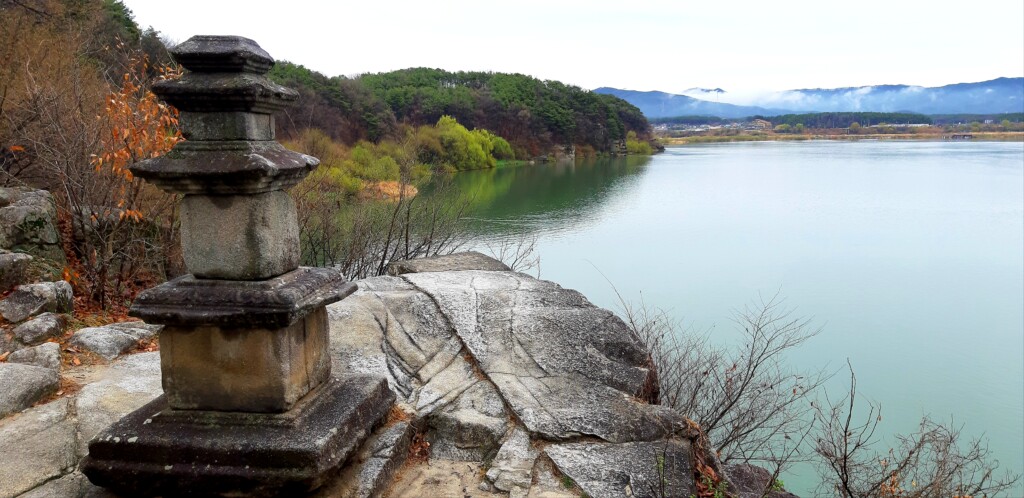 +
Communicable Illness Information:
CCCTS riding guidelines including applicable communicable illness and COVID guidelines will apply.  CCCTS requires all participants to be fully vaccinated, and proof may be requested by the leaders.
Everyone should bring a COVID test kit(s) with them on the tour and take responsibility for self-testing if they feel ill.
Air Travel Emissions to this tour:
A return flight from Vancouver to the start of this tour (Seoul, Korea) is 16,500 km or more and will produce about 3.2 Tonne of total emissions per person.  Compare to one year of driving a gasoline powered car which produces 2.0T.    See https://cccts.org/club-document/air-travel-emissions-from-cccts-tours/ link for detailed information.
Please note that Spice Roads will be providing tour members with an option to purchase carbon credits  to help offset the impacts of travel. Spice Roads is partnering with Sustainable Travel International, which funds a variety of carbon-offset projects all over the world, including alternative energy, reforestation, coastal and freshwater ecosystem, and carbon sequestering projects. Sustainable Travel International states on their website - "Through our work, governments, companies, NGOs and local communities can unite and use tourism to achieve the right balance between economic development, green growth, and protection of their natural and cultural assets."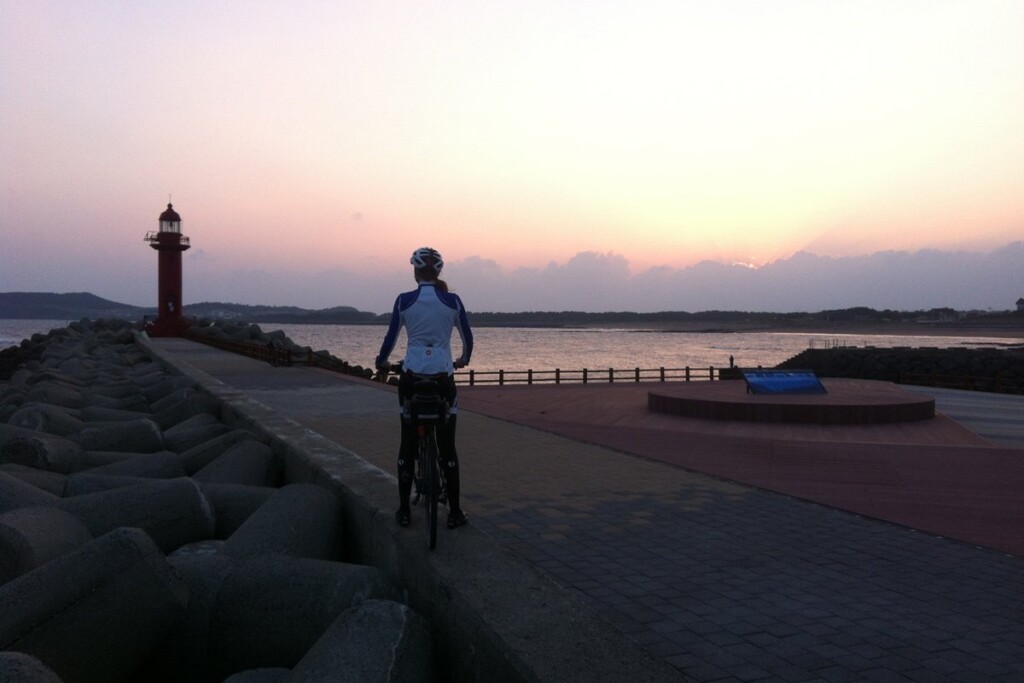 Participants
:
Karen Broda, Norbert Broda, Sandy Brodie, Daniel Carey, Danilo Filippin, Mary Freeman, Jim Galloway, Vivian Holford, Robin Howe, Debbie Kinnear, Nancy OHiggins, Gino Salamatian, Karim Salamatian, Malik Salamatian, Lani Schultz, Deb Stowell, Liisa Tella