Leader: Diane Swindell 778-998-2159
Co-leader: Chris Hodgson 604-841-9927
Trip Dates: Mon, 1 May 2023 -- Fri, 5 May 2023
Trip Classification: Intermediate to advanced
Trip Fee: $0 CAD
Trip Numbers: minimum 15 , no maximum
Trip Registration Opens: Sat, 1 Apr 2023 5:00 PM (pacific time)
Trip Registration Closes: Wed, 12 Apr 2023 5:00 PM (pacific time)
Ride Description:
THIS REGISTRATION IS ONLY FOR VICTORIA CHAPTER CCCTS MEMBERS WHO WISH TO SERVE AS VOLUNTEERS FOR THE VICTORIA HUB AND SPOKE. THIS IS AN OPEN REGISTRATION PROCESS (NO LOTTERY).
Come and enjoy Canada's most beautiful city during spring blossom time.  Victoria has something for everyone: a network of walking and cycling trails, many on former railroad routes; history galore; gorgeous seascapes everywhere, magnificent gardens, and quaint old English charm (think double-decker buses and tea at The Empress Hotel).
Up to seven rides will be offered daily, most of 35 to 60 kms in length and two of about 100 kms. Possible rides include a garden tour, Kinsol Trestle ride, the challenging three ferries ride, a scenic city tour, a brewery tour, and a ride out west to Pedder Bay and/or Sooke, among others. Most popular rides will be repeated.  A more detailed description of all the rides with maps will be e-mailed to participants closer to the Hub & Spoke. RWGPS routes will be available in the CCCTS library.
Covid Information: CCCTS riding guidelines including applicable Covid guidelines will apply. CCCTS requires all participants to be fully vaccinated, and proof may be requested by the leaders. Participants should bring a Covid test kit with them on the tour and take responsibility for self-testing if they feel ill.
Accommodation Reservations:
not applicable.
Riding Conditions:
Most rides will be on quiet, paved roads, paved or hard-packed gravel cycle trails. Standard road bikes will be appropriate for all rides. E-bikes are welcome provided the owners ride carefully at the group's pace.
Be sure to bring a lock and comfortable walking shoes, as some rides will have stops to explore local points of interest. 
While we hope for sunny weather, please come prepared for cool temperatures and rain.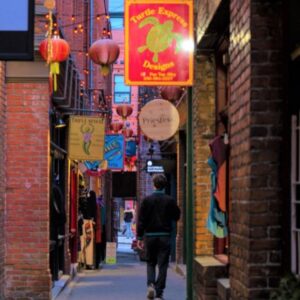 Near Fantan Alley, Chinatown, Victoria
Fee Includes:
Volunteers are invited to three happy hours.  An extra fee of CDN$35 per person (optional) gets you a gung-ho nine-course Chinese dinner in Victoria's famous Chinatown on May 4. If you wish to participate, payment will be required at the time of on-line trip registration. This will be the H&S "zai jian" (goodbye).
Please note:  any excess funds from the H&S will go to the Victoria Chapter
Fee Does Not Include:
Any travel costs (including ferry fares), accommodation, drinks, bicycle rentals, admission costs to local features, any unlisted meals.
Itinerary:
Registration Volunteers should plan to be at Days Inn on May 1 between 11 am and 1 pm for registration, completion of their Medical and Emergency Contact Information.
Between 4:00 and 5:00 pm. on Monday, all participants will gather at Arbutus Park across the street from the hotel for Happy Hour, the best place to meet old and new friends. 
On Tuesday, Wednesday and Thursday, riders will gather at 8:30 am at Arbutus Park near Days Inn for ride departures at 9 am*. Each ride will be limited to 10-12 cyclists, including a leader and 1 or 2 sweeps. Ride details will be explained in a subsequent e-mail and again at ride registration.
Happy hours will be offered also on Tuesday and Wednesday afternoons at Arbutus Park.
The H&S will culminate with a Chinese dinner on May 4. But on Friday, May 5, a coterie of Victoria cyclists will coordinate a ride-along with those participants cycling back to the Swartz Bay ferry.
*Note: Remember to carry your BC Driver's License if planning to do the 3 Ferry or Kinsol Trestle ride, as BC seniors with bikes travel free (but not your car) on Monday through Thursday.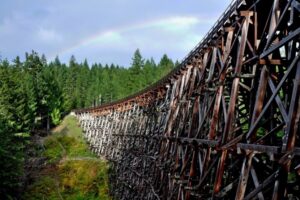 Famous Kinsol Trestle, Cowichan Valley
Registration and Participant Selection:
Registration for event Volunteers is limited to Victoria Chapter CCCTS members.
As an Event Volunteer supporting the 2023 Victoria Hub and Spoke, the CDN$65 registration fee is waived for all volunteers. Thank you! Jobs will include happy hour duties, registration assistance, an on-standby driver to rescue riders with problems, ride leaders and sweeps, etc.
The selection process for volunteer ride leaders and sweeps, will consider the following criteria:
Fitness and riding ability and leading experience required for the event,

A history of demonstrating safe riding practices,

Acceptable social behaviour.
 Addendum:
Ride leaders Diane Swindell and Chris Hodgson will be travelling 15 January to 17 March and with spotty communication. Over that time, two Victoria Chapter members will be happy to answer your questions: Donna Kerkhoven (250-858-2779;

dkerkhoven22@gmail.com

), and Mikkel Bonnor (778-977-1424;

mbonnor@shaw.ca

A Volunteer and Steering Committee organizational meeting will be held on Tuesday, Mar. 21, between 1 pm and 3pm in Bob Louie's office at the back of Murchie's Tea Shop at 1110 Government Street. There is safe cycle lock-up in a building across adjacent Langley St.

 

Please plan to attend.