Leader: Jean Macdonald 250-383-8645
Co-leader: Denise Howes 250 508-3620
Trip Dates: Thu, 15 Sep 2022 -- Fri, 23 Sep 2022
Trip Classification: Intermediate
Trip Fee: $800 CAD
Trip Numbers: minimum 10 , maximum 16
Trip Registration Opens: Mon, 2 May 2022 5:00 PM (pacific time)
Registration Lottery Ends: Thu, 5 May 2022 5:00 PM (pacific time)
Trip Registration Closes: Thu, 1 Sep 2022 12:00 AM (pacific time)
Ride Description:
Motel-based tour of a beautiful portion of the Salish Sea (Georgia Basin). It is classified, "intermediate", and thus should be non-stressful (daily distances range from 50 km to 95 km, though it is not without hills), with time to explore scenic coves, take the occasional hike, possibly explore Lund at the entrance to Desolation Sound, hike/cycle Gulf Islands (Texada and/or Quadra), and view Elk Falls. (Note that the cost for a single supplement/single room is an additional $600. But, please feel free to sign up if you are traveling solo and would like a roommate, but haven't identified one. We will attempt to match you to another same-sex solo traveler.)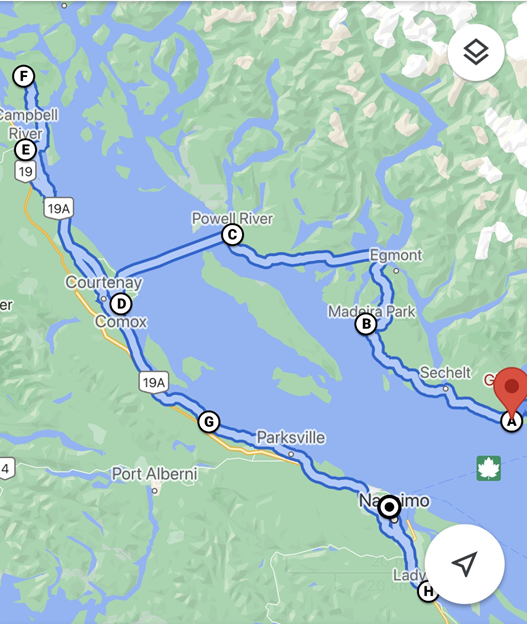 Accommodation Reservations:
We will be staying in five hotels/ motels and one hidden gem of a  guest house on a kiwi farm.
Riding Conditions:
All cycling is on paved roads and there are lots of rolling hills.  The weather in this area in September is usually good but can be rainy.  Temperatures in the mid 60s (about 17-20 celsius) in September but be prepared for some rain.
Fee Includes:
Lodging for 8 nights based on double occupancy. Note that at one resort, some tour members will have to share a bathroom.
Some maps ("old school" route maps will be provided) and ride with GPS maps
Three hotel provided breakfasts and one $5 Tim Hortons Gift Certificate from the hotel in Gibsons
One group farewell dinner, a pizza party on arrival, and another group dinner in Campbell River (if the Covid situation at the time will allow for us to dine together)
Snacks for cycling
Transportation of one small aircraft carry-on sized bag weighing less than 25 pounds per rider by car. This service is provided as a luxury and is extremely limited.  If you arrive with luggage that is bigger than this allowed maximum it will not be transported.
Note that the driving will be shared by the entire group.
Fee Does Not Include:
Transportation to and from the starting and ending point for the tour. The tour begins at Horseshoe Bay ferry terminal, which is located in West Vancouver, 25 km northwest of downtown Vancouver.  The tour ends at Departure Bay ferry terminal which is 5 min drive north of Nanaimo city Centre.
BC Ferry fares. Because there are a number of ferry crossings both as a group and optional ferries, we have chosen not to include these in the price of the tour.  (BC ferries allows BC seniors to travel for free Monday-Thursday)
Meals other than those listed as included
Tour leader fees. (Tour leaders will pay the same tour costs as tour members.)
Itinerary: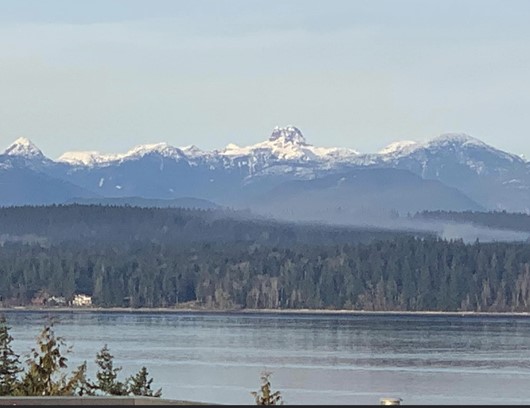 Day One  (September 15) -  Horseshoe Bay to Gibsons
Meet as a group at the Horseshoe Bay ferry terminal where you will be able to place one small bag in the vehicle.
The tour will begin with the ferry north from Horseshoe Bay to Gibsons. (At your cost)
Cycling a short distance to Gibsons
Cedar Motel, 895 Gibsons Way, Gibsons
Free Wifi  and seasonal outdoor pool and hot tub
$5 Timmie's meal card provided by hotel for breakfast
Pizza Party on arrival
Day Two (September 16)  -  Gibsons to Pender Harbour
Cycle the Sunshine Coast to Pender Harbour (Madeira Park)
Approx 66 Km
Stonewater Motel, 13283 Sunshine Coast Hwy, Madeira Park, BC
Day Three and Four  (September 17,18)  -  Pender Harbour to Powell River
Includes Earles Cove Ferry. 
Approx. 53 km (Day three)
Optional Day Four Texada Island tour 51 KM or Visit visit the Village of Lund on Desolation
Sound
Town Center Hotel, 4660 Joyce Ave Powell River
Wifi and Continental breakfast included
Day Five and Six (Sept. 19, 20) - Comox to Campbell River
Ferry from Powell River to Comox cycling to Campbell River
Approx 45 KMn (day five)
Optional Day Six - Quadra Island tour  (40 km),  Elk Falls
Herring Landing Hotel,  492 S Island Hwy, Campbell River
Day Seven - Campbell River to Qualicum Bay (Sept. 21)
Approx. 95km - Our longest day
Qualicum Bay Resort, 5970 W Island Hwy W, Qualicum Beach
Day Eight - Qualicum Bay to Ladysmith (Sept. 22)
Approx.  67 KM
Kiwi Cove Lodge, 5130 Brenton Page Road, Ladysmith
Farewell Dinner , free breakfast
Day Nine Ladysmith to Departure Bay (Tour end) (Sept. 23)
Approx 23 KM
Cycle from Kiwi lodge, Ladysmith to departure bay ferry terminal.
Registration and Participant Selection:
Registration will be on the CCCTS website on the date shown.  Computerized lottery system and waitlist will be utilized in the event that the ride is over subscribed.  A $50 payment is required at the time of the registration.  The lottery signup will run for 4 days after which the ride leader will review the results.
 Participant selection will follow the "CCCTS Tour Participant Selection Policy and Procedures":
The selection process will consider the following criteria in evaluating candidates:
Members of CCTS
Fitness and riding ability and experience required for the tour
A history demonstrating safe riding practices
Acceptable social behaviour (the leader may interview riders or others who know them to verify their suitability for the tour)
The leader will notify registrants of their selection status. If the ride is not filled to capacity the registration will continue until the closing date shown.
After you have been notified you are selected for the tour, the tour deposit of $400 will be due by May 25, 2022.
The final payment of $350 will be made online before July 10th.
In the event of cancellations - If a replacement can't be found, we will refund any fees for costs that can be avoided (e.g Motel rooms that can be cancelled without penalty). However, if there are costs that cannot be avoided, these will not be refunded.
In the event the tour must be canceled due to Covid, refunds will be given except for stripe fees.
COVID Information:
CCCTS riding guidelines including applicable Covid guidelines will apply.  CCCTS requires all participants to be fully vaccinated, and proof may be requested by the leaders.
Everyone should bring a COVID test kit(s) with them on the tour and take responsibility for self-testing if they feel ill.
Participants
:
Werner Acher, Deborah Bray, Anna Brettell, Elisabeth Buxbaum, Delores Franz Los, June Gallagher, Denise Howes, CL Kelly, Jenni Lynnea, Jean Macdonald, Lani Schultz, Christiane Selenz, Jill Sperle, Diane Swindell, Lawrence Vea