Leader: Geoff Kennedy 613-232-6642
Co-leader: Marg Hurley 613-820-7618
Trip Dates: Mon, 25 Jul 2022 -- Sun, 31 Jul 2022
Trip Classification: Intermediate
Trip Fee: $50 CAD
Trip Numbers: minimum 8 , maximum 20
Trip Registration Opens: Tue, 5 Apr 2022 2:00 PM (pacific time)
Registration Lottery Ends: Fri, 8 Apr 2022 2:00 PM (pacific time)
Trip Registration Closes: Thu, 30 Jun 2022 2:00 PM (pacific time)
Ride Description:
This cycling trip will explore the Laurentian area of Quebec province between the towns of Mont Laurier in the north and Saint Jérôme in the south. This semi-mountainous region is well-known for it's scenic beauty and recreational possibilities, both summer and winter.
Our route will follow the trajectory of the cycling trail, Le P'tit Train du Nord, using this trail as backbone where necessary. To add variety, optional routes using local roads will be proposed where possible. Longer and shorter ride options will be offered for each day with distances ranging between 50 and 100 kms.
There will be 6 days of cycling with 6 nights of accommodation in local motels. Overnight stops will be in Mont Laurier, Nominingue, Mont Tremblant, Sainte Adèle and Saint Jérôme.  
Accommodation Reservations:
Each participant will be responsible for their own accommodation bookings.  A block of rooms has been reserved at all the hotels, and it is expected that participants will stay in these hotels with the rest of the group.  Hotel prices range from $110 to $194 per night (tax inc.) for a room with 2 beds.  The full list of hotels will be provided to the participants after they are selected.  Participants will be required to contact each of the hotels to make their own reservations by the end of April.  Participants will be responsible for any costs associated with cancellation of their own individual reservations. 
Riding Conditions:
We will be riding on rural roads and bike paths.  Daily distances range from 50 – 99 km. Although the rail trail has gentle grades, most of the non-rail trail options will involve some climbing. Portions of the rail trail are un-paved and sections of some local roads have deteriorated pavement, so tire widths of at least 28 mm are recommended.
Riders are responsible for getting themselves to the hotel each night, and for carrying all of their gear.  In case of inclement weather or sickness/injury, riders should be prepared to arrange and pay for their own transportation to the next hotel or back to their car, as appropriate. 
We will be riding in 2-3 separate groups each day, each with its own ride leader, providing options for different  distances, cycling speed and departure times.  
Participants will be required to download the Ride With GPS routes from the CCCTS route library, and/or to print their own copies.  Routes will be finalized and available to download a week before the trip.
Fee Includes:
The $50 fee will cover organizing costs and the 30% deposit for the shuttle service from Saint Jérôme back to Mont Laurier.
Fee Does Not Include:
Accommodation, meals, the additional $60 for the shuttle bus, vehicle parking costs or individual expenses of participants.  Although participants are responsible for initial arrival in Mont Laurier, we will try to help with car-pooling arrangements from Ottawa.   
 Participants from outside the region could consider flying to Montreal on July 23rd or 24th, spending a night in  St. Jerome, taking the shuttle and perhaps renting bikes from the shuttle bus company, and joining  the tour on the 25th in Mont Laurier. (https://www.autobuslepetittraindunord.com/en/)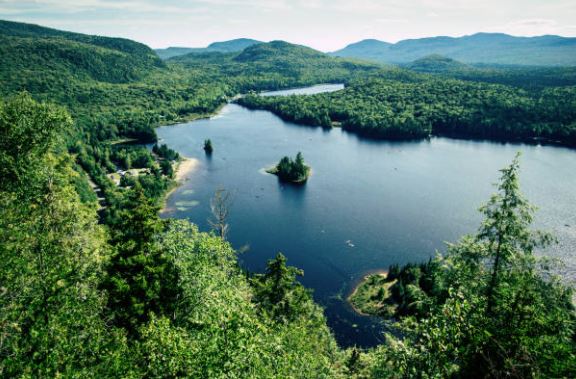 Itinerary:
Jul. 25,  Mont Laurier:  As this town is about 2 hours, 15 minutes by car from Ottawa, participants will drive to Mont Laurier in the morning of the 25th, unless they prefer to arrive on the day before and spend 2 nights at the local motel. Longer and shorter options for day rides from Mont Laurier will be offered. Vehicles can be parked there for the duration of the trip, for a cost of $30.
Jul. 26, Nominingue:  The route from Mont Laurier to Nominingue is limited to the bike/rail trail, with an extension around Lac Nominingue possible for the longer ride.
Jul. 27, Mont Tremblant :  Two route options for this section, the shorter following Le P'tit Train du Nord trail and the longer diverting to nearby communities of L'Ascension and Lac-Chaud
Jul. 28, Mont Tremblant:  On this free day at Mont Tremblant, 3 route options of varying lengths in the Tremblant  vicinity will be available. Relaxing and swimming in nearby lakes or visiting the Tremblant resort village is also a possibility.
Jul. 29, Sainte Adèle:  Again, route options for this next stage will be Le P'tit train du Nord trail and a more adventurous ride using local roads.
Jul. 30, Saint Jérôme:  For the last short distance to Saint Jérôme, there are several options varying in length from 28 kms along the bike trail to 76 kms via local roads.
Jul. 31, Shuttle Bus:  Transport back to Mont Laurier by the Petit Train du Nord shuttle bus to pick up vehicles for the drive back to Ottawa.  Shuttle leaves at 8:00 am and costs $85 pp (deposit of $25.50 paid from registration fee). Arrives in Mont Laurier at 11:00 am.
Registration and Participant Selection:
Registration will be on the CCCTS website on the date shown. A computerized lottery system and wait list will be utilized in the event that the ride is over-subscribed. A $50 CDN payment is required at the time of registration. The lottery sign up will run for 4 days, after which the Ride Leader will review the results.
The selection process will consider the following criteria in evaluating candidates: 
  fitness and riding ability and experience required for the tour,           
 a history of demonstrating safe riding practices,
 acceptable social behaviour
The leader may interview riders or others who know them to verify their suitability for the tour.
The leader will notify registrants of their selection status. If the ride is not filled to capacity, registration will continue until the closing date shown. If the ride is over-subscribed, those not selected will be added to the wait list.  Wait listed cyclists who don't make it to the ride's "Go List" are eligible for refund of their registration fee after the ride has started. If a participant has been accepted and then withdraws, the deposit will not be returned.
Covid Considerations:    This tour will follow the current CCCTS website posted  "CCCTS Staying Safe: COVID 19 Guidelines for 2022", and will comply  with all regional and provincial public health orders.  CCCTS requires all participants to be fully vaccinated, and proof may be requested by the leaders.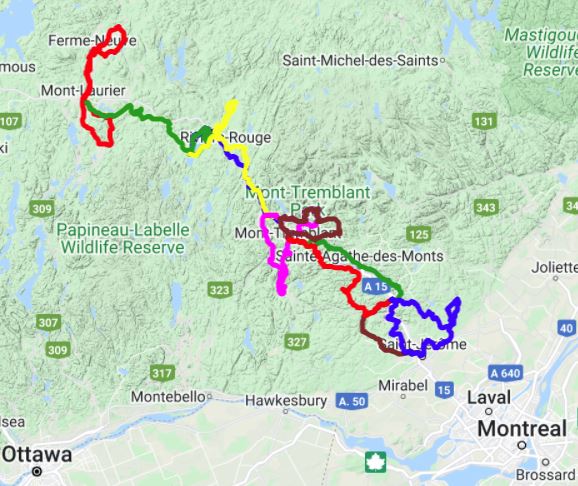 Participants
:
Daniel Carey, Jo Jo Chapman, Phil Dawes, Bonnie Evoy, Kerry Guglielmin, Robin Howe, Marg Hurley, Geoffrey Kennedy, Elly Khazaei, Carole Laflamme, Johanne Laflamme, Paul Lindsay, Kim Martin, Linda Parsons, Don Taylor, Phil Valois, Barbara Wilson, Peter Wood