We will do another mult-day blog entry again.  Way too busy (and tired) to write during this period and of course I have no connectivity anyway.  Surprisingly there is cell phone coverage on large portions of Kili.
Day 4:
Today we start in Barranco camp and finish is Barafu camp.  We start the day with bad news.  Paddy had been up most of the night and has asked to finish the Trek.  Arrangements are quickly made for a guide and a porter to take her down and installed in a comfortable hotel until time for the safari.  We will all miss her smiling face for our remaining days on the mountain, but are confident that the guides will take good care of her.
We started the day by climbing the Barranco wall.  Calling it a wall makes it sounds more intimidating than it is.  It is a full on climb requiring both hands and feet but nothing technical or dangerous.  It takes us a bit more than an hour to zig-zag our way up the wall and are rewarded by awesome vistas all the while.  At the top we take a short break, pull the hiking poles out of our packs and begin our walk to Karanga camp. The hike to Karanga was absolutely stunning.  When we got there we found our mess tent set up for us and a hot lunch prepared.
After lunch and a rest we set off for another 3 hour hike uphill to Barafu camp.  The afternoon hike is much less pleasant.  Not bad, just an unrelenting uphill slog.  We finally reach Barafu a little after 4:00.  Judy and Carole are both feeling under the weather so immediately head for bed hoping to gather enough energy for the summit climb tomorrow.  The rest of us attend a briefing on the strategy for tomorrow than have an early dinner than off to bed for us as well.
Day 5:
Today we do the summit!  I am cheating a bit here since what I call day 5 starts before mid-night.  Judy and Carole are awoken at 10:30 and given the first test of the day.  If you can't eat you can't climb.  Unfortunately only a 50% pass rate; Carole was not well enough to climb.  Kudos to her for recognizing that she was not in condition to climb.  Rather than draining resources from the team she chose to stay behind and wished us well.
The remaining 6 of us were awoken at 7:00 (like we actually got to sleep) with hot tea and cookies brought to our tents.  It was well below freezing outside so we pretty much put on all the clothes that we had.  We got away a little after 11:30 for the assault on Kili; the 6 remaining climbers, the 3 remaining guides and Omarie who would be our summit porter.
The wind was howling when we set off – truly very intimidating.  But as we climbed we built up enough heat to take off one layer and after a bit the wind let up some.  But it was indeed a slow an gruelling climb.  It was not all that steep an incline, but at that elevation even walking on the level is a chore.  All you can do is keep trudging on and thing happy thoughts.  About 5:00 we started seeing hints of sunrise and I knew we were getting close to Stella point.
The guides timed it perfectly!  We reached Stella Point (elev. 5756 meters) right at sunrise – spectacular!  It was incredible.  Even mor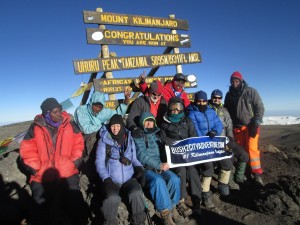 e awesome than the view was our group of climbers.  We had a 100% success rate!  All 6 who attempted made it.  I was very proud of the group.  We we are very exhausted but we made it.  From Stella it is a short "scamper" over to our ultimate destination – Uhuru peak.  Uhuru is at 5895 meters so we had a bit more elevation to gain but it is a very gentle incline.  Of course everything is an effort at this elevation. 
It was a brief celebration at the top and pictures were taken to prove that we were there.  Than off we go for our descent.  It is a long way down to Barafu camp and our tents.  The guides took very good care of us on the way down.  Carrying our packs when necessary.  And when necessary holding us up as well.  We all made it down safe and sound.  Happy and exhausted.  Really exhausted.  We even tried to talk the guides into spending the night there so that we could rest.  They had heard it before and knew that what we really needed was to get to a lower elevation.
After a brief rest and a lunch we had to put the boots back on again!  Four more hours of hiking down to our camp for the night at 3100 meters.  The guides were right we immediately felt better as we descended to a lower elevation.  But it was really tough to get down there – the legs were gone.
Day 6:
Today we finish the trek and prepare for the Safari.  After the best sleep that we had had in many days we were awakened at 6:30 for breakfast and a celebration.  It really was a nice celebration and a lot of fun.  Three more hours of gentle hiking and our happy troop was down at the gate making it all official and ready to board the bus.  Tomorrow most of us will go on Safari.