THE PRINCETON CYCLE TOUR
 Steep hills, long hills and more hills; up, up, up;
And even some down.
Hot, hot days and hot nights; with a sky that was not blue,
 But greyish brown.
Great meals – fresh veggies, just-picked cherries,
Fresh peaches and corn
Oh yes! And porridge, more porridge all ready to eat,
 Just at dawn.
But the people, the cyclists,
They were all so very fine,
Even though they had i-phones, and drank
Coffee, beer and wine.
This group was very social, and helpful,
The type that everyone would like;
Dishes were done quickly, truck loaded so fast,
Now ready to hop on the bike.
A great cycle tour, to wonderful places, with a very likable group.
Lots of fun!
Thanks to you Al, for your excellent organization and leadership –
A job very Well DONE!
On the afternoon of July 10, 2017 twenty three keen cyclists gathered at the River's Edge Campground in Princeton trying to cool off in the river while awaiting the details and maps for the 7 day cycle tour which was about to begin.
For the next seven days we would be cycling through the beautiful Okanagan region of  BC's interior, north to Kamloops and then back to where we started, Princeton,  completing a distance of 550 kilometers.  The group was made up of cyclists from BC, Alberta and Washington State.
The tour started out with two relatively short cycle days of 62 and 68 km leading to Keremeos, Penticton then Summerland, and preparing us for what was yet to come.  Day 3 of cycling took us through Peachland, Kelowna and on to Vernon where we were very happy to set up our tents at the end of the 108 km cycle.        
Each day started out very early, with coffee brewing at 5:30, lunch making and breakfast between 6:30 and 7:00, the truck loaded and everyone ready to roll by 8:00.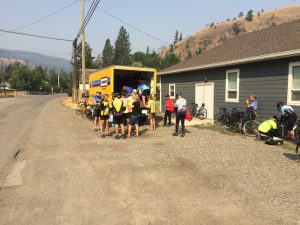 Included in each day's ride was a good share of hills – some steep and short, some more gradual and long and some that seemed to go on forever. Most days we were riding on roads with lots of traffic, (the Okanagan is a popular tourist spot in the summer) but thanks to some of the group who were familiar with local cycle routes, on a number of occasions the route was altered to include quiet roads with little or no traffic, but the elevation gains remained the same.  One of the favorite sections for many was a 23 km stretch between Monte Lake and Kamloops winding through farm and ranch country with no traffic and a gentle downward trend.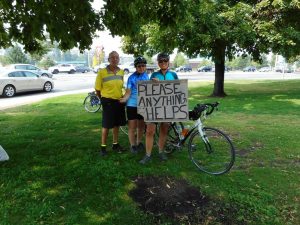 For the first half of the trip we experienced slightly smoky conditions due to the many forest fires burning throughout BC's Interior, but then we were hit by strong winds coming from the south and west bringing with them clear skies, cool nights and cold mornings – a welcome change.  Out came the warm jackets, toques and long pants!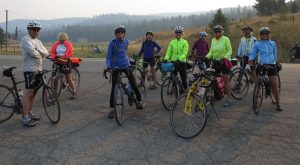 Unfortunately, these clearing winds also made for some very challenging cycling in the form of head winds.  A 40km/hr. head wind that stayed with us throughout the 90 km ride from Kamloops to Merritt, made the downhill sections of the route as tough as the flat and uphill sections.  All were very happy to reach Moon Shadows RV Campground late in the afternoon.
 At the end of each cycle day we were treated to cold drinks and tasty snacks followed by delicious dinners, each prepared by a different 'cook team'.  Meals included, corn on the cob, Okanagan cherries, peaches, pizza, cheesecake, ice cream, chili, burgers and many other delicious foods, too many to mention.  The excellent 'home cooked' meals may be a large part of the reason many of us look forward to these camping cycle tours.
Some of the highlights we enjoyed along the way included: the Penticton Peach Festival Parade, mountain sheep, a rattle snake warming itself on the roadside, mule deer – both alive and dead, refreshing dips in nearby lakes and rivers, pulling nails from tires, the historic Quilchena Hotel and 'famous made-as-you-wait' doughnuts, which we are still waiting to enjoy, (inside joke).   
 The evenings were spent chatting or enjoying a sing-along led by accordion playing Bruce Daykin.  But by 9:30 each night all was quiet with not a soul seen outside the tents.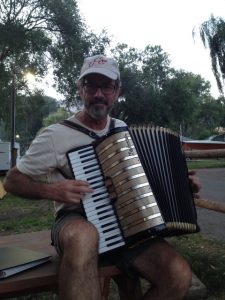 Thanks to Allan Buium's excellent organization and leadership, and the good natured, cooperative participants, the daily climbs, hot weather, smog, strong head winds and noisy traffic were quickly forgotten.  Actually I not so sure about the hills and the strong winds – those may stick with us (me, at least) for some time.
            I believe that a good time was had by all.