In September of 2017 a group of 15 Club Members took on a 12-day challenge of the Wild Atlantic Way.  We started and ended our trip in Killarney, with most of us arriving there by train.  We started the first day with a climb through the Gap of  Dunloe and Ladies View.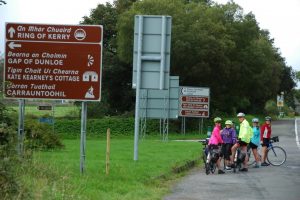 We moved to Gougane Barra for a one-night stay, with more climbing although a short ride for most. 
The next day we moved to Bantry for 2 nights.  On our first day in Bantry, some of us rode to Mizen Head (the most westerly point in Ireland), while others did a shorter route with a stop at the memorial for the Canadian flight to India that crashed in 1985 just offshore here.
Next day saw us ride through the Healy Pass, with a 2-night stay in Kenmare.  A pretty town, with a challenging loop ride (lots more hills), then on to Waterville.  This would prove to be our most challenging day, with a nasty storm pr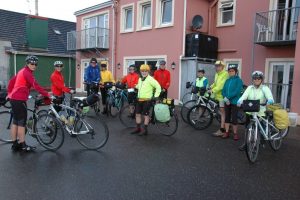 esenting us with very strong head winds coming into Waterville, forcing most of us to walk over the pass a km or two, before descending into the village. The great view of Skellig Michael helped a bit.
Two days later we pressed on through the Ballaghasheen Pass to Killorglin for a 1-night stay, thankfully with a tail wind assisting us on our way.  From there we cycled on the Dingle.  Our two days in Dingle allowed us to cycle the Dingle peninsula, and sample the many historical sites to be seen, from ring forts, to ancient beehive homes and an equally ancient church.  Along the way we enjoyed some spectacular views of the islands off the peninsula.
Our final ride from Dingle took us over Conor Pass, the highest pass in Ireland.  For most of us this turned out to be a relatively easy climb out of Dingle on our way to Tralee and on to Killarney for the completion of our ride.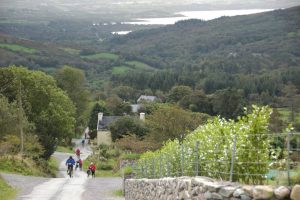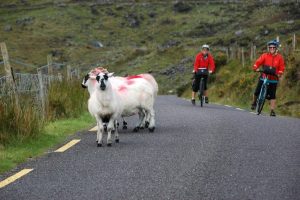 "It's a lovely day for a Guinness!"
Craic and Other Irish Adventures 2017
Impressions of our cycling adventure on Ireland's wild Atlantic coast.
Adventurous & exploratory
Invigorating & exhilarating
Strong gusts & death defying winds
Deluges & rainbows
Challenging passes/glorious downhills/undulating country roads
Green fields & stone walls
Ocean views/scenic landscapes/breath taking vistas
Historical sites
Considerate drivers & hospitable hosts at charming inns
Scones & jam
Soda bread
Sheep.Sheep.Sheep