If you are interested in leading a CCCTS Tour or Hub & Spoke and are unsure about how to do that, this is the article for you.
Before we dive into the details of how to write a proposal let's talk a little bit about how things are structured.  There are a number of details that you as ride leader need to pin down before starting a ride.  Potential participant also expect to see certain details before they are willing to commit.  Over the years the club has developed a template to lay out what information needs to be provided.  Recently the club has automated this template into the current form based approach.  There are two purposes to that change.  First to capture all of the elements of the ride templates.  The second is to automate most of the formatting task for the proposal.  Formatting is important.  If it is clean and consistent it is easy for the potential participant to find the information they need.  In the past those formatting issues could consume considerable amount of time from the ride leader and director.  Under the current approach most of the formatting is done by the system. The ride leader provides the necessary information by filling in form fields and the system generates a nicely formatted proposal suitable for reading by potential participants.
Authorisation to Write a Ride Proposal
Once you have an idea of where you would like to go and when, then probably the first thing you should do is contact either the Tours Director or the Hub & Spoke Director.   They can help provide guidance on what works and what doesn't.  They can also provide help in finding resources that you will need in developing your proposal.
Once you and the ride director agree that you have a solid idea for a ride it is time to turn it into a proposal.  Your ride director will create the skeleton trip proposal for you on the club website.  They will also make you author of the proposal so that you have full permission to write the proposal.  If you don't already have an account on the website they will arrange for that as well.  Once they have done that you are all ready to go.
Preparing to Write your Proposal
If you haven't written a trip proposal through the website before this section will help you get familiar with the environment.  If you have done this before, please feel free to skip over this section.
The first thing you need to do is login to the website using the address cccts.org/login/.  This page will prompt you for your user name (or email address) and your password.  That information should have been provided to you when you website account was created.  If you can't remember your password click on the "Lost Password" link near the bottom of the page.  Remember that these password reset emails often get filed in the spam folder, so if you don't see it right away you may want to look around.  You may want to consider setting your password to something you can remember in the future.  This can be done by editing your "Profile".
Once you successfully log in you should see something like the following:

This screen is called the "Dashboard".  It is one of 2 views of the website.  You are probably more familiar with the user view of the site.  Now that you have logged into the site there is a black ribbon across the top of the screen.  On the left end of the ribbon there is a picture of house and the words "CCCTS".  If you click on this you will be taken user view.  In the user view  the house icon will be replaced by a speedometer icon.  Clicking on that will bring you back to the dashboard.   
Along the left hand side of the screen you will see a black sidebar.  This sidebar contains links to the things that you can do in the dashboard.  Everyone's sidebar will different depending on what they can do on the site.  As a ride leader you will only see two links: "Ride Posts" and "Profile".  If you click on "Profile" you will be able to do such things as change your password.  For now let's click on "Ride Posts" to show the screen below.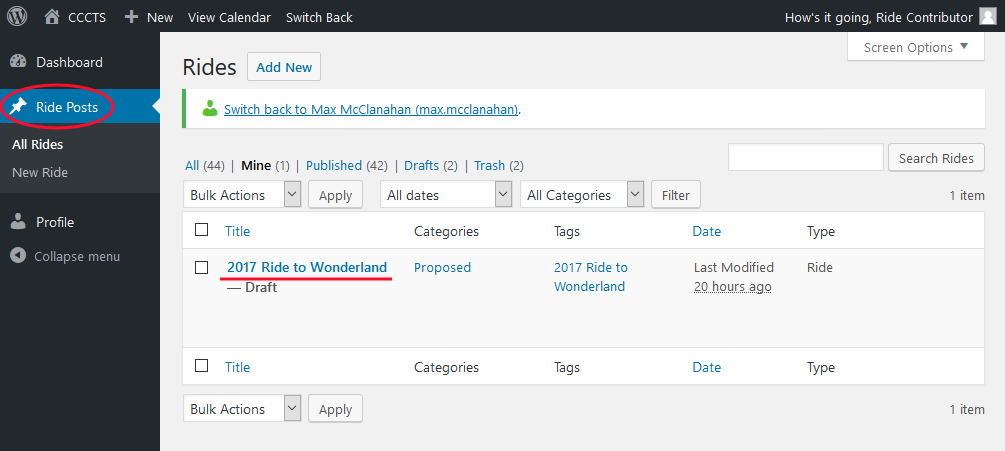 This screen displays the list of rides that belong to you in the main portion of the dashboard.  In this case we see only one ride "2017 Ride to Wonderland".  In your case you should see your ride proposal that the ride director set up for you.  If you don't, you need to ask for help.  To edit your ride proposal simply click on the ride title.

To make it easier to work on your proposal I would suggest making some changes to the default layout of the screen.  To do that click on the "Screen Options" tab that you will find in the upper right hand corner of the screen.  This will expand the tab.  You should adjust your settings to match the image below:
Click on the "Screen Options" tab again to save you settings and you are ready to go.
Saving your Work
The screen now should contain a number of boxes.  At the top, of course, is the title box that contains the title of your ride.  Below that is the "Publish" box that looks like the image below.

The publish box is how you manage your proposal.  The three buttons that it contains are all very important.
Save Draft: Use this button to save your work.  The system will attempt to automatically save your work for you, but it is always a good idea to explicitly do so.  Particularly at the end of an editing session save your work before leaving the editor.
Preview: Use this button to look at the formatted version of your ride proposal.  Remember that most of the formatting for your proposal is handled by the system.  The formatted version that you see with the preview button will be considerably different than what you see in your editor.  Note that the preview will be displayed in a separate tab in your browser.
Submit for Review: Only use this button when you are done with your proposal and want the ride director to review it.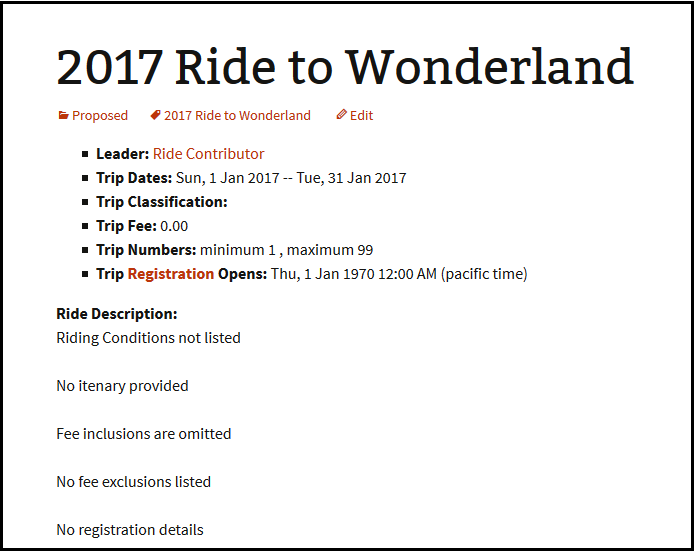 Filling in the Fields
Underneath the Publish box there are two more boxes: the Excerpt box and the More Fields box.  In the Excerpt box you should enter a short description of your ride.  One or two sentences is best.  The excerpt will not appear as part of your trip proposal, but it will appear as the summary of your ride in all listings along with the ride title.  This is your first chance to catch the attention of potential participants.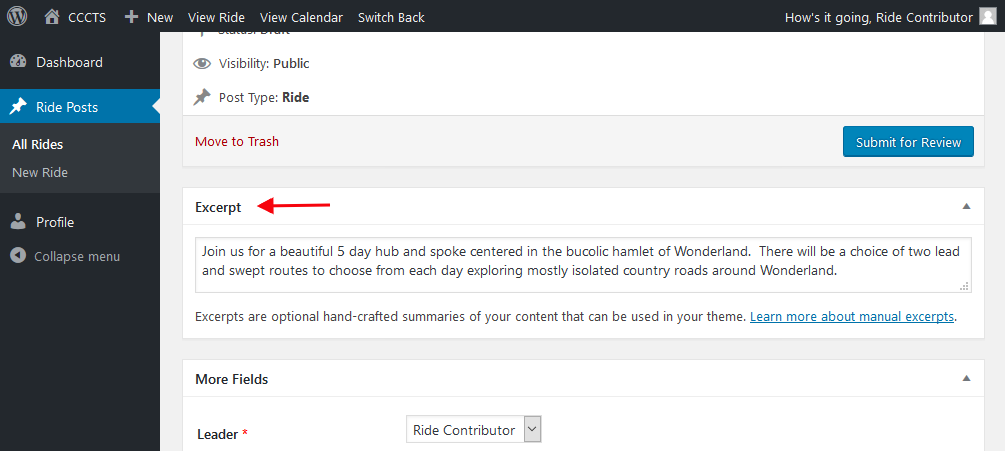 The More Fields box contains all of fields that will be used to create your ride proposal.  Not a particularly good name since it is really "All the fields that are important".  We will go through each of the fields and say a little bit about each of them.
Leader.  This is a drop-down box containing the name of the ride leader.  You should not change this field.  If you do you may not be able to edit your proposal any longer.  If it does not contain your name, contact your ride director to correct it.  If you would like to change the way your name is displayed (e.g. you want to go by "Jim" not "James") then you can change your Profile to set the Display Name field to display your name the way you would like it.
Leader Email.  This is your email address and is a required field.
Leader Phone.  Your phone number.
Co-Leader.  If you have a co-leader enter their name here.  Only one co-leader is supported.  If you don't have a co-leader leave this and the other co-leader fields blank.
Co-Leader Email.  The email address of your co-leader.
Co-leader Phone.  Your co-leaders phone number.
Tour Contractor.  If you are co-coordinating a trip that is being  run through a tour contractor (e.g. Croatia tours) then enter the name of the tour contractor.  You can enter additional information such as email, website or phone in this field if you wish.  Of course, leave the field blank if you are not using a tour contractor.
Start Date.  The date when your tour begins.  Click anywhere in the field and a calendar widget will pop-up to help you enter your date in the correct format.  This is a required field.  If you haven't decided on a date yet, use January 1st.
End Date.  The last day of your trip.  Also a required field.
Ride Classification.  Please refer to the ride ratings page to determine what the appropriate rating is for this ride.  If you are in doubt what is appropriate here, discuss the issue with your ride director.
Ride Fee.  This is the total cost of the ride (not including the $2 registration fee).   This is a currency field so you will only be able to enter a dollar amount — no additional text.  This amount should be in Canadian dollars (CAD) unless otherwise stated.  If you are using an alternate currency , a payment schedule or any other information about the fee, that information should be placed in the Registration and Selection field.
Minimum Riders.  The minimum number of riders required to run the trip (including trip leaders).  If this number of riders do not register the ride will be cancelled. 
Maximum Riders.  The maximum number of rider that the trip can handle (including leaders).  Registrants above the maximum will be placed on a wait-list. 
Registration Open.  This is the date and time that online registration opens for this ride.  The time should always be given in Pacific time to avoid confusion.  You may want to work with your ride director to pick a time that does not conflict with other rides.
Registration Close.  If you wish to shut off registration before the the start of the ride, enter that date and time here.  If you plan on leaving registration open, leave this field blank.  If your ride has reached maximum enrolment it can still remain open and additional registrants will be wait-listed.
Ride Description.  This is the heart of your proposal.  Take as much space as you would like to fully describe your ride.  Note that you should try not to repeat information contained in other fields such as Ride Conditions, Itinerary, etc.  For this field you will use a rich text box to enter your information.  That means that you have control over the formatting within this field so that you can use italics here, bold text there.  You can insert hyperlinks to external references and you can use numbered and un-numbered lists.
Accommodations.  This section is optional.  Typically for tours where all accommodations are arranged by the tour leader it will be omitted.  However, even in these cases you might write a brief note stating that accommodations will be arranged as part of the trip and that we will be camping every night except one, mostly in provincial camp grounds….  On the other hand for Hub and Spokes we usually have fairly extensive accommodations  sections.  What accommodations are available in the area, contact information for the preferred accommodations, any discount rates that have been arranged, etc.
Ride Conditions. This a standard section that should be in all ride descriptions.  Will this trip be entirely on quite country roads?  Are you going to have some days with heavy traffic and narrow shoulders?  Maybe you are going to have some time off paved roads — gravel? hardpack?  What type of bike is most appropriate for this ride?
Fee Includes.  Again pretty standard stuff.  Are accommodations included?  How about meals?  Which ones?  How about happy hour supplies?  Some tours include entrance fees for certain attractions — those should be mentioned.  Is there a luggage truck?  Basically what are all the things you are providing for the participant's dollar. 
Fee Does Not Include.  This is more of a CYA section.  Is there anything that participants

might

expect to be provided that will not be covered?  E.g. travel, bike rental, drinks, lunches.  Don't make assumptions about what people expect to be provided.  If you put it in print up front everyone can be prepared.
Itinerary.  Normally in this section you would provide the details for each day of the trip.  Where you are starting and ending each day.  How many kilometres you are planning to cover that day.  Maybe even the elevation gain.  A numbered list or a table works well for presenting this kind of detail. 
Registration and Selection.  The form provides some boiler plate that you may wish to use for this section.  Here is where you tell people how and when to sign up for your trip.
Participants.  Don't worry about this field.  It will be updated by the system as registration progresses.
Wait List.   Don't worry about this field.  It will be updated by the system as registration progresses.
What Happens Next
Once you are done with the form you should contact your ride director to have him/her review the information you have provided.  Even if you know you are not done you may want to to request feed-back from you ride director.  If you think you might be going down the wrong path, it is always appropriate to ask for an interim review to avoid wasting time that can be avoided.  Generally you will find the ride directors encouraging and helpful, but generally you need to let them know that you need their help.
When you submit your proposal for review your ride director will get back to you with his/her questions, comments and suggestions.  Generally they will reply outside your proposal and request that you make the changes.  With small nits they may make changes directly to your proposal and ask for your approval.  In any case you should anticipate an iterative process toward approving your proposal.
At any point in time your proposal will have a status.  While your are working on it, it will be in draft status.  When you wish to submit you proposal you change it to pending review.  You should edit your proposal only when it has draft status.  Once your director reviews your proposal he/she will either (1) change it back to draft status so that you can make further changes, or (2) publish your proposal.  When your director publishes your proposal you can no longer make changes to your proposal.  Even though your proposal is published it will not yet be visible to the membership.  The next step is for your director to present your proposal to the board for approval.  Generally this will occur at the next board meeting but it can be done via an email exchange.  
There are 4 possible outcomes of board review:
Approval.  In this case your director will change it from a "proposed" ride to either a tour or hub and spoke.  As soon as that happens your ride description will be made immediately visible to the membership.  Your ride will also be advertised in the next Newsbrief.  Your director will also setup the registration to occur at the specified time. 
Approved with changes.  In this case your director will change you proposal back to draft status and request that you make the suggested changes.  Once you have made the changes your director is authorised to advertise the ride if he/she feels that the changes you have made meet the board's requests.
Denied with suggestions.  In this case you will also need to revise your proposal.  Once your revision is complete your director will again need to seek approval from the board.
Denied.  It is possible for the board to simply deny the proposal as something it is not willing to sanction.  Obviously this situation is extremely rare since your ride director will not encourage you to put the effort into developing a proposal that may not be sanctioned.