Leader: Charlotte Eberlein 208-733-0543
Co-leader: Bill Eberlein (208) 733-0543
Trip Dates: Tue, 28 Jun 2022 -- Sat, 2 Jul 2022
Trip Classification: Intermediate
Trip Fee: $25 CAD
Trip Numbers: minimum 10 , maximum 24
Trip Registration Opens: Tue, 25 Jan 2022 5:00 PM (pacific time)
Registration Lottery Ends: Sat, 29 Jan 2022 5:00 PM (pacific time)
Trip Registration Closes: Mon, 21 Feb 2022 5:00 PM (pacific time)
Ride Description: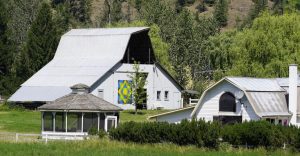 Welcome to the beautiful and diverse landscapes of the Shuswap - North Okanagan region. Enjoy the sights, sounds, smells, and tastes of nature as you cycle some of the 1500+ km of paved back roads in the area. Along each day's cycling route we may enjoy short walks, visits to local wineries, swimming beaches, bird watching "hot spots", scenic viewpoints, and cycle-friendly local cafes. Our base will be the Sorrento Centre on Shuswap Lake, 35 km northwest of Salmon Arm on Highway 1.
Check out the Shuswap - North Okanagan Cycle Touring Map here:
https://Shuswaptourism.ca/plan/guides/
Scroll down to this brochure thumbnail:

You can request a free copy of the map by calling Shuswap Tourism at the Columbia - Shuswap Regional District Office (250) 833-5947.
Accommodation Reservations:
Our comfortable base for the week will be the Sorrento Centre on Shuswap Lake, 35 km northwest of Salmon Arm on Highway 1. The Sorrento Centre is on the west side of the village of Sorrento. 
Websites: https://www.sorrentocentre.ca/contact,  https://www.sorrentocentre.ca/
Address:  1159 Passchendaele Road, PO Box 99, Sorrento, BC Canada V0E 2W0
Phone:  (250) 675-2421, Toll free: 1 (866) 694-2409  
Email: reception@sorrentocentre.ca
The Sorrento Centre offers a variety of accommodations including Lodge rooms, Cabanas, RV sites, and tent camping; meal plans also are available. Meals are served at the Richardson Lodge Dining Room and the adjacent outdoor picnic tables. See Meals and Accommodations rates on the Sorrento Centre website.
Please register on-line with the Sorrento Centre by June 7, 2022.
Riding Conditions:
Quiet, scenic paved back roads through rural areas of farmland, lakes, river valleys, forests, and hills. A lead cyclist and a sweep cyclist will serve each group each day.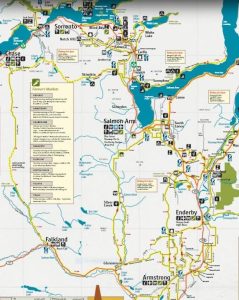 Fee Includes:
Light refreshments, snacks, and local fruits at registration and Happy Hour. Ride with GPS digital route files will be posted on the CCCTS website. 
Fee Does Not Include:
Optional group dinner at Sorrento Centre or any other meal; accommodations, transportation to and from ride starting points each day.
Itinerary:
On-site Registration on Tuesday, June 28 from 1:00 to 3:00 pm in front of Spes Bona. 
See Sorrento Centre Site Map here. Casual meet and greet. Sign up for daily rides and get route maps and instructions. Sign your CCCTS waiver and get settled in.
First Ride: Tuesday, June 28 at 3:15 pm in front of Spes Bona
A one to two hour Sorrento area introductory ride (20-30 km) will leave the Sorrento Centre at 3:15 pm on Tuesday afternoon.
Wednesday, Thursday, and Friday at 9 am in front of Spes Bona: A 40-50 km and a 70-80 km ride will be offered each day in the Sorrento, Salmon Arm or Armstrong areas. Please be prepared to transport your bike by car from the Sorrento Centre to starting points in the Salmon Arm and Armstrong areas. Detailed descriptions and GPS maps will be supplied to all riders before the Hub & Spoke.
Last ride: Saturday, July 2 at 9 am in front of Spes Bona: A 40 km and/or a 60 km ride leaving from the Sorrento Centre will be offered and will finish by mid-day.
Tuesday, Wednesday, and Friday nights - Happy Hour and discussion of next day's rides. Thursday night (tentative) - Optional group dinner at the Sorrento Centre.
Registration and Participant Selection:
Registration will be on the CCCTS website on the dates shown. A computerized lottery system and waitlist will be utilized in the event that the ride is over-subscribed. A $25 CAD payment is required at the time of registration. The lottery signup will run for 5 days, after which time the leaders will review the results.
The selection process will consider the following criteria in addition to the lottery number:
fitness and riding ability required for the tour
a history of demonstrating safe riding practices
acceptable social behavior
The leaders may interview riders or others who know them to verify suitability for the tour.
The leaders will notify registrants of their selection status. If the ride is not filled to capacity, registration will continue until the closing date shown.
Your $25 CAD registration fee is considered non-refundable in the event of cancellation, unless cancellation is COVID related.
Current BC and CCCTS Covid19 precautions will be followed at all social gatherings and during rides. Please read the Club's " CCCTS Staying Safe: Guidelines for 2022"    https://cccts.org/club-document/staying-safe-guidelines-for-2021/
"Stripe fees" are applied for CCCTS registration transactions. Stripe fees will be deducted when there is a refund of registration fees paid by a Club member if a ride is cancelled by the Ride Leader due to COVID or some other reason.
Currently the Stripe fee is 2.9% + 30 cents for a Club ride registration fee (Hub & Spoke or Tour) of any value. For a $25 H&S registration fee in 2021 the Stripe fee will be $1.03.
Participants
:
Mike Bonnor, Geoff Burton, Sharon Cotterill-Cook, Donna Devine, Peter Donkers, Bonita Douglas, Bill Eberlein, Charlotte Eberlein, Sharon Folkes, Lise Fraser, Lorne Hunter, Lynne Jordon, Brendan Kennelly, Donna Kerkhoven, Sherry Long, Jude Loukras, Cathy Nelson, Dan Ramsden, Lorna Ramsden, Dorothy Schedvin, Lani Schultz, Christiane Selenz, Paul Westmattelman, Cornelia Yule
Wait List
(in priority order):
Susan Greening, Ute Grayson, Jim Grayson, Andrew Clarke, Richard Morris, Anne M. Smith, Rob Haigh, Thomas Vernon, Gail Ross