The Cross Canada Cycle Tour Society       October 2023,  Volume 40, Issue #9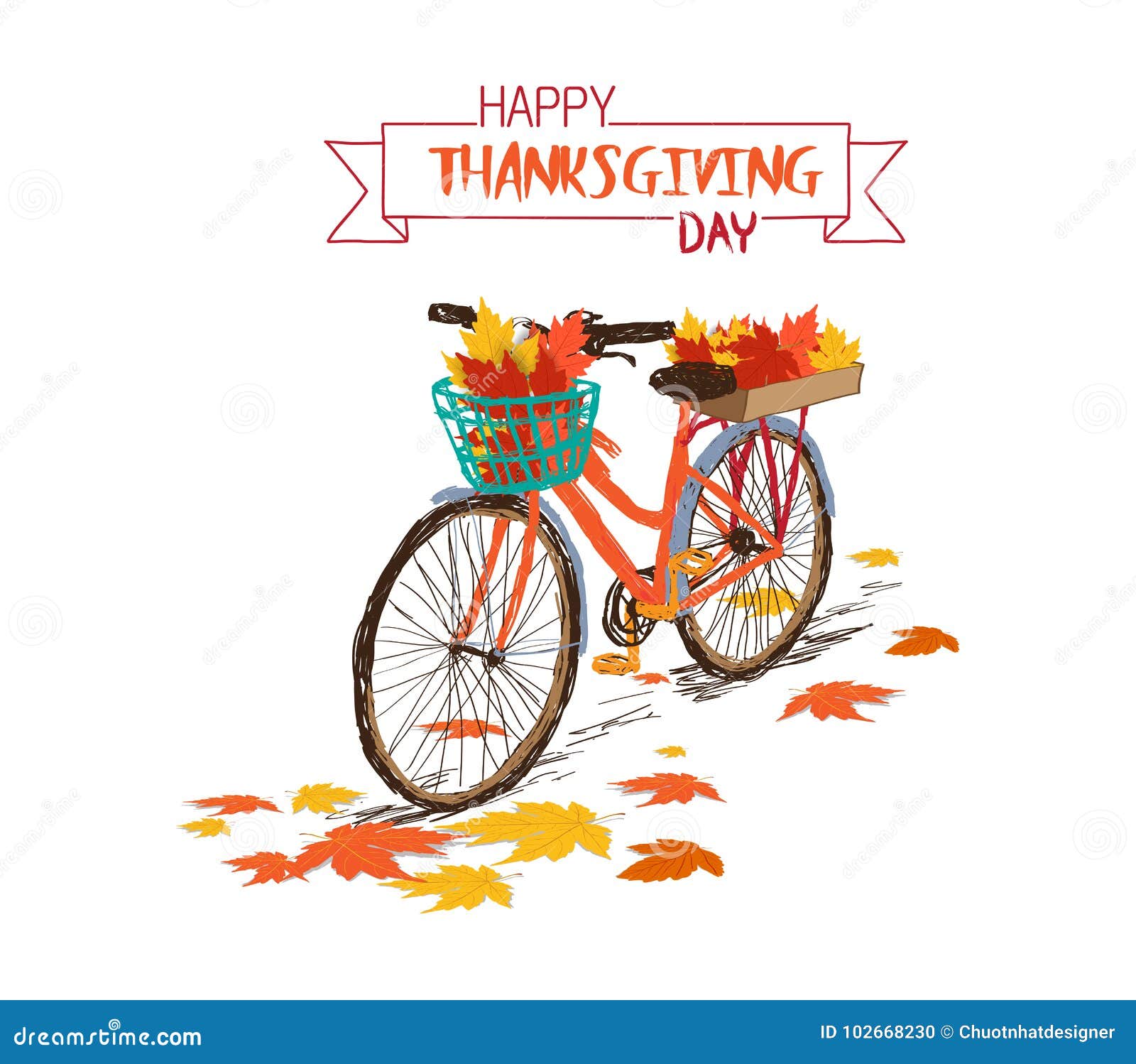 From the Hub and Spoke Director's Desk – July 2023
From the Hub and Spoke Director's Desk – October 2023
Our National Capital Region has just completed another successful hub and spoke under the capable leadership of Nel Ahmed and Geoff Kennedy. The group spent a week cycling on quiet rural roads in the Napanee area under blue skies with perfect fall cycling temperatures. Routes varied from 50-93 km and highlights included cycling past golden fields, a ferry ride to Amherst Island and many coffee shops, ice cream stops, picnic lunches and a group pizza dinner. Trip report and pictures will be posted soon.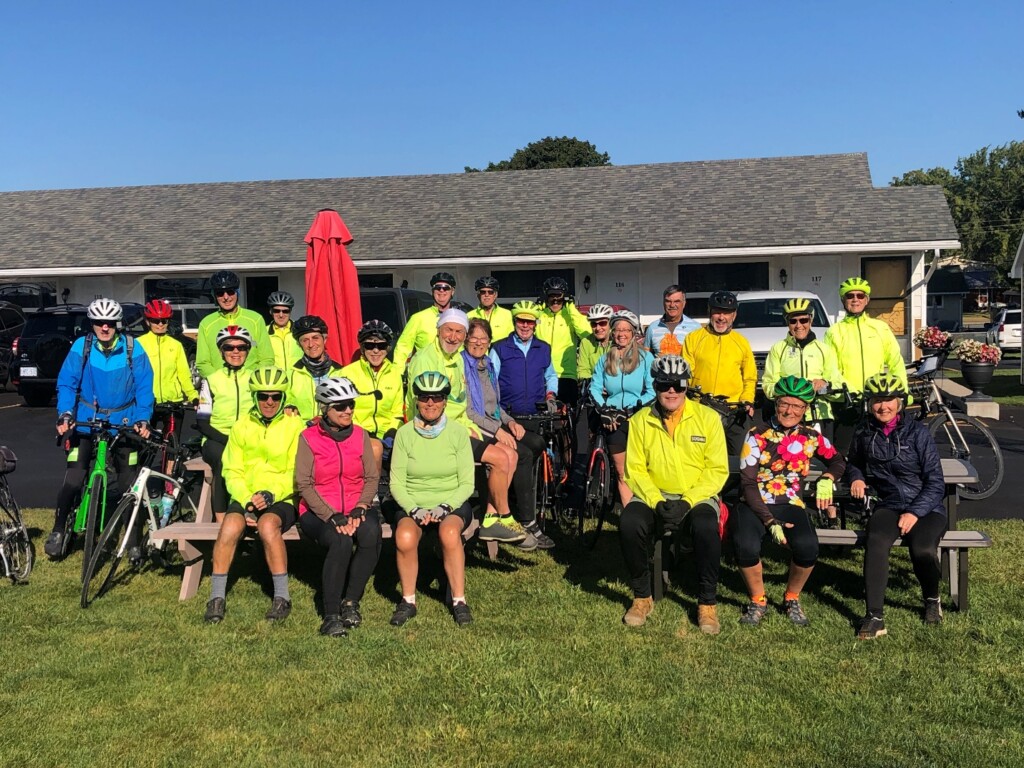 Getting ready to ride on a glorious fall day in Napanee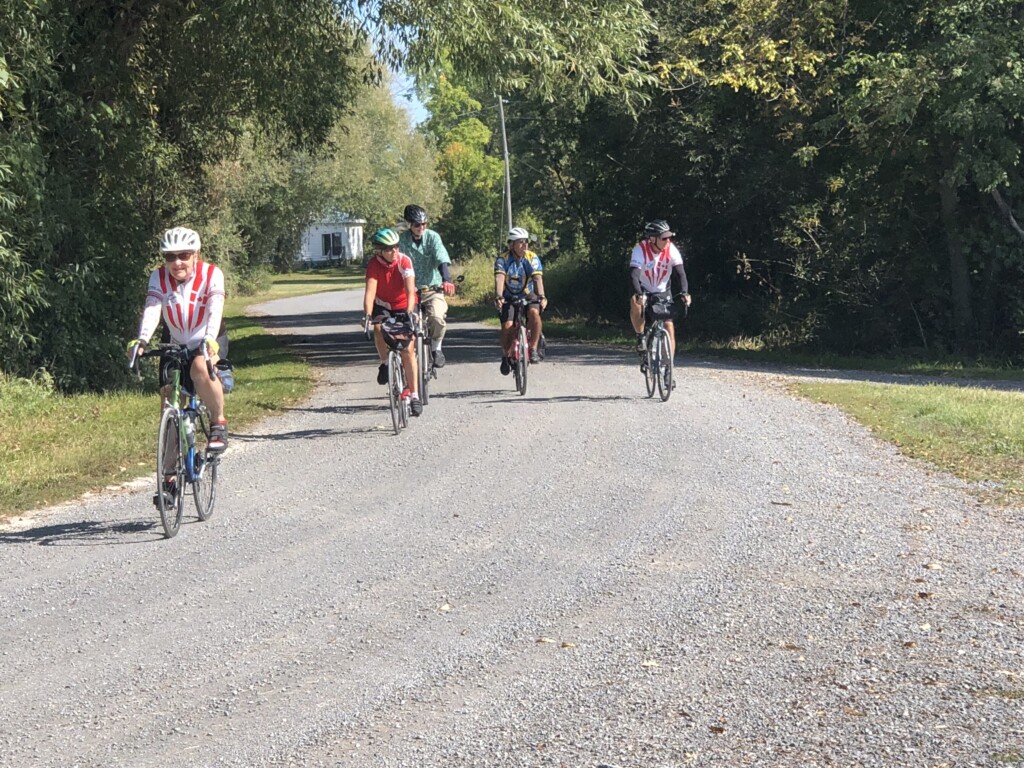 Exploring Amherst Island – our leader Nel is in front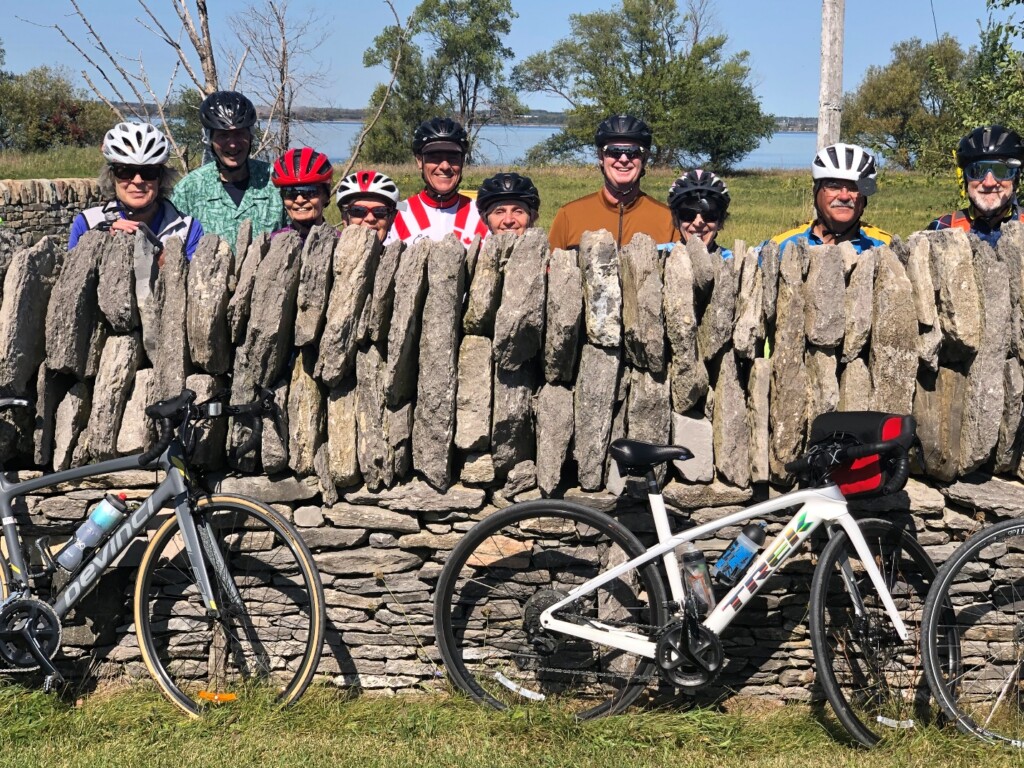 An Irish dry stone wall built by wallers from Ireland, Scotland, Canada and the US
Our 2023 season will come to a close shortly with one more hub and spoke in St. Augustine Florida – a wonderful way to extend the biking season as things get colder here in the north. This will be our second consecutive "Florida in November" hub and spoke…with many of the 2022 group returning…and hoping to avoid a recurrence of last year's tropical storm which launched an otherwise sunny and pleasant trip in 2022.
Going forward, we have an ambitious plan to hold large chapter hub and spokes over the next few years, starting with Ottawa in 2024. The Ottawa H&S will take place around the time of the tulip festival in May 2024, and will be followed by a pannier trip following the Rideau Canal from Ottawa to Kingston. We hope that many of our BC and other Canadian and US friends will head east (or north!) to join us.
We've got a few other interesting H&S ideas in the hopper for 2024 and beyond, including another instalment of the popular BC Interior Gravel rides. There is room for more, so let me know if you have any ideas!
Linda Graupner
Director, Hub and Spokes
Linda.graupner@sympatico.ca
Trip Reports
Hub and Spokes
Upcoming Tours
Upcoming Hub and Spokes
St. Augustine, Florida 2023 Hub and Spoke
Status: 2 slots are available.
Dates: Tue, 7 Nov 2023 ‐‐ Wed, 15 Nov 2023

St. Augustine ranks as the oldest city in the US, and has plenty to offer the history buff and recreational cyclist, including Spanish architecture, sandy beaches and seafood feasts. Our 8-day hub and spoke will enable us to explore iconic landmarks such as Flagler College and the St. Augustine Lighthouse, and to take in sweeping views of the Atlantic Ocean from our bicycle saddles.
Videos
Our Japan tour leaves in a week.  Boy are they going to have fun!!
Chapter News
Eighty year old Ottawa member, Richard Hatherill, is currently in the UK to cycle the epic End to End, aka LEJOG, aka Land's End to John O'Groats.
The most direct route by bike is close to 1000 miles ( 1600 km).  Quite a challenge, to be sure, and not for the faint-of-heart!
You can follow is progress on his Facebook blog at  https://www.facebook.com/profile.php?id=61550962254063
We wish him the very best for a safe and rewarding cycle through England and Scotland
Market place
Kona Marin Bobcat trail bike
Size small, purchased 2011 from Lynn Valley Bikes. Excellent bill of health and brakes were checked by Lynn Valley Bikes in July. Comfortable, durable saddle. Well maintained and has always been stored inside.
Aluminum frame. 26" wheels. Puncture resistant tires with Mr Tuffy liners.
Electrified Mar 2019 with Grin Technologies components including throttle. Original 36V 23Ah 828Wh battery, range on full charge is 100+km of moderate up and down. Tons of power to climb almost anything. The battery has been kept charged and it remains in great health. It can be removed to charge separately. Original charger included. 
Motor BAFANG, BF RM C310.250.DC 36V250W-6
20 amp Ginfineon Sinewave controller.
Analyst is a Grin Technologies V3.
Bike is about 31 lb without battery. Battery weight is 8.5 lb.
The bike is registered with Project529 and ownership will be transferred when sold.
Included: Bell, mirror, triangular pouch, 2 extra tubes, 3 battery keys, front and back USB lights. 
New Me2015 Brodie "Argus" Touring Bike
  Steel frame. Asking $400.
Seller: Annlee Grimson
algrimson@ gmail.com
604-854-0701mbers
Seeking A Strada Mount In Victoria
"Seeking a mounting bracket to attach Cateye Strada Wireless cyclocomputer CC-RD300W.
Please contact Jim Grayson at jasute@shaw.ca "
New Members
| | | | |
| --- | --- | --- | --- |
| First | Last | Home | Chapter |
| Nancy | Dyer | Greater Victoria | Greater Victoria |
| Brian | Money | Victoria | Greater Victoria |
| Carol | Anklan | ROCHESTER | United States |
| Rod | Edwards | Saanichton | Greater Victoria |
Published at least ten times a year by The Cross Canada Cycle Tour Society, a non – profit organization for retired people and others who enjoy recreational cycling. 
Items for the NEWSBRIEF must be received by the 28th of the month. The Editor reserves the right to edit for clarity, brevity and suitability of publication. The views expressed in the "NEWSBRIEF" are not necessarily those of the CCCTS or the Editor.
Submissions for NEWSBRIEF should be emailed to alaird212@gmail.com