Day 1.
Max Maclanahan and I drive to Lillooet via the Duffy Lake Road.  Slow but scenic.  We arrive just in time for the orientation and Happy Hour.
Our hosts, George and Jeanetta  Zorn provided a very through briefing and explained that these would be mostly self guided rides.  Different people riding for different distances and speeds.  I like that. Everyone in charge of their own happiness and no one feeling like they are holding others up.
After a nice happy hour we all had a delicious lasagna dinner put on by the United hurch ladies, friends of the Zorns from when they lived here  
Day 2. 
We elect to do the Marble Canyon ride on Highway 99 towards Cache Creek.  Some of the riders decided to drive the first 18 km since that section is pretty steep.  Others rode all the way from town for a very hilly 100km.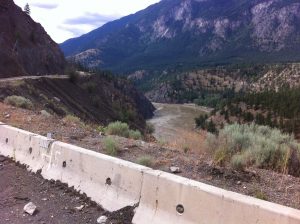 The scenery along the Frazier River was absolutely stunning.   
We stopped for lunch at Marble Canyon and then headed back.  The wind was brutal on the way home  I guess we were getting a push heading up hill bit we sure paid for it on the trip back.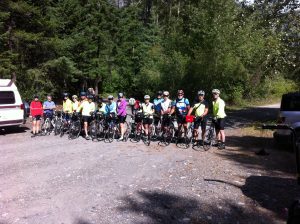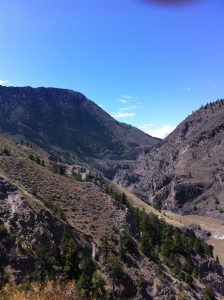 On the way home a few of us stopped at the Fort Berens Winery for a tasting. Very refreshing and the wine was excellent. Happy hour will be even happier tonight. 
We all road 101 km with a total ascent of 1450 M.  
All in all a hard but fantastic day.