Carmen and I signed up for the Snohomish Hub and Spoke which started on May 24th.  It was capped at 24 people, had one ride per day and we were expected to navigate ourselves rather than be led. Very good cue sheets,maps and gps files were supplied.
Day 1:
Carmen and I ride to the Anacortes ferry and on back roads to La Conner,  a beautiful little town south east of Anacortes which I can highly recommend for a visit.  We took the back road which is called Reservation road.  Not as flat but much more scenic and no highway riding.  Along the way we passed a street called "Pull or be Damned road".  I decided not to go down there just in case it was named by a cyclist.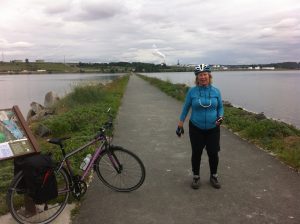 Day 2:
After a night in La Conner at the Hotel Planter (highly recommended) we set off for Snohomish.  Mostly back roads although 9 miles on highway 9 was less than pleasant.  About the time I was getting fed up with the traffic we came to the trail head of the Centennial trail. 50 km of beautiful paved trail which took us all the way to Snohomish.  I can say that the department in charge of making this trail did a fantastic job. 
We met Dick and Elaine and the rest of the riders and had supper at Fred's Riverhouse Pub.  Great beer and great food.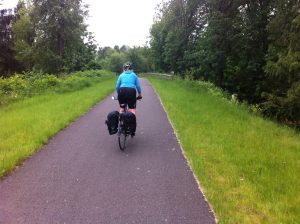 Day 3:  First day of the Hub and Spoke.  Right back north on the Centennial trail and back to Snonhomish for a 100 km jaunt.  Carmen's first metric century.  the trail is very flat and there is a 23 km speed limit on it so it was a relaxed ride with a picnic at the trail head.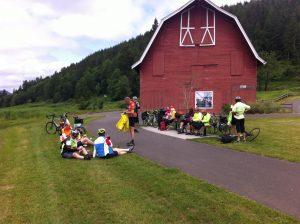 Day 4:  This ride started int he town of Monroe which is about 10 km south of Snohomish. We caught a ride with Dick and Elaine and rode the Index loop which took us right into the mountains to the village of Index.  Lots of hills and quiet back roads.  A very pleasant if somewhat challenging 80 km.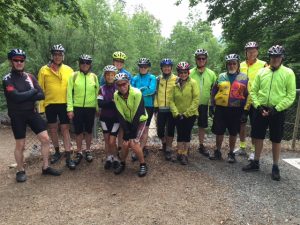 Pictured Above:  Alex Laird,Dick Carpenter,Bill Campbell,Jenny McIndoe,Andrew McIndoe,Vanessa Van Sickle, Beverly Wagner, Lynn Merlino, Dorothy Schedvin, Sandy Gray, Paul Westmattelman, Hamish Kerr, Niel Moroney.
Missing from the Photo: Elaine Carpenter (taking the shot), Anne Carpenter, Dolores Franz Los, Bern Koppe, Susan Moroney, Whitney Laughlin, Brian Estes, Carmen Burnay, Sheila Kerr, Dawn Ens.
Day 5:  Ride number three.  We head south to Monroe and then swing north up to the city of Everett.  Carmen had trouble with her bike so we ended up doing the whole ride by ourselves.  Another lovely ride on the country roads of Washington.  Another 80 km.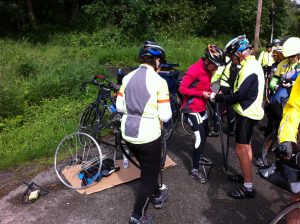 Day 6.  A ride to Granite Falls which due to bad weather and very sore legs we declined.  So did almost everyone else.
Day 7:  We rode from Snohomish to Downtown Seattle to catch the Victoria Clipper home.  This ride included the Burke-Gilman trail which is pretty spectacular.  Like the Goose only paved all the way.  Seattle seems to have bike lanes on every street downtown. 
So that was the Snohomish Hub and Spoke.  It was a very fun week for Carmen and I and we made some new friends.  The Carpenters planned it very well and gave great directions and maps.  All in all I give it 5 stars and if you ever get a chance to go on a ride they have organized I highly recommend it.