Leader: Bonita Douglas
Trip Dates: Tue, 3 Sep 2024 -- Thu, 12 Sep 2024
Trip Classification: Intermediate
Trip Fee: $1100 USD Note that the fee for this trip is NOT in Canadian Dollars.
Trip Numbers: minimum 12 , maximum 16
Trip Registration Opens: Tue, 2 Jan 2024 5:00 PM (pacific time)
Registration Lottery Ends: Sun, 7 Jan 2024 5:00 PM (pacific time)
Trip Registration Closes: Thu, 29 Feb 2024 5:00 PM (pacific time)
Ride Description:
Tour Overview
This tour involves three cycling components. First, we will begin in Harrison Idaho and do two day rides leaving from and returning to Harrison. Secondly, we drive to Wallace, Idaho for two day rides, including the Hiawatha trail. And, thirdly, we drive to Coeur d'Alene, Idaho and cycle the Centennial trail to Spokane, Washington and back to Coeur d'Alene as a 2-night pannier ride (i.e., no support vehicle).
A Rail Trail Adventure
In the late 1800's the Milwaukee Road was a prosperous railroad out of Chicago, proposing a new line through the rugged Bitterroot Mountains. By early in 1907 the construction work began. All in all it took nearly 9,000 men, Italians, Serbs, Montenegrin's, Austrians, Belgians, Hungarians, Japanese, French, Canadians, Spaniards, Irishmen, Swedes, Norwegians, and others all working together from 1906 to 1911 to construct this Pacific extension. The final bankruptcy was filed in 1977, and the last train west of Butte passed through in 1980. After that the line was abandoned.  Now considered THE "CROWN JEWEL'' OF RAIL-TO-TRAIL ADVENTURES, The Route of the Hiawatha bike trail is 30 miles return (48.28 km) with 10 large and dark train tunnels (Nine that you ride your bike thru) and 7 sky-high trestles.
We will also cycle The Trail of the Coeur d'Alene, a rail trail that follows the former Union Pacific Railroad. The Spokane Centennial River Trail partially utilizes the abandoned rail corridor of the old Spokane & Inland Empire Railroad Company and Great Northern Railway.  
Accommodation Reservations:
Accommodations will be in a mix of modest Inns, lodges and B&Bs in the smaller towns and motels/hotels close to the cycle routes in the 2 major cities.
Riding Conditions:
This will be a fairly leisurely paced ride and riders will generally ride as a group with a lead and a sweep. Cyclists will be provided with RWGPS routes. 
This route is mainly paved except for the Route of the Hiawatha, which is a well-maintained gravel trail.  If you are riding a road type bike, you have an option of bringing gravel tires with you or renting a gravel bike or e-bike for this portion of the ride.  We will be descending the trail and once complete will ride back to the top.  For those renting a bike, you will leave your bike at the Wallace Inn, to which we will be returning to upon completion of our Hiawatha ride.
The tunnels are dark and a powerful light 300-400 lumen is required.  Most helmet mounted lights that guests bring themselves are NOT powerful enough, or the light casts a wide beam and does not adequately illuminate the trail surface enough for safe riding through the tunnels. It really is very dark. The signature 1.661 mile long St. Paul Pass Tunnel is a treasure to ride provided you have enough light. There are NO LIGHTS in the tunnels, it is lined with gutters and can be very dark, cold, wet and even slippery in places close to the gutters. Extra caution is recommended whenever in the tunnel. Best to bring an extra jacket.  All of the trestles have guard rails on them the whole length of the span. The trail is wide enough for a train to pass.  There is 2-way bike traffic all along the trail so as others approach, give them room and stay to your right, maintaining single file.  There will be lots of photo ops along the way, and time has been allowed for this.
Fee Includes:
Lodging for 9 nights based on two persons sharing a room. (If you are travelling solo

and would like a roommate, we will attempt to find one for you. If you would like you own room and will pay the Single Supplement fee of $925 USD, please notify the leader when you register for the tour.)

Maps and GPS routes

Meals as noted in the itinerary –
Lunches – 0  ***please note that we have only allowed for one restaurant lunch

@ the Snake Pit Restaurant on Day 4 (no-host).  Please make allowances for a packed lunch on all other days by shopping the night before or bringing nonperishables with you as facilities are limited en route.
Dinners – 0- on Day 8 will be a group dinner – no host 

One Tour Leader Fee

Credit card stripe fee (3%)
Fee Does Not Include:
Transportation to and from the starting and ending point of the tour

Meals other than those noted above
Itinerary: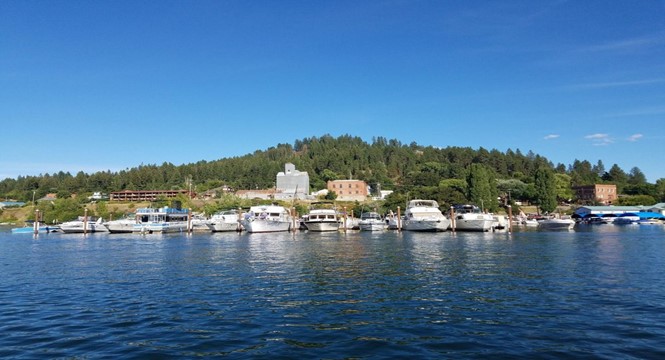 -First Section of Tour – Two Days of Riding Based Out of Harrison, Idaho
Day 1 - Drive to Harrison ID 
Osprey BnB 134 Frederick Ave Harrison, ID  OR Lakeview Lodge 110 N Coeur d'Alene Ave Harrison ID
Harrison is located on the eastern shore of Lake Coeur d'Alene, immediately south of where the Coeur d'Alene River flows into the lake. Harrison developed from a squatters homestead to a thriving village in about twelve years. A branch of the O.R. & N. Railroad from Tekoa, Washington to Harrison was completed in 1890 and was a prime factor in the development of Harrison. Also the location of the best little Ice Cream Shop!
Day 2 CYCLE - Day ride - Harrison to Plummer 52 km,  355 meter gain
Plummer is the largest city within the Coeur d'Alene Reservation, The city's first church was built in 1912.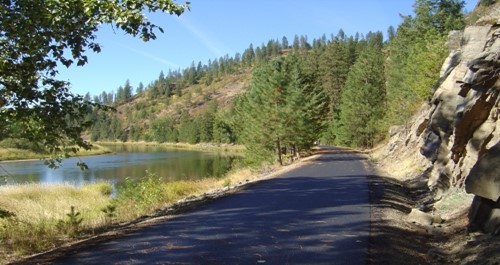 Day 3 CYCLE - Day ride - Harrison to Cataldo 87 km , 168 m gain
The oldest building in Idaho is also among its most impressive. The Jesuit mission at Cataldo, built between 1850 and 1853 for the Coeur d'Alene tribe, has survived the ages magnificently.  Meant to evoke the grand cathedrals of Europe with its wooden altars painted to look like marble and chandeliers made of tin cans.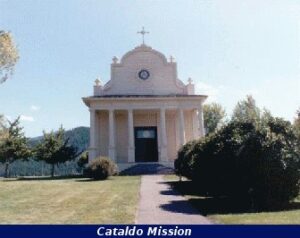 --Second Section of Tour – Drive to Wallace Idaho and for 2 Days of Cycling, including the Hiawatha Trail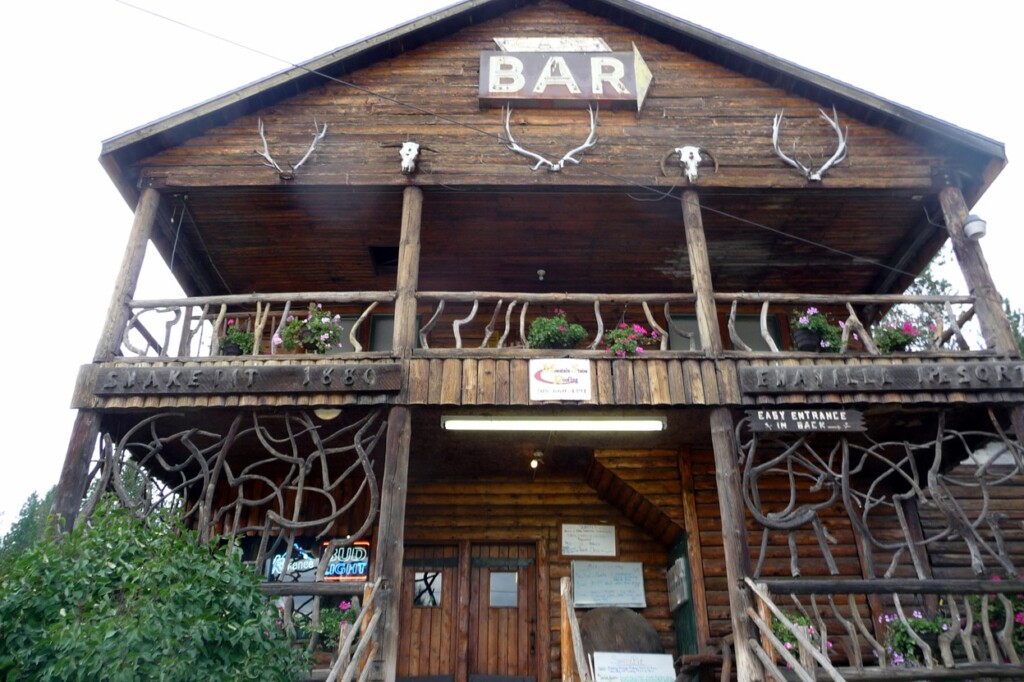 / - DRIVE  Harrison to Wallace Hwy 98 & Hwy 390 km
CYCLE – Day ride - Wallace – Kellogg – Enaville -Wallace  57 km,  475 m gain
Lunch @ Snake Pit Restaurant 1480 Coeur d'Alene River Rd Kingston ID  
Return to Wallace Inn 100 Front St Wallace.
Day 5 - DRIVE Wallace to Lookout Pass Taft 45 km
CYCLE - Day ride - Route of the Hiawatha – down & back 48 km, 575m gain
I-90 stop @ Lookout Pass for tickets and Bike Rentals then onto Taft - & East Portal start of Route of the Hiawatha. 
Here is the information provided by Lookout Pass:
Lookout Pass Ski Area - Idaho Side 
Rent & Pick Up: Bikes, Lights, Helmets, 

PLEASE NOTE:

 If you are planning on renting a bike for the Hiawatha Pass only please make arrangements in advance of our trip @

https://hiawatha.whitepeakstechnologies.com/trailpasses

  We have to stop here anyway to pick up Group Trail Passes

Reservations Pick Up

Restrooms & Area Information
From here you will drive down I-90 East to Exit 5 in MT and then follow the Hiawatha signs on a dirt/gravel road two miles to the East Portal/Taft Parking Lot. We do not offer a Shuttle Service to the Hiawatha from the Ski Area. You will need to drive there.
NOTE: Most helmet mounted lights that guests bring themselves are NOT powerful enough, or the light casts a wide beam and does not adequately illuminate the trail surface enough for safe riding through the tunnels. It really is very dark. The signature 1.661 mile long St. Paul Pass Tunnel is a treasure to ride provided you have enough light. Recommended is a 300-400 Lumen tightly focused light beam as the minimum.
Return to Wallace after cycling the Hiawatha trail and stay the night.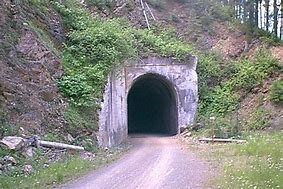 --Third Section of Tour – Drive to Coeur d'Alene and Cycle the Centennial Trail (2-night Pannier Ride)
Day 6  - DRIVE to Coeur d'Alene I-90 49 minutes  77 km 
Rest day – Discover Coeur d'Alene. 
Best Western Hotel 506 Appleway Coeur d'Alene ID
The small city by the big lake hosts magnificent sunrises and sunsets, wildlife galore, mountains to hike or bike, and all the lake activities one can imagine.  Note: The hotel has a pool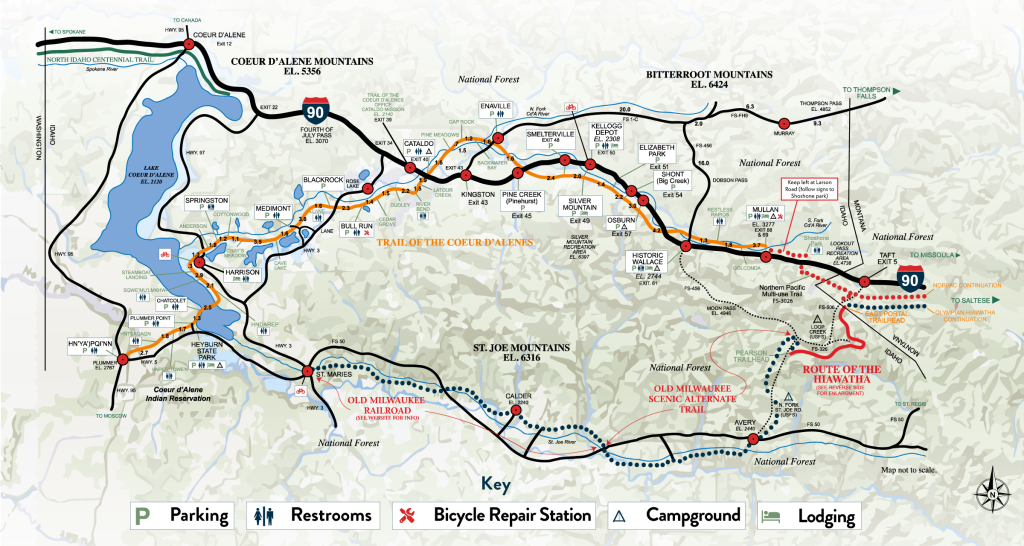 Day 7 CYCLE the Centennial Trail Coeur d'Alene to Spokane 56 km, 310 m gain
The Ruby Inn 700 N Division St Spokane WA
***Please Note: We will be leaving our vehicles in Coeur d'Alene as we cycle to Spokane & back.  You will need to bring with you – clothing and toiletries for two nights as the rest of your luggage will stay in your car in Coeur d'Alene, so if you have panniers, great.  If not, a backpack will work.  There is no support vehicle for this section of the tour.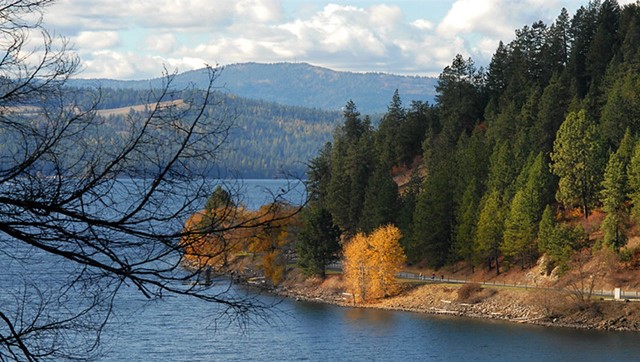 Day 8 CYCLE - Day ride - Discover Spokane – Riverfront Park to Riverside Park return 51 km 
The Ruby Inn 700 N Division St Spokane WA,
Day 9 CYCLE the Centennial Trail Spokane to Coeur d'Alene 56 km,  310m gain
Best Western Hotel 506 Appleway Coeur d'Alene ID
Group Dinner
Day 10 Drive Home
Registration and Participant Selection:
Registration will be on the CCCTS website on the date shown. A computerized lottery system and wait list will be utilized in the event that the ride is over-subscribed. A $100 US payment is required at the time of registration. The lottery sign up will run for 5 days, after which the Ride Leader will review the results.
The selection process will consider the following criteria in evaluating candidates:
-  fitness and riding ability and experience required for the tour
-   a history of demonstrating safe riding practices
-   acceptable social behaviour
The leader may interview riders or others who know them to verify their suitability for the tour. The leader will make the final decision on whether a registrant is accepted for a tour.
The leader will notify registrants of their selection status. If the ride is not filled to capacity, registration will continue until the closing dates shown.
After you have been notified you are selected for the tour, the tour fee deposit of $500 US will be due by February 15.  The remaining $500 will be due on July 15. If you are paying the Single Supplement fee of $925, this is also due on July 15.
Communicable Illness Information:
CCCTS riding guidelines including applicable Covid and communicable illness guidelines will apply.  CCCTS requires all participants to be fully vaccinated, and proof may be requested by the leaders.
Everyone should bring 3 COVID test kit(s) per person with them on the tour and take responsibility for self-testing if they feel ill.