Leader: Linda Graupner 613-825-8873
Tour Contractor: Mills and Honey Cycling Mallorca
Trip Dates: Fri, 24 Mar 2023 -- Tue, 4 Apr 2023
Trip Classification: Intermediate/Advanced
Trip Fee: $50 CAD
Trip Numbers: minimum 12 , maximum 18
Trip Registration Opens: Mon, 12 Sep 2022 5:00 PM (pacific time)
Registration Lottery Ends: Sat, 17 Sep 2022 5:00 PM (pacific time)
Trip Registration Closes: Tue, 28 Feb 2023 5:00 PM (pacific time)
Ride Description:
THIS TOUR WAS CUSTOM MADE FOR CCCTS BY MILLS AND HONEY. This is a small local company specializing in high-end private cycling tours of Mallorca. A number of CCCTS club members have used them in the past and have provided feedback about the company's excellent and professional cycle touring expertise. 
See the following link for more information about Mills and Honey, as well as a short video on cycling in Mallorca:  www.millsandhoney.com/about-us
We will spend 2 nights in the capital city of Palma, then 2 nights in Arta, 3 nights in Port Pollensa, 3 nights in Port Soller and the final night back in Palma. 
Travel:
It is recommended that you fly into Palma on March 23 or 24. 
You will be required to provide confirmation of out-of-country medical insurance for this trip.
Accommodation Reservations: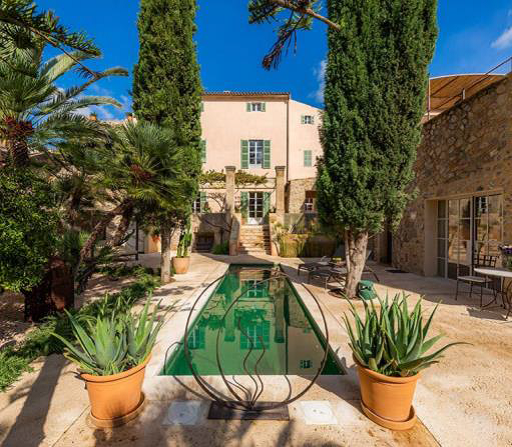 | | | | |
| --- | --- | --- | --- |
| Hotel | Location | Dates | Room Type |
| Hotel Saratoga | Palma | March 24-26 (2 nights) | Deluxe Rooms with Views |
| Yartan Boutique | Artá | March 26-28 (2 nights) | Mixed Rooms |
| Hoposa Pollentia | Port Pollensa | March 28-31 (3 nights) | Superior & Standard |
| Hotel Marina Soller | Port Soller | March 31- April 3 (3 nights) | Sea View Rooms |
| Hotel Saratoga | Palma | April 3-4 (1 nights) | Deluxe Rooms with Views |
Riding Conditions:
Riding Conditions:
See the description of each cycling day in the daily itinerary. Most of the cycling will be on paved surfaces and will involve significant climbing.  Shorter options involving a ride in the support van can be arranged. 
Weather:
 Early spring in Mallorca offers some excellent riding weather with temperatures reaching 15-20 C during the day, and cooler overnight.  Participants should be prepared for cooler riding temperatures and potential rain at this time of year. 
Fee Includes:
Tour fee will be between 2990 and 3250 Euros, depending on the number of participants.  Single supplement is 750 Euros.
Tour fee payable directly to Mills and Honey includes:
11 nights accommodation in shared rooms
11 breakfasts; 3 lunches; 4 dinners
Van support with local driver/guide
Luggage transfers between hotels, all transfers needed for rides, last day transport to airport
Itinerary in mobile app with all details about routes, restaurant suggestions and other aspects of the itinerary
Bike rental – choice of standard bike or e-bike*.  Upgrades available for an additional fee
Welcome packs
Mills and Honey planning fees and taxes
Tour fee for tour leader
* Cannondale SuperSix with Ultegra mechanic Components or similar OR  Cannondale Turbo VADO SL. Light version motor and battery with aluminum frame and cruising geometry.
Fee Does Not Include:
All air tickets and airport taxes.
Meals other than mentioned in the itinerary.
Alcoholic Drinks.
Other beverages during meals.
Tips for guide, driver, & hotels porters.
Medical or travel insurance
Transfers for dinners or in the evenings
Any services non-mentioned in the itinerary
Itinerary: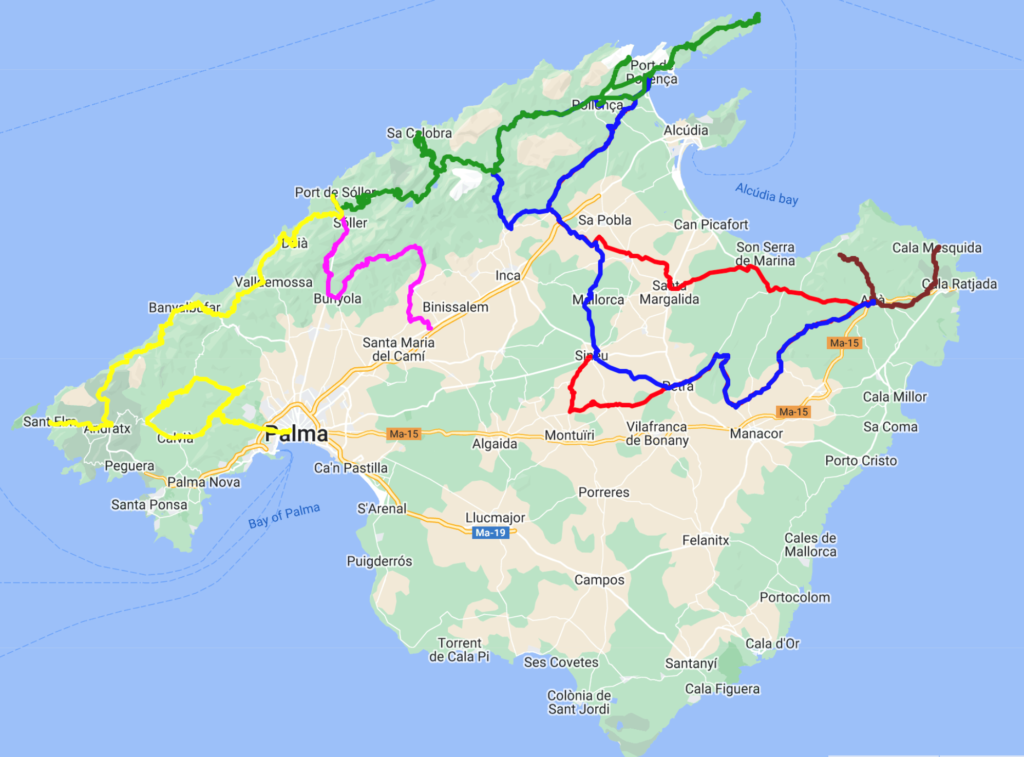 Itinerary (as provided by Mills and Honey)
DAY 1 – ARRIVAL AND PALMA DE MALLORCA. Today is an open day where you can all get to your hotel in Palma and have a quiet afternoon enjoying town.
DAY 2 – GALILEA LOOP. We will bring the bikes today so we have a quick bike fit session at the hotel and you can go for a hilly yet great loop to Galilea and Puigpunyent. Around 55 Km with 1100m climbing.
Dinner will be included tonight at our friend's place La Rosa.
DAY 3 – SINEU TO ARTÁ. We will come meet you at hotel Saratoga in Palma and drive you to Sineu from where you can start riding towards the North East corner of the island. The ride starts with an easy few rolling Km towards Sant Joan and Petra, from where you jump on a super fun and remote road, constantly up and down which basically takes you straight to your destination, Artá. There's also the option of taking the shuttle straight to the hotel for those who have not recovered from jet lag.  60 km with 600 metres climbing.
Dinner tonight will be included at FORN NOU near your Hotel.
DAY 4 – BETLEM HERMITAGE. A great little hidden gem of a ride which takes you up to Betlem Hermitage in one of Mallorca's most beautiful little roads and with amazing views of the Bay of Alcudia. From there you ride back to Artá and you can head to Cala Mesquida for a quick snack by the gorgeous beach.   45 Km with 650m climbing.
DAY 5 - TO PORT POLLENSA VIA PETRA. Today you're moving hotels and heading West towards the popular cycling hub of Port Pollensa. The ride takes you back on the fun road from day 1 in the opposite direction, back to Petra and Sineu. From there you turn North towards the foot of the Tramuntana and the coastal town of Port Pollensa, your home for the next 3 nights.   65-85 Km with 900 m climbing.
DINNER will be included at La Llonja tonight.
DAY 6 – CAP FORMENTOR LIGHTHOUSE. One of Mallorca's iconic cycling routes and in the bucket list of many cyclists around the world. With amazing views of the Mediterranean Sea, it's a constant up and down, twists and turns which take you to the most Northerly point in Mallorca. An early start is recommended to avoid most of the traffic. After coming back from the Lighthouse, we suggest you visit the charming old town of Pollença and have lunch there or in the cove Cala Sant Vicenç by the beach.  40 - 65 Km with +1000m of climbing.
DAY 7 – LLUC MONASTERY LOOP OR CALA BOQUER HIKE. Today you have a couple of options for those wanting a day off the saddle who can take an easy and beautiful hike from Port de Soller towards Cala Boquer beach where they can go in for a swim, about 10 Km out and back. For those keen on the cycle  there's a great loop up Coll de Sa Bataia from Caimari to Lluc Monastery, and the great descent from Coll de Feminia to Pollensa for a coffee by the square.   10 Km hike or 65 km ride with 800m climbing.
DAY 8 – SA CALOBRA. it's epic ride along the Tramuntana including a detour to the world famous Sa Calobra a must-do for any cyclists coming to Mallorca and the main reason why Mallorca is so famous in the cycling world but that's after the beautiful climb from Caimari to Coll de Sa Bataia and before the great 14 Km descent from the Monnaber Tunnel to Port de Soller. 85 Km with almost 2000m climbing so we have shuttle options or you could even jump in the ferry in Sa Calobra that takes you to very near your hotel.  85 Km with +1000m of climbing
PICNIC LUNCH Will be included along the ride and also DINNER at Agapanto in Port de Soller.
DAY 9 – COLL DE SOLLER AND RIBAS WINERY. You can do many rides from Port de Soller, but being tucked in right by the sea and the mountains, all riding involves a lot of climbing. From here I'd recommend you can ride Coll de Soller down to Bunyola from where you can take the easy way to Alaro, our hometown, or via the great climb to Orient. From Alaro, you have an easy 8 Km ride into BODEGA RIBAS, the oldest winery in Mallorca, where a quick visit followed by picnic styled lunch with wine tasting will be waiting for you (INCLUDED).  45 Km with 700m climbing.
DAY 10 – A DAY IN PORT DE SOLLER. Would be the perfect day to have the Day Off the saddle around port de Soller, maybe take the tram over to Soller villa, or if you're feeling a little active take a quick walk to the Lighthouse on the South of the harbour, or why not, just relax by the pool or by the beach. Also a great plan would be to have a hike towards Cala Deia where you can have a seafood lunch by the sea at Cas Patro March.   12 Km Hike with 450m climbing.
DAY 11 - SW COAST. We leave the best for last, the stunning rollercoaster of a road from Port de Sollwe through Deia, Valldemossa to Andratx and Sant Elm. It's 44 miles of constant up and down along one of the most stunning roads on the island and for sure in Europe and worldwide, our favourite ride on the island and for good reason. The ride finishes in the tranquil beach town of Sant Elm where you can have a great lunch at Es Moli and where we would pick you up to transfer to Palma de Mallorca for your last evening in Mallorca. 70 Km with 1000m climbing
LUNCH at ES MOLI will be included.
DAY 12 - DEPARTURE. We will arrange transfers from the hotel to the airport (15 minutes drive) for your return flights.
Registration and Participant Selection:
Registration will be on the CCCTS website on the date shown. A computerized lottery system and waitlist will be utilized in the event that the ride is over-subscribed. A $50 payment is required at the time of registration. The registration fee will not be refundable for any reason unless you are not selected for the tour, in which case it will be refunded. The lottery signup will run for 5 days, after which the Tour Coordinator will review the results.
The selection process will consider the following criteria in evaluating candidates:
fitness and riding ability and experience required for the tour,
a history of demonstrating safe riding practices,
acceptable social behavior.
The Tour Coordinator may interview riders or others who know them to verify their suitability for the tour.
The Tour Coordinator will notify registrants of their selection status. If the ride is not filled to capacity, registration will continue until the closing dates shown.
After you have been notified you are selected for the tour, the Tour Contractor Mills and Honey's payment and cancellation policies will apply as follows:                                500 Euro deposit due upon acceptance for the tour.  Balance due 60 days prior to tour.  Tour fees are non-refundable.  In case of cancellation, we will do our best to find an alternate participant.  Trip cancellation insurance is recommended. 


COVID and Health Information:
COVID: CCCTS riding guidelines including applicable Covid guidelines will apply.  CCCTS requires all participants to be fully vaccinated, and proof may be requested by the Tour Coordinator.
Everyone should bring a COVID test kit(s) with them on the tour and take responsibility for self-testing if they feel ill.
Participants
:
Jim Cilek, Linda Graupner, Denise Howes, Erika Kellerhals, Margaret Lerhe, Gary McFarland, Janice McFarland, Gord McNeil, Tim Musclow, Linda Parsons, Odette Regimbal, Eamonn Ryan, Rhonda Ryan, Lani Schultz, Phil Valois