Leader: Robin Howe 206-899-7255
Co-leader: Dan Carey 206-282-5978
Trip Dates: Wed, 15 Feb 2023 -- Fri, 25 Nov 2022
Trip Classification: Intermediate
Trip Fee: $1350 USD Note that the fee for this trip is NOT in Canadian Dollars.
Trip Numbers: minimum 8 , maximum 16
Trip Registration Opens: Mon, 31 Oct 2022 5:00 PM (pacific time)
Registration Lottery Ends: Fri, 4 Nov 2022 5:00 PM (pacific time)
Trip Registration Closes: Thu, 24 Nov 2022 5:00 PM (pacific time)
Ride Description:
Join us on the first official CCCTS winter cross-country ski tour and ski your heart out in eastern Washington. We will be staying in two beautiful small mountain towns –the Bavarian-themed town of Leavenworth and Twisp, which is in the heart of the Methow Valley. The Methow Valley claims to offer the largest groomed cross-country ski trail system in North America with over 200k of trails. We stay four nights in Leavenworth and ski for three days and stay five nights in Twisp and four days in the Valley. This tour offers very nice lodging, great food (including group dinners we cook together) and loads of great x-c skiing. There will also be plenty of time to relax and enjoy your surroundings, if you choose to.
For a reference point, Leavenworth is about a 3-hour drive directly east of Seattle. You will need to be prepared to drive on snowy roads so plan to bring or rent a car that is good for snow and has a ski rack or a place to carry skis inside. Four-wheel-drive or all-wheel-drive cars are preferable.

Accommodation Reservations: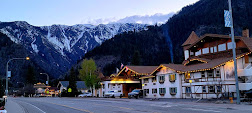 The Linderhoff Hotel in Leavenworth is a very nice Bavarian-themed hotel. The hotel has a pool and hot tub, provides a hot buffet breakfast, and offers complimentary x-c and snowshoe gear for guests to use.  It is also right across the highway from the center of town with all the shops to peruse and the restaurants.
Twisp River Suites is a luxury boutique hotel located in the center of Twisp on the Methow River. Rooms are lovely and include a full kitchen. The hotel provides a choice of several yummy breakfast options every day. There is a hot tub but it is small and you need to be cautious getting in and out. Just walk across the highway from the hotel and you are in the center of town and only a few minutes away from the "famous" Cinnamon Twisp Bakery, an organic grocery, a lovely yarn store, restaurants, and local art galleries.
Accommodations are based on two-persons per room unless a single supplement is selected.
Riding Conditions:
Groomed x-c skiing in both locations. The grooming is excellent on the trails in Leavenworth and the Methow. You will want to bring or rent skinnier track skis. Metal edge skis would really slow you down unnecessarily. Trails are groomed for both classic and skate skiing. Trail passes will need to be purchased every day and range between about $20 and $28 per day, depending on where we are skiing. There are a few ski options that require a SnoPark parking pass instead of a trail pass and these can be purchased for $25 per day per vehicle.
Leaders will organize a location for the group to ski at every day and you can either ski with us or ski further or shorten your day. We will probably plan to ski between 6-12 miles a day. Some routes are relatively flat with minor ups and downs and some days have more elevation gain – up to about 1,000 to 2,000 feet.  Leaders will be classic skiing but you are welcome to skate ski, as long as you understand you'll be going a lot faster than those of us on classic skis. We will need to be flexible based on the snow conditions and the weather so we will do our best to find options that will work for us each day, accordingly. Note that one of your Tour Leaders has been leading trips to these two places for over 25 years so is very familiar with all the winter choices. (In fact, this is where your Tour Leaders met 21 years ago on a ski tour one was leading.)
If you don't have your own ski gear, you can use the complimentary ski equipment provided by our hotel in Leavenworth and you can rent ski gear in Winthrop in the Methow, which is 15 minutes away from Twisp.
You could snowshoe instead of skiing if you are willing to plan where to go. Both locations do offer groomed snowshoe trails, as well as ski trails. There are also fat-tire snow bikes that can be rented in Winthrop or Mazama so you could choose to try these out for a day.  Or, if you like to alpine ski, you could spend a day or two downhill skiing at Stevens Pass (about an hour's drive west of Leavenworth) or at Loup Loup (about 30 minutes east of Twisp). And you should also feel free to take a day off to go to the spa, shopping, or just reading a good book anytime you wish.
Weather in eastern Washington can be quite cold in the winter but you just never know. Temperatures could be as low as 15-20 degrees Fahrenheit or even colder, or it could be as warm as the high 30's. Both Leavenworth and the Methow Valley are known for sunshine and bluebird skies so we will hope for that. Plan for layering with your ski clothing. If we're lucky, the snow will be fresh and powdery.
Fee Includes:
Very nice hotels for 9 nights, based on two persons sharing a room. The additional single supplement charge is $975 US for a room for one person.
Breakfasts – 9
Two group dinners in the best Leavenworth German restaurants
Two excellent lunches - one in Leavenworth and one enroute to the Methow Valley
Groceries for 3 group dinners in Twisp that we will cook together.
Apres ski drinks at Sun Mountain Lodge
Apres ski bakery treats at the best bakeries in Leavenworth, Twisp, and Mazama - 3
Credit card stripe fee (3%) of money paid through CCCTS website
Fee Does Not Include:
Transportation to and from the starting and ending point of the tour. (If you want to join us from afar, you can fly to Wenatchee and rent an all-wheel-drive car with a ski rack.)
Meals other than those noted above.
Trail pass fees.
Ski or snowshoe rental fees if you need equipment.
Tour Leader fees. (Leaders will pay the same price that everyone else does.)
Itinerary:
Wednesday, February 15:
We will meet at the Linderhof Hotel in Leavenworth, Washington at 7:00 p.m. for introductions and discussions of our ski plans.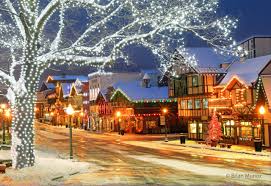 Leavenworth Activities – Thursday, February 16 thru Saturday, February 18
During our three days in Leavenworth, planned activities include:
Skiing
Very easy warm-up ski day at the Leavenworth Golf Course. Minor ups and downs and several loop trails are possible. There are only 8k of trails so we will probably have to make a few circuits. Beautiful scenery – river and mountains. Leavenworth trail passes are $41 for a 2-day pass (or $26 for a 1-day pass) if you are 69 or younger. If you are 70-plus, 2-day passes are $26 (or $20 for a 1-day pass). There are also 3k of groomed snowshoe trails and the 1-day pass is $13. Trail passes can be purchased at the ski area. See information on Leavenworth trails at https://skileavenworth.com/activities/nordic-skiing.
Another very easy ski day at the Fish Hatchery along the Icicle Creek with minor ups and downs and several loop trails possible. Again, there are only 8k of trails so we can repeat trails or leave some time for shopping and/or the hot tub back in town. There is a 5k Adventure Trail for the snowshoers. Since we will be near the Sleeping Lady Lodge, we will stop in for lunch and treats on this day. (See under Food below.)
If conditions are good, we will drive north to the tiny hamlet of Plain, Washington (30 minute drive), where there is over 24k of groomed ski trails. Terrain ranges from Beginner to Advanced but most is Intermediate. Trail passes are $20 and you can purchase them in town. Groomed snowshoe trails (5k) are also available and the trail pass is $14. See information at https://www.skiplain.com/contact-us.
Another option, depending on snow and weather conditions, will be to ski at Lake Wenatchee State Park using the SnoPark system. There are over 30k of *groomed skiing, as well as several groomed snowshoe trails. There is no trail pass but parking passes are required and cost $25 per vehicle per day. See information at https://lakewenatcheeinfo.com/xc-ski-report/.
*Note that trail grooming done by the State of Washington is better than nothing but will not be up to the standard of truly professional grooming. If it's icy, you may want slightly wider skis for these trails.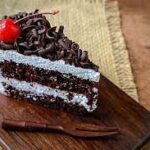 Food
Two Bavarian dinners at one of the "sausage house" restaurants in town – probably the Andreas Keller Restaurant, and Munchen Haus, or Ludwig's.
One lunch at O'Grady's Pantry and Mercantile, run by the renowned Sleeping Lady Lodge.
Apres ski treats one day at the excellent Gingerbread Factory bakery.
Travel Day to Twisp in the Methow Valley – Sunday, February 19: It's about a 2½ hour drive from Leavenworth to Twisp. We continue east to Wenatchee, then straight north to the Methow Valley, following the Columbia River until we diverge to follow the Methow River. Shortly after we leave Leavenworth, we pass by an incredible French bakery – Anjou Bakery – where we will stop and purchase bakery treats and lunches to-go for the road. Settle in at Twisp and your new digs at the Twisp River Suites and explore your new town later in the day.
Methow Activities – Monday, February 20 through Thursday, February 23
During our four days in the Methow Valley, planned activities include:
 Skiing
Note that all of the x-c ski options below are part of the extensive Methow Trail System, which includes over 200k of trails. Trail passes can be purchased in a number of places in town and cost $28 for a day pass or $70 for a 3-day pass. Note that if you are over 75, you ski for free! See information about this system at https://www.methowtrails.org/. The scenery in the Methow is "drop dead" gorgeous everywhere you look.
Community Trail from Winthrop – The Community Trail runs from north of Mazama to Winthrop. We will start from Winthrop and start skiing up the Valley. The terrain starts out flat and won't get hilly until you pass about the 5-mile mark, if you want to go that far.
Mazama Trails – The charming tiny town of Mazama is stunningly beautiful, surrounded by the North Cascade Mountains. We will drive to Mazama (about 30-35 minutes) and start there. Terrain ranges from Beginner to Intermediate to Advanced, depending on which direction you head off in. Treats and hot drinks after skiing at the iconic Mazama Country Store.
Sun Mountain Lodge Trails – The luxury Sun Mountain Lodge has a truly beautiful location on top of a small mountain out of Winthrop. Views all around. There are tons of trails and directions to go in and terrain generally ranges from Intermediate to Advanced with some Beginner trails too. There are some long climbs and thrilling downhills if you want to seek them out. We will all meet up after skiing at the Lodge for a refreshing beverage and you can walk around and see the Lodge and fabulous gift shop.
Rendezvous Trails – This is the area in the trail system that has the highest elevations and also reliably the most snow. We drive to Winthrop and then beyond up into the hill territory. We will ski to a hut (or two if you're ambitious) where you could actually spend the night if you like the more rustic type of ski vacation. We will probably stop and eat our lunches at the hut. These trails are Intermediate to a little bit more. You travel steadily up to the turnaround point and then down, down, down.
 Other Ski/Outdoor Options
X-C skiing from North Cascades Basecamp Lodge, which is north of Mazama and part of the Methow Trail System. Predominantly Beginner and Intermediate trails.
Ski the entire Community or Methow Valley Trail, which is about 34k from end-to-end. If you want to do this, we will arrange a car shuttle drop-off and pick-up so you can do it. Believe it or not, your Tour Leaders did this entire trail about 20 years ago. We were training for a big ski trip.
X-C ski from the end of the plowing on Highway 20. No trail pass required and no grooming.
X-C skiing at Loup Loup Pass. This is another SnoPark with 23k of Washington State-"groomed" trails and it is a really beautiful area up on top of the pass. Most of the trails are intermediate and above. Again, you will need to buy a 1-day SnoPark pass for this area for $25 per vehicle.
Downhill skiing at Loup Loup, fondly referred to as "the Loup" by the locals. There are three lifts, including a quad chair at this local, old-fashioned downhill area. Snow is generally reliable. Lift tickets were $48 last year and there are discounts at a certain age.
X-C ski on some of the loads and loads of non-groomed forest roads. Your leaders have books with these routes if you're interested in this but you will want wider skis, preferably with metal edges for these ski routes.
Snowshoe – There are groomed trails in most of the areas the group will be skiing at and passes cost $5 per day.
Fat bikes/Snow bike rentals on the Valley trail at Winthrop. Trail passes are $10 per day and there are some trails groomed strictly for fat bikes.
Ice Skate on the rink at Winthrop right at the start of the Methow trail system.
Food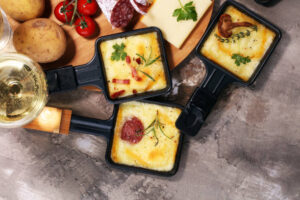 Group Dinners – We have full kitchens at our lodging! Or, at least most of them do so we can gather together and cook for each other for three of our dinners in Twisp. We'll have one traditional European ski dinner that involves Raclette and Fondue, and another traditional German-style meal. Everyone gets to help with the meal planning, grocery shopping, cooking, and/or dishes. The cost of the groceries is included in your tour price.
Pre- or Post-Skiing treats at the Cinnamon Twisp Bakery
Apres ski treats at the Mazama Country Store
Apres ski beverage (adult?) at Sun Mountain Lodge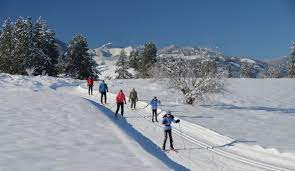 Registration and Participant Selection:
Registration will be on the CCCTS website on the date shown. A computerized lottery system and waitlist will be utilized in the event the tour is over-subscribed. A $50 US) payment is required at the time of registration. The lottery signup will run for 5 days, after which the Tour Leader will review the results.
The selection process will consider the following criteria in evaluating candidates:
fitness and skiing ability and experience required for the tour,
acceptable social behavior.
The leader may interview club members who know them to verify their suitability for the tour.
The leader will notify registrants of their selection status. If the tour is not filled to capacity, registration will continue until the closing dates shown.
After you have been notified you are selected for the tour, the deposit amount of $500 U.S. will be due within a few weeks, with the remaining $800 U.S. due on January 5, 2023 date.
In the event of cancellation – If a replacement can't be found, we will refund any fees for costs that could be avoided. However, if there are costs that cannot be avoided, these will not be refunded.
 COVID Information:
CCCTS guidelines including applicable Covid guidelines will apply.  CCCTS requires all participants to be fully vaccinated, and proof may be requested by the leaders.
Everyone should bring a COVID test kit(s) with them on the tour and take responsibility for self-testing if they feel ill.