Leader: Garry Esau 250-550-9465
Co-leader: Dianne White 250-503-7515
Trip Dates: Sat, 3 Jun 2023 -- Mon, 12 Jun 2023
Trip Classification: Intermediate/Advanced
Trip Fee: $980 CAD
Trip Numbers: minimum 16 , maximum 22
Trip Registration Opens: Mon, 24 Oct 2022 5:00 PM (pacific time)
Registration Lottery Ends: Fri, 28 Oct 2022 5:00 PM (pacific time)
Trip Registration Closes: Wed, 31 May 2023 5:00 PM (pacific time)
Ride Description:
Experience the Okanagan with 3 days in each of Vernon, Penticton and Oliver.  Quiet roads, scenic vistas, small town charm and Okanagan sunshine (hopefully!) 
The tour will begin at the Vernon Quality Inn where we will get acquainted at Registration and Pizza Night.  The following two days will be spent cycling the Vernon area (our Lake to Lake to Lake ride) and Armstrong area back roads.
Next, on day 4, we will drive south to Penticton where we will meet up at noon to cycle the now famed Naramata Bench with it's multitude of vineyards and wineries as well as routes high above Penticton (Willowbrook Grasslands/ Radio Astrophysical Observatory).
Our last stopover will be Oliver.  Staying at the newly renovated Maple Leaf Motel, we will be booking the entire motel.   First afternoon we will explore the Oliver area, then spend the next two days riding south into and above Osoyoos. 
PLEASE NOTE:  This tour will be self guided with NO support vehicle.   It is rated as intermediate/advanced, and while the Okanagan does have some rolling terrain, there will be considerable climbing most days (see itinerary).
Detailed daily route maps and cue sheets (including elevation profiles, road conditions and points of interest) will be provided to each cyclist at the commencement of the tour.
Accommodation Reservations: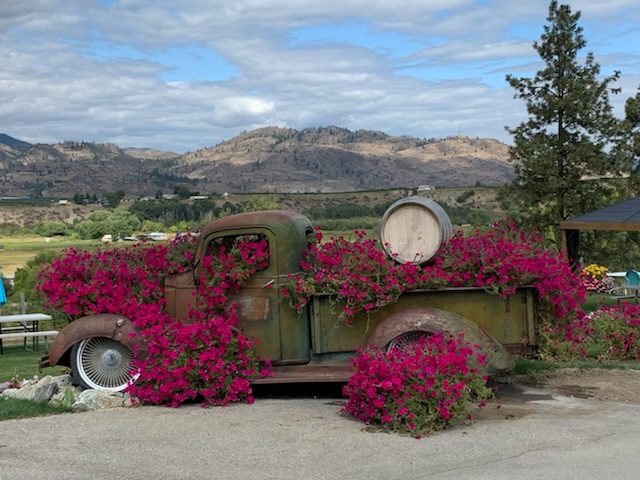 June 3,4,5  -  3 Nights in Vernon @ Quality Inn & Suites 4204 32nd St.   Amenities include indoor pool, wi-fi & free hot breakfast. Mini fridge and microwave. 
June 6,7,8 -  3 Nights in Penticton @ Sandman Hotel 939 Burnaby Ave.   Amenities include indoor pool, hot tub, wi-fi & restaurant. Mini fridge and microwave.
June 9,10,11   - 3 Nights in Oliver @ Maple Leaf Motel 5920 Main St.    Cozy rooms, recently renovated. Mini kitchen or kitchenette. 
All motels have restaurants in close proximity.
All accommodations are double occupancy, single accommodation supplement will be $800. (Please note that if you are traveling solo, we will attempt to find a roommate match for you after the lottery runs. You should not feel like you can't sign up without first identifying a roommate.)
Riding Conditions: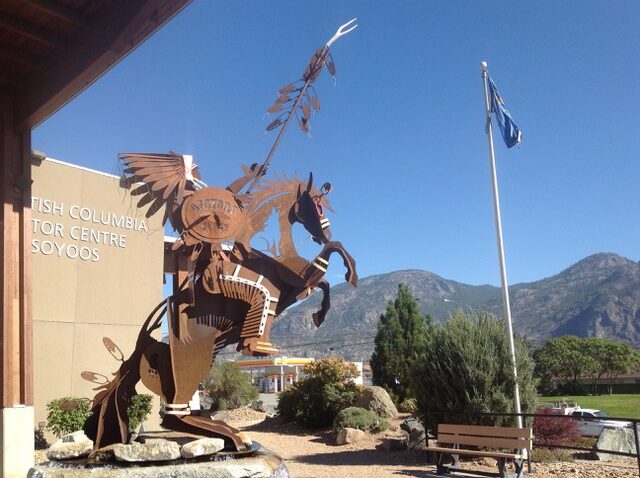 Riding will follow local roads and bike paths as much as possible. There will be some sections of highway with good shoulders. Bike paths are paved or hard pack gravel suitable for road bikes. The total distance is approx. 500km with 5770m climbing. Daily rides will include some short steep sections with grades 9-14%.
Note: There will be no support vehicle. Each rider is expected to carry bike repair tools etc. as well as personal first aid supplies.  Riders will share cell numbers.
Fee Includes:
The tour fee includes organization expenses and tour leader compensation per CCCTS guidelines.
Motel rooms
Maps and cue sheets
GPS routes downloadable to your device
Happy hour snacks
Pizza night on Jun 3
A 10% contingency allowance
Any surplus funds remaining after the tour are returned to the participants.
Fee Does Not Include:
Transportation to and from the start and finish points of the tour which begins in Vernon and finishes in Oliver, nor transportation between Vernon, Penticton and Oliver.
Meals other than Pizza night and 3 hot breakfasts at the Quality Inn in Vernon.
Any fees for museums, wine tasting or other events.
Rental bikes.
Alcoholic beverages - there will be a beer/cider/wine/pop pool operated at cost, and will be run by a rider volunteer.
Travel Options for Out-of-Towners and Bike Rental
Kelowna Airport is approx. 45 min south of Vernon.
There are several Bike Rental Shops in Lake Country. Contact tour leader for further information.
Itinerary:
Day 1 -Jun 3   Meet and greet at Vernon Quality Inn. Meeting, sign waivers, Happy Hour and Pizza night starting at 5pm.
Day 2 - Jun 4   Ride in Vernon/Armstrong/Hullcar 75km, +/-780m 
Day 3 - Jun 5   Ride Vernon Area Tri-Lake 56km, +/-660m 
Day 4  - Jun 6   Drive personal vehicle to Penticton, meet in Sandman parking lot at 11am. Ride Naramata Bench 48km, +/- 650m
Day 5 - Jun 7   Ride Penticton/Kaledon 80km, +/-1175m
Day 6 - Jun 8   Ride Penticton/OK Falls 49km, +/- 520m
Day 7 - Jun 9   Drive personal vehicle to Oliver, meet at Tourist Info Center lot at 11am. Ride Oliver Area 41km, +/- 322m
Day 8 - Jun 10   Ride Oliver/Osooyoos 60km, +/- 468m
Day 9 - Jun 11   Oliver/OK Falls 53km, +/- 638m
Day 10 - Jun 12   Depart Motel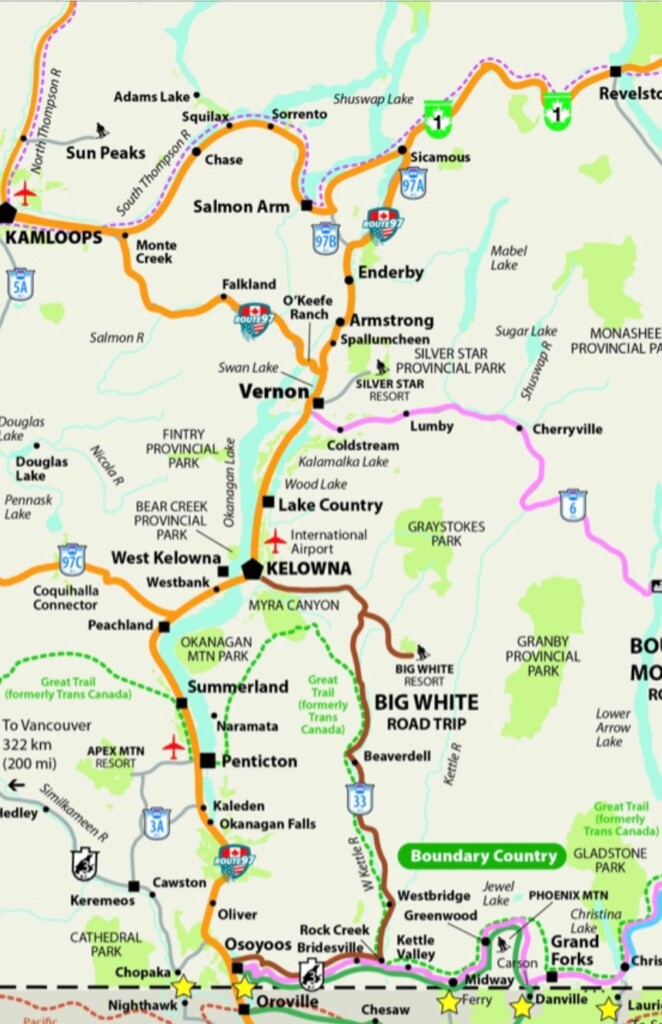 Registration and Participant Selection:
Registration will be on the CCCTS website on the dates shown. A computerized lottery system and wait list will be utilized in the event the tour is over-subscribed. A $50 deposit is required. The lottery signup will run for 5 days, after which time the leaders will review the results.
The selection process will consider the following criteria in evaluating candidates:
fitness, riding ability  and experience required for the tour,
a history of demonstrating safe riding practices,
acceptable social behavior,
same gender singles pairing for motel stays,
The leaders may interview riders or others who know them to verify their suitability for the tour.
The leader will notify registrants of their selection status within 1 week of lottery closure. If the tour is not filled to capacity, registration will continue till closing date shown.
After you have been notified that you are selected for the tour, the first payment of $500 CAD is due. The final payment of $430 is due Apr 1, 2023.
In the event of rider cancellation - all payments are considered non-refundable. Participants who cancel may be refunded payments only if a replacement CCCTS member cyclist is found. 
In the event the tour must be cancelled due to COVID, SMOKE, WILDFIRE, FLOOD, etc. all refunds will be given, except for stripe fees and any nonrefundable costs and deposits (motels).
COVID Information:
CCCTS riding  guidelines including applicable Covid guidelines will apply. CCCTS requires all participants to be fully vaccinated, and proof may be requested by the leaders.
Before registering for this tour please read 'Staying Safe Guidelines for 2021' and 'CCCTS Safety Guidelines'
Note: All riders will be required to sign a waiver form at the beginning of the tour.
Participants
:
Sandy Brodie, Elisabeth Buxbaum, Daniel Carey, Elaine Carpenter, Richard Carpenter, Garry Esau, Danilo Filippin, Delores Franz Los, Rob Haigh, Robin Howe, Denise Howes, Berni Koppe, Mardi Leslie, Jenni Lynnea, Gerry Porter, Annemieke Quinn, Howard Quinn, Lani Schultz, Bob Scoverski, Diane Swindell, Lawrence Vea, Dianne White
Wait List
(in priority order):
colleen vanderheide, Cathy Nelson, Dawn Minett, Gino Salamatian, Maureen Weston, Bill Cook, Sharon Cotterill-Cook, Jacob Van Der Heide