Leader: Robin Howe 206-899-7255
Co-leader: Dan Carey 206-282-5978
Tour Contractor: Spice Roads
Trip Dates: Fri, 16 Sep 2022 -- Sat, 8 Oct 2022
Trip Classification: Intermediate
Trip Fee: $50 USD Note that the fee for this trip is NOT in Canadian Dollars.
Trip Numbers: minimum 12 , maximum 24
Trip Registration Opens: Mon, 4 Apr 2022 5:00 PM (pacific time)
Registration Lottery Ends: Fri, 8 Apr 2022 5:00 PM (pacific time)
Trip Registration Closes: Mon, 11 Apr 2022 5:00 PM (pacific time)
Ride Description: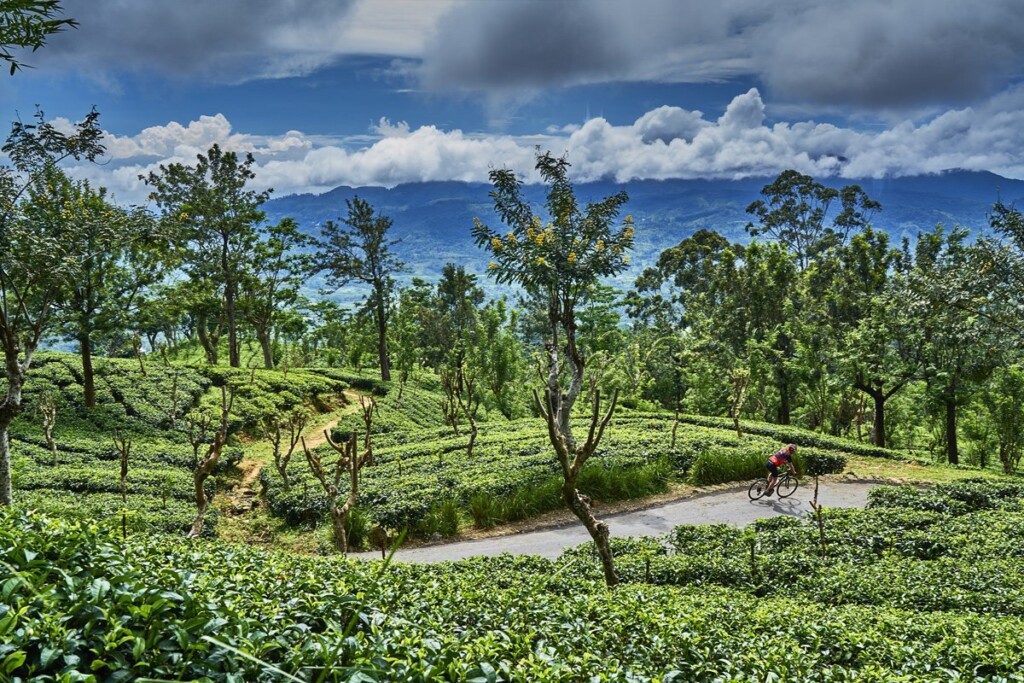 Note about Tour Cancellation: This tour has been put on hold for a later year due to  political and economic stability issues Sri Lanka is currently experiencing. We will offer this tour in a future year once Sri Lanka's problems are sorted out. 
Note about registration and fees: Note that ride fees vary based on the number of people on the tour, as follows:  $4,500 U.S. for 12-18 persons; $4,350 for 19-24 persons. Tour fee payments will be made directly to Spice Roads. Single supplement cost is an additional $900 if you will not be sharing a hotel room. (Please note that if you are traveling solo, we will attempt to find a roommate match for you after the lottery runs. You should not feel like you can't sign up without first identifying a roommate.)  
This is a custom-made tour just for CCCTS that will be 23 days and 22 nights long and allow you to see the entire island of Sri Lanka.  Most cycle tours on Sri Lanka only cover part of the island. But our tour will take us all the way down the length of Sri Lanka through a wide variety of terrain. Our route will include the mountainous tea country, spice farms, Sri Lanka's rice bowl, temples and monasteries, and many cultural attractions. We will explore the Jaffna Peninsula and surrounding islands, Mannar Island, and the southernmost tip of Sri Lanka at Dondra Point. This tour is fully van-supported. The Tour Contractor – Spice Roads – has been in the cycle touring business for 26 years. They lead tours to 30 countries all over the world but specialize in tours in Asia.
From Tour Contractor's website description of Sri Lanka:
Sporting the name Ceylon in its days within the British Empire, Sri Lanka, the "Pearl of the Indian Ocean," has known many identities on its journey to modernity. Famous for its peaceful Buddhist ruins, including the beautiful palace and frescoes of the 5th-century fortress Sigiriya, Sri Lanka enjoys year-round sunshine and breath-taking views of the Indian Ocean from every shore. Sri Lanka is an often- overlooked holiday destination – mostly due to the recently ended civil war – but it is now a vibrant and safe island to explore with a commendable collection of ancient and natural sights and amazing beaches. For much of the past three decades, large areas of the north were off limits, but this final frontier is now open, and Sri Lanka is now ready for you to explore its hidden treasures from the northern most tip down to the southernmost point.
Sri Lanka, formerly Ceylon, was the tea-growing jewel of the British Empire. Now the island nation is an explorer's paradise, full of natural wonder, spectacular wildlife, and an easygoing local culture. Despite its long, intertwining history with India, its larger influential neighbor, the "teardrop" of the Indian Ocean has a style all its own.
 Unspoilt Nature
Sri Lanka doesn't boast of wildlife encounters, but where else can you see elephants and blue whales on the same trip? The island teems with wildlife of all shapes and sizes, living harmoniously alongside their human cohabitants. Peacocks and monkeys strut along rooftops, white egrets speckle bright green rice fields, and mongoose dart across your path!
Tea Culture
Deep within the heart of the Sri Lanka, a relic of colonialism still thrives. Tea plantations cover the country's central mountain ranges in thousands of acres of visually stunning spiraling, green domes. Ceylon, as the country was once known, was one of the most prolific producers in the tea industry, and many teas still bare the name today.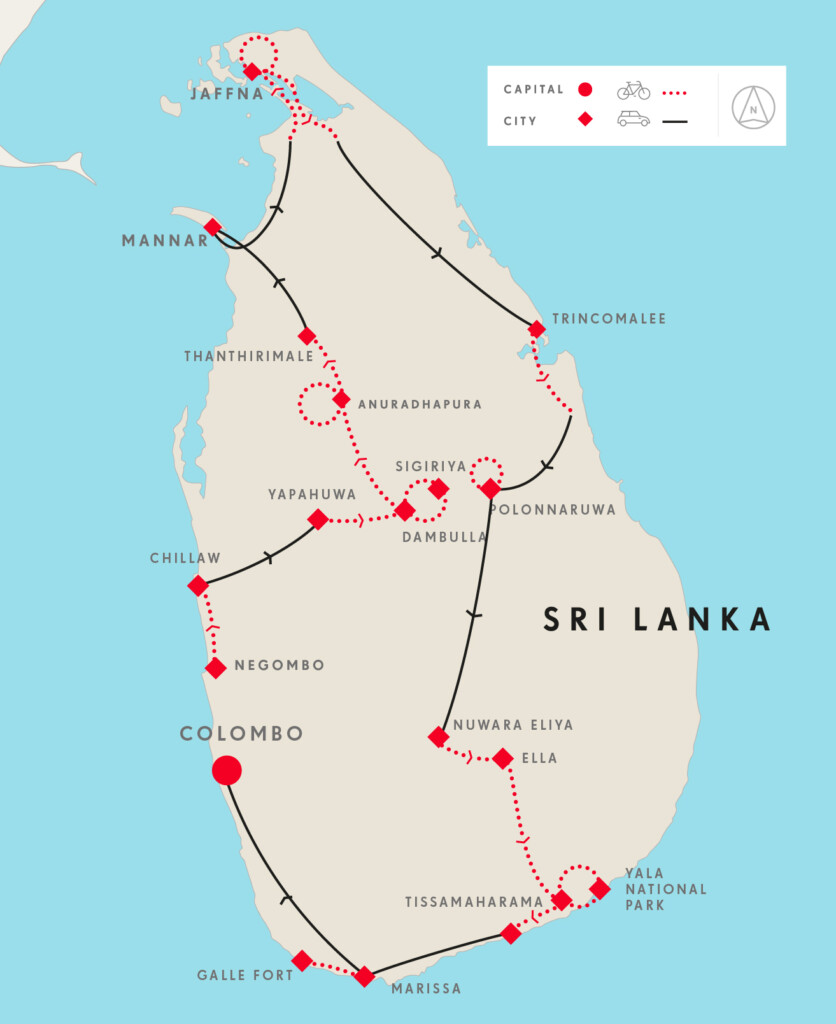 Accommodation Reservations:
Nice and very nice hotels. Each accommodation is listed below in the description of the daily itinerary. (Look them up on the internet and you will see how lovely our accommodations will be.)
Riding Conditions:
See the description of each cycling day in the daily itinerary. Most of the cycling will be on paved surfaces though there will be a little cycling on hard-packed dirt/gravel paths. According to the internet, "September offers great odds for fabulous weather throughout the country, it is an inter-monsoon time so the odd showers can be expected, but they are short and sweet. It is mainly dry and warm across Sri Lanka, with an average temperature of about 29°C." Be aware that cycling in hot conditions can be more tiring than the cooler climates we are used to.
Fee Includes:
Registration fee of $50 U.S. payable to CCCTS includes:
If needed, Tour Coordinators' miscellaneous expenses such as phone calls, maps, etc.
Credit card stipe fee of 3% applicable to deposit fee only.
Tour fee of $4,350 or $4,500 U.S. payable directly to Spice Roads includes:
English speaking guides (group size of 12-18: 2 Guides / group size of 19-24: 3 Guides)
Pick up from the airport Day 1
Drop off at the airport on Day 23
Daily transfers and support by A/C vehicle as identified on the itinerary
Accommodation in twin shared room as mentioned in the itinerary
Meals as mentioned in itinerary (B = Breakfast, L = Lunch, D = Dinner)
Drinks & snacks whilst cycling
All entrance fees listed on the itinerary:

Day 02 - Sri Munneswaram Devasthanam
Day 02 - Yapahuwa Rock Fortress
Day 03 - Dambulla Royal Cave Temple
Day 04 - Sigiriya Rock Fortress
Day 05 - Jaya Siri Maha Bodhi
Day 06 - Ancient City of Aunradhapura
Day 07 - Tantirimale Rajamaha Viharaya
Day 12 - Ancient City of Polonnaruwa
Day 15 - Three Temples Loop in Kandy
Day 16 - Tea Factory Visit
Day 16 - Horton Plains National Park
Day 18 – Buduruwagala
Day 19 - Jeep Safari Yala National Park
Day 19 - Ruhunu Maha Kataragama Dewalaya
Fee Does Not Include:
All air tickets
Visa to Sri Lanka. *Please ensure to get a visa before departure.
Meals other than mentioned in the itinerary
Drinks during meals
Bike Hire & Helmet (please bring your own if you are used to the fit). Price for rental bike is $325 U.S. for a hybrid or $650 U.S. for an e-bike.
Tips for guide, driver, boat crew & hotels' porters
Early check-in or late checkout
Maps and navigation aids
Travel insurance
Any services non-mentioned in the itinerary
Tour Coordinator fees. (Tour Coordinators will pay the same price for this tour as all other tour members.)
 * Visa Information – Tourist visas for Sri Lanka can be obtained online for a cost of $35 U.S. and are good for 30 days. Get your visa before traveling.
Itinerary: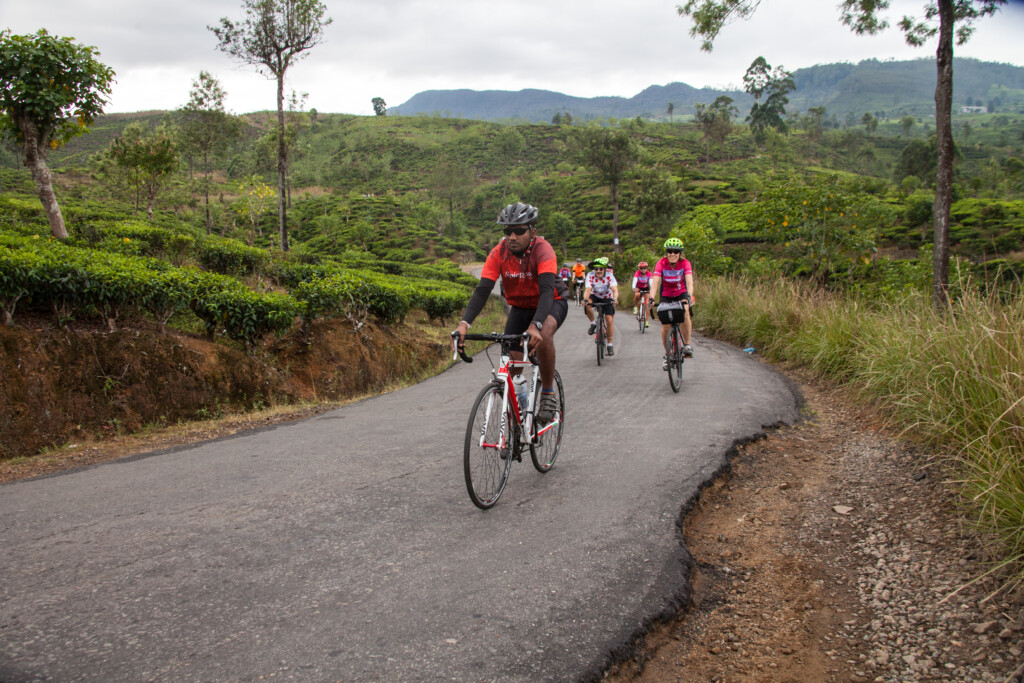 Day to Day Itinerary (prepared by Tour Contractor – Spice Roads):
B=Breakfast    L=Lunch    D =Dinner (covered by tour)
Day 1 (September 16, 2022): Negombo Arrival
Pick up from the airport (in Colombo) and transfer to our beachside hotel. Enjoy the beach until we meet in the afternoon for bike fitting, a trip briefing and dinner at the hotel.
Accommodation: Jetwing Blue Hotel
Meals: - / - / D
Ride: 0 km
Day 2 Negombo to Chilaw
Start the day with following the old coast road to Chilaw with great ocean views.  We stop for a break at a rest house close to the fishing Harbour.  Here we turn inland to the Munneswaram temple, an ancient Hindu temple which was destroyed by the Portuguese in 1578, who later built a roman catholic church on the site. During the Dutch period the church was removed and the temple rebuilt in 1750 in its present form.  Here we do a small pooja to bless our journey while we pack up the bikes and transfer 2 hrs to Yapahuwa. The afternoon is free to visit Yapahuwa Citadel, once an army outpost, it became the capital in 1273 after the fall of Polonnaruwa. The magnificent ornamental stairway, probably the finest in Asia takes us to the Royal Palace and Tooth Temple on top of the rock.
Accommodation:  Yapahuwa Paradise Hotel
Meals: B / L / D
Ride: 45km
Day 3 Yapahuwa to Dambulla
Winding village roads are the highlights of today's ride through the heart of the countryside. Chilli, rice, turmeric and dhal are a few of the crops we will see, some farmers still using traditional methods to plough the fields, ending the ride at our overnight accommodation close to the 2nd century cave temple at Dambulla.  With all the riding finished late morning, you can relax and enjoy the hotel, as we stay here for 2 nights. We meet late afternoon to visit the Golden Cave temple, the 5 main caves are full of exquisite statues and carvings of the Buddha while the ceilings are adorned with 1000's of fresco's paintings depicting the life story of the Buddha.
Accommodation:  Jetwing Lake Dambulla
Meals: B / L / D
Ride: 58km
Day 4 Dambulla to Sigiriya
Circular ride through scenic landscapes of paddy fields and elephant grass to the ancient 5th century rock fortress Sigiriya (Lion Rock); dismounting we walk through the old pleasure gardens before climbing 300m to a view of the ruins of King Kasyapa summer place on the summit. Descending to lunch at one the local restaurants. Afternoon ride follows an old irrigation canal as we ride along the banks of the Kandalama Lake on our way back to our Dambulla hotel. 
Accommodation:  Jetwing Lake Dambulla
Meals: B / L /D
Ride: 64km
 Day 5 Dambulla to Anuradapura 
We have a short transfer to start today's ride and take in beautiful village roads taking us through verdant rice fields against a backdrop of jungle covered hills, some with gleaming white temples on top, unchanged for centuries. Cycling into Anuradhapura, the oldest and grandest of all the ancient cites, and the first capital which lasted for more than 1300 years and has some of the largest and oldest Buddhist monuments in the world. Arriving for lunch we can relax at the hotel before an evening visit to two of the most sacred sites, the Jaya Sri Maha Bodhi tree, a sapling from the original tree the Buddha obtained enlightenment under and the giant white Ruwanwelisaya stupa. Both places require you to remove your footwear and are best experienced during the cooler evening light. The pilgrims making offerings of flowers and burning incense add to the mystique atmosphere. Close by the local street food vendors make excellent egg hoppers, which should be eaten fresh.
Accommodation:  Rajarata Hotel
Meals: B / L / D
Ride: 64km
Day 6 Anuradhapura Loop
A full tour of all the sites, mainly viewed from the saddle with our expert local guide. We arrange a picnic lunch at the Elephant ponds, before returning to our hotel. Afternoon is free to revisit any particular places of interest or cycle to nearby Mintale, the birthplace of Buddhism in Sri Lanka. Best visited late afternoon.
Accommodation:  Rajarata Hotel
Meals: B / L / D
Ride: 30km
Day 7 Anuradhapura to Thantrimali 
We have a choice today to ride 77km to Mannar or transfer the first 21km. A picturesque bike ride with some outstanding scenery along the border of Wilpattu national park, to an ancient Temple lost in the jungle until 1960. Thantrimali predates Polonnaruwa by 1,000 years with its rock statues of a reclining and seated Buddha, it is well worth the diversion to see these rock temples in the jungle. Back on the bikes we enter elephant country, while the electric fences are supposed to keep the elephants inside the park, it is quite common to see them grazing outside the fences and even at the side of the road! We end the ride at a roadside tea shop, before jumping on to the bus and transferring to 2hrs to Mannar Island. Once the entrepôt into Sri Lanka, it is now a sleepy backwater known for its bird life and annual migration of flamingos. The 600 year-old Baobab tree measures 19m in circumference is worth a visit as is visiting the Dutch fort and wild donkeys. You might find a swim in the India ocean and cold beer just as rewarding after a long bike ride.
Accommodation:  Palmyra House
Meals: B / L / D
Ride: 77km
  Day 8 Mannar to Jaffna 
Today we retrace to our starting point with a transfer back to the mainland and enjoy the ride to Jaffna.  The road sees little or no traffic, but saw some major battles during the conflict era, with the thick jungle hiding the scars of war. At Ponneryn a long causeway that crosses the Jaffna lagoon makes interesting photos with its prawn farms and crab nets on either side. Arriving mid-day, the afternoon is free to explore the town and Nellur temple.
Accommodation:  Jetwing North Gate
Meals: B / L / D
Ride: 85km
Day 9 (Sep 2023): Jaffna Loop
Jaffna with its lively markets and small fishing port guarded by the Star Fort built by the Portuguese in 1618 to defend the town is worth spending some time in. We will also have a ride to Kyatts Island and take the cable pulled ferry boat to Karimnagar Island before heading back inland and along the lagoon. An evening walk to a local restaurant for a tasty Masala Dosai a crispy rice flour pancake with a spicy filling, other authentic Tamil dishes are available as well.
Accommodation: North Gate by Jetwing
Meals: B / L / D
Ride: 67 km
 Day 10 Jaffna to Trincomalee
Riding from the hotel we leave the Jaffna kingdom behind us cycling through Elephant Pass, a long causeway that spans the width of the Jaffna Lagoon, a strategic point that connects the Northern peninsular to the mainland. Now part of a bird sanctuary, it was once the gate way to Jaffna. Named by the Dutch, who exported captured Sri Lankan elephants to the middle east and Europe. We end our ride at a small war monument of a captured LTTE (Liberation Tigers of Tamil Ealam) tank, before loading the bikes and driving to Killinochichi, the former headquarters of the LTTE. We stop for a Tali lunch, a typical Tamil dish of rice and vegetable curries. We arrive mid-afternoon and have time to relax at the hotel or visit Fort Frederick and look out to sea from Swami Rock Temple.
Accommodation:   Trinco Blu by Cinnamon
Meals: B / L / D
Ride: 57km
Day 11 Cycling down the East Coast
The natural harbor at Trincomalee is considered one of the finest in the world. As we ride we get glimpse of China bay and Marble beach, and on a paved village road running close to the sea ending the ride at Verugal where the Mahaweli River (Sri Lanka's longest river) reaches the sea. Until recently, you had to cross by a hand pulled ferry. Transferring 2 hrs to the Polonnaruwa Rest House, an old colonial building overlooking a giant man-made lake known as the Sea of Parakrama.
Accommodation:  Hotel Sudu Araliya
Meals: B / L / D
Ride: 66km
Day 12 Cycle Tour of The Ruins and Surrounding Countryside
The best kept ruins of ancient Ceylon and a UNESCO World Heritage site.  Polonnaruwa, was the 2nd capital during the medieval period, after Anuradahpura was sacked by the invading Chola's army in 993. The Cholas moved their capital here and called it Jananathamangalam. The Sinhalese soon rose up and King Vijayabahu from Ruhana expelled the invaders, renaming the city Polonnaruwa and re-established the Buddhist Sanga. A hybrid society of Sinhalese kings and Tamil queens would help keep the peace, but soon the country fragmented into 3 kingdoms. In 1153 King Parakramabahu the great would unite the whole country and move his court back to Polonnaruwa including the Tooth Relic. He rebuilt the city, with royal palaces, bathing ponds and the Vatadage a circular shaped temple to venerate the scared Tooth Relic. Other buildings attributed to him, Gal Vihara sublime rock cut sculptures of the Buddha, the library and his crowning glory, the creation of a huge man-made lake and irrigation system which waters all the land towards the east coast, and his famous quote "let not one drop reach the ocean before being used by man".
Afternoon jeep safari to Minneriya National Park, home to the largest elephant gathering in the world. For dinner we head to one of the restaurants into town.
Accommodation:   Hotel Sudu Araliya
Meals: B / L / D
Ride:  38km (18km + 20 km)
Day 13 Ride Along the Great Lake and River Canal
One of our favorite rides along the 6km dam of the Great Lake, you'll will see fishermen laying out their nets in tiny catamaran boats, followed by pelicans and stocks with huge flocks of cormorants taking to the sky. It's a peaceful ride with jungle on one side and rice fields on the other. The Jungle is part of the Angamedilla nature reserve and home to sloth bear, leopards, elephants and laungar monkeys. Back in civilization we experience the kids waving at us, while old men smile, these are all adding to the enjoyment of the ride, where we end at a local tea shop. We transfer to Kandy with a stop for lunch on route.
Accommodation:  Suisse Hotel
Meals: B / L / D
Ride: 51km
Day 14 Free Day in Kandy
Suggest visiting the lovely botanical gardens that boast an extraordinary range of flora. The Temple of The Tooth, the final resting place of the Sacred Tooth Relic, once the symbol of royal power and now a holy pilgrimage site for devout Buddhists. The tooth taken from the Buddhas funeral pyre in 543 BC, is highly revered as every word the Buddha spoke flowed over the tooth. During the Kalinga wars around 320AD, the Tooth was bequeathed to Sri Lanka. It's best to avoid the major pooja times, especially on the weekends as it can be very crowded.  Around the temple is the old quarter which you wander through into town, and a great area to find a quiet place to eat.
Accommodation:  Suisse Hotel
Meals: B/ -/ -
Ride: 0km
Day 15 Three Historic Temple Route
The is a 6km route and best done by walking. The Temples date from the Gampola period 1314 – 1415 A.D, when the Royals retreated to the hills, and made Gampola the new capital. The palace was destroyed, but 3 interesting temples still exist, one made of stone, one of wood and other brick, all enjoyed lavish royal patronage, with a fusion of Hindu and local deities. The walk along the edge of rice fields and up stone steps takes us through the small villages known for their brass metal work. The foundries make brass temple ornaments and oil lamps you would typically see in people's homes.  After the walk we can then catch the train to Nuwara Eliya arriving late afternoon at the Hill Club. Tonight, we dine at the Hill Club with a 5-course meal.
Accommodation:  Hill Club
Meals: B / L / D
Walk: 6km
Day 16 Nuwara Eliya
Nuwara Eliya is better known as little England when the British Raj had their holiday homes here. The town is easily explored by bike and riding out into the surrounding tea estate to visit a tea factory where we can learn more about the tea making process. Ride or trek to Hortons Plain's, you can choose to ride but it's a tough climb to the top. The strict nature reserve on top of a 2000m grassy plain has rare and endemic flora and fauna. The stunted ridge forest is home to many of Sri Lanka's endemic birds as well as Leopards, Purple faced leaf monkeys and large Samba deer can often be seen grazing on the plains.  Dinner is on your own and there are plenty of small places to choose from.
Accommodation:  Hill Club
Meals: B / L / -
Ride: 0km
Day 17 Nuwara Eliya Descent to Ella
Today the first 20km are almost pedal free to Welimada town. Descending through the tea covered slopes of the central mountains to Ella. There are a few climbs which give good vantage points for scenic pictures of the colorful tea pickers. Ending the ride in Ella town which has one of the best settings in the country and a magnificent view of the Ella Gap. On a clear day you can see the India ocean shimmering in the background. We have lunch in town leaving the afternoon free for a short trek to little Adams peak a pointed rock with 360-degree views (approx. 1 hour).
Accommodation:  Oakray Ella Gap
Meals: B / L /-
Ride: 57km
Day 18 Ella to Tissamaharama
One ride to remember with a 1000m descent down the Ella gap, with waterfalls and changing scenery all the way down to the southeast corner of the Island. We break our journey to visit Buduruwagala is an ancient Buddhist temple dating back to the 10th century. The middle statues from the Mahayana Buddhist tradition depicts Maitri, the future Buddha. He will appear when all the Buddhist teachings have been corrupted or lost. Back on the road we cycle onwards before we stop for a roadside picnic lunch of rotties, small spicy pancakes with vegetable fillings.  Tissamaharama is the ancient capital of the Southern or Ruhana Kingdom and dates from the 3rd century BC. Only the irrigation lakes and 3 large stupas remain today both can be enjoyed with an evening stroll.
Accommodation:  Kithala Resort
Meals: B / L / D
Ride: 98km
Day 19 Early morning Jeep safari to Yala National Park
This 3-hour jeep safari is the best chance to see leopards, wild boars, crocodiles, elephants, wild buffalo, eagles, and other wildlife.  Returning to the hotel before a late afternoon ride to Kataragama (20km and depart at 4.30pm), the famous temple open to all faiths, with its nightly rituals of chanting, drum and pipe playing with devotees offering fruit to be blessed and eaten, restoring health and good luck. We will dine local style tonight.
Accommodation:   Kithala Resort
Meals: B / L / D
Ride: 0km
Day 20 Tissamaharama to Marissa
The dry zone vegetation and cactus trees have their own beauty and the scenery is very different to other parts of the country. This is a good place to see wading birds around the edges of lagoons and salt pans, the main industry of the area. We end the ride close to Hambantota town before boarding the bus and transferring 2hrs to Galle Fort where we stay for the next 2 nights. Galle Fort has abundance of history, the Portuguese arrived 1505 and set up a trading post and later built the Black Fort to guard the harbor, which still exists today. The Dutch captured the fort in 1640 and expended it, building ramparts and bastions to enclose town within the walls. The British took over 1796, only adding the front fortifications and enlarging the entrance.
Accommodation:   The Heritage
Meals: B / L /-
Ride: 46km
Day 21 Free Day to Enjoy The Sights of Galle
Which can be done by foot or bicycle.  A walk round the ramparts and backstreet with your guide can reveal some of the secrets of the fort history.  Those wanting to be more active can hop on the bikes. There is an optional ride to Koggala lake and ending the ride at a beachside restaurant.
Accommodation:   The Heritage
Meals: B / - / D
Ride: 26km (optional)
Day 22 (October 7, 2022): Transfer to Colombo and Overnight Stay in Colombo
Our final stop is the modern capital, Colombo. The hotel we stay in tonight is in the heart of Colombo, along the seafront and famous for its colonial architecture. Today you can explore the town and have some leisure time for shopping. On an evening stroll to Galle Face Green, you can visit small vendors who sell local street food and return to the hotel for dinner.
Accommodation: Galle Face Hotel
Meals: B / - / D
Ride: 0 km
Day 23 (October 8, 2022): Departure
Free time until transfer to the airport.
Meals: B / - / -
Ride: 0 km
TOTAL RIDING DISTANCE: 888 km
Registration and Participant Selection:
Registration will be on the CCCTS website on the date shown. A computerized lottery system and waitlist will be utilized in the event that the ride is over-subscribed. A $50 U.S. payment is required at the time of registration. The registration fee will not be refundable for any reason unless you are not selected for the tour, in which case it will be refunded. The lottery signup will run for 5 days, after which the Tour Coordinator will review the results.
The selection process will consider the following criteria in evaluating candidates:
fitness and riding ability and experience required for the tour,
a history of demonstrating safe riding practices,
acceptable social behavior.
The Tour Coordinator may interview riders or others who know them to verify their suitability for the tour.
The Tour Coordinator will notify registrants of their selection status. If the ride is not filled to capacity, registration will continue until the closing dates shown.
After you have been notified you are selected for the tour, the Tour Contractor Spice Road's payment and cancellation policies will apply as follows:
Spice Roads' Payment Policy
These payments will be made directly to Spice Roads. Details on how to do this will be provided once tour members are selected for the ride and before the deadline for the first payment.
30% Deposit is required by May 30, 2022
Full payment is required by July 15, 2022
International transfer fees or bank charges may not be deducted from the amount listed on your invoice. These fees are an additional charge that the transferor is responsible for paying.
Payment can be made by credit card using our online payment gateway or by bank transfer. Details will be provided if you are selected for the tour.
In all cases, tour fees need to be paid in full before participation in a tour. No person(s) will be allowed to join a tour without fully settling their invoice and receiving a confirmation number from Spice Roads.
The exception can be made for last-minute miscellaneous fees that can be paid locally (visas, additional local hotel bookings, etc.) can be settled on the day of arrival.
Spice Roads Cancellation Policy
Number of days before the trip start

Cancellation fee per person

90+ Days

Admin expenses*

60-89 Days

45-59 Days

Deposit paid to Spice Roads

50% of tour price

15-44 Days

70% of tour price

0-14 days

No refund
* Bank fees and any tour costs incurred by the company as a result of the cancellation.
(Examples of costs which may be deducted include non-refundable purchases of specific equipment and cancellation fees for accommodation or services)
  COVID and Health Information:
COVID: CCCTS riding guidelines including applicable Covid guidelines will apply.  CCCTS requires all participants to be fully vaccinated, and proof may be requested by the Tour Coordinators and/or the Tour Contractor.

Border crossing requirements are subject to change but at the time of writing for Canadian and US citizens entering to Sri Lanka, these include proof of vaccination.

Other Travel Health Requirements: You should check with your travel medicine health professional on whether they recommend any additional vaccinations or preparation for traveling to Sri Lanka.
I M P O R T A N T N O T E S FROM SPICE ROADS
Check-in is available from 14.00 on arrival day and Check-Out latest at 12.00 on departure day. Early check-in or late check-out is subject to availability and may be provided at additional cost.
Should one or some of the proposed service/s not be available at the time for booking, we will try to find other similar options to avoid changes to the program.
It is the travellers' responsibility to ensure to meet passport, visa, health and immigration requirements applicable to your itinerary.
SpiceRoads insists that all clients must take out good travel insurance before joining one of our tours. The insurance must include adequate coverage for any personal accident and medical expenses. You should also ensure that there are no exclusion clauses limiting protection for any dangerous or unusual activities that might be included in their tour.