Leader: Deanna Simmons 250-317-1016
Co-leader: Dawn Minett 604-222-8030
Trip Dates: Mon, 6 Jun 2022 -- Sat, 11 Jun 2022
Trip Classification: Intermediate
Trip Fee: $50 CAD
Trip Numbers: minimum 18 , maximum 21
Trip Registration Opens: Sat, 26 Feb 2022 6:00 PM (pacific time)
Registration Lottery Ends: Wed, 2 Mar 2022 1:00 AM (pacific time)
Trip Registration Closes: Sat, 5 Mar 2022 3:00 PM (pacific time)
Ride Description: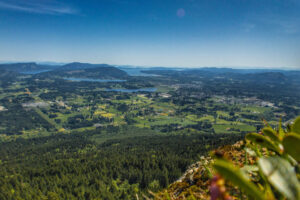 Welcome to Duncan, the "City of Totems", an attractive town near the mouth of the Cowichan River. You'll get to visit Cowichan Lake, Chemainus and its world class murals, Cobble Hill wineries and a cidery, ancient railroad routes and the famous Kinsol Trestle, while enjoying five days of riding around the beautiful Cowichan valley. Leads & sweeps for all rides.
The event is classed as intermediate as ride distances are all under 80 km. However, there are hills to climb, and rail trails (hard packed) may slow you down. This is a cycle-cultural event focused on discovering interesting places, drinking local wines and eating the best of local food.
Current BC and CCCTS Covid19 precautions will be followed at all social gatherings and during rides. Please read the most current version of the "CCCTS Staying Safe Guidelines", posted on the Club website's Publications page. These guidelines will be updated as the BC Covid situation changes. 
Accommodation Reservations:
12 rooms have been blocked out at the Duncan Motel, 2552 Alexander Street, Duncan, 1-250-748-2177.  Air-conditioned and with recently renovated rooms, all with queen beds and some with kitchen facilities. Amenities in each room include microwave, coffee machine, flat screen TV, wifi. Bike storage in rooms is permitted and there's a small patio outside for our happy hours. Prices range from $95 to $120 plus tax. No money down, you pay on arrival. Be sure to mention you're here for a CCCTS event to get a discount from the above rates. Manager Tracy Hanson is very kind and helpful - please advise her ASAP if you have to cancel. Lots of good restaurants nearby.  Great Canadian Superstore, Save-on-Foods and London Drugs are just a few blocks to the south.
Alternative choices in Duncan include nearby Rosedale Manor, 2520 Alexander St. with prices by the week of $500 (single) and $700 (double), sounds good, but very limited capacity. Book early at 250-210-6663; and Best Western, about 5 kms north of Duncan on Hwy 1, $169 plus tax (250-748-2722).
There are, of course, many more choices for accommodation in the Duncan area (B&B's, more distal motels, etc.).
The only recommended place for camping is at Country Maples RV Resort, about 14 kms north of Duncan and just south of Chemainus. Please be aware that some campsites and motels closer to Duncan serve a vulnerable population.
The "HUB", where all rides will begin and end and happy hour begins (unless otherwise stated) is Duncan Motel at 2552 Alexander Street. 
Riding Conditions:
Riding conditions will vary from quiet country roads with limited shoulders to hard-packed gravel rail trails. The latter will be encountered mainly between Duncan and Cowichan Lake (30 kms) and Kinsol Trestle down to Glenora trail head (15 kms). A few roads in the valley may be gravel. Super thin tire widths (e.g. 23 mm) are not recommended.
Fee Includes:
Registration supplies, happy hour goodies at registration, map descriptions for all rides, all local road maps and a Monday pizza dinner. Any surplus funds will be deposited is still to be decided but will let you know as soon as we know.
Fee Does Not Include:
Optional Thursday night dinner, each member pays his way, any other meals, drinks, accommodation, transportation.
Itinerary: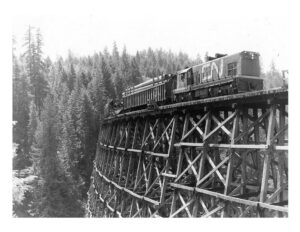 Mon. June 6, 11:00 – 3:00: Check in at the Duncan Motel.                    
3:30  –    Group walk to Cowichan Valley Museum & Archives. Tour of the totems
5:00   - "Meet and Greet, Registration– at the Duncan Motel. Ride details. Appies and Beverage provided.
6:30 – Pizza dinner at Romeo's Pizza.  Pizza paid for, but not drinks, sides or desserts.
Tues. June 7 - Fri. June 10 - a choice of rides each day, each with a ride leader and sweep ranging from 40 km to 80 km. All rides will begin at 9:00 AM.  The rides include:
to Cowichan Lake on a rail trail, with a bonus swim in Cowichan Lake (70 kms).
to Shawnigan Lake - Kinsol Trestle - then rail trail to Glenora and return on quiet country roads (.
to Maple Bay – Crofton – Chemainus, where we'll have lunch and go gaga over the murals. All pavement. (65 kms).
we'll ascend Cobble Hill to check out the fabled wineries. All pavement. (45 kms).
Thursday, Group Dinner ( paid by you) 6:00-8:00 pm: Craig Street Brew Pub/Just Jakes Restaurant.
A more detailed description of all the rides with maps will be e-mailed to each ride member closer to the Hub & Spoke. GPS will be in the CCCTS library
Saturday, June 11: No cycling planned, but there's lots of good non-cycling events in and around Duncan. We recommend an early morning visit to the acclaimed Farmer's Market in downtown Duncan, morning bird spotting at nearby Somenos Marsh, the Raptor Centre about 8 kms northeast of Duncan (opens at noon), the BC Forest Discovery Centre and operating full gauge, steam railroad on the highway 5 kms north of Duncan (allow 3 hours for the choo choo ride) and to all those other wineries we never visited.  
Registration and Participant Selection:
A H&S ride group of maximum 17 members was formed from the 17 Wait Listed registrants of the May 30 - June 4, 2022 Duncan H&S #1, plus one member only (LR) who will register between February 28 at 5 p.m. (PST) and March 1, 2022 at 5 p.m. (PST) on the CCCTS website. Registration will close on March 1 at 5 p.m. (PST)  Registration is limited to 20 participants. A non-refundable $50 CDN payment is required at the time of registration.    
CCCTS Registration Fee Reimbursement:

The $50 registration fee is non-refundable with these exceptions:
if COVID risks remain high the CCCTS Board will reimburse the registration fee ($50) only if the Ride Leader decides to cancel the ride.


wait list cyclists must remain on the wait list until after the ride has started to be eligible for registration fee refund.
"Stripe fees" are applied for CCCTS registration transactions. Stripe fees will be deducted when there is a refund of registration fees paid by a Club member if a ride is cancelled by the Ride Leader due to COVID or some other reason.
Currently the Stripe fee is 2.9% + 30 cents for a Club ride registration fee (Hub & Spoke or Tour) of any value. For a $50 H&S registration fee in 2022 the Stripe fee will be $1.75. Thus a CCCTS member's registration fee refund would be $48.25 not $50 if there is a COVID related or other cancellation initiated by the Ride Leader."  
Participants
:
Werner Acher, Christine Bartlett, Kim Bartlett, Leslie Beleski, Delores Franz Los, Whitney Laughlin, Dawn Minett, Eric OHiggins, Nancy OHiggins, Gerry Porter, Annemieke Quinn, Howard Quinn, Leslie Rodgers, Jane Saxton, Lani Schultz, Deanna Simmons, Brigitte Sooke, Tom Sooke, Thomas Winkler