The Cross Canada Cycle Tour Society        May 2021,  Volume 38, Issue #5
President's Report, May 1, 2021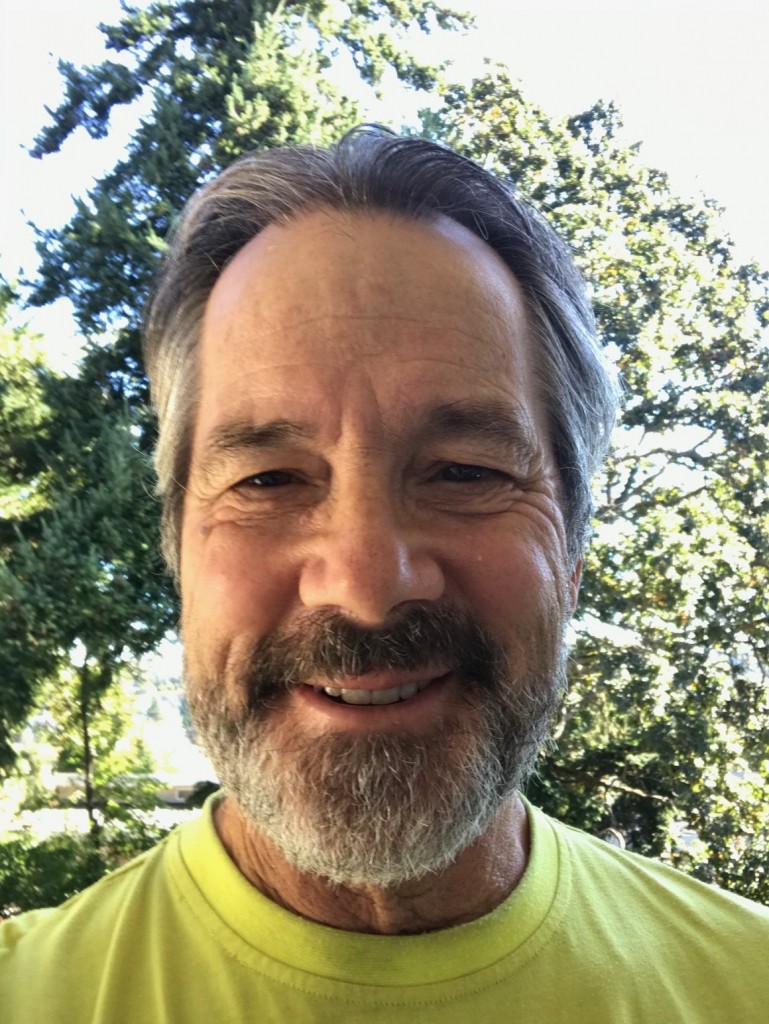 Bike riding season is upon us once again. I hope you are finding yourself out there on your bike with a friend or two and enjoying the spring conditions. It is regrettable that the COVID is still playing a major impact on what we can do as a club. Planning ahead for group rides with an unpredictable virus at hand is very difficult. The Directors decided it would be better to have some events on the books and have to cancel them, than to be finding ourselves unprepared if conditions look favorable.
CCCTS has 6 Hub and Spoke events on the slate for 2021, many of them postponed from last year. The first one in Sorrento BC, which was scheduled for May has just been cancelled due to Provincial travel restrictions, and the current high rates of transmission. However, case counts are dropping again, most of us are getting vaccinated and we have hope that some of events booked between June and September will be able to be held as planned.
We are happy to see the enthusiasm to resume our events is strong; the South Alberta Tour in September just closed registration with double the maximum numbers, and a second tour is being organized. We are all keeping our fingers crossed that it can go ahead. Like the Hub and Spokes, the COVID Tour format has only 16 participants, no singles sharing rooms unless they want to, avoids indoor dining and group meals, no passing around the happy hour snacks like usual. But, still good riding in interesting locations.
Thank you to everyone who renewed their membership this year in spite of COVID. We have about 450 members subscribed, not too far off the usual 500 or so. Most of our expenses continue with or without events, so we appreciate the support. The Club also continues its legacy funding support for good causes; for example, this year we are contributing to the design and construction of a bicycle trail from Vernon to Sicamous, and last year we provided assistance for the South Okanagan trail, to name just a couple. Another ongoing project is our support to the BC Cycling Coalition for the safe passing distance campaign.
Wishing you a safe and enjoyable riding season, as best you can. We hope the Chapter rides can resume sometime soon. Be kind, be calm, be safe, and corner softly.
Bruce Daykin
President
videos
Here is a travel video about cycle Touring in coastal Portugal.
Looks pretty amazing.
What Happens When Two Strangers Trust the Rides of Their Lives to the Magic of the Universe.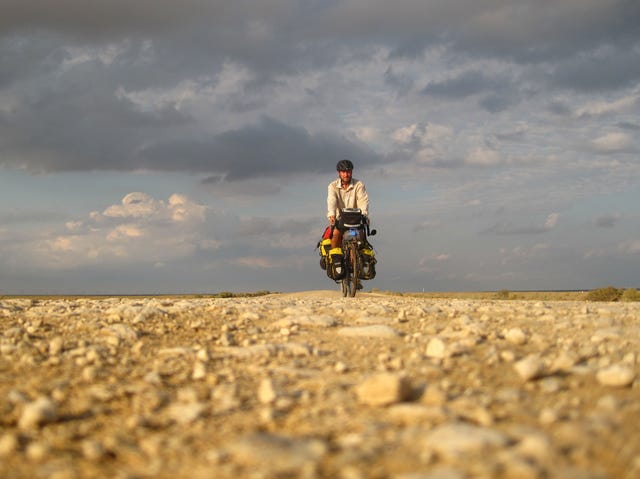 Part 1
LEON HAD BEEN RIDING WEST FOR 309 DAYS. NOEL HAD HEADED EAST FOR 176. THEIR MEETING IN THE DESERT WAS A SMALL MIRACLE.
Sometimes, their caravan met with another.
One always had something that the other needed—
as if everything were indeed written by one hand.
As they sat around the fire, the camel drivers
exchanged information about windstorms,
and told stories about the desert.
—Paulo Coelho, The Alchemist
Once upon a road in Kazakhstan, two men converge in the desert. Strangers born an ocean apart, riding bicycles burdened like camels, they emerge from either horizon, slowly approaching a common point. Day by day, hour after hour, they make their way through a land as flat and featureless as a page without words. Thousands of miles spool out behind them. Thousands more lie ahead.
One rides east. The other, west.
For months now, each has been pedaling, alone, through sun, wind, rain, and snow, climbing mountains, crossing plains, and loading his bike onto boats to float across minor seas. Now, on a Sunday morning in August, they soldier down an unpaved Soviet road that never seems to bend. The only sound is tires crunching on gravel and, now and then, the lonely roar of a truck hurrying between two somewheres.
The earth spins. The sun rises. Long shadows shrink into puddles of shade beneath their spinning wheels. From dawn to dusk, in every direction, the landscape looks the same.
The only thing that changes is the angle of the sun.
Then, through the shimmering heat, a blur appears on their common horizon and gradually comes into focus: a simple white box of a building on the edge of the dusty road. Next to it, a metal shipping container marked by a hand-painted word, шaихaнa. Translation: chaikhana, a teahouse, where travelers can find water, food, and shade. The nearest city, on the Caspian Sea, is 235 miles away.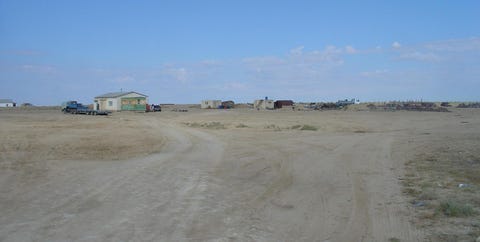 Here, under a noon Kazak sun, two sagas, by chance, eclipse.
The American is six feet tall, 200 pounds, smiling through the scraggly beard of a traveler who hasn't seen a shower in days. He is 27 years old.
"What the hell are you doing here?" says the American.
"What the hell are you doing here?" says the Brit.
It's the first time in days they have opened their mouths to speak their native tongue. When had they last encountered a fellow traveler on two wheels? Each ogles the other's bicycle—two wildly different animals beneath the same desert dust. The strangers introduce themselves.
"I'm Noel," says the American, who is riding east.
"I'm Leon," says the Brit, riding west.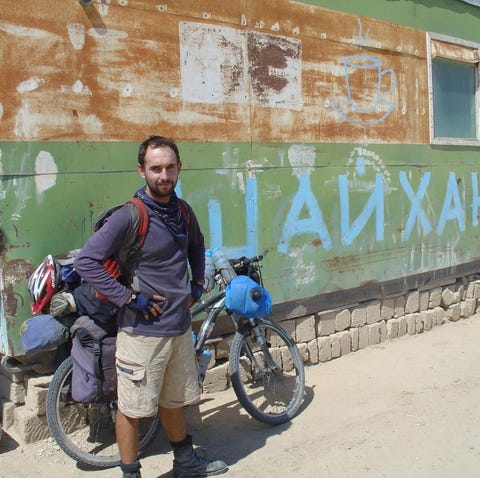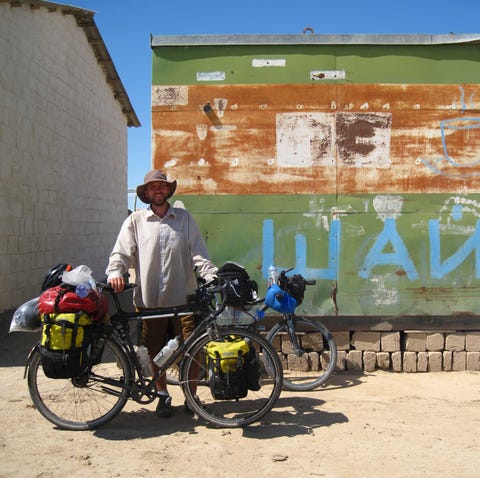 Leon Whiteley had been meandering west for 309 days and 11,337 miles. His journey began in Gumi, a South Korean city where he'd spent the year teaching English. When his tenure ran out, he came up with the boldest, most daring overland voyage he could fathom: riding to England by bike—solo. So far, the trip had not gone as planned. But Leon thrived on misadventure.
Leon did not fancy himself a "cyclist," at least not of the Lycra-clad, leg-shaving sort. When he was a boy growing up in Yateley, a town in South East England, a bicycle was his primary means of getting from here to there. He had never had a driver's license.
When he was older, the bicycle became a vehicle for exploration. He once pedaled 874 miles from the northern edge of the British Isles to Land's End, the southernmost tip. Riding with a friend for those 11 days, he tasted a glorious freedom. No trains to catch, no rooms to book. As Leon wrote on his 323-page blog, "We fell into our own rhythm, generally dictated by how much pedaling our legs could take between sunrise and sunset.
Now, after years of traveling the world with a backpack and a hunger to stray as far as possible from the ever-beaten path, he cycled "to avoid the herd." He craved an epic adventure, a trip that was "more akin to a quest." His dream: "to ride from one edge of the map to the other."
A proper touring bike was well beyond Leon's budget. So he settled on an aluminum Gary Fisher hard-tail mountain bike with V-brakes, a triple chain ring, and a heavy fork. It cost around $400. It was better suited for a spin around the block than a hemispheric odyssey, but it would do. He added bar ends, four water bottle cages, rear saddlebags, and a handlebar bag. The nicest thing about the bike was the Schwalbe Marathon tires.
Leon took pride in this make-do bike, in the $18 Gore-Tex jacket he found on sale, and the discounted two-man tent that looked a little less like a "vulnerable caterpillar" than a lightweight one-man tent that would "leave no illusion that I was a singleton if happened upon by forces of ill intent." He whittled his belongings to the barest necessities and mailed everything else home to England.
One Saturday in October, Leon embarked a day past schedule, wheels rolling at 10 a.m. The first few miles out of the city squandered 50 miles worth of patience, but soon he was passing red peppers drying on the side of the road, a man threshing grain with his feet, and an official highway sign pointing the way to the "Grave of a Loyal Dog." (He paid respects.)
Leon loved the motto of the British Special Air Service: Who Dares Wins. He lived by this tenet, embracing the price of authenticity: the risks, the fear, the unknown dangers of sketchy places and dodgy strangers. He believed in the "Tao of travel, where things just flow and you're carried by a randomness through a string of highly fortunate and unlikely experiences."
One hundred seventy-six days and 5,388 miles before meeting Leon in the desert, Noel Kegel pulled bike parts out of a cardboard box and reassembled them on the floor of the airport in Lisbon, Portugal. He imagined the endless road across Eurasia, the world's largest landmass.
Noel had dreamed up this bike, part by part, before knowing where it would take him. Its soul was a Rohloff Speedhub, a weatherproof constellation of planetary gears as precise as a luxury timepiece. It drove a lugged steel Waterford frame custom-made near his home in Viroqua, Wisconsin. Each wheel he had lovingly built by hand, adjusting the tension of 32 spokes so the circle was perfectly true.
Raised in his family's bike shop, Noel could repair a flat tire by age ten. During high school summers he earned money by wrenching, and he rode his bicycle 900 miles to college in Montreal—three times. As a young man, he felt a wanderlust. His dream: "to ride ocean to ocean."
His own continent seemed too easy, too tame. So he ran his fingers over a globe, searching for the longest ride. The one he found spanned 19 countries and 130 degrees of longitude. One side of the globe to the other.
He wasn't driven by any of the reasons that inspired other long-haul travelers. He wasn't doing this to escape a dud job, to heal from a breakup, or to mourn a loss. He didn't need to find himself. This wasn't about raising money for a cause. He didn't want sponsors, or even attention.
"I just wanted to see a few more corners of the Earth at 10 miles per hour," he said.
People told him he was crazy. The world, they warned, is a dangerous place. Noel believed otherwise. "If you listen to people, you'll never go anywhere," he said. "It's best to go out and explore and realize the world is a good place."
In Lisbon, Noel rattled over cobblestones, rolled by a 145-year-old arch, and climbed a hill to a 15th century castle. Before heading east, he rode west to the coast, where he stood on the edge of Europe, watching the sun melt into the Atlantic. Before falling asleep, he thought of the woman waiting for him on the other side of the water. Then he rose with the sun, turned his back to the sea, and pedaled toward the Pacific.
From Korea, Leon planned to cross the Yellow Sea by ferry, then ride due west through China. His plans were immediately thwarted: the Beijing Olympics complicated the visa process. He would have to ride around China, a circuitous detour of island-hopping through the Philippines and Indonesia, stuttering up through Malaysia, Thailand, and Cambodia, entering China from the south.
This detour would take 99 days.
Leon pedaled north to Seoul, where airport officials treated his bike as if it were made of uranium. In Manila, he reassembled it before a captivated audience of janitors, who passed him tools like surgical nurses and asked, "Don't you have any friends?"
He wove through Manila with one loose pedal, dodging mopeds, rickshaws, and Jeepneys as gaudy as carnival floats. "I felt just like another clown in the circus," he wrote, "and even started to enjoy it." On a glorious descent along the coast, distracted by the view, he missed a turn and wound up three bays and 37 miles from where he needed to be. He had no GPS—only a compass, a map, and his gut. (They were right more often than locals.)
Leon loved the idea of setting off every morning not knowing where he'd sleep that night. This dream became a recurring nightmare. Many towns had no hostels, just hourly rooms. Wild camping had its charms and jinxes. As he set up camp in the woods by the side of a road, a murmuration of starlings "danced in great swirling flocks" above his tent, "then proceeded to poo all over it."
One very long night in Borneo, he lay wide-eyed in his tent as a gathering drumbeat filled the jungle. It was joined by moaning and human screams, then howling dogs and a woman shouting words in some exotic tongue. Afraid to draw attention to himself by turning on his lamp, he crawled out of his tent in the dark and stood, half-dressed, in the full-moon light, armed with a ballpoint pen ("the most dangerous weapon I could find in the dark"). The devil's symphony crescendoed with a blood-curdling scream, and then—silence. Only the sound of a coconut crashing to the ground.
He often awoke, dog-tired, to endless climbs that disappeared into the mountain mist. He was honked at by lorries, mocked by locals, stoned and cursed by children, and stymied by bad directions. Some days the road only seemed to go up, and no matter which way he turned, it was always into the wind. Caught in a monsoon, he struggled through water that lapped at his pedals. But when strangers offered a ride through a sandstorm, he resisted.
"Wouldn't have been able to hail a lift if I was fighting at Stalingrad, or halfway up Everest. But no, I had to be born at the first point in human history when adventure must be sought out and contrived, and isn't just thrust upon you."
Dogs terrorized him at every turn, snarling and snapping at his ankles. Leon filled his pockets with stones to hurl at these "wretched beasts of Beelzebub." At a bookstore, a big white dog lumbered over to greet him. When he patted its head, the dog snapped at him. Leon imagined festering rabies and fantasized about turning the miserable beast into a fur coat. Better yet, "a pencil case, and one of those fluffy toilet-lid covers that were fashionable back in the eighties." At the border, a customs dog peed on his bike.
Riding into a blistering headwind after fixing his third flat tire in three days, he was ambushed by two dogs. Startled, he sped up, swerved, and crashed, hitting his head and scattering water bottles in the road. He leapt to his feet and kicked a fence post to dislodge it for use as a club. Instead, he dislodged his big toe. Limping back to his bike, hurling stones at the hellhounds, he didn't notice his front tire going flat.
One day Leon heard pitiful whelps coming from the roadside. It was a bedraggled puppy pawing desperately at the sides of a scum-filled drainage ditch. He reached into the filthy water, rescued the pup, and set him free. Riding away, he secretly hoped the God of Dogs was watching.
Noel did not believe in a God, but he believed in a world where he could wander alone into a vast unknown and find his way safely home.
"When you're on a bike you are vulnerable," Noel said. "People sense that. And they want to help you."
In Turkey, old men playing backgammon at small cafes hollered "Oy! Çay!"—inviting him to tea. In villages, people waved him out of the rain and into their threadbare huts, where he sat on dirt floors, telling stories with his hands and breaking stale bread with strangers. In one town, a middle-aged mother wanted to buy him a bus ticket so he wouldn't have to ride his bike.
In Croatia, he took a detour from the Adriatic coast to visit the ruins of his grandfather's village. He stood inside a roofless church, saw abandoned houses crumbling back into earth, and searched weed-choked cemeteries for leaning stones engraved with his family name. He pressed wildflowers into his journal and wondered how, in a parallel world unravaged by war, his life might look here.
He crossed the Caspian Sea on a freighter, a 24-hour trip approaching the very mid-point of his journey. On the ship, afloat between Europe and Asia, he met a fellow passenger who owned a car wash in Uzbekistan. The man did not speak much English, but he invited Noel to his home.
Five weeks later, after meeting Leon, Noel would roll up to the only car wash in Chust and speak the man's name. The man, so moved by Noel's visit, would welcome him like a king. The next 36 hours would be a whirlwind of feasting, touring the town, and gathering with curious, smiling Uzbeks. Noel "almost had to escape this typically Central Asian uber-hospitality for fear of becoming too indebted to his kindness."
Noel would pedal away with a full belly, a free haircut, and a treasured gift: a knife engraved with the names of new friends.
Pedaling in his granny-gear up the steepest roads in Malaysia, Leon discovered that pushing his bike was equally expedient and a welcome reprieve from the saddle. (He had no bike shorts.) As he trudged up a soul-crushing hill, a man ran at him, shouting.
"My friend, you look like you could need one of these?"
The man held out a can of Carlsberg, a Danish pilsner. Leon smiled and cracked it open. The next thing he knew, he was drinking too much rice wine at a traditional Malaysian fête. He pitched his tent in the family's garden and fell into a deep slumber.
At 4 a.m., Leon awoke with a start, smothered by ripstop fabric. A tent pole had snapped, collapsing his shelter. Just his luck. He left at first light, thanking his hungover hosts and grimly facing the soul-crushing hill.
Another day, a van slowed down to offer a lift to town. Leon said thank you, but no, he had to make it on his own. The man said there was a big rain coming—really, it was no trouble. Again, Leon politely declined. A few miles later, the monsoon arrived. Drenched, with night swiftly closing in, Leon saw he had a flat.
In Kuching, he noticed a broken spoke. He carried the answer—a shiny chrome spoke key—but had no idea how it worked. "I've been carrying it more as a magical amulet," he mused, "rather than an actual tool I might have to use."
Another spoke broke on the way to the bike shop in Kuala Lumpur, where he discovered all bike shops were closed on Sunday, and Monday was a national holiday. Back at the hostel, he griped about his two-day delay. A Swede reading Paulo Coelho looked up from his book and declared, "The universe is not working in your favor."
The universe had a peculiar way of working in Noel's favor. Things often went wrong in all the right ways.
In the Balkans, Noel joined a fellow rider named Fabien for three days of riding with company. That first morning, Fabien's rack broke. Noel was already pedaling 100 pounds of gear and bike, but he cheerfully strapped Fabien's bags to his rig. That afternoon, Noel heard a nauseating noise—the crack of a brazed joint on his custom steel frame. They transferred both loads to Fabien's bike and made haste to the nearest town, where Noel found a welder and felt lucky.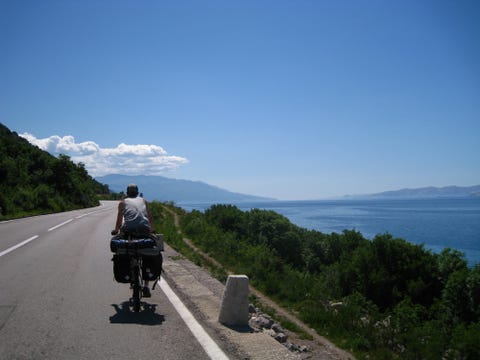 "Without each other we would have had a different experience," Noel said, "and might have had to hitchhike."
Thousands of miles later, Noel would have a fortuitous flat while descending a steep mountain pass. Fixing it drew his attention to a more serious problem. His brakes, slowing 300 pounds of man and bike, had worn his rear wheel paper-thin. The aluminum rim showed a hairline crack—an omen of imminent and catastrophic failure. Noel disengaged his rear brake and crept down the mountain accompanied by the scent of burning rubber, stopping every so often to let his front rim cool down.
In the next big town, Noel tried to buy a new wheel. No luck. He called home to Wisconsin and had his family shop, Wheel & Sprocket, place an order. Four days later, a Soviet-era Lada with DHL spray-painted on the door pulled up and handed him a package with a new wheel.
While waiting for this delivery, Noel befriended another solo bike tourer, a German named Christian. He was headed east. They rode together for a few hundred miles, then picked up a third rider, a Dutchman named Ron. The trio rode together like migrating birds, each laboring in the front for a spell, then resting in the flock's wind-shadow. They traced the edge of the Taklamakan Desert, climbing out of the endless sand to 11,726 feet, celebrating the high points and sharing the lows.
It was nice to ride with company. But off-bike, each moved at a different pace. Erecting Christian's German tent required half an hour and an engineering degree. In the morning, Noel was ready to roll in 10 minutes, while Christian took a couple of hours to dry and meticulously pack his gear. When his friends decided to hitchhike a tedious stretch of road, Noel was grateful to continue his unbroken line alone.
Leon rode alone until mile 2,787, when he finally encountered a fellow bike tourer. At last—a kindred spirit! Alas, the man ignored him.
Then, in China, Leon befriended Carsten, a German with waterproof maps, WD40, a little book with pictures of things you might need to request in a language you do not speak, and "a divine messenger of what lay ahead"—a GPS. Carsten was headed west.
Leon discovered the wonder of drafting, even if it meant staring at another bloke's arse. Freed from the constant stress of figuring out where on earth he was, Leon found himself laughing at things he once cursed, like the "bugling freight lorries handled with mystifying inconsideration." Such things irritated Carsten even more. "Why are zey doing dis?" Carsten fumed. "What is the mentality of deez people?"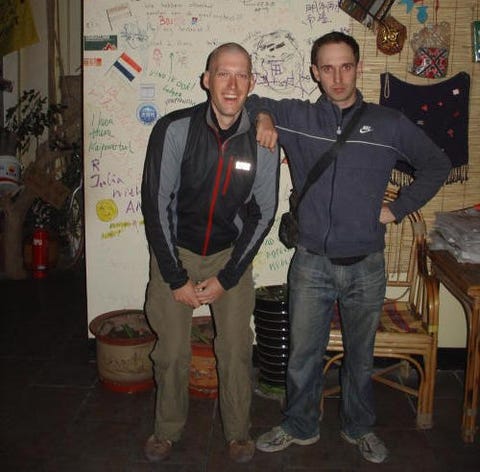 But the GPS was a fickle oracle. It gave inaccurate distances, led them miles in the wrong direction, and constantly changed its mind. It gave its holder "the illusion of control," which Leon came to resent. "You'd be much better off carrying a crucifix, clasping a rabbit's paw to your breast, and chanting Hail Mary every thirteen paces."
In China, less than 200 miles from the Eurasian Pole of Inaccessibility, the furthest point in the world from any ocean, Leon's rim came apart at the seam. He lucked upon a bike shop 12 miles down the road, but instead of fixing the rim, the mechanics broke something else.
"It really couldn't have happened at a worse place," he noted. "Directly halfway between Lanzhou and Ürümqi, the only two places in a thousand miles where one is guaranteed to get the required parts."
The nearest town where he might find help was 250 miles ahead. The bus stop was miles behind. Leon hitched a ride back, only to find the bus didn't take bikes. (The police convinced the bus driver to reconsider this policy.) In the next town, the bike shop removed the wheel, put it back on, and then it would not turn. Defeated, Leon found a hotel, where he walked into a door and split open his forehead. Then he spotted a familiar bike. Carsten heard a tattarrattat upon his door. He opened it to find Leon—bloody and bloody exhausted.
End  of Part 1. 
Be sure to tune in next month for the conclusion of their exciting adventure!
Marketplace
Not much action here this month.
Carol Evens of Tsawwassen is looking for a pair of panniers.
Contact her at evacar52@yahoo.ca
Remembering
Harvie Cocks
July 27, 1926 – April 14, 2021
Harvie said a peaceful good-bye on April 14, 2021 with his children and the Rev. Garth Bulmer at his side. In keeping with many of his life choices, he ended his life at 94 on his own terms through MAiD while still independent and engaged. Harvie was the loving husband of the late Catherine Ann Evans (Kitty Cocks), and father of Andrea (Ken Webb), Stephen, Hilary (Dean Flett) and Jane (Dave Hayward), and grandfather of Evan and Davis (Flett).
Dad had several successful careers, working long past the typical retirement age. He was a naval officer who fought in the Korean War, an executive in the federal public service, President of CS Co-op, a builder/renovator of homes, and financial advisor to the National Golf Course Owners Association. A highlight of his naval career was a 3-year term at Pearl Harbor on exchange with the US Navy. He and his family were also privileged to be stationed in Montreal, Halifax, Victoria, and London before he retired from the navy in Ottawa.
Harvie was a talented athlete with a strong commitment to fitness. He walked the talk — skipping rope on the decks of naval destroyers, organizing lunchtime volleyball on the base in Hawaii, or coordinating runs along the canal while at Department of Finance and Treasury Board. In retirement he became a staunch member of the Cross Canada Cycling Tour Society (CCCTS) and continued cycling up to 100 kilometres weekly until he was 92 years of age. His wife Kitty shared his love of outdoor pursuits, joining him on cycling trips in Europe, tennis, golf, cross-country skiing, and white-water canoeing adventures. He and Kitty were also expert bridge players.
Harvie's absence will be deeply felt. In lieu of flowers, donations can be made to the University of Ottawa Heart Institute (https://foundation.ottawaheart.ca).
Tours.
2021-S. Alberta Tour (2)
Status: 2 slots are available.
Dates: Fri, 10 Sep 2021 ‐‐ Sun, 19 Sep 2021

Beginning in Drumheller we will spend 2 days exploring the bad lands of Southern Alberta, the Tyrell Museum, Historic Coal Mine and Historic Rosedeer Hotel. Day 4 we drive to Waterton Lake National Park to enjoy the spectacular scenery, and ride in the area for 2 days. Day 8 we drive to Canmore where we'll ride and hike in the foothills of the Southern Rockies between Canmore, Banff & Johnson Canyon. There will be ample time to make a stop in Banff for lunch, coffee or just to browse around the area.

2021-South Alberta Tour
Status: Ride is full, wait list only.
Dates: Tue, 7 Sep 2021 ‐‐ Thu, 16 Sep 2021

Beginning in Drumheller we will spend 2 days exploring the bad lands of Southern Alberta, the Tyrell Museum, Historic Coal Mine and Historic Rosedeer Hotel. Day 4 we drive to Waterton Lake National Park to enjoy the spectacular scenery, and ride in the area for 2 days. Day 8 we drive to Canmore where we'll ride and hike in the foothills of the Southern Rockies between Canmore, Banff & Johnson Canyon. There will be ample time to make a stop in Banff for lunch, coffee or just to browse around the area.
Hub and Spokes.
New Members.
| first_name | last_name | city | province |
| --- | --- | --- | --- |
| Debbie | Hackett | Stittsville | ON |
| Elaine | Gervais | Vancouver | BC |
| Deborah | Meredith | Vancouver | BC |
Published at least ten times a year by The Cross Canada Cycle Tour Society, a non – profit organization for retired people and others who enjoy recreational cycling. 
Items for the NEWSBRIEF must be received by the 28th of the month. The Editor reserves the right to edit for clarity, brevity and suitability of publication. The views expressed in the "NEWSBRIEF" are not necessarily those of the CCCTS or the Editor.
Submissions for NEWSBRIEF should be emailed to alaird212@gmail.com