The Cross Canada Cycle Tour Society        April 2021,  Volume 38, Issue #4
Resumption of Weekly Rides
With the arrival of spring, many of us are looking forward to getting back on our bikes to enjoy exercising outdoors and the camaraderie of weekly club rides. Because the COVID numbers vary widely in the different regions and provinces, the board has left it up to each chapter to decide when it is safe to resume weekly rides. Provincial Public Health Orders (PHO) and the CCCTS COVID 19 National Safety Plan must be strictly followed with each re-opening of sanctioned rides. The board commits to regularly updating the COVID 19 National Safety Plan as the situation evolves. It is our hope that many of us will be vaccinated in the near future, allowing for further protection when cycling in a group. Check with your chapter ride coordinators to find out when weekly club rides will resume in your region.
Maureen Weston
Board member, Safety

The Dawning of the Age of E-Bikes
CCCTS welcomes the use of e-bikes on all weekly rides, tours and Hub and Spokes. As e-bike ridership within our club increases, this is a good time to review national and provincial regulations, the types of e-bikes currently on the market, and safety when mixing e-bikes with regular bikes on group rides.
Canada does not have a class system in place for electric bikes. Instead, all e-bikes in Canada cannot exceed 500 watts or 32 km/h. In Canada, e-bikes are allowed to have pedal assist as well as a throttle function. Federally, e-bikes do not need to be licensed unless specifically stated by a municipality. As recently as Feb 4 of this year, Transport Canada decided to repeal its definition of "power assisted bicycles" (PAB), leaving it up to the provinces and territories to define the multitude of new PAB vehicles and then regulate them and their users. This reluctance on part of the federal government to standardize categories of e-bikes has already led to a challenge in the BC Supreme Court (https://www.cbc.ca/news/canada/british-columbia/e-bikes-motorcycles-b-c-court-decision-1.5928169).
This confusion in BC over the definition of an e-bike may have been avoided if this province had adopted the Ontario Ministry of Transport regulations defining an e-bike:
steering handlebars
working pedals
a maximum braking distance of nine metres
an electric motor that cannot provide power assist at a speed greater than 32 km/hr and a power output not exceeding 500 watts
a maximum weight of 120 kg (including bike and battery)
the capability of being operated with muscular power
wheels with a diameter of at least 350mm and width of at least 35mm
a permanent label from the manufacturer in both English and French stating that your e-bike conforms to the federal definition of a power-assisted bicycle
Although there are currently many different models of e-bikes on the market, they generally fall into 2 categories: pedal assist (motor only provides assistance if rider is pedalling); and pedal assist and/or throttle actuated (motor is capable of providing assistance in part or exclusively by throttle). As previously noted in the BC Supreme Court ruling, some e-bikes with throttles may require licensing. Also, throttle powered e-bikes may not be allowed on trails in some provincial parks both in BC and Ontario.
I believe it is safe to say that most e-bike riders in our club ride bikes with pedal assist only. These bikes are becoming more and more popular for those who for health reasons or challenging terrain might choose to benefit from the electric assist. Couples who have different cycling paces can use an e-bike to stay together. Some members not only enjoy riding their e-bikes on club rides but also find they are a great alternative to driving the car for shopping, errands, etc.
It is wonderful to see many of our members becoming regular e-bike riders. Realizing this number is likely to increase, the board of directors recently took a look at our Safety Guidelines to ensure we have included relevant information to keep everyone safe. We have added 3 statements pertaining to e-bikes:
1.  Carry tools specific to your bike, and ensure you have enough battery charge to complete the ride.
2.  Maintain and support the group pace when leading.
3.  Use caution when passing on an uphill or in adverse wind conditions.
As with our COVID Safety Plan, the board will continue to keep you updated with any new and pertinent information regarding e-bike ridership in our club.
Happy (E)Cycling!
Maureen Weston
Board of Directors, Safety
Ride Registration Fees and Refunds – current Club Policies
Current Club Policies regarding refund of Ride Registration Fees are outlined in the October 2020 "CCCTS Ride Guidelines for Leaders and Participants" posted on the Club's website here: https://cccts.org/club-document/cccts-ride-guidelines-for-leaders-and-participants/.
Due to COVID postponements or cancellations of 2020 CCCTS ride events, registration fees were returned to registered cyclists. Section 4b on page 10 of the October 2020 Club Ride Guidelines: "Wait Listees and Refunds" describes the process under more normal circumstances.
"An applicant registering for a tour will pay the required registration deposit. If the applicant is placed on a wait list and wishes to withdraw, the registration deposit will be returned after the registration close date. If an applicant has paid the registration deposit, is accepted on the "Go List", then withdraws, and a replacement cannot be found, the RL will calculate expenditures made on the registrant's behalf and subtract this amount from the deposit. Riders who are accepted on the "Go List" are asked to make single or instalment payments. Payments for the tour are considered non-refundable. Participants who cancel may be refunded payments only if a replacement CCCTS member cyclist is found. Refunds of surplus funds to registered participants are made at the end of the Tour following the audit of the Tour's expenses by the Tours Auditor. See these Guidelines Section 7a.
For Hub & Spokes rides an applicant will pay the required registration deposit. If placed on a wait list and not accepted for the H&S ride the deposit will be returned after the ride has started. If an applicant has paid the registration deposit, is accepted on the H&S ride, then withdraws, the deposit will NOT be returned. H&S rides are not subject to a formal Club Financial Audit by the Club's Tours Auditor. See Ride Guidelines section 7b below for Hub & Spoke Director Financial review details and Appendix G #13."
See also Section 3c, page 9 of the October 2020 Ride Guidelines: "Required Ride Proposal Information" for Ride Leaders preparing a Hub & Spoke Ride Proposal reads:
"Hub & Spoke Ride Registration Fee: The minimum Hub & Spoke Registration fee per person set by the Board on Sept. 9, 2019 is $25. Do make it clear that the Hub & Spoke registration fee deposit is nonrefundable for all 'go list' participants. 'Wait list' participants who maintain their wait list position until after the Ride has started are eligible for refund of their H&S Registration fee. See Ride Guidelines Appendix C: Ride Participant Selection Process for definitions of "Go list" and "Wait list" participants. Refunds of a member's H&S Registration Fee is initiated by an email request to the Hub & Spoke Director (HD)."
STRIPE Fees deducted (3%) from Member Ride Registration Refunds
Refunds for any sanctioned CCCTS event will not include the charges that Stripe retains for handling the club's credit card transactions. CCCTS Board members have approved this statement to be included in future Club Ride descriptions. Please contact Tours Director, Doris Maron, marondm68@gmail.com or Hub & Spoke Director, George Zorn, gjzorn@shaw.ca if you have questions.
Our payment processor, STRIPE, has revised their refund policy such that a portion of registration fees are now non-refundable.  The amount withheld varies slightly but will be approximately 3%. 
This means that for an event with a registration fee of $25, if the event is cancelled or you fail to make the go-list, your refund would be about $24. 
Congratulations to the Membership Renewal Prize Winners!
Sherry Long
Thomas Vernon
Agnes Bokenfohr
Tim Musclow
Congratulations to you all. Enjoy your copy of "Let's Go Biking" by Colleen MacDonald, also a CCCTS member. Winners are a mixed group, ages range from 62-82. Some renewed at the last minute before Jan.31/21 or well in advance of the deadline. They are long term members (since 2005) or recent members (2-4 years). From Gabriola, B.C. to Nepean, Ontario.
Congratulations! Enjoy exploring new cycle destinations!
The moment it all went bad.
Chapter News.
Those folks who call Ottawa home (sorry Hull) might not be able to bike in the winter but it doesn't seem to hold them back.
What many Ottawa Chapter members do for winter fun.  We can't get enough of it!
Taken on a perfect xc ski day in the Gatineau Park in February.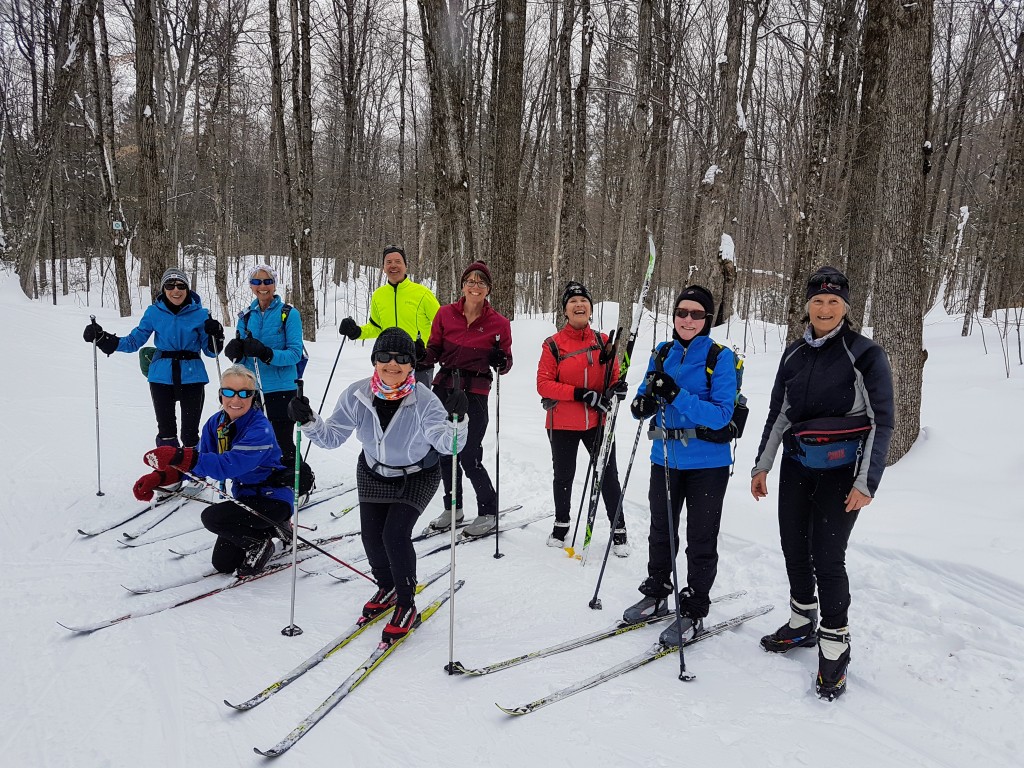 Marketplace
Road Bike – Norco Valence 54" Men's (M to L) 
2015? Alloy with carbon forks…see SPECS
As new, rarely used, stored indoors 
Purchased to experience road
cycling, but didn't enjoy
500 km at most.
In the Okanagan area.  (Salmon Arm)
$1200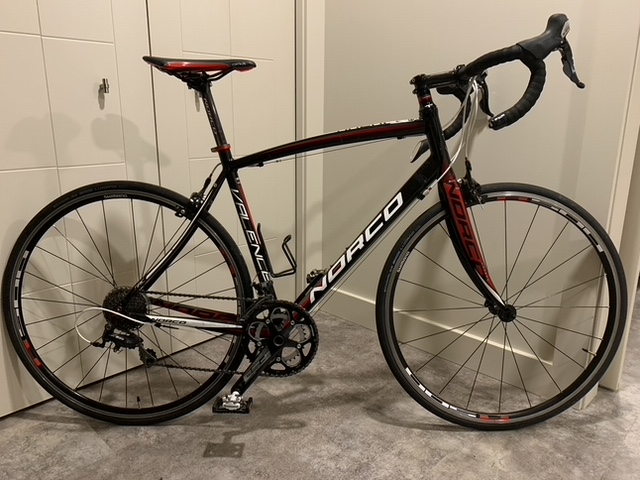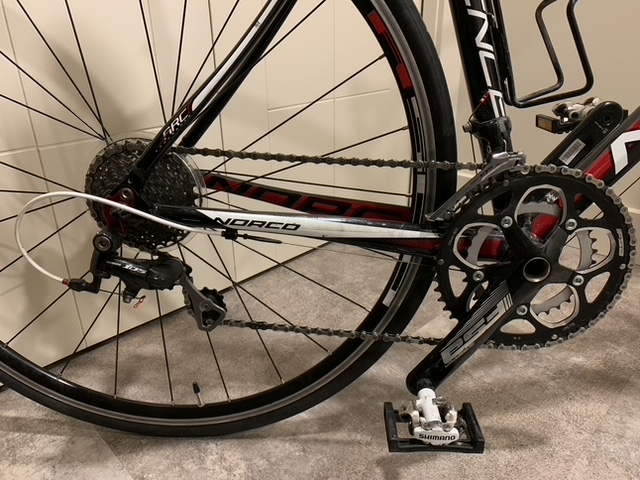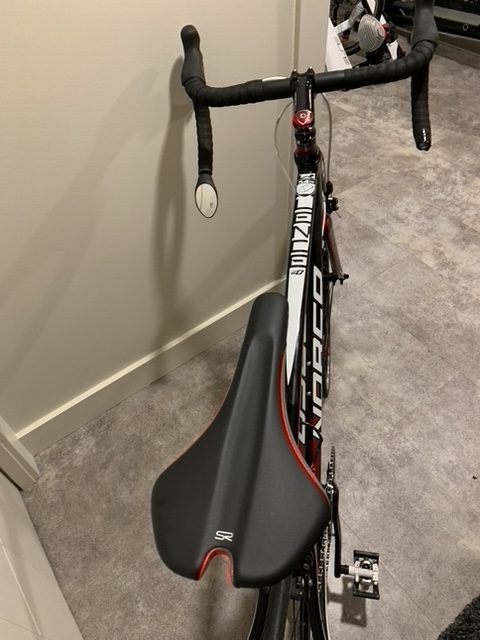 Call or text  Pat Danforth 250 833 8974
Apparently you have to be a member of the Bike Friday Cult to understand this next item.
Upcoming Hub and Spokes
Upcoming Tours.
2021-South Alberta Tour
Status: Registration opens Mon, 19 Apr 2021 8:00 AM
Dates: Tue, 7 Sep 2021 ‐‐ Thu, 16 Sep 2021Beginning in Drumheller we will spend 2 days exploring the bad lands of Southern Alberta, the Tyrell Museum, Historic Coal Mine and Historic Rosedeer Hotel. Day 4 we drive to Waterton Lake National Park to enjoy the spectacular scenery, and ride in the area for 2 days. Day 8 we drive to Canmore where we'll ride and hike in the foothills of the Southern Rockies between Canmore, Banff & Johnson Canyon. There will be ample time to make a stop in Banff for lunch, coffee or just to browse around the area.
Videos.
This looks amazing.
New Members
| first_name | last_name | city | province |
| --- | --- | --- | --- |
| Martha | Lush | Ottawa | ON |
| John | Lush | Ottawa | ON |
| Maureen | Lowery | Surrey | BC |
| Vicki | Ulibarri | Victoria | BC |
| Debbie | Hackett | Stittsville | ON |
Published at least ten times a year by The Cross Canada Cycle Tour Society, a non – profit organization for retired people and others who enjoy recreational cycling. 
Items for the NEWSBRIEF must be received by the 28th of the month. The Editor reserves the right to edit for clarity, brevity and suitability of publication. The views expressed in the "NEWSBRIEF" are not necessarily those of the CCCTS or the Editor.
Submissions for NEWSBRIEF should be emailed to alaird212@gmail.com