The Cross Canada Cycle Tour Society        June 2021,  Volume 38, Issue #6
Last month members received an email from the CCCTS Board of Directors recommending vaccinations for the COVID 19 virus to promote safety for all participants when weekly rides, hub & spokes, and tours resume.
The science behind the request for vaccination is clear: in order to reach herd immunity at least 70% of the population needs to be vaccinated. We feel it is our responsibility to support this goal, not only for the safety of participants in club activities, but to do our part to bring an end to the pandemic.
Rigorous protocols developed by Canada's top doctors and epidemiologists are in place to ensure a high degree of vaccine safety:
https://www.canada.ca/en/health-canada/services/drugs-health-products/covid19-industry/drugs-vaccines-treatments/vaccines/development-approval-infographic.html
http://www.bccdc.ca/health-info/diseases-conditions/covid-19/covid-19-vaccine/vaccine-approvals-development
Thank you to everyone who commented on the email. All respondents except one were supportive of members becoming fully vaccinated as soon as possible. Some respondents would like the club to require proof of vaccination to participate in club activities; this is a topic for further discussion at the board level. As always, your board will examine all aspects of this issue before making any recommendations to the membership.
The future looks hopeful: both the BC and Ontario governments have recently announced staged plans for lifting restrictions, based upon a continued increase in vaccination rates. Here are the highlights as related to cycling:
In BC physical distancing is no longer required for participation in outdoor group sports. This means that it is no longer required to maintain a 3-meter distance between riders. The limit on the number of cyclists in a group has also been lifted. https://cyclingbc.net/news/2021/05/25/bcs-restart-plan-update-may-25th/
Travel within BC may be allowed as early as June 15 if 65% of the population is vaccinated. This will enable our June Hub and Spokes to proceed.
Ontario will be allowing cycling in groups of up to 10 beginning the week of June 14 if the vaccination rate reaches 60%. https://www.ontario.ca/page/reopening-ontario#section-2
Maureen Weston, Board member (Safety)
A Message From Membership director Jenni Lynnea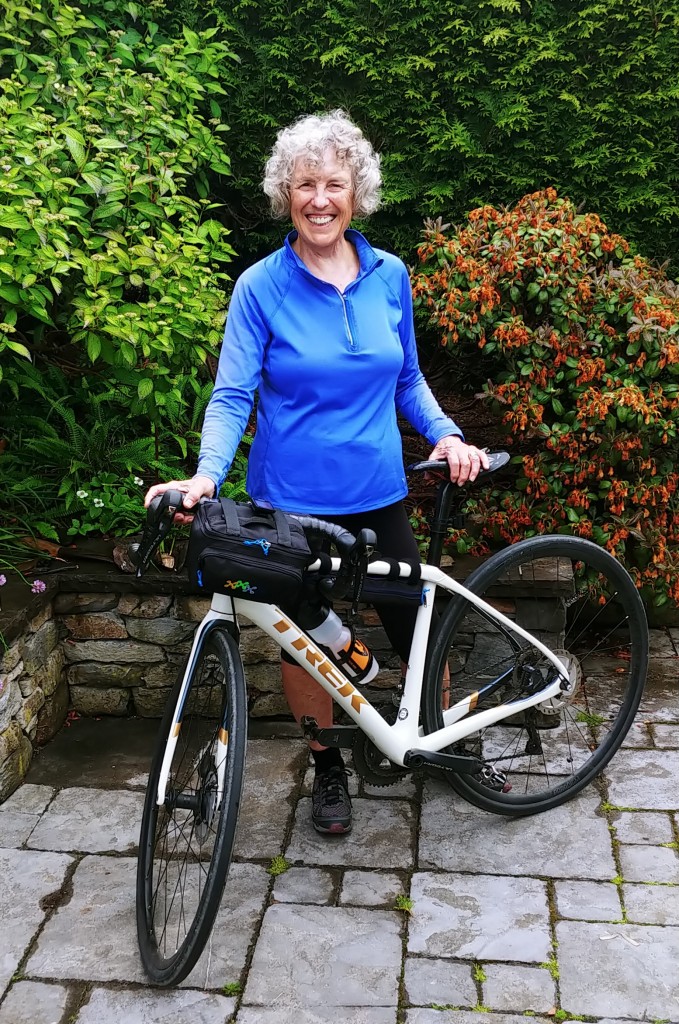 529 Garage
Do you know about this bike registration? It's free, online, and helps protect against bike theft or helps get your bike back. It's "community watch" for your bike. Started in 2013, it's the largest bike registry.
Every 30 seconds somewhere a bike is stolen. You don't want it to be yours!
Register, report, recover. That's basically the system. You register your bike online for free, with the serial #, photo of the bike and photo of you and the bike. If your bike is stolen, you report it online, and hopefully someone will realize it might be stolen, and you can get it back. Good news story.
Optional, but very helpful is the tamperproof sticker from 529 Garage. This notifies both the potential thief it's registered, and if stolen, can be a way to return it to the owner. It can also be helpful for police reports, insurance claims or selling your bike, even for posters or social media posts.
Many communities have partnered with 529 Garage to make it available, police, universities, and communities sponsor events to register your bike. Or you can do it individually at your convenience.
I just bought a new bike, and serious lock, but also wanted to register. Previously I'd registered my other bike as part of a police registration event. So I knew I could do it all online, but I also wanted the sticker. Helpfully you can order it online from Amazon, or check the map on the website for other local registration locations. My local bike shop had kits for $12. But I noticed our local police were also a contact. After a quick phone call to them, my sticker was in the mail, free.
And if you sell your bike, registration can be transferred.
If you see a 529 sticker on a bike for sale, be curious. Is it too good to be true? Maybe it legally belongs to someone else. And you can be part of the process of recovering it to the owner. Take a photo, ask questions, don't take any risks.
Yes, you can register more than one bike! Maybe that's why it's called 529 Garage?
Video
For our friends in Ontario who say they cant ride in the winter.
What Happens When Two Strangers Trust the Rides of Their Lives to the Magic of the Universe.
Part 2
After a few hundred miles, Leon and Carsten decided to part. It was for the best. "With Carsten following his GPS and me following Carsten, I've effectively stopped thinking," Leon said. "Whilst progress has been quicker and more efficient, it has effectively ceased to be my adventure."
A day or two from the Chinese border, Leon's rear hub began to squeal. Getting to a bike shop 500 miles away took 10 hours on an overcrowded sleeper bus whose driver screamed "Fack you Inglishi!" In the city, the mechanic fixed the problem—no charge. On the bus ride back, he met a young man leaving the university "because I'm always anxious and afraid and my head is sick." Leon replied, "I know how you feel, mate."
But the Tao of travel ensured that for every yin moment, there was a yang. No shadow can exist without light.
In Kyrgyzstan, Leon met a mother who was raising four children on a roofless platform that served as living room, dining room table, and family bed. Leon joined them on the bed-thing for a simple meal of melon, bread, and tea. They asked for no payment, but Leon gave them cash, a flashlight, and a few family portraits he had printed in town.
While napping by a tranquil lake, Leon was awakened by a drunk man waving a serpent in a bottle. Miming across the language gap, the man conveyed his desire to cook the snake, which he believed to have medicinal qualities that would heal his bad knee. He reconsidered this plan when a waitress, seeing the serpent, screamed and ran away.
In Uzbekistan, a woman with gold teeth gave Leon brand-new socks and lollipops. That same day, after showering in a leaky irrigation channel, he was invited to tea at a local's house. Four generations welcomed him into a lush courtyard, passed him babies, and fed him grapes growing on the arbor above. Days later, another meal left his body "alternately evacuating itself from both ends."
Leaving China, Leon traced the border of Uzbekistan and Turkmenistan, where the Kyzylkum and Karakum deserts meet. One morning he woke up to two flat tires and ended the day with a broken tent zipper, through which he fed the mosquitoes. The next day, British chaps in a battered Mongol Rally racecar gave him one of their tents.
On a Sunday morning in August, Leon awoke at dawn in the last oasis of civilization before the longest stretch of emptiness. He loaded up on water and entered the desert, pedaling toward the Caspian.
After crossing the Caspian Sea, Noel would not see another major body of water for 5,000 miles. He would stay on the same road through western China for half as long. As the days grew shorter, the nights would grow colder. He would boil bottles of water to put in his sleeping bag. He would wake under veils of ice formed by his frozen exhalations.
He would face his hardest day and his darkest night alone in the Chinese desert. After seeing a rare intersection on his map, he would ride furiously toward the crossroads, which gave him hope for a meal, a warm bed, or at least a peasant selling drinks. His body would be a machine, fueled by a handful of nuts, able to go 80 miles without stopping.
Racing the setting sun, he would stop only to pee or flag down a truck when he ran out of water. As dusk fell like a curtain on an empty theater, he would crest the final hill before the crossroads, only to arrive at…nothing.
"Just two roads meeting in the desert."
At the end of this longest day—113 miles over ten and a half hours—he would pitch his tent in the dark and fall asleep without eating. But he would not break. Or even come close. Not here, not once in months of pushing farther and harder than he knew he could, would he ever glimpse his limit.
Somewhere around mile 11,000, Leon approached his limit. It wasn't his body. It was his bike.
He was two days into a 10-day stretch of desert in the middle of Central Asia. To make room for 30 pounds of water—enough for two or three days—he had ditched his warm coat and other belongings. Ahead lay six hundred miles of desert and steppe, a treeless desolate grassland. Most bicycle tourers took buses and planes to bypass this hopeless void.
That would have been "the sensible option," Leon mused, "considering the heat, hundreds of kilometers without towns or water stops, Soviet uranium dumps, and occasional outbreaks of bubonic plague along the way."
As he entered this vast stretch of emptiness, Leon heard a foreboding sound: PING!
It was the sound of a breaking spoke. "This was my worst nightmare," Leon said. "Overloaded with water and on the bad roads ahead, breaking spokes was my greatest fear." There would be no bike shops in the desert. No buses to catch to nonexistent towns.
"But what could I do?" Leon lamented. It was his own fault, he knew, for embarking without the tools or knowledge. "But sod it, I was going to throw caution to the wind and keep going till I couldn't go on any further, and then, who knows? After all, it was only 1,000 kilometers of inhospitable terrain in furnace-like heat, with just a few possible water stops. Shouldn't be too bad."
A few miles later, another PING!
Then another.
And another.
Under the weight of his panniers, his rear wheel sagged badly out of true. The circle no longer a circle, his bicycle was limping. Pedaling against a rubbing brake and the added insult of a crosswind, Leon could hardly move faster than walking. He passed a turtle trying to hide in the shade of a blown-out tire.
The next real city, on the Caspian Sea, was 800 unpaved miles ahead. Would his bike rattle to pieces before he could reach it? At this pace, would 10 days of desert stretch into 20? Did he have enough food? Would he run out of water?
In the inane vacuity of this desperate place, existence became existential. He was fiercely present, running on instinct, living "moment by moment at a higher pitch." His fate lay in his hands alone, his future hinging on every decision, and "the sheer lack of options was itself the liberating factor."
By and by, a building appeared on the horizon, a concrete island in a sea of dust. Water! After four hours of labor, he reached a decaying structure with a few petrol pumps overseen by a boy. He asked the boy for water and was shown to a pipe coming out of the ground. Uranium contamination, he thought, and rode on.
Three days from now, Leon will meet another cyclist in this sea of dust, and the alchemy of that meeting will remind him that "there is an almost magical aspect to life, but to find it one has to go to the edge and expose oneself to the possibility."
Unable to see this glimmer of hope on the endless path ahead, he begins to think the unthinkable:
"I'm never going to make it."
Not once would it occur to Noel there was a chance he might not make it.
The question was, would he make it in time? He had a self-imposed deadline, a promise to keep. There was a woman waiting on the other side of the world, and he said he'd be home for Christmas.
After meeting Leon, Noel would race against time, crunching his stats at the end of the day, counting down sunsets, ticking off miles. He had planned to finish in Singapore, the farthest point he could find from where he started in Portugal. But as the deadline neared, he would revise his target, first to Vietnam, then to Hong Kong, and finally to Shanghai. What mattered most was riding ocean to ocean.
One wind-whipped day in November, on the eve of his 28th birthday, Noel would stand alone on the edge of China, gazing over the pewter sea. With his bike and his camera as his only companions, he would film a little victory speech.
"Well, after crossing deserts, climbing over mountains, riding through valleys, and across plains, here I am—at the Pacific Ocean." Fifty pounds leaner, cleanly shaven, he would look like a younger version of himself, as if he had ridden time into reverse. He would look to the horizon and say, "There's nowhere else to go."
With gray waves pounding the riprap, he would level his camera, stand by his bike, and shake a cheap bottle of Chinese champagne. He would twist the cork and the cork would break, and he would shrug and laugh. "Well," he would say, to no one in particular, "that was anticlimactic."
WATCH: NOEL'S VICTORY SPEECH
This is how Noel's ride—287 days from coast to coast, 175 days in the saddle—would finally come to an end. Total mileage: 10,610. Almost a palindrome.
Along the way, his future had come into focus: go home, get married, and take over his father's bike shop. After 10 months of riding and dreaming, he would return to the woman who waited. But he would find that in his year away, the world at home had changed. Their relationship would slowly unravel. For Noel, the struggle lay not in the journey but the price he would pay in the aftermath.
"Had I been too selfish, too focused on my own needs on the far side of the world?" This question would remain "the painful scar on an achievement that was otherwise wholly fulfilling."
He would ride through Canada, Iceland, Patagonia, and Alaska. He would meet another woman and marry her. Ten years after the meeting, he would be looking ahead to the 50th anniversary of his late father's business, which would grow into nine bike shops. Only close friends and family would know about his odyssey, because he almost never spoke of it.
"You do something like this and you're supposed to have an epiphany," he would say. He would not have an epiphany. He would wonder: "Did I fail?" No, he would decide.
"I went on a bike ride, and that's enough."
In the Czech Republic, Leon would pore over a map, an act that had become a near-religious ritual. He loved tracing his path behind him and deciding the route ahead. There was a part of him that was ready to finish, but also a part that yearned to keep going. "Could I get to the Arctic Circle?" he mused. On his map he saw new lines to be drawn, new mountains to be conquered. "My map was a two-dimensional representation of possibility, and the longer I looked at it, the more the possibilities multiplied."
The next day, riding toward Prague in the pouring rain would dampen this enthusiasm. His deified notions about the "Grail-like romanticism of the eternal ride" would give way to the desire to be warm, dry, and still.
One soggy night in November, with rain and darkness as his only companions, Leon would pedal into Berlin. Lost on mysteriously empty roads, soaked to the bone, he would find his way to the city center, where he a crowd would be celebrating the 20th anniversary of the fall of the Berlin Wall.
He would wake up and decide, for the first time in 15,376 miles and 402 days, he could not bear to get on his bike. Back in Europe, the adventure would fizzle. The ride would feel like a chore. He would realize: The quest is over.
Hoping to resolve this strange malaise, he would take a train to Hamburg to visit Carsten, the German he'd met in China. But the spell would be broken. He would fly home to England, leaving his bike in Carsten's tiny apartment. With Leon's permission, his friend would throw the bike away.
Leon would spend a year in England doing odd jobs, fighting ennui, and feeling homesick for the endless road. He would even miss the parade of horribles that made for the rough days and epic tales.
He would visit Afghanistan and North Korea, walk across the U.K., and move to Manchuria in search of "the thing that had made me feel so alive." Ten years after the meeting, he would be finishing his eighth year teaching at a Chinese university.
Would he ever find it again, the thing he had chased across a continent?
"Sometimes, if I keep moving."
This future hangs in the balance, beyond the horizon, as Leon meets Noel.
On this August day, under the noon Kazak sun, Leon rides up to the chaikana and sees Noel walking out. The two men stop and stare at each other. Could this be a mirage?
"What the hell are you doing here?" Noel says to Leon.
"What the hell are you doing here?" Leon says to Noel.
Here is Noel, a Sagittarius, born on a Monday in the Chinese year of the Rooster. Here is Leon, a Virgo, born on a Tuesday in the Chinese year of the Dog. Incompatible under both zodiacs, antithetical in many ways. But here they are, colliding in a moment of perfect synchronicity. As if their stories were, indeed, written by one hand.
"My bike is falling apart," Leon says.
"I would love to help you," Noel says, "but I don't have the right tools."
Leon shows him the spoke key. "I have the spokes, too."
"Why didn't you just fix it?"
"I don't know how."
Noel runs his hands around Leon's wheel, feeling for spots where the balance is off. With each twist of the key, he restores the pivotal harmony of diametric forces, adjusting the tension of 32 spokes so the circle is perfectly true.
They go into the chaikana and share a meal. Sitting on a carpet, like camel drivers, they swap information about water and share stories about the desert.
They laugh about their inverse names and parallel sagas, but they don't make too much of it. The "cosmic improbability," as Noel describes it, will not occur until later. It soon comes time to go their separate ways, drawn onward by the call of the road. They say goodbye, never to meet again.
On a lonesome road in Kazakhstan, two men diverge in the desert. One is riding into the sun. The other is chasing his shadow. Each finding his own true way through the world, they move toward opposing horizons, lone travelers crossing the hemisphere on circles turning circles.
The End
Tours
2021-S. Alberta Tour (2)
Status: Ride is full, wait list only.
Dates: Fri, 10 Sep 2021 ‐‐ Sun, 19 Sep 2021

Beginning in Drumheller we will spend 2 days exploring the bad lands of Southern Alberta, the Tyrell Museum, Historic Coal Mine and Historic Rosedeer Hotel. Day 4 we drive to Waterton Lake National Park to enjoy the spectacular scenery, and ride in the area for 2 days. Day 8 we drive to Canmore where we'll ride and hike in the foothills of the Southern Rockies between Canmore, Banff & Johnson Canyon. There will be ample time to make a stop in Banff for lunch, coffee or just to browse around the area.

2021-South Alberta Tour
Status: Ride is full, wait list only.
Dates: Tue, 7 Sep 2021 ‐‐ Thu, 16 Sep 2021

Beginning in Drumheller we will spend 2 days exploring the bad lands of Southern Alberta, the Tyrell Museum, Historic Coal Mine and Historic Rosedeer Hotel. Day 4 we drive to Waterton Lake National Park to enjoy the spectacular scenery, and ride in the area for 2 days. Day 8 we drive to Canmore where we'll ride and hike in the foothills of the Southern Rockies between Canmore, Banff & Johnson Canyon. There will be ample time to make a stop in Banff for lunch, coffee or just to browse around the area.
Hub and Spokes
New Members.
| first_name | last_name | city | province |
| --- | --- | --- | --- |
| Patrick | Haney | Victoria | BC |
| Caroline | Allen | Kanata | ON |
| Sharon | Johnstone | Burnaby | BC |
Published at least ten times a year by The Cross Canada Cycle Tour Society, a non – profit organization for retired people and others who enjoy recreational cycling. 
Items for the NEWSBRIEF must be received by the 28th of the month. The Editor reserves the right to edit for clarity, brevity and suitability of publication. The views expressed in the "NEWSBRIEF" are not necessarily those of the CCCTS or the Editor.
Submissions for NEWSBRIEF should be emailed to alaird212@gmail.com