Oceanside 1 Hub and Spoke, January 7 – January 13, 2020 Trip Report
written by Lani Schultz with contributions from fellow cyclists
The first 2020 Oceanside Hub and Spoke tour was completed. Our group of valiant cyclists have returned to their homes and most likely back to their routines, counting their blessing for skipping a major B.C. snow storm, including shocking piles of snow on their driveways. However, the memories linger. Looking back, we feel very fortunate we escaped from the northern cold snap to the sunny southern California shores!
Thanks to the dedicated work of Holly and Ken, the trip was a big success. The weather was superb, albeit a bit chilly after sunset. The scenery was gorgeous, the bike paths were wonderful. Utilizing the Coastal and Sprinter trains was a great idea, enabling us to go farther and beyond the vicinity of San Diego. Everyone seemed happy and blended well. The group dynamic was superb. Although we didn't arrive on the same day, by Tuesday afternoon (our first ride day) we were all eager to venture out, to test our bikes, to inhale the ocean air and to bask in the warmth of the sun along the shorelines.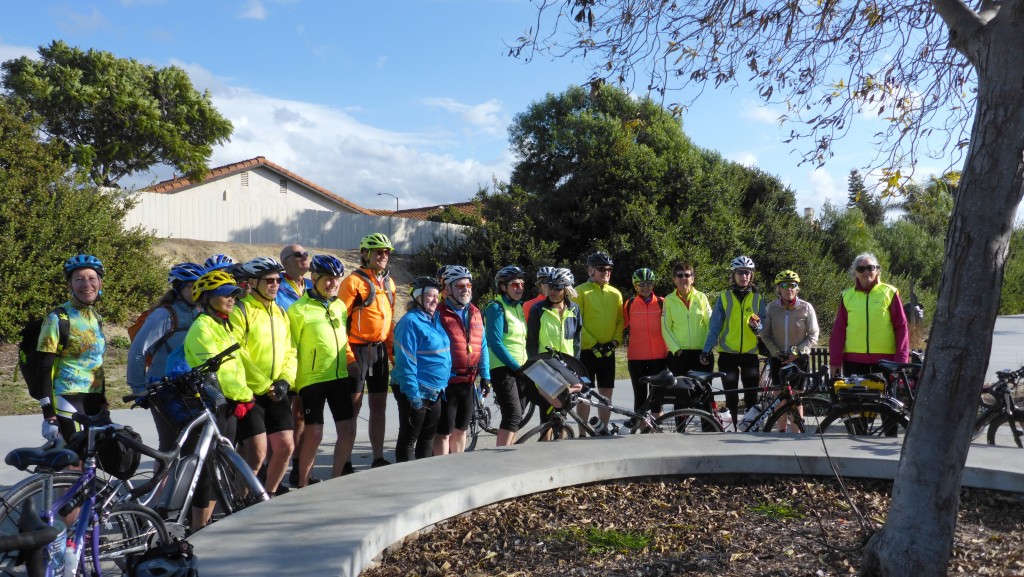 Bernie Phillion photo
The Intro Loop Tour, 27 km of relatively flat cycling, followed the coastline of Oceanside, where we checked the local seal populations, the harbingers of a working harbour. We watched the incoming waves carrying surfers, with the wind caressing our gleeful faces, like a child tasting its first candy. After cycling a loop of the harbour, we headed inland via the dedicated bike paths, which looped into the Riverside Trails, cutting through beautiful properties and gardens, along the highways and secondary roads, mingling among local wildlife. We even witnessed a street-smart coyote crossing the highway while we were waiting for a traffic light. We returned to our base, the Best Western Plus, which proved to be in an excellent location. We felt content, knowing that our bikes were in top form and that our bodies and spirit were ready to shed the recent holiday indulgence.
Our nightly meet and greet "Happy Hours" were a great way to socialize and enjoyed pre-dinner snacks and refreshments, while paying attention to the following day's routes. Ken was extremely economical with his time. For introductions, we were allowed only to state our names and hometowns. Grandchildren bragging rights were strictly forbidden!
Utilizing the Coaster and Sprinter trains was an excellent way of reaching farther away areas while still enabling us to tackle the hills and cruise the descents. The routes covered not only the long, beautiful coastlines of Southern California but also industrial and residential areas, parks and malls. Unfortunately, the Metrolink was not running on the weekend, due to track maintenance, but we were able to board the buses, amazingly, with all our bikes included!
Every day, we headed into a different area, including Mission Bay, Santa Fe Station, San Marcos, Escondido transit Centre, Irvine, San Clemente, Dana Point, Laguna Hills, Laguna Niguel, Solana Beach and Carlsbad.
One route added some challenges with a long steady climb to Torrey Pines and a visit to Lawrence Welk Resort, which proved to be our favourite ride. From Bonsall, our intrepid "Magnificent Seven" conquered the hilly route: "Sleeping Indian". They were rewarded with an exhilarating downhill to the bike path, where the rest of us had been waiting.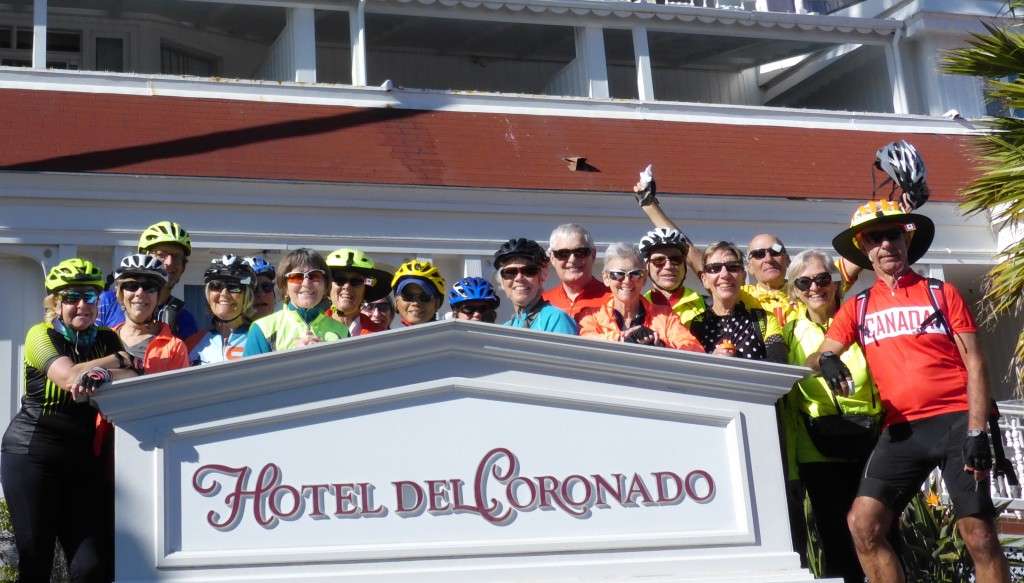 Bernie Phillion photo
The visit to the Hotel Del Coronado lifted our spirit, cancelling the disappointment of failing to reach the Mexican border due to a flooded road. Built in 1880's, the Hotel Del Coronado was splendid. The view was breathtaking. The inside was spectacular, especially the crown tiara lightings, which were inspired and designed by the same artist who created the "Wizard of Oz". We also cycled through salt processing ponds and the US Navy base.
Coffee breaks were always set in convenient locations with ample facilities. One of them was a funky cafe, next to the Bayshore Bikeway, which displayed unique menus for coffees, such us 'Siren Ring', 'Son of a Son of a Sailor', 'Damn the Torpedo', to name a few.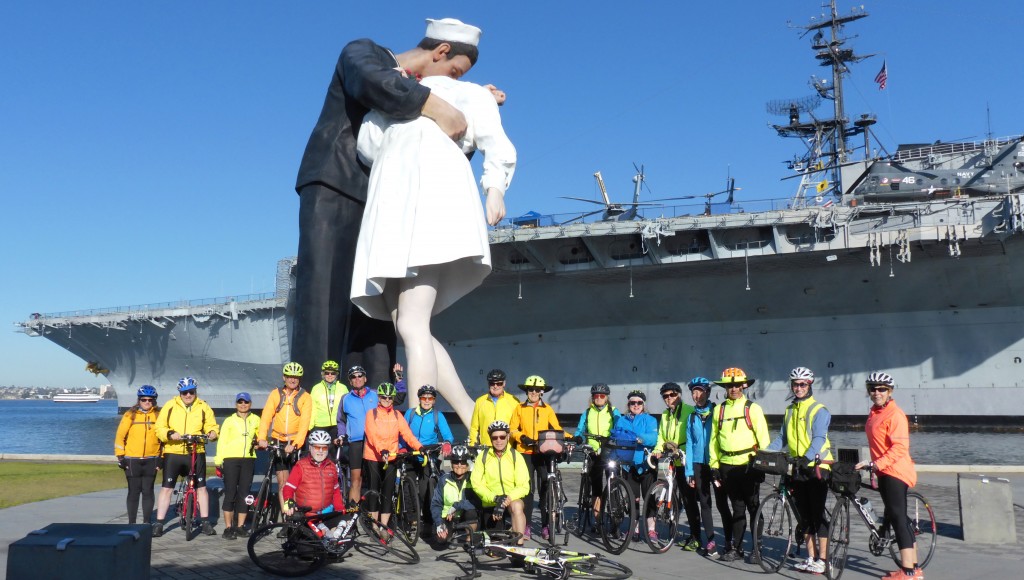 Bernie Phillion photo
Our lunch stops were at beautiful beaches and parks with plenty of restrooms and picnic tables. Of course, we didn't miss the Bob Hope Kissing Sailor statue and the Midway Aircraft Carrier, moored in downtown San Diego. Leaving Coronado Island by ferry gave us a different view of the San Diego harbour and the Midway. We were also able to walk around quaint small towns, like San Juan Capistrano. There we visited Missionary Museums and a Mexican Bakery. A side trip to Costco shortened the wait for the bus and the Trader's Joe lunch break was a delight in a small, beautiful park in the middle of a mall. We also stopped at Albertson's and some other groceries stores, plus numerous Starbucks outlets.
On Sunday, with no train running, we cycled to Faraday Ave, a beautiful, quiet industrial area with some challenging hills. We returned on a long bike path through Encinitas, Carlsbad and Oceanside, back to our hotel.
Unlike distance running, where one must focus one's sight on the road ahead, cyclists are able to look around, spotting interesting signs, people, vehicles, incidents, etc. We noticed the long lineup of delivery vehicles to the US Navy base, the scenic Bayshore Bikeway, the awesome views along the way, and the significant bumper sticker: "PRO GOD PRO LIFE PRO GUNS"
Aside from some tire flats, the trip was trouble free due to the superb organization and leadership skills of Holly, Ken, Dianne and Brian. There was one incident on Sunday, not involving our group. Some of us who witnessed this incident were shaken up by what we saw: A young couple were cycling on the wrong side of the road toward our group, when the wife, who was pregnant, lost control of her bike and crashed, lo and behold, she stood up quickly and assured her concerned partner that she was just fine. That's the spirit of youth which we all continue to possess in our current stage of life!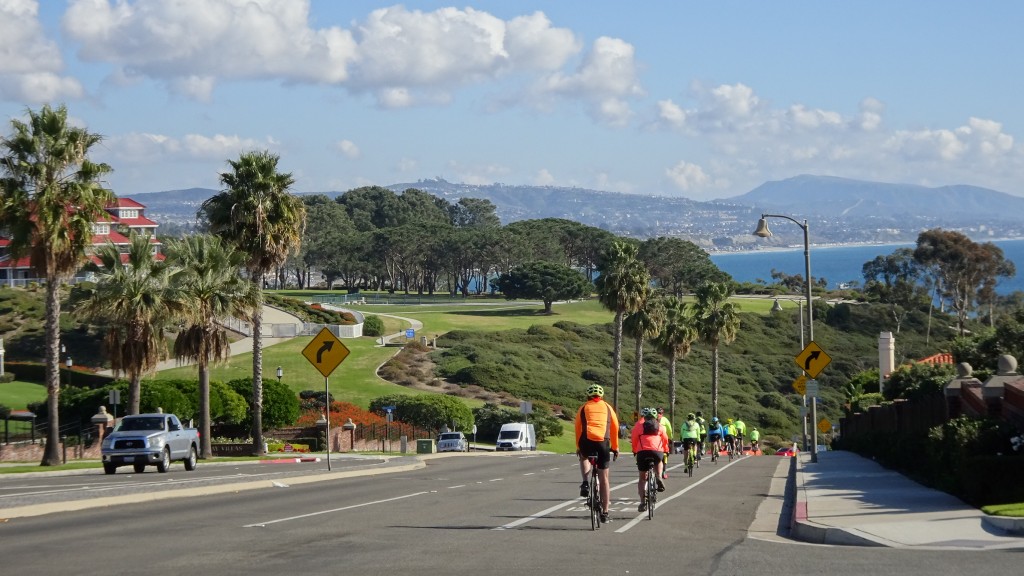 Larry Wilson photo
Above Photos Contributed by Bernie Phillion and Larry Wilson
Links to more Trip photos: by James Kennedy by Larry Wilson