Leader: Nel Ahmed 613-592-2891
Co-leader: Geoff Kennedy 613-232-6642
Trip Dates: Sun, 25 Sep 2022 -- Sat, 1 Oct 2022
Trip Classification: Intermediate
Trip Fee: $25 CAD
Trip Numbers: minimum 1 , maximum 40
Trip Registration Opens: Mon, 4 Jul 2022 5:00 PM (pacific time)
Registration Lottery Ends: Thu, 7 Jul 2022 5:00 PM (pacific time)
Trip Registration Closes: Thu, 15 Sep 2022 6:00 PM (pacific time)
Ride Description:
Welcome to Granby in the beautiful Eastern Townships of Quebec where the National Capital Region is planning to have a H&S from Sunday September 25 till Saturday Oct 1.
Granby has a population of approx. 66,000 and is home to the famous Granby Zoo.
The closest airport to Granby is Montreal International airport, approx. 80 km from Granby.  Like everything nowadays, even car rentals are in short supply, so it is advised to book well in advance, if needed.  Remote starts requiring cyclists to load their bikes a bike rack to drive out of some distance from Granby are not anticipated, unless there is some special route identified that we must do.
Although we haven't finalized all of the routes yet, there should be a long and shorter choice for each day. Long would be 70 to 100 kms, Short 55 to 70 kms. As for elevation gains - the present planned range is from about 200 m to 800 m with an average of 350 m.
Here are three YouTube Video links to Granby, PQ area cycling to "get your pedals turning":
Granby tellement vélo - 27 sec.:
https://www.youtube.com/watch?v=BSIpHf5B7Ac

Tourisme Granby - Automne 2020 - 38 sec.:
https://www.youtube.com/watch?v=15ZxYdehZ60
The Petite Aventure 2020 - Bon temps et souvenirs inoubliables - 69 sec.
(Good times and unforgettable memories) - The event stopped for 2 nights in Granby: https://www.youtube.com/watch?v=KyJcG21WA3s
Accommodation Reservations: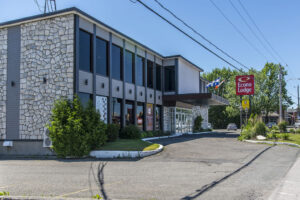 Accommodation will be at the Hotel Le Principal, tel. 450-378-8406, 700 Rue Principale, Granby, QC, J2G 2Y4, www.hotelleprincipal.com.  The cost per room for a room with 2 beds is $154,  plus applicable taxes. The cost for a room with one bed is $144, plus applicable taxes, both single or double occupancy. A continental breakfast is included. When booking a room mention the ref number EV-310 and that you are with the CCCTS.
Once your registration for the Hub & Spoke has been accepted you are requested to make your own reservation with the Hotel Le Principal. The rooms have been block booked until July 29. The cancellation policy for individuals is 24 hours. Bikes can be stored in the rooms.
Riding Conditions:
There will be a variety of rides scheduled for each day, mostly on quiet paved roads and bike paths. The Eastern Town ships can be hilly. There will be easier and more challenging rides proposed for each day, each with a leader and a sweep.
The fall colours should be making an appearance by then.
Participants will be informed prior to the start about our plans for the first day. Participants will  receive the various ride route maps, cue sheets and profiles digitally via the Club's Ride with GPS Route Library. Printed copies of all routes will also be made available.
Bike rentals are available at  Sports Aux Pubes VeloGare, 71 Denison East, Granby,
Website: www.sapvelogare.com  , E-Mail: service@sapvelogare.com ,  Phone: 450-777-4438
Fee Includes:
The $25.- fee will cover the organizational costs, as well as provisions for route maps and cue sheets.
Fee Does Not Include:
The fees do not include happy hour supplies, the cost of meals or individual expenses of individuals.
Registration and Participant Selection:
A Registration Lottery will be on the CCCTS website between July 4, 2022 at 5 p.m. PACIFIC to July 7, 29022 at 5 p.m. PACIFIC as shown above. A computerized lottery system and waitlist will be utilized if the ride is over-subscribed (maximum 40 cyclists). A $25 CDN payment is required at the time of registration. The lottery signup will run for 72 hours, after which the Ride Leader will review the results. 
The selection process will consider the following criteria in evaluating candidates:
fitness and riding ability and experience required for the tour,
a history of demonstrating safe riding practices,
acceptable social behavior.
The leader may interview riders or others who know them to verify their suitability for the tour.
The leader will notify registrants of their selection status. If the ride is filled (maximum 40 cyclists)  registration will continue until the Registration closing date of September 15, 2022 shown.
Payments are considered non-refundable in the event of cancellation, unless you choose to remain on the Wait list until after the Hub & Spoke start date or due to PQ Public Health Officer COVID restrictions or Ride Leader cancellation for safety reasons or road access issues.
 If an applicant has paid the registration deposit, is accepted on the H&S ride, then withdraws, the deposit will NOT be returned.
*** This Club event will follow the most current CCCTS Staying Safe: COVID 19 Guidelines for 2022
Participants
:
Nel Ahmed, Caroline Allen, Dave Audette, Angela Bourne, Bill Bourne, Mary-Frances (France) Brule, Bob Cavan, Jo Jo Chapman, Marion Cousins, Rick Cousins, Bonnie Evoy, Dale Featherstonhaugh, David Featherstonhaugh, Tom Gibson, Linda Graupner, Peter Haggerty, Lina Halle, Lori Henley, Nancy Hough, Paul Hough, Susan Johnson, Geoffrey Kennedy, Elly Khazaei, Thom Harvey Kline, Carole Laflamme, Anna Lenk, Bill Lumley, Jenni Lynnea, Monna-Leigh McElveny, Tim Musclow, Linda Parsons, Joan Potter, Richard Potter, Odette Regimbal, margo roden, Robert Roden, Don Taylor, Richard Tobin, Donald Robert Trenholm, Phil Valois, Tom Wiley, Barbara Wilson