Leader: Janet Whitehead 604-516-9455
Co-leader: Annemieke Quinn 778-689-8984
Trip Dates: Thu, 7 Jul 2022 -- Mon, 11 Jul 2022
Trip Classification: TBC
Trip Fee: $40 CAD
Trip Numbers: minimum 35 , maximum 50
Trip Registration Opens: Sat, 12 Feb 2022 9:00 AM (pacific time)
Registration Lottery Ends: Tue, 15 Feb 2022 9:00 AM (pacific time)
Trip Registration Closes: Thu, 23 Jun 2022 12:00 PM (pacific time)
Ride Description: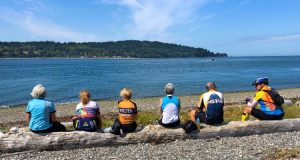 The H&S starts on the evening of Thursday July 7 at 7pm with an orientation, social and ride sign-up at the historic Elgin Hall in South Surrey. The 4 days of rides will commence on Friday in various locations in the Greater Vancouver and Whatcom County areas (border restrictions permitting). There will be daily ride options to choose from - quiet country roads in the Fraser Valley and south of the border to more urban rides along a network of bike paths and designated routes in Richmond, Vancouver and beyond. Special interest rides may include gardens, public art and/or historical sites. Start locations of the routes will vary. 
Please note:  A casual ride of approximately 2 hours may be offered prior to Thursday's meet and greet. 
Accommodation Reservations:
Hotel:
Coast Hotel & Convention Centre
20393 Fraser Highway, Langley
CCCTS price per room is $145 per night if booked before June 7, 2022. Price includes Parking & $10 coupon for Starbucks. The Hotel is located in the heart of downtown Langley with restaurants and coffee shops close by.

Camping:
Fort Camping
9451 Glover Road, on Brae Island in Fort Langley
Partial and full hook-ups $45 - $55 per night
Basic camping cabins $125 per night
Within walking distance to restaurants, coffee shops and services

Billeting:
Limited billeting will be available
Riding Conditions: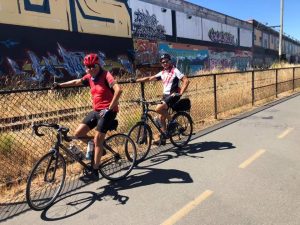 Ride conditions vary from quiet country roads in the Fraser Valley and south of the border to more busier roads with shoulders, designated bike routes and bike/multi-use paths and trails.  
Fee Includes:
RWGPS link for all routes
3 Socials: snacks provided
CCCTS Water bottle
Fee Does Not Include:
Accommodation & meals
Transportation to ride locations
Registration and Participant Selection: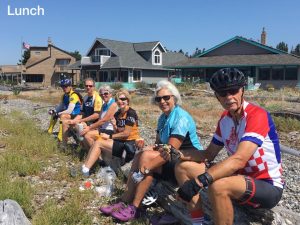 Preference for registration will be given to out of town members and will be given the opportunity to register early.
Ride Registration Lottery is for members living outside the Greater Vancouver Area and opens on February 12th at 9am, closing February 15th at 9am . 
Once the lottery closes, registration will remain open to all members until June 23.
This Club event will follow the most current CCCTS Staying Safe: COVID 19 Guidelines for 2022. https://cccts.org/club-document/staying-safe-guidelines-for-2021/
Registration through the CCCTS website on dates shown. A computerized lottery system and waitlist will be used in the event that the event is over-subscribed. A $40 CDN payment is required at the time of registration. The lottery signup will be open run 72 hours, after which the Ride Coordinators will review the results.
The selection process will consider the following criteria:
fitness and riding ability and experience required,
a history of demonstrating safe riding practices,
acceptable social behavior.
The leader may interview riders or others who know them to verify their suitability for the tour. The leader will notify registrants of their selection status. If the Hub & Spoke is not filled to capacity, registration will continue until the closing date shown.
If the Chapter cancels the event, registration payment is refundable, minus any costs incurred by the Chapter.
For Hub & Spokes rides an applicant will pay the required registration deposit. If placed on a wait list and not accepted for the H&S ride the deposit will be returned after the ride has started. If an applicant has paid the registration deposit, is accepted on the H&S ride, then withdraws, the deposit will NOT be returned.
Participants
:
Howard Quinn