Leader: Linda Graupner 613-825-8873
Co-leader: Tim Musclow 613-825-8873
Co-leader: Joe Hutchins 443-223-5085
Co-leader: Chris Hayes 613-762-1470
Trip Dates: Thu, 10 Nov 2022 -- Fri, 18 Nov 2022
Trip Classification: Intermediate
Trip Fee: $25 CAD
Trip Numbers: minimum 8 , maximum 24
Trip Registration Opens: Thu, 20 Jan 2022 4:00 PM (pacific time)
Registration Lottery Ends: Tue, 25 Jan 2022 4:00 PM (pacific time)
Trip Registration Closes: Sun, 2 Oct 2022 8:00 PM (pacific time)
Ride Description: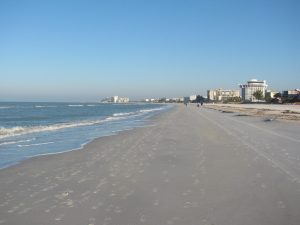 This 8-day hub and spoke is centred in St. Pete Beach on the sunny shores of the Gulf Coast of Florida.  The area has a reputation for its sunshine, soft sand beaches and its dedicated bike trails, including the famous Pinellas rail trail, an 80 km urban multi-use pathway.  We will explore the Pinellas Trail and other dedicated bike paths such as the Suncoast Trail, Clam Bayou Trail, Pinellas Bayway Trail, Fort de Soto trail and more, with stops at some of the famous beaches and nature preserves.  Sampling the local seafood and gelatos is a bonus!  Some of our rides will start at St. Pete Beach while others will feature remote starts.
Considerations:
Before registering for this tour, participants should be aware of the following:
Although most of the riding is on dedicated bike paths, you will also need to be comfortable riding in traffic, both to get to the bike paths and where the bike paths cross busy roads. Cars may or may not stop for bikes, so you must be prepared to practice safe cycling and obey all traffic signals.
You will need a vehicle to transport you and your bike to the remote starts.
Pricing in Florida has increased considerably and many hotels and condos now require deposits which can be large and non-refundable. You are responsible for any cancellation fees as well as any policy or pricing changes at your chosen accommodation.
Requirements for entering the USA and for returning to Canada are changing frequently.  Participants should be familiar with these requirements including requirements for Covid tests and for completing the ArriveCan app.
This Hub & Spoke will follow the current CCCTS website posted  "CCCTS Staying Safe: COVID 19 Guidelines for 2022" and will comply with relevant public health orders in Florida and the United States 


Travel:
The nearest airports are Tampa International Airport, as well as the smaller Clearwater/St. Petersburg airport.  You will need a rental car to carry you and your bike to the remote starts. Bike rentals are available at Dave's World Cycle in Seminole https://www.davidsworld.com/about/bike-rental-pg320.htm
Please note that many roads in Florida are toll roads, including some of the bridges we will need to cross to get to the start of certain rides.  Some accept cash but a transponder, available at the local drug store, may be helpful.
You will be required to provide confirmation of out-of-country medical insurance for this trip, including coverage for Covid-related illness.  
Accommodation Reservations: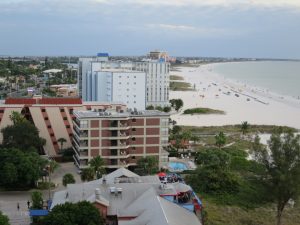 Each participant is responsible for their own accommodation bookings.  There is no group rate or block of rooms being held for this tour, but there are plenty of options, depending on your preferences.  It is recommended that participants stay at or near the Gulf Gate Resort, at 111 50th Ave. W., St. Pete Beach, where we will hold our daily happy hour and begin most of our rides.  This is an all-condo building with a pool, hot tub, BBQ's and deck area with picnic tables.  It offers one and two-bedroom condos, all with full kitchens, with prices ranging from US $160-200.  You will have to pay a one-time cleaning fee and a $200 non-refundable deposit, and the full balance is due 45 days before arrival and is non-refundable.  Gulf Gate Resort www.gulfgateresort.com
If you prefer a traditional hotel room, there are many different options along St. Pete Beach.  Camping at nearby Fort de Soto park or the St. Petersburg KOA campground is also an option.
Riding Conditions: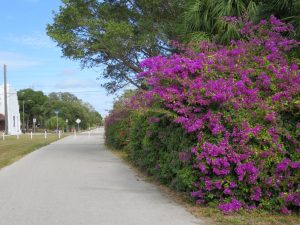 The daily rides will be approximately 50 km, with plenty of time to stop and enjoy historical sites, nature preserves and local seafood restaurants.  For those who prefer to spend more time in the saddle, there will be longer ride options (65-100 km) most days.  We will divide into several groups each day to accommodate different riding speeds and distances.
Each ride will feature one of the region's dedicated paved bike paths. We will also be riding on roads in order to get to these bike paths, so riders must be comfortable riding with traffic.   
The only hills in this part of Florida are the bridges!  Strong winds can present an additional challenge.
Fee Includes:
The Cdn. $25 fee will cover the organizational costs and supplies.   The fee is non-refundable.
Fee Does Not Include:
Accommodation, meals, bike rental, park admission costs, or individual expenses of participants
Itinerary: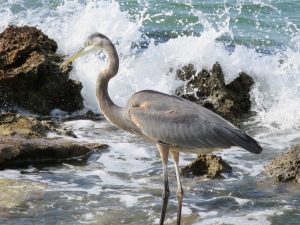 Thursday November 10, 2022
1:30 pm:  Safety briefing and short familiarization ride to the quaint Pass-a-Grille beach town, followed by 5:00 pm happy hour.   
Friday November 11 to Thursday November 17, 2022
The following is a tentative list of rides, with approximate distances.  The order in which we do these rides, and our daily start times, will depend on weather and wind.  Tentative routes may be viewed at https://ridewithgps.com/events/165933-florida-2022-hub-and-spoke.  There will be a rest day with options for sightseeing, kayaking, relaxing on the beach, etc.
Gulf Gate Resort to Fort de Soto and back, using roads and the Fort de Soto bike path. Tour the fort and enjoy a picnic lunch on one of the park's soft sand beaches. 50 km
Remote start Suncoast Trail. We will ride part of the long and straight Suncoast Trail,  with optional rides into Starkey Wilderness Park and the Upper Tampa Bay Trail. 50 km with various options up to 110 km
Pinellas Trail through Clearwater and Dunedin to Tarpon Springs. Tour the sponge docks and enjoy some fresh seafood.  65 km or 80 km with remote start; 120 km option for those wishing to start at Gulf Gate Resort. 
Gulf Gate Resort to St. Petersburg, following the Pinellas Bayway Trail, the Clam Bayou Trail and the Pinellas Trail. A longer ride option will head north out of St. Petersburg to Weedon Preserve on bike path and quiet roads.  Return to St. Pete Beach via the Pinellas Trail and Treasure Island.  50 or 80 km
Remote start ride on the Courtney Campbell Causeway. Enjoy the sound of the waves on a wide separated path beside the Courtney Campbell Causeway, running from Tampa to Clearwater.  Stop for lunch afterwards at the pretty little town of Safety Harbour.  45 km
Gulf Gate Resort to Boyd Hill Nature Preserve. Opportunity for a short walk at the Nature Preserve to look for alligators and shore birds, and/or to do a longer ride using the separated bike path along the Skyway Bridge to the old fishing pier.  35 or 50 km
Thursday. Nov. 17, 2020
We will have a full day's ride on the 17th, and the Hub and Spoke will end Thursday evening.  Participants should plan to depart on Fri. Nov. 18.
Registration and Participant Selection:
Registration will be on the CCCTS website on the date shown. A computerized lottery system and waitlist will be utilized in the event that the ride is over-subscribed. Priority will be given to those who were selected for the postponed 2020 Florida hub and spoke.  A $25 CAD payment is required at the time of registration. The lottery signup will run for 4 days, after which time the leaders will review the results.
The selection process will consider the following criteria in evaluating candidates:
fitness and riding ability and experience required for the tour,
a history of demonstrating safe riding practices,
acceptable social behavior.
The leader may interview riders or others who know them to verify their suitability for the tour.
The leader will notify registrants of their selection status. If the ride is not filled to capacity, registration will continue until the closing dates shown. Registration Fee payments are considered non-refundable in the event of cancellation. Wait listed cyclists who don't make it to the Ride's "Go List" are eligible for refund of their registration fee unless they request removal from the wait list.   
Participants
:
Caroline Allen, Angela Bourne, William Bourne, Daniel Carey, Marion Cousins, Rick Cousins, Bonnie Evoy, Linda Graupner, Chris Hayes, Donna Hayes, Lori Henley, Robin Howe, Marg Hurley, Joe Hutchins, Geoffrey Kennedy, Eve-Marie Lacroix, Carole Laflamme, Margaret Lerhe, Bill Lumley, Wayne Lumsden, Roy Markovich, Virginia Markovich, Anne Mason, Bruce Mason, Tim Musclow, Peter Wood