The Cross Canada Cycle Tour Society       May 2023,  Volume 40, Issue #5
From the Tour Director's Desk – May 2023
Two more successful 2023 tours have recently completed – Mallorca and Arizona. We heard that Mallorca was fabulous and I can attest personally that the Arizona tour went well and provided a good opportunity to enjoy some Southwest scenery and sunshine. I would like to extend a big note of appreciation to the leaders of these tours – Linda Graupner and Beverly Wagner.
Here's what's new in the Tours world:
The Portugal tour is currently underway.
The lottery registration completed for our 2024 tour to the west coast of Ireland and it oversubscribed right away.
The lottery completed for 2023 Columbia River Loop and the tour is fully registered with one person on the waitlist.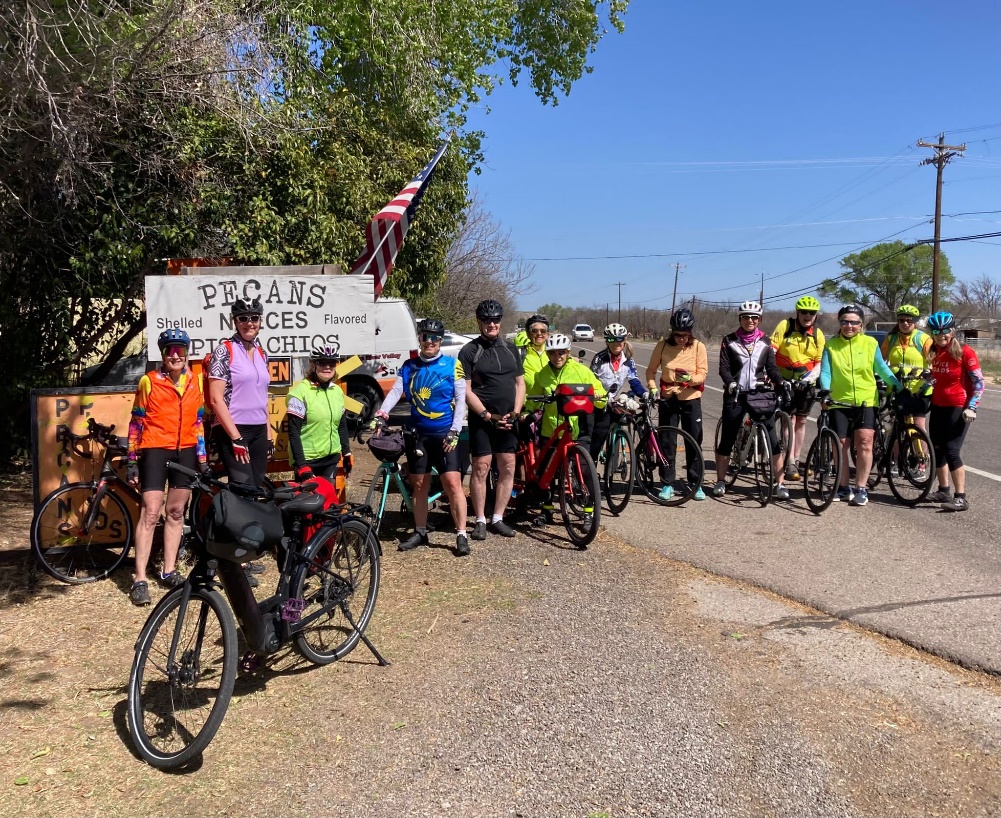 Stop at roadside pecan stand on the way to Benson, Arizona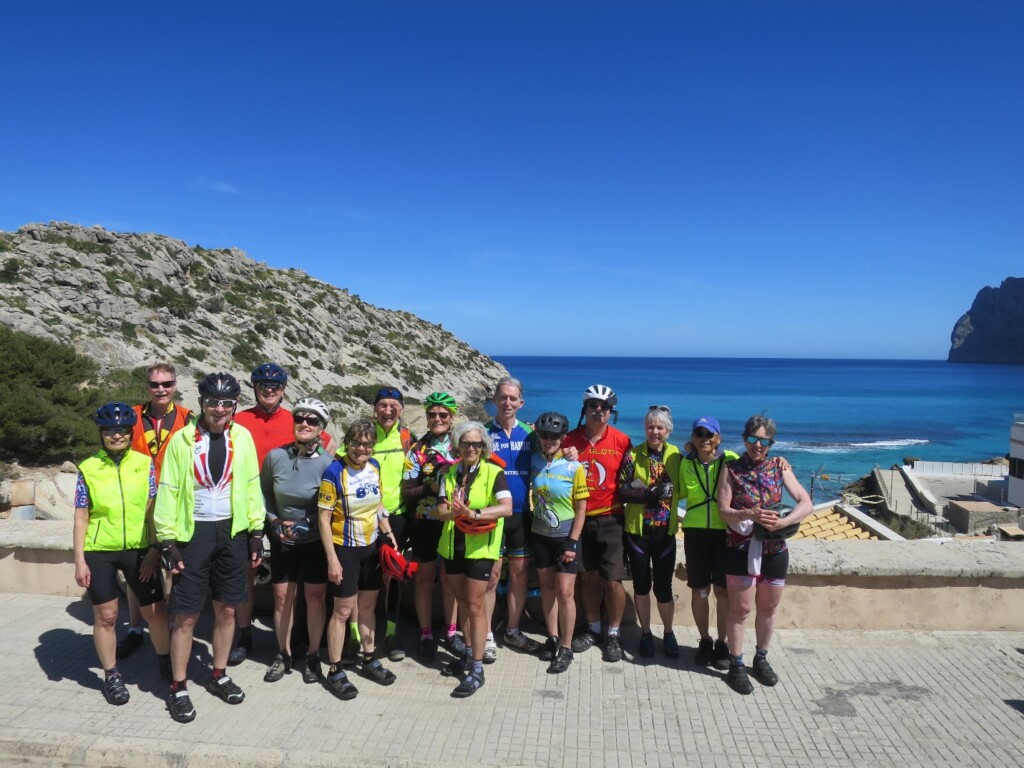 Mallorca group at the beach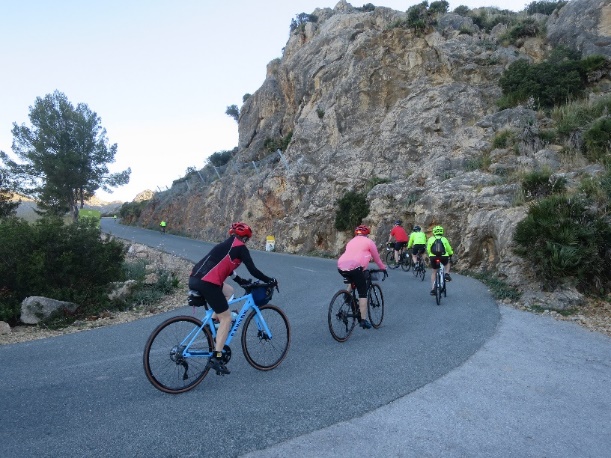 Mallorca hill climbing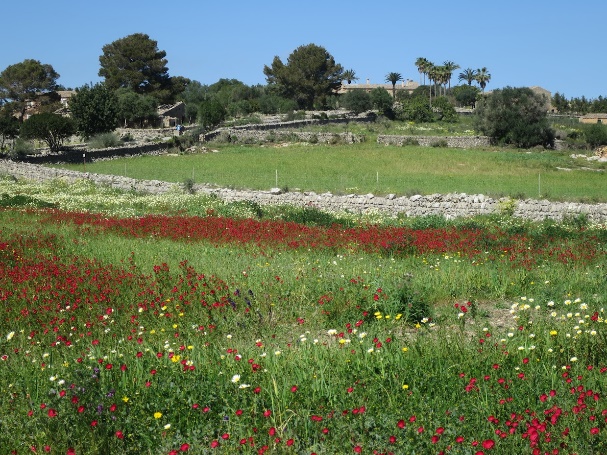 Mallorca field of flowers
Details for each tour will be posted when tour proposals and budgets are finalized and have been approved by the Board. Watch your CCCTS emails and the website since tours will be posted one at a time as they are ready, and all members will be notified via email when a new tour posts. Tour plans are always changing. As of today, here is the best information that I have on the tours that will be offered for the remainder of 2023 and some for 2024 too:
Georgian Bay (May 28 – June 4)
Okanagan (June 3-12)
Central Europe – Prague to Budapest – (August 21-September 5)
Columbia River Loop – (September 5-13)
Croatia (September 18-October 4)
Japan – Kyoto and Noto Peninsula (October 8-23)
2024
Portugal – Alentejo and Algarve – beginning April 15
South Korea – springtime
Slovenia – beginning July 1
Going to the Sun – Glacier/Waterton Park – September
Ireland – Mizen to Malin (September 6-20)
Sri Lanka – September or October
Please give me a call or send an email if there is a tour you would like to lead. I am open to any tour idea you have as long as it is a safe place for cycling. (robincooksandsews@gmail.com, 206.899.7255)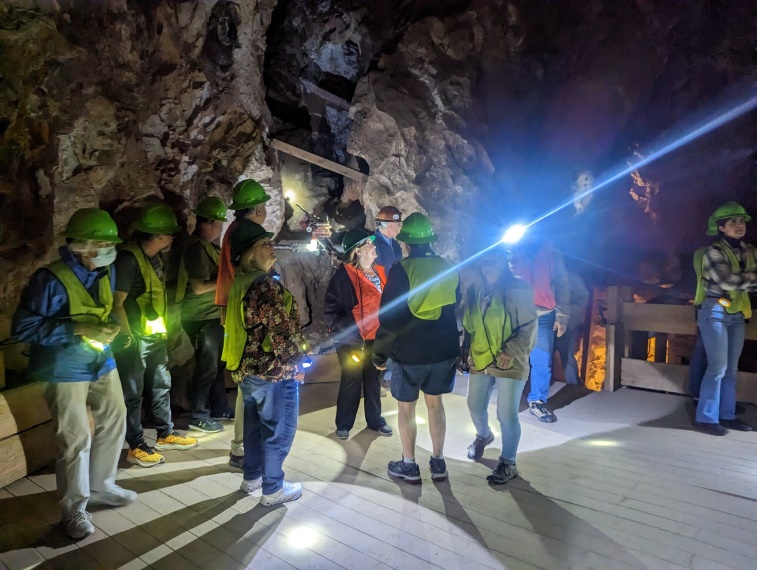 Copper mine tour in Bisbee, AZ
Assessment of Interest in a Cross Canada Tour in 2025
Several few weeks ago, we sent out an email to assess members' interest in running a Cross Canada tour in 2025. We asked for persons with a serious interest in going on the tour to respond to the Tour Director, Robin Howe, at robincooksandsews@gmail.com. Some members responded they were interested, and we have begun a list of names. However, we need quite a few more people to respond in the affirmative before we will entertain the idea of pursuing this large project. If you want to ride across Canada with CCCTS, you need to step forward by May 15th and let us know.
Here are some preliminary details on a potential Cross Canada 2025 tour:
Timeframe – About 3 months or 90 days over the summer,
Route – Begin in Sydney, B.C. and end in St. Johns, Newfoundland,
 Daily Distances – Average about 90 to 120 kilometers, but there will be a few days that are longer and some days that are shorter,
Cost – Cost of the tour is unknown at this early stage but a rough estimate is $8,000 to $10,000 CAD per person. Efforts will be made to economize whenever possible but without sacrificing comfort.
 Group Size – Minimum 16 and maximum 24,
Method of Travel – Follow the "CCCTS camping system", which involves renting a truck to carry gear and for emergencies, group cooking in teams, use CCCTS camping equipment, etc.,
Camping vs. Motels – Camp about 5 nights per week and stay in motels about 2 nights per week or possibly sometimes 3 nights a week,
 Rest Days – Rest days, averaging 1 day per week, usually following the first night in the motel,
 Food/Meals – This tour will eat well. All tour members will serve on a cook team and each team will cook approximately 1 day per week. There will be plenty of nutritious and delicious food provided as part of the tour (no scrimping on the food budget) for 3 meals per day plus snacks, except for layover days when tour members will have the opportunity to eat out.
Driver – Hire a dedicated driver so tour members can ride entire distance,
E-Bikes – E-bikes welcome, since we will use campgrounds set up for power plug-ins. Spare battery(ies) on the truck will be required,
Planning Committees – All participants will be required to serve on one or more planning committees (e.g., Route, Accommodations, Safety, Equipment Management, Food)
Senior Advisory Committee – A Senior Advisory Committee (SAC) will be formed with a few longtime club members who have led CCCTS camping trips and/or ridden the Cross Canada tour with our club. This committee will review and provide guidance on all aspects of planning for the tour.
We understand that it is not possible to know for sure whether you will be able to participate in a major ride like this 2 ¼ plus years in the future. Things can change in our lives, such as unplanned health conditions. But, if you seriously think you would like to go and will have the time, the funds, and the fitness/cycling ability, then the Tour Director would like to hear from you.
Happy spring cycling!
Robin Howe, CCCTS Tour Director.
From The Legacy Directors Desk
LEGACY PROGRAM UPDATE
How the Legacy program started

CCCTS has accumulated funds over and above the operating budget requirements through casino revenues of long ago, from a substantial bequest from the estate of Audrey Hayes (a CCCTS member) in 2017 and by good financial stewardship. We fund projects to chapters and cycling related organizations through this program. I've had the pleasure of working with volunteers who do remarkable things for cycling. The BC Cycling Coalition continues to advocate on cyclists' behalf to make cycling safer.

Janet Whitehead, Director
BC Cycling Coalition (BCCC)
With and on behalf of members and community stakeholders, BCCC works with levels of government and agencies to influence changes that make active transportation and mobility safer, more equitable, and more accessible. In 2019, our club donated $10,000 to support the organization in advocating changes to the Motor Vehicle Act for safe passing legislation. The uses of roadways have changed significantly since the act came into effect in 1957 yet there have been no substantive changes to the act to reflect this. BC Cycling Coalition staff and board members met with provincial ministers and senior staff responsible for roadways, laws, and enforcement and well as climate change.
Changes to the BC Motor Vehicle Act
Our donation to the BC Cycling Coalition went a long way in making this advocacy work happen. In April of this year, the Motor Vehicle Act was amended to require drivers to use appropriate care when sharing the road with pedestrians and cyclists. Drivers must be a minimum of one meter away when passing and stay 3 meters behind cyclists when sharing the lane. These changes to the Motor Vehicle Act are a start in changing driver's behaviour to make our roads safer.
Initiatives with more results
Research indicates other initiatives will have a greater impact on safety than a safe passing law. The BC Cycling Coalition has several initiatives they are working on and include:
Lower default speeds on all local residential streets
Higher speeds increase both the likelihood of collisions and the severity of those collisions. When motor vehicles are traveling at speeds greater than 40kph, both drivers and pedestrians are more likely to make mistakes judging the time required to stop or cross the street safely. If the Motor Vehicle Act were amended to lower the default speed in municipalities throughout BC, our streets would be safer for cycling. Several areas on Vancouver Island, along with the city of Vancouver and Delta have lowered the residential street speed to 30kph.
Safe routes
Cities and Municipalities are required to have Active Transportation Plans which include a range of safe cycling routes. These safe routes include dedicated, separated bike paths, protected bike lanes, green zones at intersections which highlight the intended path of cyclists and a potential area of conflict as the basic road shoulder with a white line. Local governments see the value in getting people out of cars and on to their bikes. These incremental changes make people feel safer and more likely to get on and stay on their bikes. See what exists in your community: https://bccycling.ca/bc-safe-routes-now-1
Education
Incremental changes are being made to driver training and testing. Virtual scenarios now include cars, cyclists, and pedestrians.
More schools are including cycling in their curriculum and courses are offered by various agencies with trained/certified instructors. Safe cyclists grow up to be safe drivers.
Ask yourself
If I park on the street, do I consistently use the Dutch Reach before opening the car door?
When turning right at a red light or stop sign or, do I complete a right shoulder check to ensure there are no cyclists coming up on my right or pedestrians entering the intersection?
When passing a cyclist, do I pass slowly and give them plenty of room?
Janet Whitehead  Legacy Fund Director
Trip Reports
Follow the link below to the newly published Arizona Trip report.
Upcoming Tours
Upcoming Hub and Spokes
Marketplace
2017 Felt VR3W Women's Endurance Road Bike(XS) – $2500
Amazing endurance road bike available for your next season of road cycling. Great gearing for hill climbing (46/30), hydraulic disk brakes to give you lots of confidence on the descents and ultegra components. Currently set up with 28 x 700 tires, but will take up to 33mm if you want to use it for some gravel or cyclocross. Includes a bar-end mirror(removable) and seat post bag with extra tube and tire levers. I will also throw in an extra brand new tire. Bring your pedals and shoes for a test ride or I can set you up with flat pedals just to check it out. Selling because there are just too many horses in the stable and I am downsizing my house so not enough room for storage.  Shop maintained, stored indoors.  47cm  I am 5'3″ and it is certainly not too small.
Contact: Madhuri Pendharkar    madhuri1555@gmail.com
Location:  Vancouver, BC
Dahon folding bikes , model MU D8.
20inch wheels, 8 speed SRAM.
Fitted with racks to attach panniers.
Both in excellent condition.
Ideal for travelling, camping or to put inside the RV.
Prefer to sell as a pair.
Price:- $900.00 for the pair or $500.00 each.
In the Whiterock  B.C. area .
Various Seats and Parts
Fabric Scoop Sport Seat 142 saddle flat with steel rails". $50.
Planet Bike Classic A.R.S. seat. Never Used $50.
• Foam padding with flexible base for maximum comfort and support
• Full length center recess with cut out for comfortable anatomic relief
• Steel rails
• Weather resistant cover
• Abrasion-resistant side panels
• Weight: 391 grams (men's)
• Seat Size: 270x165mm (men's)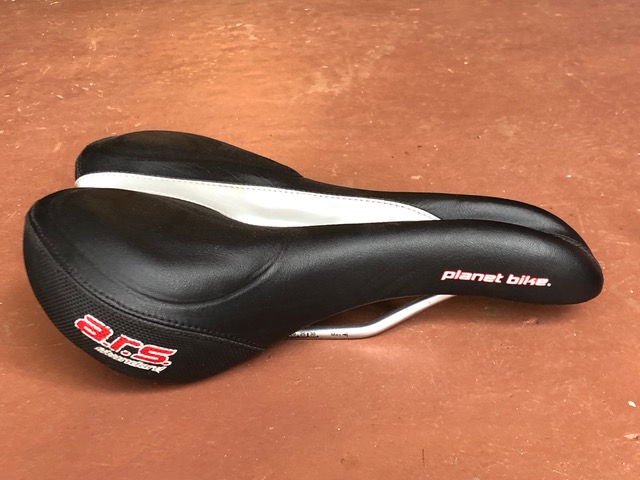 Carbon Uber 620 mm handle bars with adjustable stem head from MEC $50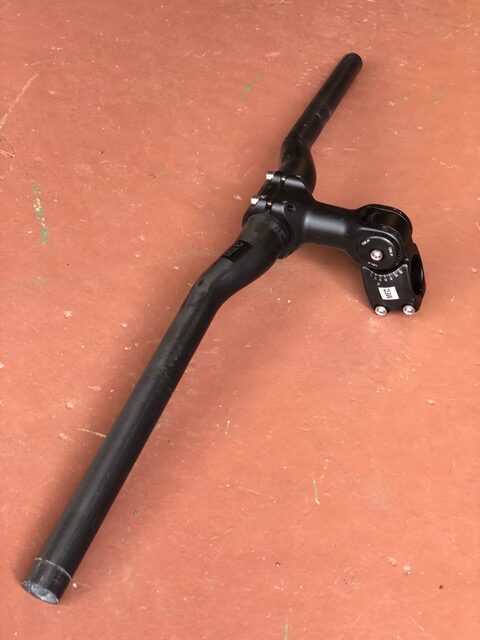 Bike suspension seat post MEC used $10 & RMB standard bike post used $10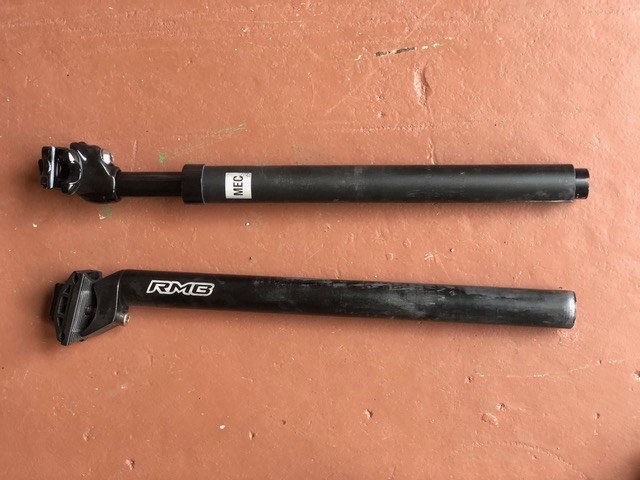 In the Vancouver area contact: Thom Harvey Kline 
A Bike Rack and a  bike.
Contact Jean Manville in the Victoria area.
PEARL IZUMI Women's W Elite Road V5 Cycling Shoe, Silver/Pink Glo, 6
$90 ($299 new)
Size European Women's 39 (Canada/USA size 8) but they fit small
I LOVE these shoes but sadly, bought a half size too small
84% Rubber/16% Textile
Rubber sole
Spring/summer 2017. Replaceable heel bumper
Unibody construction eliminates traditional lasting board to deliver super low 5mm stack height for maximum pedaling efficiency
Advanced 3-layer seamless composite upper offers exceptional breathability and eliminates hot spots by adapting to your unique foot shape
Bi-directional closure wraps the foot for a semi-custom fit and secure foot retention. Boa ip1 reels allow 1mm micro-adjustability
With 1:1 integrated carbon power plate delivers feather-light stiffness (stiffness rating of 13)
Contact:
Mary
Location: Courtenay, Comox Valley
New Members
Wow.  It must be something in the water.  That's a lot of new members!
| | | | |
| --- | --- | --- | --- |
| First Name | Last Name | Chapter | City\Province |
| Lynn | Hjartarson | NCR | Ottawa, ON |
| Robin | Budd | No Chapter | Heriot Bay, BC |
| Wally | Michalsky | Victoria | Foothills County ,AB |
| Brian | Kennelly | B.C. Interior | Quesnel ,BC |
| Alec | Sawitsky | No Chapter | Edmonton, AB |
| Susanne | Reid | NCR | Ottawa, ON |
| Robert  | Lang | B.C.Interior | Creston, BC |
| Dorothy  | Wilson | Comox | Comox, BC |
| Francis  | McAlonan | Comox | Cumberland, BC |
| Karen | Bickford | Vancouver | Vancouver, BC |
| Lorna | Seifried | Vancouver |  Vancouver, BC |
| Wanda | Farran | Comox | Comox, BC |
| Valorie | Taylor-Falcioni | NCR | Ottawa ON |
| Daniel | Falcioni | NCR | Ottawa ON |
| Jenn | Halldorson | Comox | Courtney BC |
| Lois | Buerk | USA | Portland OR |
| Lauren | Dake | Greater Victoria | Victoria BC |
| Michael  | Lang | NCR | Ottawa ON |
| Errol | Fletcher | NCR | Ottawa ON |
Published at least ten times a year by The Cross Canada Cycle Tour Society, a non – profit organization for retired people and others who enjoy recreational cycling. 
Items for the NEWSBRIEF must be received by the 28th of the month. The Editor reserves the right to edit for clarity, brevity and suitability of publication. The views expressed in the "NEWSBRIEF" are not necessarily those of the CCCTS or the Editor.
Submissions for NEWSBRIEF should be emailed to alaird212@gmail.com