The Cross Canada Cycle Tour Society       March 2023,  Volume 40, Issue #3
From the Tour Director's Desk – March 2023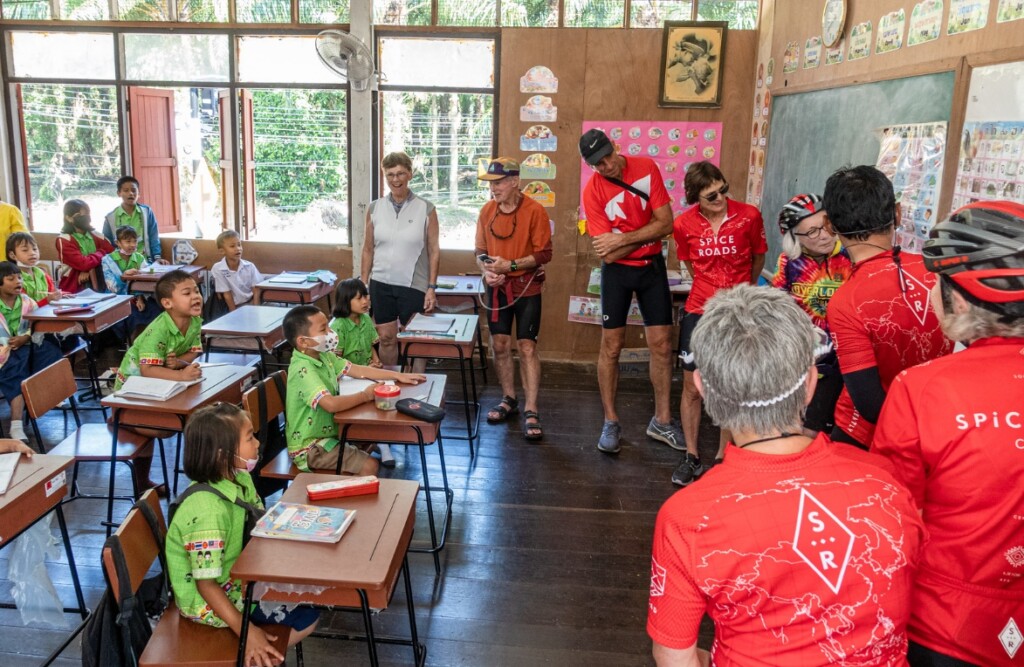 Elementary school students in Thailand reciting their 'ABC's' for us
Gratitude Gratitude is my theme for the month. Gratitude that everyone returned safe and sound from the Thailand tour and that they all seemed to have a good time too. Gratitude for our guides and drivers who took such good care of us and for the tour members who all looked out for each other. I am grateful for the 20 years my husband Dan and I have been members of this club, for all the wonderful adventures, and most of all for the friendships. Gratitude for the cycle tours to far-flung regions of Canada, especially Haida Gwaii, the Yukon, Dempster Highway and the Northwest Territory, Quebec, Nova Scotia and Cape Breton, New Brunswick, and best of all Newfoundland. I am grateful we are allowed to belong to this fabulous Canadian cycling club and I can serve as your Tour Director, even though we are not Canadians. And, I am incredibly grateful to be working in partnership with Linda Graupner, CCCTS Hub & Spokes Director, who I rely upon for her steadfast support and sound judgment.
Here's the current update for CCCTS Tours in 2023.
We have three tours leaving in the next couple of months – Mallorca and Arizona depart in March and Portugal departs in April. These tours should be grand.
The Ottawa group posted a new June tour to Georgian Bay and it oversubscribed in two days.
The Central Europe tour in August/September filled up right away and has a small waitlist.
To my great surprise, the October Japan – Kyoto and Noto Peninsula tour oversubscribed during the lottery period and has a small waitlist.
We posted our first confirmed 2024 tour to the west coast of Ireland and registration will begin in April.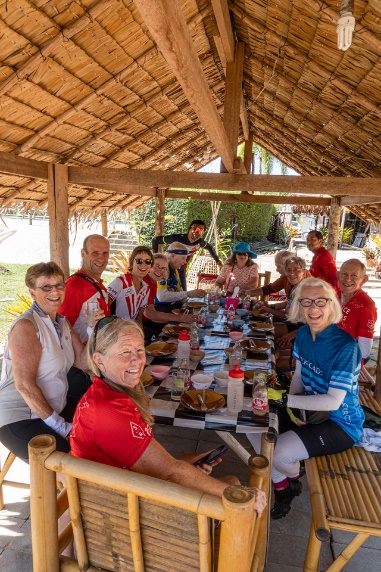 Eating another great Thai lunch
Details for each tour will be posted when tour proposals and budgets are finalized and have been approved by the Board. Watch your CCCTS emails and the website since tours will be posted one at a time as they are ready, and all members will be notified via email when a new tour posts. Tour plans are always changing. As of today, here is the best information that I have on the tours that will be offered in 2023 (and one for 2024):
Thailand – Bangkok to Phuket – Completed – January
Arizona (March 22 thru 31)
Mallorca (March 24 thru April 4)
Portugal – Alentejo and Algarve – (April 17-May 5)
Georgian Bay (May 28 – June 4)
Okanagan (June 3-12)
Central Europe – Prague to Budapest – (August 21-September 5)
Columbia River Loop – (early to mid-September)
Croatia (September 18 thru October 4)
Japan – Kyoto and Noto Peninsula (October 8-23)
Ireland – Mizen to Malin (September 6-20)
I hope there will be more tours coming for 2023, especially tours closer to home for many of our members. If you will volunteer to lead them, we will run them. Please give me a call or send an email if there is a tour you would like to lead. I am open to any tour idea you have as long as it is a safe place for cycling. (robincooksandsews@gmail.com, 206.899.7255)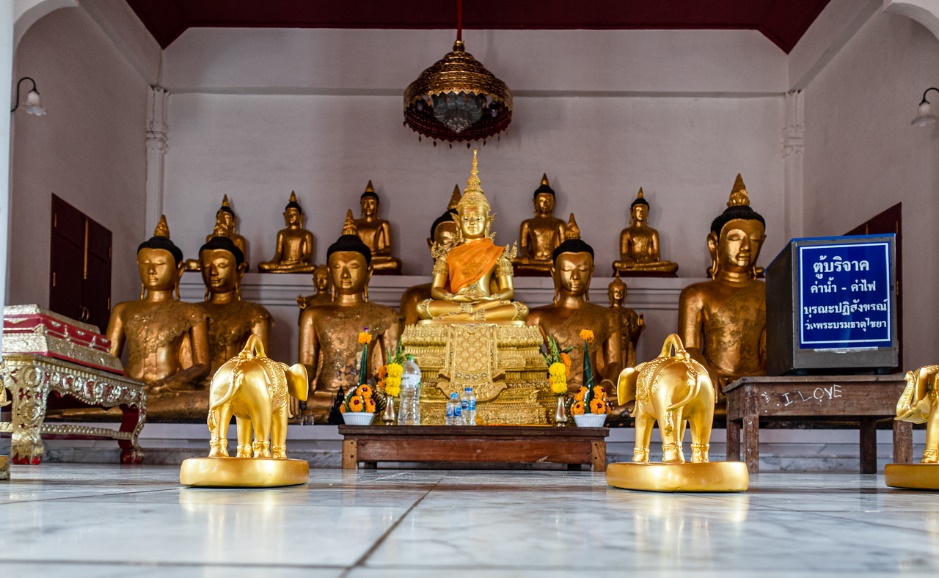 Temple with many buddhas
Hopes to Revive the Cross Canada Tour in 2025
The Board has long hoped to revive the Cross Canada tour, which is our club's heritage and the reason for its founding in 1983. In 2023, we will begin working on this enormous project with a 3-year plan. Below is a very rough plan and more details will be forthcoming every month as we start on this journey.
2023 – Survey the club membership this spring to determine if there is sufficient interest to proceed.
If there are enough club members who express a serious interest in doing the ride, we will move forward with this project.
2024 – Form committees and plan the tour. (If possible, pre-drive the route and scout campgrounds and accommodations.)
2025 – Execute the ride in the summertime.
Take care and enjoy some early spring cycling!
Robin Howe, CCCTS Tour Director.
A Message From Maureen Weston Director of Safety
Safety Update
Since the beginning of the pandemic, the CCCTS Board of Directors has implemented plans to protect the health safety of members while participating in club activities. These plans have been posted on our website in the form of two documents, The CCCTS National COVID-19 Safety Plan, and Staying Safe Guidelines.
Sadly, the pandemic is still with us as we begin 2023. With the introduction of vaccines, however, most people who contract COVID do not get seriously ill. Provincial Health Authorities have removed restrictions regarding travel and masking. Life, in some ways, feels almost back to normal. COVID has joined the list of other viruses in general circulation, including the flu and the common cold.
With that in mind, we have updated our health safety plan to include other viruses. The new CCCTS Communicable Illnesses Plan 2023 replaces the two COVID documents and outlines best practice for limiting the spread of communicable illnesses for members participating in tours and Hub & Spoke events. Staying healthy while traveling and riding with a group will benefit all participants. Please take the time to review the new plan, especially if you have signed up for future tours and/or H&S events.
As always, your comments and feedback are most welcome.
Safe cycling, 
Maureen Weston
Tours
Hub and Spokes
Videos
Cycling the west coast of Ireland
New Members for February
| | | | |
| --- | --- | --- | --- |
| First Name | Last Name | City | Province |
| Mark  | Roznicki | Vernon | B.C. |
| Swee | Lee | Vernon | B.C. |
| George  | Harris | Puslinch | Ont. |
| Deborah | Duffy | Perth | Ont. |
| Glen | Bloom | Perth | Ont. |
| Barbara | Carver | Victoria | B.C. |
| Kathleen | Beaton | Delta | B.C. |
| Sheri | King | Ottawa | Ont. |
| Arlene | Decaire | Vancouver | B.c. |
Published at least ten times a year by The Cross Canada Cycle Tour Society, a non – profit organization for retired people and others who enjoy recreational cycling. 
Items for the NEWSBRIEF must be received by the 28th of the month. The Editor reserves the right to edit for clarity, brevity and suitability of publication. The views expressed in the "NEWSBRIEF" are not necessarily those of the CCCTS or the Editor.
Submissions for NEWSBRIEF should be emailed to alaird212@gmail.com