The Cross Canada Cycle Tour Society       April 2022,  Volume 39, Issue #3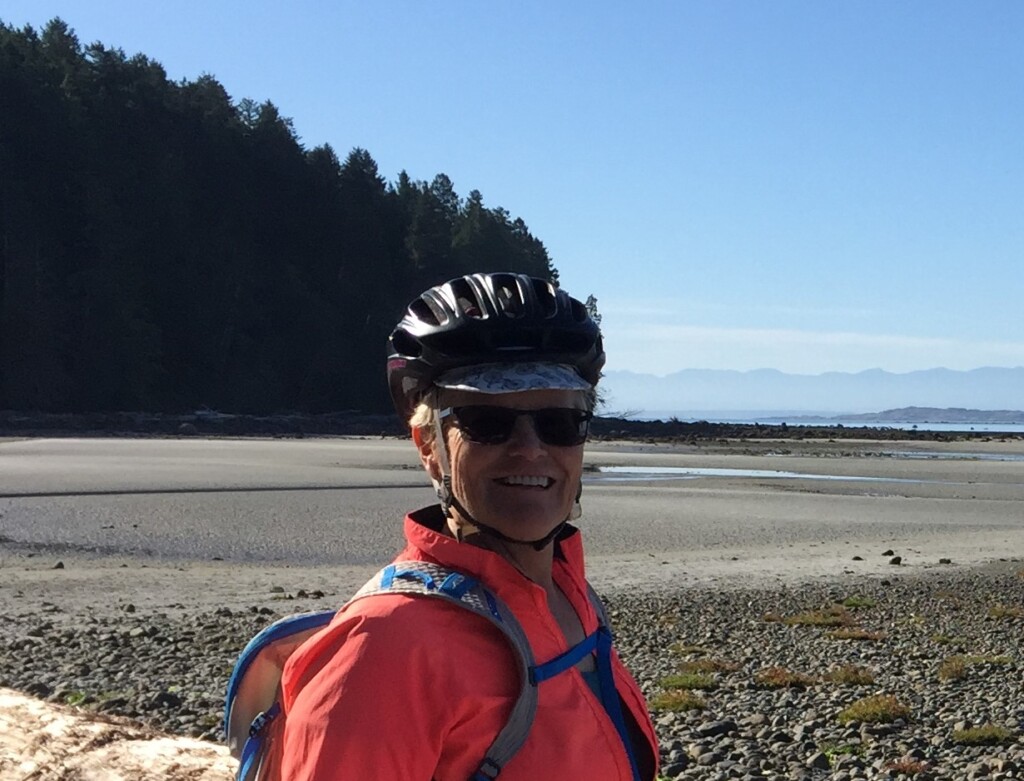 Legacy Fund Program Update
What types of projects have we supported?
Since 2108, funding has been available to chapters and cycling related organizations to support education, activities and projects which have lasting value to our communites. Chapters have offered bicycle repair courses to their members and worked with local advocacy organizations to provide "how to ride" courses for adults and children. We've supported other organizations who provide families in need of bikes and helmets, as well as funds for an engineering feasibility study, building of multi-use trails and advocacy projects.
| | | | | | | |
| --- | --- | --- | --- | --- | --- | --- |
| | 2021 | 2020 | 2019 | 2018 | ~2017 | Cumulative Total |
| Community Projects | 5,500 | 5,000 | 12,000 | 3,500 | 2,385 | 28,385 |
| | | | | | | |
| Chapters | | | | | | |
| Comox Valley | 650 | | 1,620 | 1,760 | | 4,030 |
| | | | | | | |
| Fraser Valley | | 130 | 230 | | | 360 |
| | | | | | | |
| Greater Victoria | | | 750 | | | 750 |
| | | | | | | |
| National Capital Region | | | | 2,400 | | 2,400 |
| | | | | | | |
| Total | 6,150 | 5,130 | 14,600 | 7,660 | 2,385 | 35,925 |
How do organizations obtain financial support from CCCTS?
We don't publicize our Legacy Funds Program or surf the internet looking for groups in need of funding. Our members know best which organizations in their respective communities are on the ground doing the work. Helping with Bikes (Ottawa), Shuswap North Okanagan Rail Trail (Sicamous – Armstrong), Santa's Workshop (Comox Valley), BC Cycling Coalition (province-wide) and Trail of the Okanagans Society (Summerland – Penticton) are some of the organizations who've received funding.
Organizations submit their requests to the CCCTS Board of Directors with a description of their program or project, the deliverables, other funding partners and a timeline. Requests are reviewed by the board.
How was the Legacy Fund Program created?
The catalyst for this program was a due to a generous bequest in 2017. Audrey Hayes, a former member of CCCTS enjoyed the benefits of cycling and wanted others to have the same opportunity. We'd like this program to continue supporting cycling related programs and projects and hope that members consider CCCTS Legacy Fund as Audrey did.
Do you know of a worthwhile program or project we could support?
Let's talk! Contact me at jmwhitehead55@gmail.com or 604-516-9455 if you know of a cycling related program or project in your community that's in need of support.
The Continuing Story of the Early Days of the CCCTS
Chapter 3 — First Hand Accounts of the Original Cross Canada Tour
The Club may have been in the forefront of societal change when its first tour took the participants across this vast land. 33 cyclists were ready for the challenge and it is worth noting that 1/3 were women. Near 4 decades later this statistic may not be relevant but it showed that CCCTS was making a positive statement in the realm of equal opportunity for all cyclists. An historical footnote to this statement was probably best expressed by an American civil rights leader, Susan B. Anthony, who wrote in 1896:
"I think [the bicycle] has done more to emancipate women than any one thing in the world. I rejoice every time I see a woman ride by on a bike. It gives her a feeling of self-reliance and independence the  moment she takes her seat; and away she goes, the picture of untrammelled womanhood."
Why bother referencing this idea? The simple answer is that I've had the opportunity to interview many women who have played an important role in the Club. So the possible attitude of male chauvinism within our ranks will be quickly stymied.
It was not easy to find CCCTS members who joined the Club in 1982-83 and rode on the first Cross Canada tour. It was interesting to hear each of them mention the same characters and similar characteristics of many of the participants. The following comments are from a few of those members:
"I joined the group after seeing a small item in the Vancouver Sun that was seeking cyclists who may be interested in a ride across Canada. Cycling wasn't popular in 1983 and those that did ride were  quite intimidated by the traffic. When the participants had to show a medical OK from their doctor they often heard the doctor say that the rider should let him know how they were progressing after they  got to B.C.'s interior. Doc seemed quite skeptical about the challenge ahead
What about the trial run to Alouette Lake? It proved to be a real disaster. An early Spring day we left Vancouver under a clear sky but at midnight the skies opened up and all the campers were soaked. It rained all the way back to Vancouver. Some packed it in and were never to be seen again. We were told to take a small alcohol stove for cooking and these proved to be useless. Initially, cooking meals was a challenge and the equipment we had was mediocre but the task slowly improved as the Club evolved with future tours. From no cook tent in 1983 to fully stocked cooking facilities in only a few years. As for our tour, we slowly evolved from survival cooking to cook teams that were unintentionally competing with each other. So we all benefited from the circumstances.
The basic need of food was often alleviated with many communities offering a free meal and the Red Cross was instrumental in gathering local community support for the riders. Local groups, including Chambers of Commerce often arranged for shelter, including hotels and hostels. This was experienced in Banff for a couple of nights, a CP hotel in Sault St. Marie and 3 nights in Quebec City at the 
Officers Quarters at the Citadel. Here the food was inexpensive, tasty and we were introduced to Poutine!!
By the time we reached New Brunswick some were hoping the trip would end 'cause some were tired and bored. But others said otherwise and enjoyed each day as a new experience. A few started to become skeptical about the leader's stories – being a spy in World War II and an engineer with Rolls Royce; he had to be 300 years old with his numerous yarns!!
Personality changes became quite evident – one of the younger riders changed his personality as the ride progressed – from introvert to an extrovert – a new person!
In Northern Ontario the owner of a KFC franchise plus owning others in Eastern Canada told our group that as a 75 year old, recently a widower, that he would like to join the ride when they left town.
The riders were given a free run of the restaurant, including beer and were ready to leave the next morning. The new rider stayed with the group until the end and made sure that all got ample KFC food as they continued the ride. In fact  there was a double dose in one day and that was a bit too much!! We probably had our lifetime fill of KFC and the new rider thanked the group as the experience changed his life.
Another "pick up" was a farmer's wife in Saskatchewan and she rode with the group to Newfoundland. She became our interpreter once we reached Quebec and this made the Quebecois experience more enjoyable since most all of us were not bilingual.
A rider from Salmon Arm didn't pay for a single cup of coffee as she'd tell the cafe that she was a senior riding across the country! Speaking about not paying for a beverage one member from the Lower Mainland said that he wanted to stop at every Legion across the country. I don't think he paid for a drink anywhere!
What about the incident in the Rockies? A rider used to leave his teeth in a cup to soak overnight to keep them fresh. One night the temperature dipped below zero and he had trouble eating breakfast the next morning!!"
More future tour anecdotes in Chapter 4.
***********************************************************************
Really Old Newsbrief Issues
Thanks to Allan Buium for digitizing all the paper Newsbrief copies he had in his storage.  You can find them on the website under publications or follow this link. 
 https://cccts.org/really-old-newsprint-newsbriefs-1983-to-2004/
They go all the way back to the first one published in 1983!
A guy parks his bicycle outside Parliament in Ottawa
Security comes to him and says "you can't park your bike here. Don't you know that MP's,  the Prime Minister,  and the Leader of the Opposition come through here!"
The guy says "oh don't worry, I've got a good lock and  I've chained my bike!"
Buy and Sell
Two Pumps
This is one of the two pumps we are trying to sell. What can you say about a pump?  Well it is set up for presta valves. Is of sturdy construction and has a gauge and is made by turbo power. Looking for $25.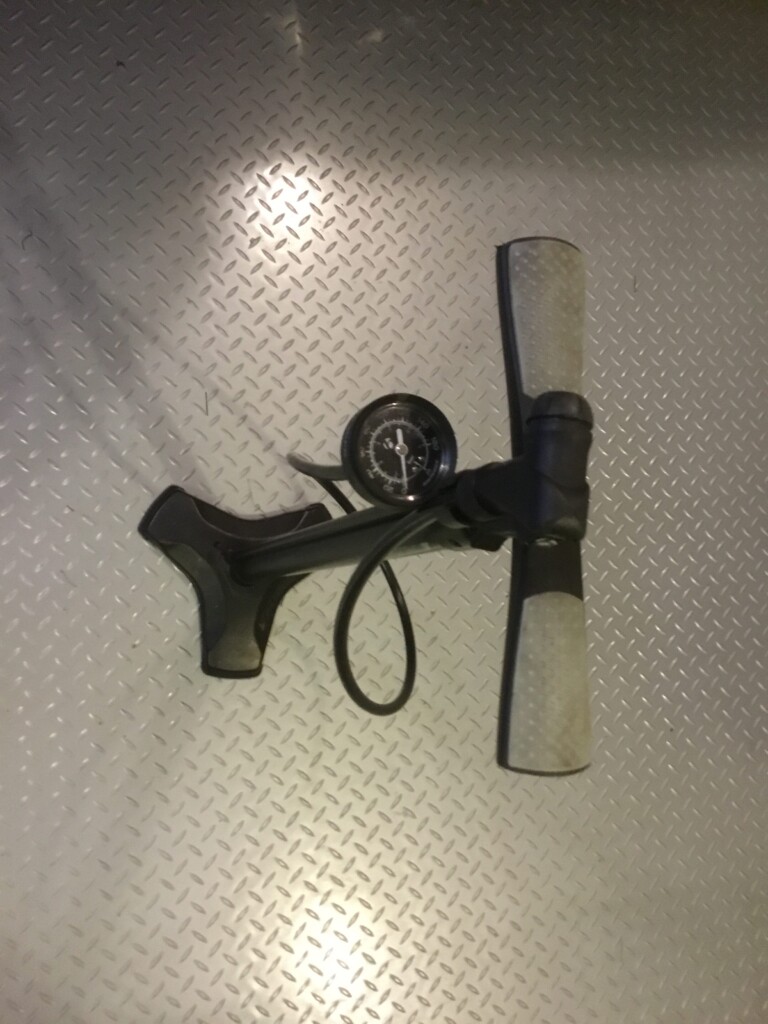 This one is made by Zephal and does not appear as good as the other. Asking $15.
Parksville area
Contact : Ken 250 417 9691 or kenw.reid@telus.net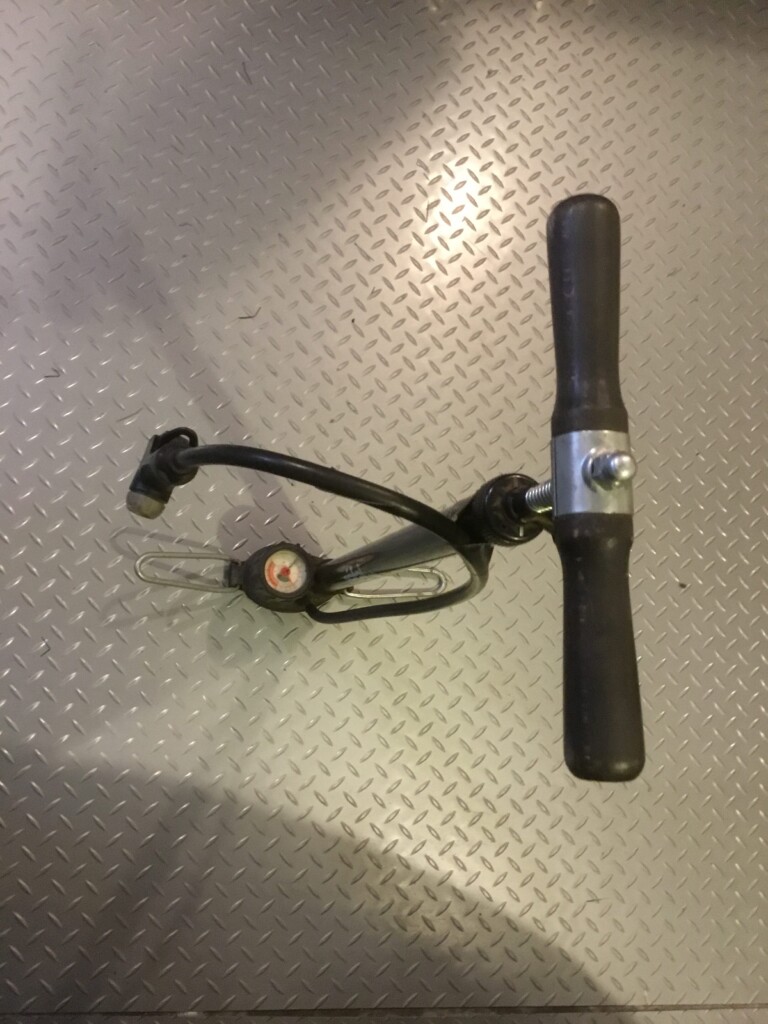 KUAT – 3-bike car rack to attach to 1¼" hidden hitch receiver. 
It is much lighter than similar racks, is easy to set up, folds for storage or to save room when leaving on the car. 
The bikes hang off the supports but are securely held with strong rubber attachments — 4 in total — 2 on each side and the rubber portions of the supports can be turned to allow the bike to slide along it or to butt a support up against the seat tube. 
It has an integral lock at the front of the supports and comes with a lock for the rack/hitch for security. 
We only replaced it as one of us has gone to an electric bike. $200 OBO.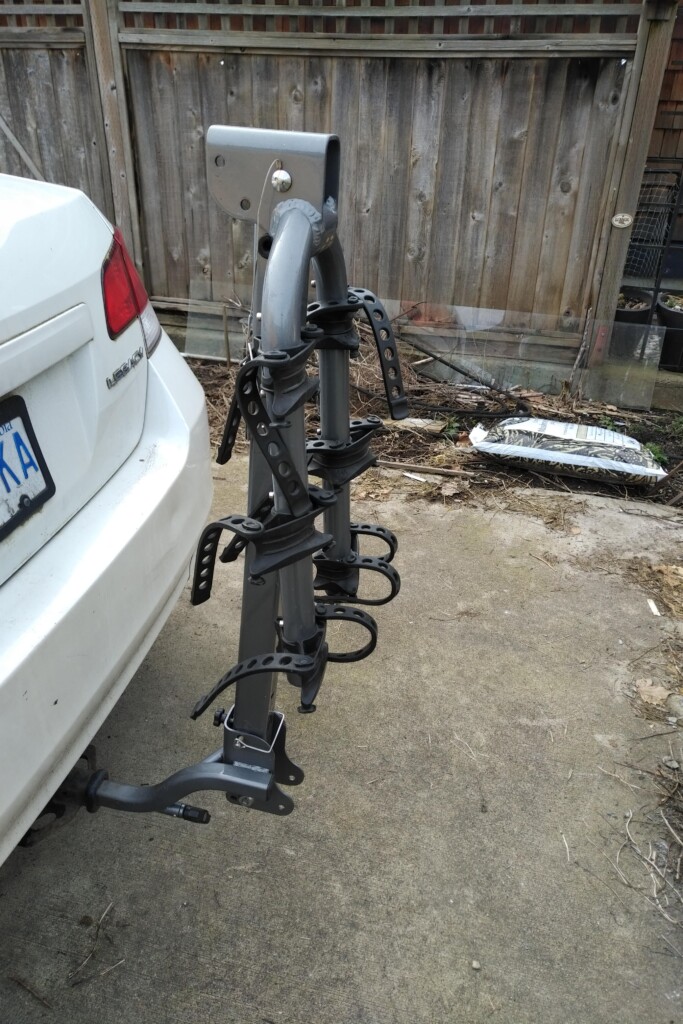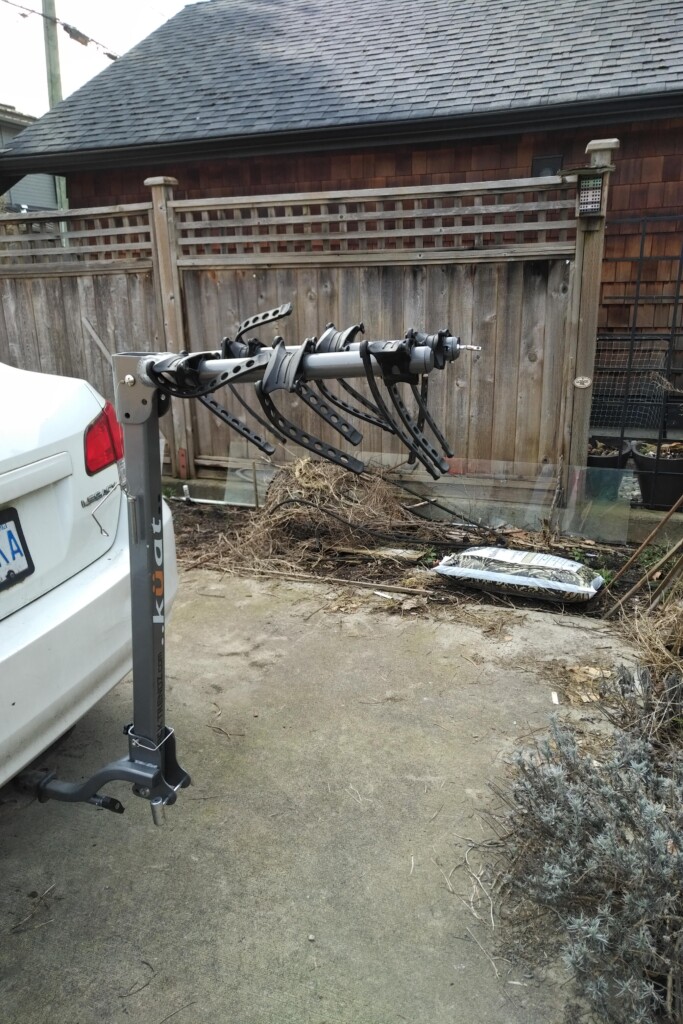 Vancouver (or Fraser Valley) — I live in Vancouver
PERISCOPE CO-PILOT Tandem
Here is a tandem bicycle that I like to sell an active and adventurer seeking couple. 
2010 Co-Motion PERISCOPE CO-PILOT Tandem with S&S coupling. It is totally adjustable from 5'5" to 6'5" Capitan (front) and 3'5" to 5'9" co-pilot (back).
It can be packed in one or two boxes for travelling.
It is hand-built in Eugene Oregon equipped with Shimano XTR and Ultegra parts.
Gino Salamatian
250-661-3040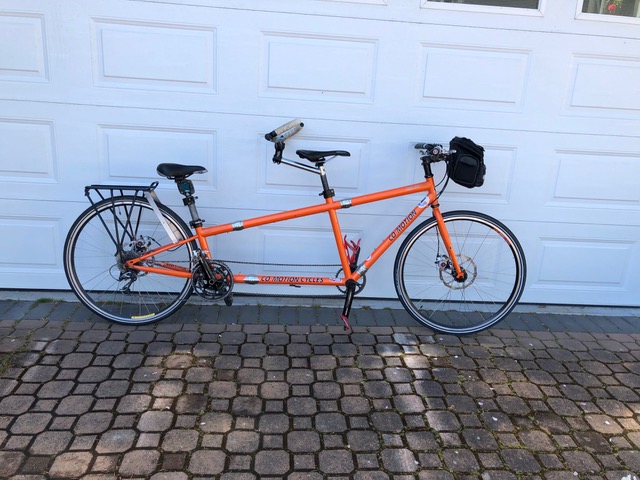 Ski Package
For sale : Atomic wide body skies  -170 cm / 19  m radius with Salomon C  – 610 bindings + Kastle carve poles -116 cm or 46 "
Smith Vantage Helmet with vent adjustments  -like new condition + used Smith ski goggles . Asking  $ 120.00 
I live in the Vancouver area
Contact Werner Acher:  vw.acher@shaw.ca     604-325-0851
Trek Series 6 Domane
58 cm carbon frame
DI2 shifters
Ultegra Group set
Compact front chain ring
11-36 cassette
Bontrager 28 mm RLX tires
Caliber brakes, Look pedals
Light, fast, in good condition $2800.00
Ph Jake @ 250-710-6853
Chemanus, Vancouver Island Area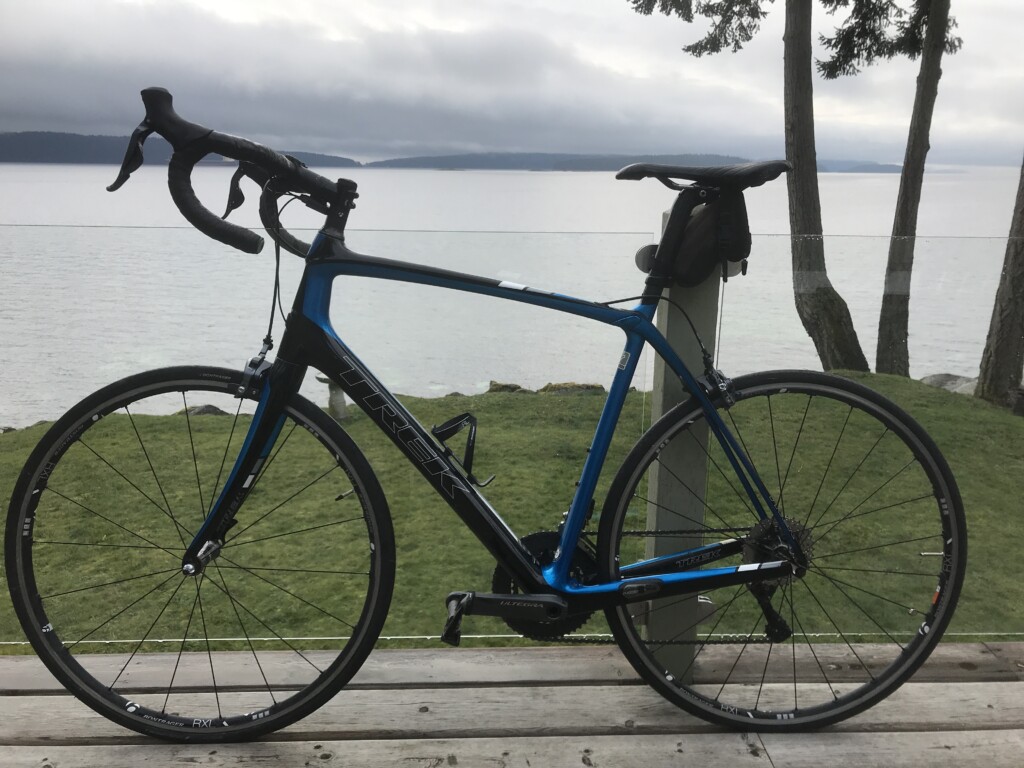 Bob Trailer
I have a Bob Trailer , model  Yak  with dry sac  for sale.
New listed cost is $1,151.52 and I am selling mine for 42% of that price which is $483
I have the original box that  the trailer  came in and I am willing to ship to the  new owner at their expense.
If anyone is interested contact me at greyfelix18@gmail.com
I reside in Victoria, BC , Canada
Videos
Tours
From the Tour Director's Desk – April 2022
The Tours section has been busy trying to get things going for you to cycle tour this year and beyond. Please check out the CCCTS website for all the details on our current offerings. Here's what we have going for 2022:
Washington Wheatlands (May) – fully subscribed with a small wait list – rural motel-based tour in Washington state.
Niagara/Erie Pannier rides (June) – group 1 and group 2 – almost full with a few spots available for each group – motel-based tour in Ontario.
Laurentian Pannier ride (July) – Pending Board approval – motel-based tour in Quebec. (Will post to the CCCTS website as soon as it is approved.)
Southern Rockies tour (July 25 thru August 5) – 12-day camping tour in the beautiful southern Rockies beginning in Fort Steele – truck-supported – registration opens on April 14th. Mark it on your calendars.
Sunshine Coast of B.C. (September 15-23) – motel-based tour – vehicle-supported – beautiful ride along the Sunshine Coast and the east side of Vancouver Island – registration opens on May 2nd. Mark it on your calendars.
Sri Lanka (September 16 thru October 8) – 3-week contractor-led tour of entire island of Sri Lanka – van-supported – registration opens on April 25th. Note that this is a delayed registration timeframe from what was originally advertised. We are monitoring the evolving political and economic issues Sri Lanka is having and will use this extra time to inform our "go/no go" decision for this tour.
For 2023, we are busy working on tour planning. Tour ideas in the planning stages now include Arizona, PEI and Isle de Madelaine, Japan, Slovenia, Croatia, Mallorca, Portugal, and tour in Washington state. For 2024, so far we are hoping for a tour to Germany and South Korea. Of course, we want and welcome more tours in North America, and especially for destinations throughout Canada. We are up for anywhere you want to lead a tour, provided it is safe for travel.
In addition, since there are limited cycling options during the winter that don't require traveling for a long distance, the Board has approved the club offering cross-country (x-c) ski tours. We hope to try out this concept in the winter of 2023 with a tour in Washington state. We would love to offer an x-c ski tour in B.C., Alberta, or Ontario if people step forward to lead them. Please contact me about any cycle or winter ski tours you might like to lead for the club. (robincooksandsews@gmail.com, 206.899.7255)
Take care and have fun!
Robin
Hub and spokes
2022 Duncan Hub & Spoke #2
Status: Registration closed
Dates: Mon, 6 Jun 2022 ‐‐ Sat, 11 Jun 2022

Welcome to Duncan, the "City of Totems", an attractive town near the mouth of the Cowichan River. You'll get to visit Cowichan Lake, Chemainus and its world class murals, Cobble Hill wineries and a cidery, ancient railroad routes and the famous Kinsol Trestle, while enjoying five days of riding around the beautiful Cowichan valley. Leads & sweeps for all rides.

2022 Duncan Hub & Spoke #1
Status: Registration closed
Dates: Mon, 30 May 2022 ‐‐ Sat, 4 Jun 2022

Welcome to Duncan, the "City of Totems", an attractive town near the mouth of the Cowichan River. You'll get to visit Cowichan Lake, Chemainus and its world class murals, Cobble Hill wineries and a cidery, ancient railroad routes and the famous Kinsol Trestle, while enjoying five days of riding around the beautiful Cowichan valley. Leads & sweeps for all rides.

2022 Florida Gulf Coast Hub and Spoke
Status: Ride is full, wait list only.
Dates: Thu, 10 Nov 2022 ‐‐ Fri, 18 Nov 2022

Extend your 2022 biking season with a week of cycling on Florida's beautiful Gulf Coast! This hub and spoke will take place in November and will be based out of St. Pete Beach, known for its sunshine, soft sand beaches and dedicated bike trails. We will explore the Pinellas Trail and other bike trails and roads in the Tampa/St. Petersburg area, with stops along the way to explore the sites and sample the seafood.

2022 Fraser Valley Chapter Hub and Spoke
Status: 29 slots are available.
Dates: Thu, 7 Jul 2022 ‐‐ Mon, 11 Jul 2022

Daily ride options to choose from – quiet country roads in the Fraser Valley and south of the border, to more urban rides along a network of bike paths and designated routes in Richmond, Vancouver and beyond. Special interest rides may include gardens, public art and/or historical sites. Start locations of the routes will vary.

2022 Fraser River Canyons, Benches & Grasslands Hub & Spoke
Status: Registration closed
Dates: Mon, 13 Jun 2022 ‐‐ Fri, 17 Jun 2022

Explore four scenic ranch roads less travelled on the dry side of B.C.'s Coast Mountains. A group supported camping and three ride days Hub & Spoke based from Clinton and Lillooet. Bring your camera, binoculars and mountain bike or gravel bike!

2022 Shuswap – North Okanagan Hub & Spoke
Status: Registration closed
Dates: Tue, 28 Jun 2022 ‐‐ Sat, 2 Jul 2022

Welcome to the beautiful and diverse landscapes of the Shuswap – North Okanagan region. Enjoy the sights, sounds, smells, and tastes of nature as you cycle some of the 1500+ km of paved back roads in the area.

2022 Comox Valley Hub and Spoke
Status: Registration closed
Dates: Mon, 20 Jun 2022 ‐‐ Fri, 24 Jun 2022

Visit Courtenay, Comox and Cumberland while enjoying five days of riding in the beautiful Comox Valley and surrounding islands including Denman, Hornby and Quadra as well as a challenging  18 km ride up Mt. Washington.  

2022 Comox Valley Hub and Spoke – for CV VOLUNTEERS ONLY
Status: Registration opens Sun, 1 May 2022 7:00 AM
Dates: Mon, 20 Jun 2022 ‐‐ Fri, 24 Jun 2022

This link is only to be used by Comox Valley CCCTS volunteers.

 
New Members
| first_name | last_name | city | province |
| --- | --- | --- | --- |
| Robert | Young | Vancouver, BC | BC |
| Susan | O'Connor | Nepean | ON |
| Debra | Sloat | Kamloops | BC |
| Ruth | Walton | Ottawa | ON |
| Kevin | Caldwell | Courtenay | BC |
| Rosemary | Sutton | Brentwood Bay | BC |
| Bob | Le Riche | Ottawa | ON |
| Joss | Walsworth | Manotick | ON |
| Dorothy | Wilson | Comox | BC |
Published at least ten times a year by The Cross Canada Cycle Tour Society, a non – profit organization for retired people and others who enjoy recreational cycling. 
Items for the NEWSBRIEF must be received by the 28th of the month. The Editor reserves the right to edit for clarity, brevity and suitability of publication. The views expressed in the "NEWSBRIEF" are not necessarily those of the CCCTS or the Editor.
Submissions for NEWSBRIEF should be emailed to alaird212@gmail.com