We  elected to do this ride as the road is very quiet.  It involved a long climb out of Merritt with the Coqohala high above us on the left and the Coldwater River on the right.  The country side was forest and ranch land.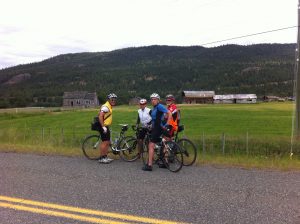 At the end there was a great long swooping descent as we came back down into Merritt.  A farewell coffee stop at Brambles in Merritt and most of the riders were on their way home.  
I had a couple of dogs come out and try to bite me but I yelled SIT! and they did.  Max did me one better.  He had a coyote come out of the woods and chase him.  Scary!
This ride was 70 km from the hotel and total ascent was 840 M. 
Well that was the Glaciers to Grasslands Hub and Spoke.  If you ever get a chance to go on an event hosted and planned by the Zorns…………..DO IT!!  You won't regret it.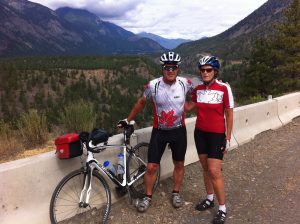 They get 5 out of 5 on all categories as far as I am concerned.