The Cross Canada Cycle Tour Society        November 2021,  Volume 38, Issue #11
"How can we CCCTS members help to grow our Club's Ride Leader capacity?"

An invitation to participate in a CCCTS members' Zoom Conversation
Wednesday, November 17 at 9:30 a.m. PST.
Our Club is powered by Volunteers! Since 1983 CCCTS volunteers have organized and hosted over 370 ride events! << CTRL + Click this link to see a list. Over the years CCCTS Ride Leaders and Board members have shared high quality, safe, affordable, enjoyable cycling experiences with fellow members. Many members lead weekly Chapter rides. Where there's laughter and friendly conversation you will find CCCTS Members lending a hand for the benefit of the group on Tours and Hub & Spokes by helping with dishes, loading trucks, making early coffee, organizing happy hours, helping with bike problems…., what a fine, active group of cyclists we belong to!
Our Club's website lists information about Tours and H&S events (Descriptions and Trip Reports pages) dating back to about 2013. Earlier Club Ride records dating back to 1983 may be archived but are not readily available. Over the past nine years a total of 51 members, about 10% of our average total Club Membership, have hosted Tours and Hub and Spoke events. See the attached list of 2013 – 2021 Ride Leaders posted on the Club website's Club Reports page here.
Three quarters (39) of these 51 Ride Leaders have led or co-led, one or two Tours or Hub & Spoke Rides since 2013. One quarter (24) of the listed Ride Leaders have led or co-led three or more Club Ride events. What can we do as a Club to encourage these Ride Leaders, who are the life blood of our Club, to consider continuing to lead new and repeat Tours or Hub & Spoke Rides over the next nine years? How can we encourage new and seasoned Club members to consider taking on the role of Ride Leader or co-Leader with the support of experienced Ride Leaders?
YOU are invited to participate in a Club members' Zoom Conversation to share your thoughts and ideas on the question, "How can we CCCTS members help to grow our Club's Ride Leader capacity?"
Please register by Sunday evening, November 14 for a one-hour Zoom conversation using the Registration Form here: https://www.cognitoforms.com/LHNS1/HowCanCCCTSMembersHelpToGrowOurClubsRideLeaderCapacity
After registering, an email note will be sent to you with a link to the Zoom Conversation session and other details.
Results of this Zoom Conversation will be summarized in the December 2021 Newsbrief and discussed by CCCTS Board members.
Zoom Conversation Date & Time: Wednesday, Nov. 17 at 9:30 a.m.
Questions? Please contact Hub & Spoke Director, George Zorn: gjzorn@shaw.ca, 250-832-9335.
If you have ideas or suggestions related the question above but are not able to participate in this Zoom Conversation, please email your thoughts to gjzorn@shaw.ca Thanks!
A four part series on the history of the early years of the CCCTS by Allan Buium
Preface
Thank you to the founders who kept the Club rolling in the early years — they had a sincere wish to have a cycling club dedicated to "seniors" who saw cycling as an integral part of their recreational activities.  It gave them an opportunity to see their country – the initial expedition in 1983; followed by the down-under tour to Australia and new Zealand.  Then the realization that shorter tours are more readily organized and give one a great deal of satisfaction and still a personal challenge – be it B.C., or into Alberta or the Pacific NW of the U.S.  and on into Oregon and California.
As you read this story of CCCTS you may be somewhat curious as to where your touring experience will appear.  Are you going to be able to pick out the individuals with whom you recall having to camp with under rather unconventional circumstances?  Don't spend too much time being frustrated that you may not remember the specifics of a tour because many stories were actually quite similar.  
I have taken the liberty to blend the experiences so many will recognize a similar incident/occurrence and think it's a tour during the summer of 1989 and yet others will see it as the great fall event of 2005.  Regardless of the event, they were all told in a most exciting way by the many participants who took the time to share their thoughts through the Newsbriefs.  
Names of individual members have been omitted.  Why?  —  because there's always the accidental omission of individuals who did so much for the Club. With incomplete archival materials, omission of names in Newsbriefs and Board Minutes, the difficulty to contact former members and those who have left us it was thought best to not make reference to individuals.
Thanks for the memories!
 A  History of the Cross Canada Cycle Tour Society — Chapter 1
Your bike is wondering where  it will be taking you today — the weekly CCCTS ride with lots of chatter and coffee.  No, it's probably the Hub & Spoke that has been in the works for the past three months.  Wrong guess, it's the long awaited tour through the Okanagan Valley with its orchards, vineyards, vegetable gardens, a few wineries and rather arid hillsides that evoke a natural beauty of their own.
This week will see a few campsites as well as a couple of motels for our nightly rests from the not so arduous climbs and the relatively quiet roads that roll along for tens of kilometers.  There's lots of time to soak up the scenery and sun while challenging the odd head wind.  But, it occurs to me that if it wasn't for CCCTS I may not be spinning along and appreciating this cycling experience.
Yes, it was three plus decades ago that our bicycle club emerged from the dreams/ideas of a few active retirees residing in B.C.'s Lower Mainland.  These individuals weren't recalling an Oscar Wilde quote —
To get back my youth I would do anything in the world, except take exercise, get up early, or be respectable.
But rather, giving some serious thought to a statement made by the late playwright, George Bernard Shaw, who said that —
…we don't cease to play because we grow old but grow old because we cease to play.
What kind of cycling expedition were these adventuresome/adventurous "fifty-five plus crowd" contemplating?  To use their new found leisure time cycling the highways and bi-ways of this vast country.
Maybe Woody Guthrie's lyrics —
This land is your land, this land is my land, from the Bona Vista to Vancouver Island, from the Arctic Circle to the Great Lake waters, this land was made for you and me…
were ringing in the ears of the few dreamers in the Senior Citizens Recreation Club.  ( A group of seniors who were contemplating a cycle tour across Canada.)  Or that the old maxim of regular exercise and intelligent eating habits add immeasurably to a glorious feeling of well being.  Whatever the initial motivator was, the latter months of 1982 was a period of incubation for a cycle tour across Canada.  The initial plans were gleaned from Cycle Canada '76 — a training program to type of bike, maintenance, outdoor living and activities along the way.  In addition, the preceding decade witnessed media messages from PARTICACTION telling Canadians how physical fitness was important for our well being.  Health Canada continued in the early 1980's with the message but emphasizing for all Canadians to "…don't just think about it — do it!"   The small numbers of the Recreation Club took the slogan to heart and as 1982 drew to a close, the number of members increased and all were drawn to the proposed cycling adventure.  Thanks to the positive media coverage being received interest grew among the "younger seniors" of B.C.
Maybe it was "…that ribbon of highway…from the Bona vista to Vancouver Island…"  That was the stimulant.  Or, was it the 1950's novel by Jack Kerouac, On the Road, that may have been talked about.  The latter was probably a bit of a remote possibility because of some aspects of its theme!  But maybe, their younger siblings or the members' children may have commented on Kerouac's adventures.
Regardless of what gave the few dozen individuals the impetus to join the group they set themselves a somewhat realistic target of cycling across this vast country.  Or, was it an insurmountable target for those that thought about the adventure but had a change of heart when the sign-up date was near?
More importantly, while the casual conversations about the planned cross-Canada trek grew in frequency, the matter of formalizing this rather ad hoc group of like minded seniors into a society began to crystallize.
In late November, 1982 the Club was established under the Society Act of British Columbia and on January 13, 1983, the CCCTS received its formal certification of incorporation and the Club has not looked back since that memorable date.  That small group of cycling visionaries didn't realize that they were instrumental in creating an opportunity for the casual cyclist to fulfill dreams of cycling the many roads of not only British Columbia but also other provinces of this vast land.  In addition, a number of states of the "lower 48", especially in the west as well as the newer ones of Alaska and Hawaii.  The cycling horizons didn't stop with Canada and the United States; but saw the CCCTS logo on tours in So. Africa, Cuba, Chile, Mexico and numerous European countries as well as Australia, New Zealand, China, India and Vietnam.  If only our "chattering" chains could have recorded the many thousands of sights so many Club members passed by in our first three decades — what a travelogue!
But the minds pushing those chain links through many gears did make a record of the sights and sounds they passed and it's those memories that, hopefully, you will enjoy reading about on the following pages.
Today, many of us just sign up for a tour after reading about it in the Newsbrief or at "
cccts.org
" with only a modicum of thought given to the amount of effort the tour leader(s) has given to the organization of the event.  We do take so much for granted.  But the cost of a CCCTS tour is still the "bargain in town" when put up against other clubs or commercially organized events of a similar nature.  Planning for the inaugural tour of the Club was a different story.  A medical certificate/letter was required as were a number of weeks of organized training rides and camping experiences to be prepared for most eventualities.  Of course there were the unknowns as on any tour and it's those experiences that make cycle touring an adventure with many cherished memories.
Seniors have come a long way in our society with the "freedom 55" slogan or the oft mentioned cliché of "today's 70's were yesterday's 60's".  When we look at the CCCTS demographic charts of recent years we see the bulk of the membership between 60 and 75 years of age.  But there are a number in the 50's and right into the early 90's.
Kinesiologists and gerontologists have done extensive research on aging and the factors that appear to slow the aging process down.  Or is the new mindset that has evolved where "us cyclists" are self-starters and setting examples for the majority of our contemporaries.  Today's tours don't seek out researchers to carefully analyze the many bodily changes over the duration of a tour.  But that is what SFU researchers did in 1983.  They carefully documented each participants "health status" at the beginning of the tour, approximately halfway along — Thunder Bay, Ont. and then at the end of the ride — St. John's, Nfld.  
Do we have to go back to the "Charles Atlas marketing of its fitness program for the 97 pound weakling"?  A simple no!  We're generally a physically fit group of recreational cyclists who have received numerous accolades over the past three plus decades.  Maybe one of the better compliments came from the Director of Saskatchewan Seniors following the inaugural Cross-Canada tour.   Dr. S.L. Skoll congratulated the participants on their magnificent achievement in cycling the breadth of Canada.  Then went on to say that "…you have done for seniors what Sir Edmund Hillary did for mountaineers — earned a place in history.  May you all go from strength, and help to explode several of the stereotypical myths of old age."
Since that tour we have the right to take the "profitable assets" when placing ourselves on the balance sheet of fitness for those in our age group.  (The first cross-Canada group's ages ranged from 55 to 77.)  Tour after tour participants return home to marvel at their accomplishments.  Even the "newcomers"   express a feeling of satisfaction that they accomplished the unexpected.  Some of the newcomers are younger than that 55yr. mark.  Yes, they not only marvel at what their older companions are able to do but also express satisfaction at how well they are doing.  What a future they have ahead of themselves — decades of pleasurable cycling lie ahead.  When asked if they would do another tour the overwhelming responses are positive.  But, usually with some qualifiers; i.e. be better equipped in terms of preparatory fitness or a better tent or even a bike more suitable for unexpected road conditions.  
Stayed tuned for the further adventures of the originals in upcoming issues of the Newsbrief.
Videos
More of a slide show than a video but a very nice presentation of cycling in Slovenia…Rated the 5th best destination in the world by Conde Nast Magazine last month.
No new Tours or Hub and Spokes at this time but stay tuned.
Chapter News
From our Members in the Ottawa Chapter.
Ottawa Chapter Windup Social, October 5, 2021
Forty members registered for our windup get-together at the Trolley Station at Britannia Park on the shores of the Ottawa River.
Five rides of varying lengths were offered leaving from Britannia ; One ride was offered leaving from Kanata in the far west end to Britannia ; Other members found their own way to the meeting location.
After enjoying a picnic lunch of our own making, Barbara Wilson, Chapter Rep, offered her thanks to the Chapter's social convenor, Margo Roden, all the ride leaders, trip and hub and spoke organisers, as well as those who worked "behind the scenes" making the signup sheet available, sending out weekly emails and making sure our ridewithgps library is current.
We were fortunate to have the club's banner on display made by and sent to us by Jenni Linnea, CCCTS Membership/Chapters contact, with thanks. To mark the "almost" end of a successful riding season, a delicious celebratory cake was served.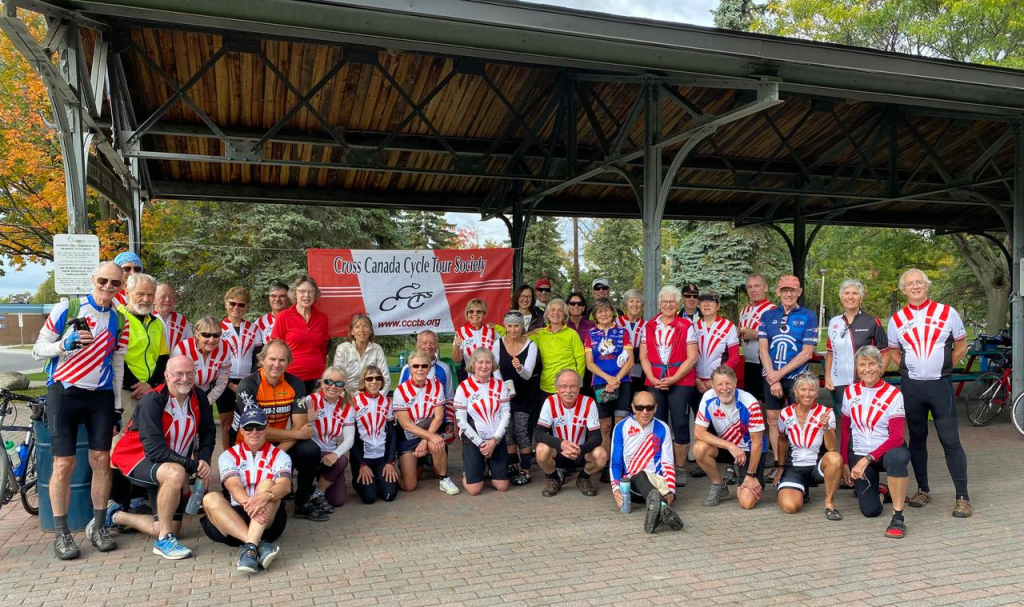 Members of the Ottawa Chapter enjoying our social get-together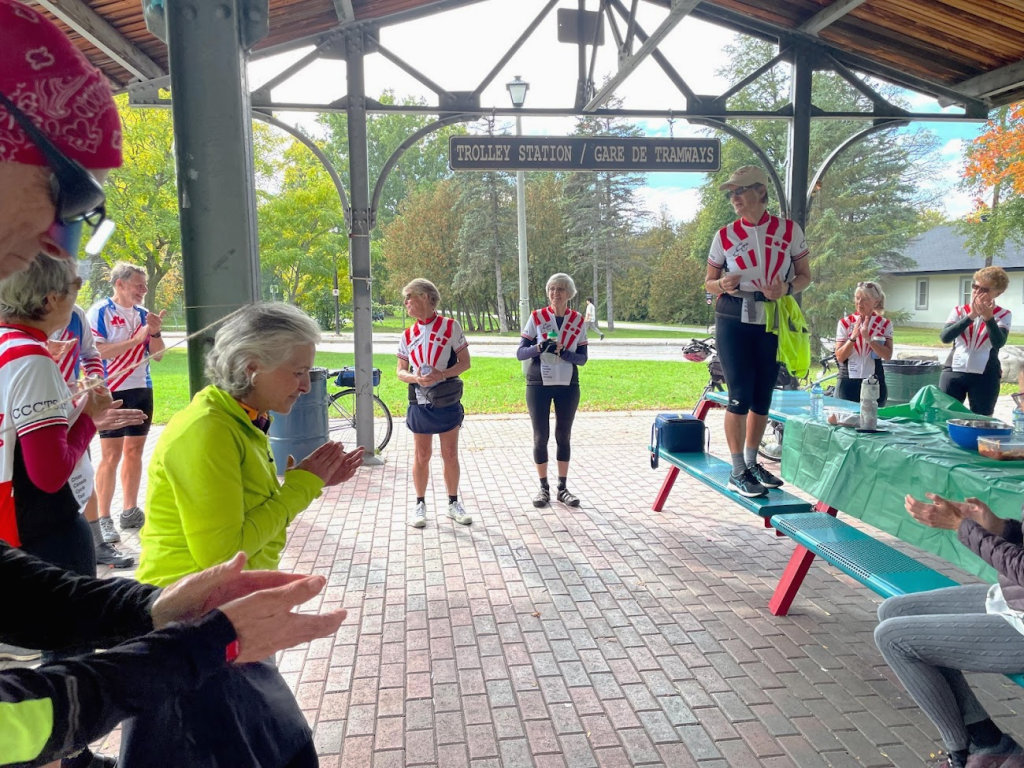 Thank you time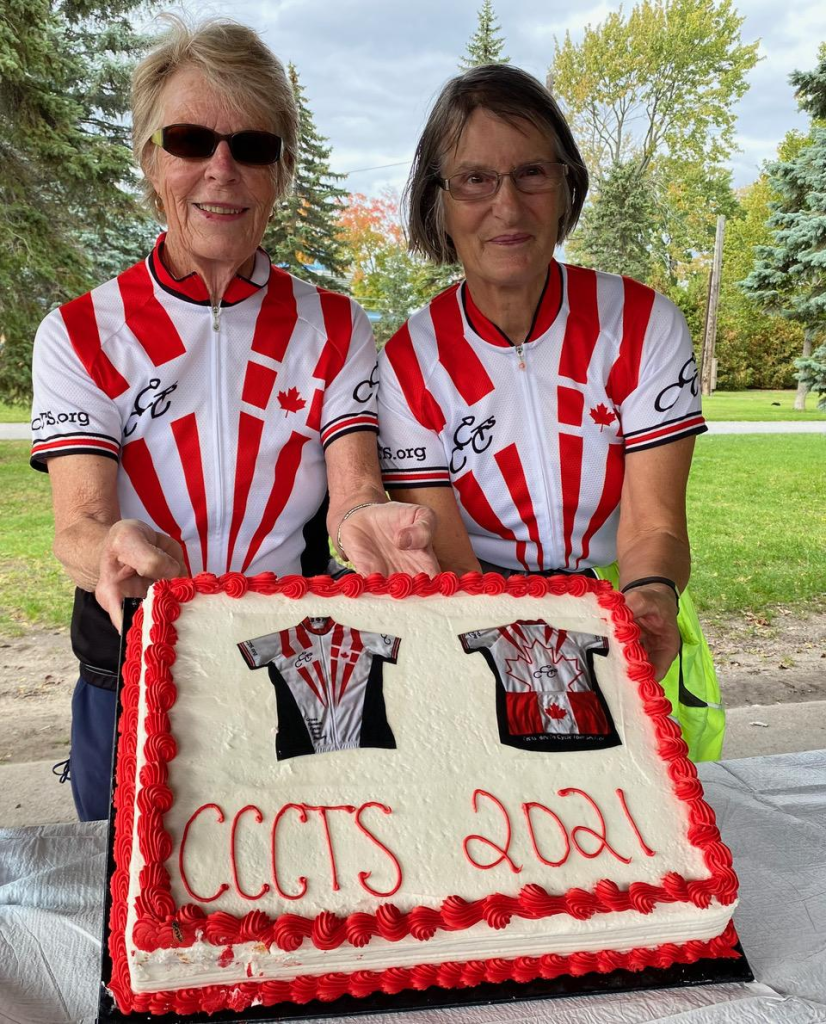 Social Convenor Margo and Chapter Rep Barbara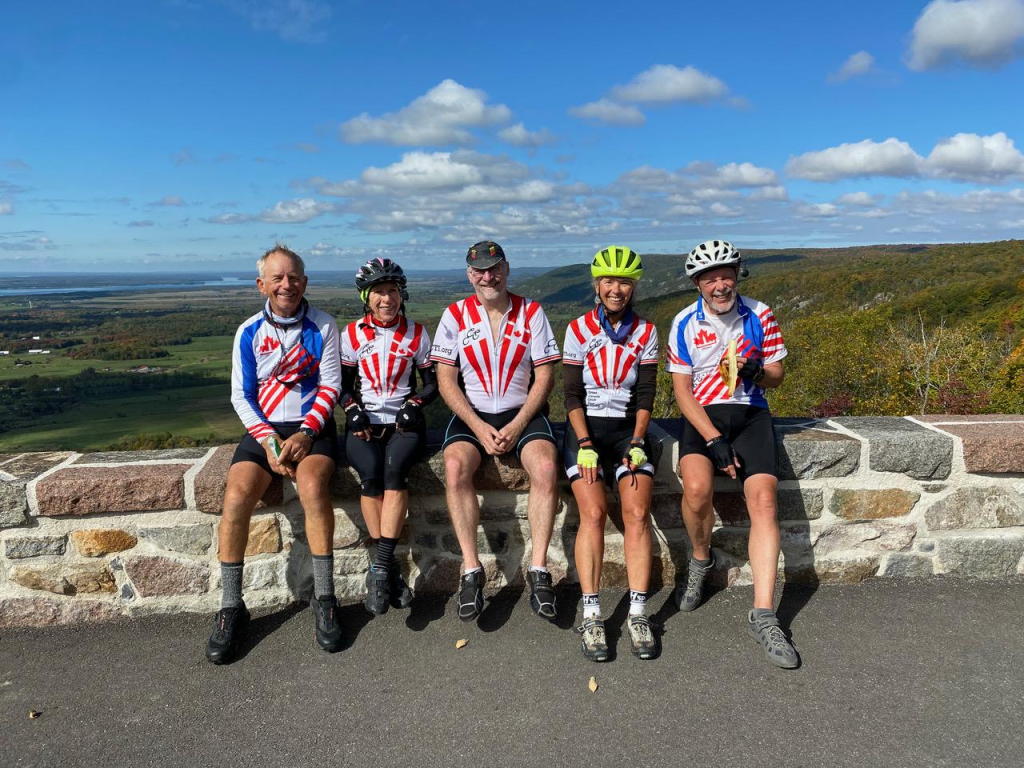 The Britannia-Champlain Lookout Gang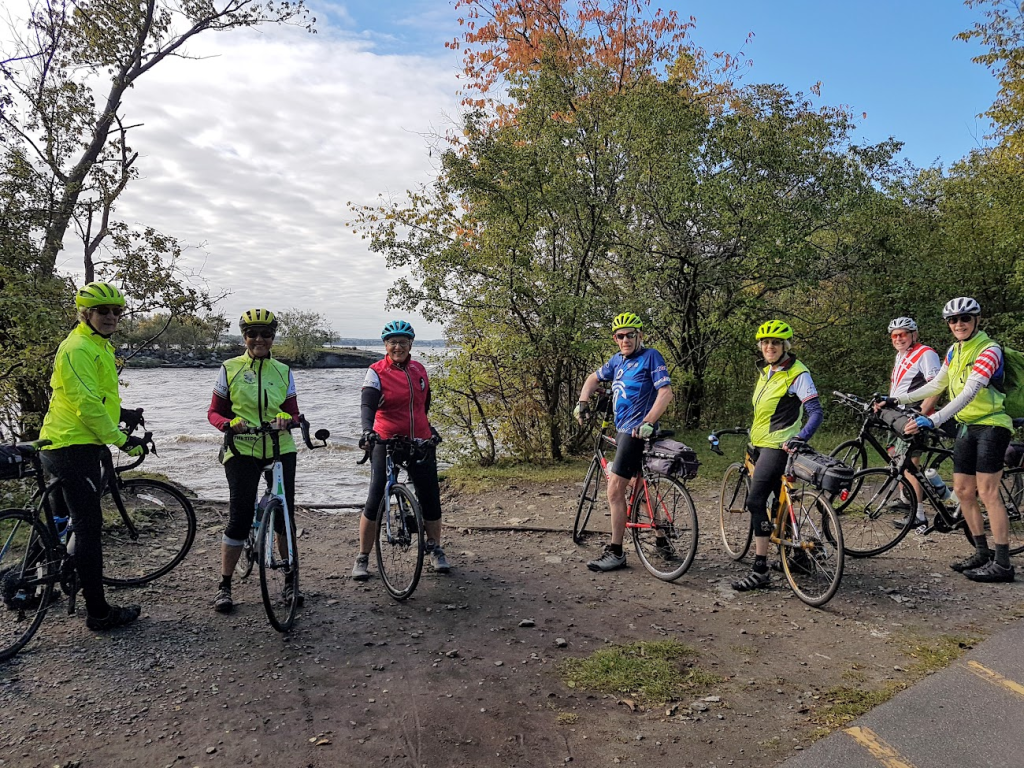 The Britannia-Aylmer Gang
Submitted by Barbara Wilson, CCCTS NCR Chapter Rep
New Members
| first_name | last_name | city | province |
| --- | --- | --- | --- |
| Margaret | Lerhe | Ottawa | ON |
| Jo-Anne | Crawford | Armstrong | BC |
| Dale | Morgan | Courtenay | BC |
Published at least ten times a year by The Cross Canada Cycle Tour Society, a non – profit organization for retired people and others who enjoy recreational cycling. 
Items for the NEWSBRIEF must be received by the 28th of the month. The Editor reserves the right to edit for clarity, brevity and suitability of publication. The views expressed in the "NEWSBRIEF" are not necessarily those of the CCCTS or the Editor.
Submissions for NEWSBRIEF should be emailed to alaird212@gmail.com