The Cross Canada Cycle Tour Society        August  2020,  Volume 37, Issue #8
The National Capital Chapter's first official ride of the season on July 7, a 74 km cycle to Osgoode, Kemptville and North Gower.  It was an extremely hot day but with 2 groups of 6, the rides were very successful.  This features 5 of our riders outside the Moose in Kemptville.  No, they didn't wear their masks when riding and, seeing this picture of them, even I don't know who they are!
Barbara Wilson, CCCTS NCR Chapter Rep.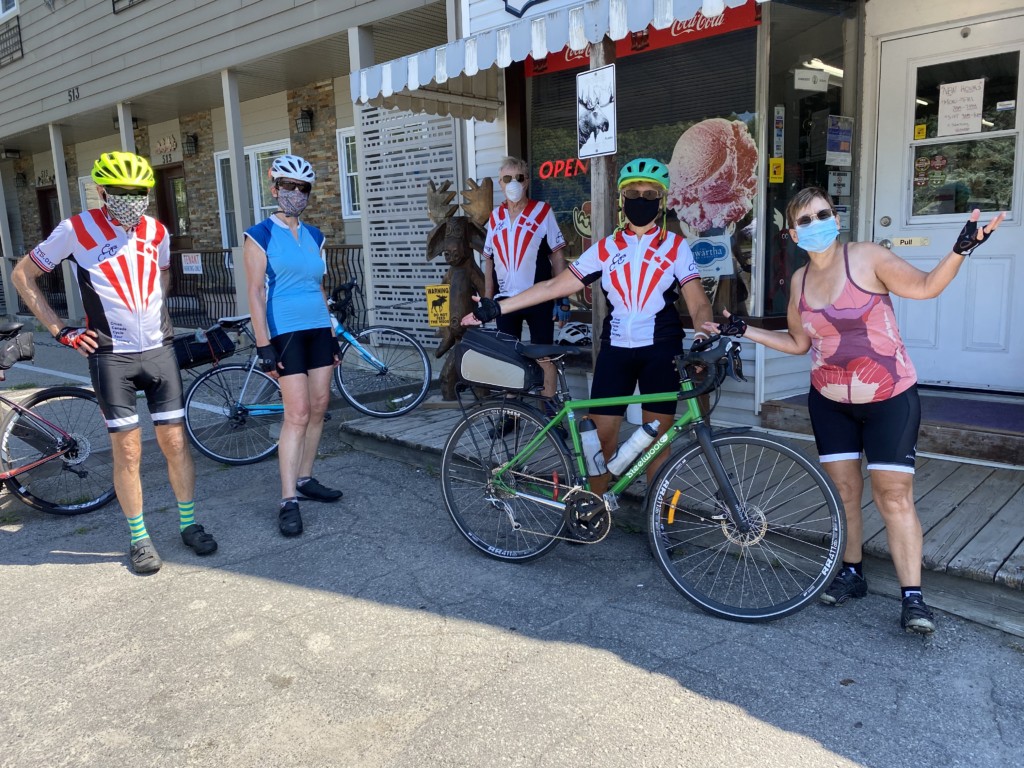 Richard Tobin, a member of the National Capital Region Chapter, has been award a Sovereign's Medal for Volunteers for 2020 for his volunteer years of working with new Canadians.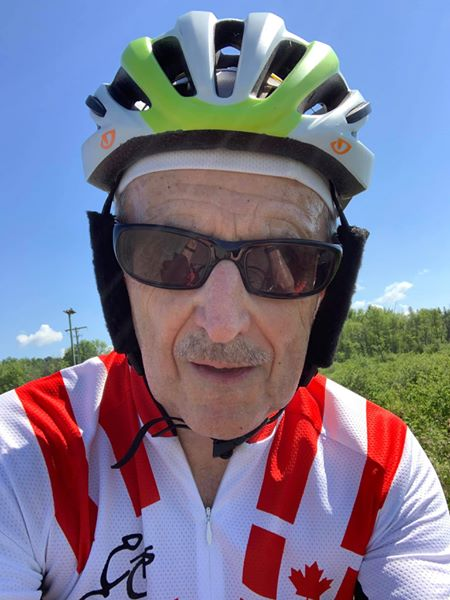 The Governor-General's website describes the participants … "Passion, dedication and a commitment to community are the driving forces behind the volunteers who receive the Sovereign's Medal for Volunteers.  The medal recognizes the exceptional volunteer achievements of Canadians from across the country in a wide range of fields and pays tribute to the dedication and commitment of volunteers. They embody the caring country we aspire to build."
In Richard's words,  
"For the last 11 years I volunteered in the Ottawa Community Immigrant Services Organization's Career Mentoring Program.  I mentor newcomers to Canada who have advanced science degrees (usually Ph.D. level) to aid them in finding their first employment here in their professional field.  I worked closely with each mentee for up to a year to assist them in developing action plans, writing résumés and cover letters, forming networks of professionals and hiring managers and understanding the Canadian work culture.   Due to the hard work and persistence of the mentees they have been successful in obtaining positions in the federal government, universities, colleges and the private sector. It has been very rewarding to see them evolve to make strong contributions to Canada through their diverse strengths."
Congratulations from all of us, Richard, for your dedication and enthusiasm in mentoring our new arrivals in Canada
Marketplace
If the vendor has not included their contact info write me at alaird212@gmail.com and I will connect you.
For Sale 

John Evanochko

604 533 4381

 

 

Watch Adapter for handlebars

 

Do you have a fitness watch such as a Garmin Forerunner  that you'd like to use on your bike ride but its cumbersome having to check it while its on your wrist?  Here's an adapter to allow you to attach it to your handlebars and conveniently be able to check the feedback as you ride?  $5 OBO. 

(watch not included, used just to show how the adapter works) 

$5 OBO.

 

2007 Cervelo R3 54cm

Chorus Camp shifters

Rhus 5 cm ceramic bearing carbon aero wheels

Set of light alloy climbing wheels with ceramic bearing and climbing cassette

Ritchie carbon seat post

FSA Mega Exo ceramic bearing crank

New Conti GP4000 25 mm tires (both wheels)

Extras

Asking $950

 

Classic Pro Miata 1985 58 cm

Upgrades:  Chorus Campi 8 speed shifters

                    Long cage rear derailleur

                 FSA Carbon Crank

Asking $450.00

 

Small folding electric bike.

20 inch wheels, one speed, 30-40 k range fits in small package.  11 kilograms. The weight is not a misprint. This is a light bike. Roughly 1000 km in three years. Battery good.   One wheel needs truing. 

Colleen MacDonald has written a book.

Let's Go Biking in the Okanagan & Beyond?

It sells for $19.95 at bookstores, bike shops and gift shops throughout BC. Proceeds are donated towards cycling advocacy.

Three Bikes for sale . 

Click on the Kijiji links below for details.

They are in the Vernon area.

I am currently selling 3 bikes. Here are links to the Kijiji adds.  If that is not good enough, let me know what you need.  I'm not wild about the idea of shipping them. It would be expensive and a hassle. So I prefer the buyer pick them up.  Shipping is not absolutely out of the question, but I am not absorbing the cost, so it makes the purchase price higher.

 

 

One Sella Italia Diva women's bike seat…$90.

 

Custom-made Berg titanium road / touring bike.

 

 Built for a person who is 5' tall, but the frame is large and will accommodate a taller person.

Mountain bike gearing to allow for easy hill climbing.  Disk brakes, Chris King hubs, carbon wheels.

 

Cost was $8,000.  Asking $2,300.

 

Contact information:

 

Charlene Dorward

604-431-0488

 

 

Classic Victoria Jersey wanted

 

This is a stretch, but I am interested in buying a Club jersey issued several years ago with an aboriginal design on it.  I think only members from the Island had access to these jerseys.  I wonder if anyone still has one – they were beautiful!  I am looking for a medium or large size to fit a medium-sized body – usually 10 in regular ladies clothing.

 

Please let me know if you think this could be included in the marketplace.

 

Thanks very much.

 

Holly Evans

Just for Laughs.

Articles

An article on the health benefits of cycling. Click the link.

https://bikecove.com/10-health-benefits-of-cycling/

Tours

All tours for 2020 have been cancelled.

Hub and Spokes

2020 Florida Gulf Coast Hub and Spoke
Status: Ride is full, wait list only.
Dates: Mon, 16 Nov 2020 ‐‐ Mon, 23 Nov 2020

Extend your 2020 biking season with a week of cycling on Florida's beautiful Gulf Coast! This hub and spoke will take place in November and will be based out of St. Pete Beach, known for its sunshine, soft sand beaches and dedicated bike trails. We will explore the Pinellas Trail and other bike trails and roads in the Tampa/Sarasota/St. Petersburg area, with stops along the way to explore the sites and sample the seafood.

New Members

| FIRST_name | last_name | city | province |
| --- | --- | --- | --- |
| Deborah | Bray | Kelowna | BC |
| Phil | Gregory | Kanata | ON |

Published at least ten times a year by The Cross Canada Cycle Tour Society, a non – profit organization for retired people and others who enjoy recreational cycling. 

Items for the NEWSBRIEF must be received by the 28th of the month. The Editor reserves the right to edit for clarity, brevity and suitability of publication. The views expressed in the "NEWSBRIEF" are not necessarily those of the CCCTS or the Editor.

Submissions for NEWSBRIEF should be emailed to alaird212@gmail.com