The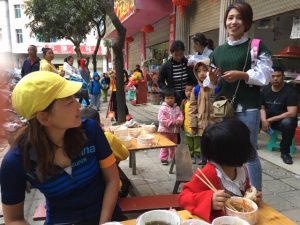 beds were like planks again but not everyone noticed. Pork or vegetable steamed buns and noodles were eaten at low street tables next to school kids wearing backpacks and having their noodles for breakfast. Lots of photos were taken by delighted locals and us.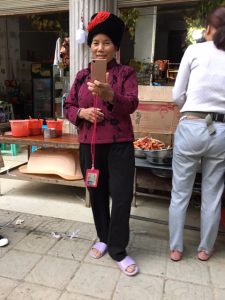 It's been interesting to see the changes in the women's clothing as we move through the mountains, from elaborate embroidery to rich velvets and long red fringes hanging from the hats. 
62 km technical ride today with an 18 km uphill on gravel, averaging 6%… some elected to leapfrog that and take the van, and some rode the whole route in temps climbing to 24° and higher. 
Some riders reported seeing a man singeing hair off a dog on the road out of Daheishan- sounded really cruel till I realized it was meat prep like plucking a chicken.  Dogs are pets here as well as food.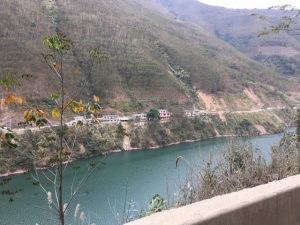 Starting up on the gravel we looked down on a river that flows to the Mekong. The houses are built on the road but clinging to a cliff, often 'single wide' or one room in depth.  The trees planted on the hillside are rubber trees. Not fat trunks as I always imagined them to be, but tall, white and stately. 
Just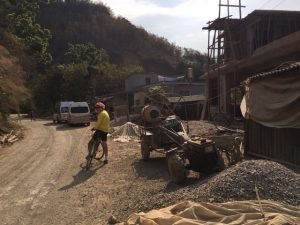 when we climb so high and deep into wild jungle we come upon cinderblock homes and roosters crowing and farm equipment, men and women carrying hoes on their shoulders as they walk to their terraces or small roadside plots. 
We are getting into tea growing country. One woman was tending 3×4' screens of black fibre that we cleverly realized was drying tea leaves. The parallel curves of the green tea bushes around the steep hillsides are lovely.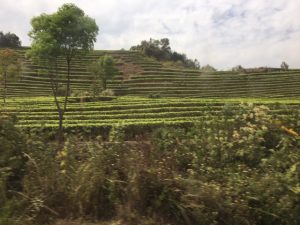 Our second police check point near the top of the ride went well with some jocularity between our Chinese speakers Larry and Yang Yang, and the young smartly dressed police. 
Then it was mostly downhill on the always snaking S curves, past almost continuous shops, storage huts, construction materials, fields, cliffs, lush green growth – you get the picture. 
Gasoline price here is 6.94 ¥/L. 
Filling one van cost 365.11 for 52.61 L
Some ride stats from Max:
61.0 kilometres
1554 meters elevation gain
946 meters elevation loss