SOUTHERN GULF ISLANDS HUB AND SPOKE
The Club's most recent Hub and Spoke – Aug 30 to Sept 4 – on Pender Island, the westernmost island within Active Pass, was enjoyed by sixteen club members led by islander Diane Swindell.
Great weather, good food, and cheerful cyclists in spite of early morning ferries and steep hills set the tone. We were welcomed the first evening by dinner at Diane's home on Clam Bay Road: appies, salmon lox on croissants, Brie cheese, cold beer and cider. Not bad!
Next day we circuited North Pender Island: never ending hills and dales punctuated by breath-takers at a vineyard, local beaches, the island bakery and a pub dinner at the marina.
Day three took us to nearby Mayne Island where, at the famous, historical Georgina Point lighthouse, we witnessed a rare event: the passage through Active Pass of the entire 24 flotilla of J Pod orcas. Magnificent! We rebranded ourselves the Triple C Pod Cyclists. Then, on to the Farm Gate Store for refreshments, more beautiful beaches and the remarkable Japanese garden near Village Bay, honouring some of the island's first residents.
Day four took us to Salt Spring Island, the yuppiest of the three. Lots of new super-charged sports cars but hardly any rusty, sheep dung-encrusted pickups. We wound our weary butts from Fulford Harbour up to Cusheon Lake, past apple orchards and down to the tourist town of Ganges for lunch and gawking, then up island to Fernwood Café for a coffee and back to Long Harbour for the homeward-bound ferry. The evening was capped by a pizza dinner at co-leader Chris Hodgson's place near Magic Lake, topped with a Mad Hatters' crazy hat contest organized by Vicki Ulibarri. The winners were Anne Campbell from Comox (aka Pender Annie) and Terry Chalmers (aka Voluptuous Bathing Babe). A hilarious end to the H&S! Many thanks to Diane Swindell, Vicki Ulibarri and a happy horde of helpers.
As an aside, the tour was evenly split between old-fashioned road bikers and e-bikers. May this be the new dynamic for the Club?
Chris Hodgson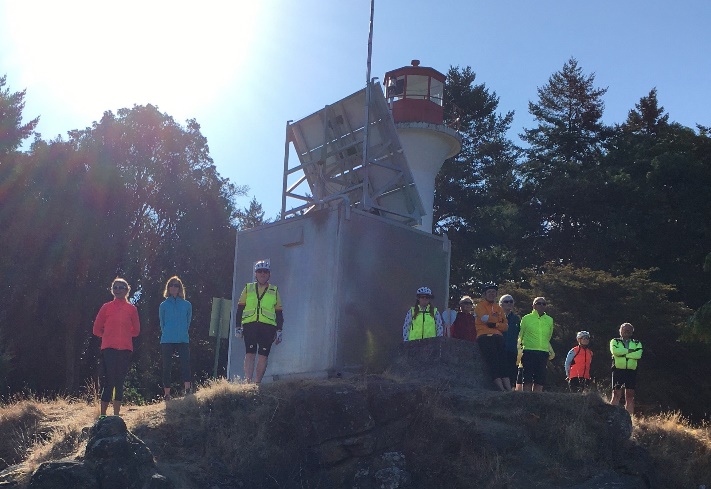 Whale watching at Georgina Point Lighthouse.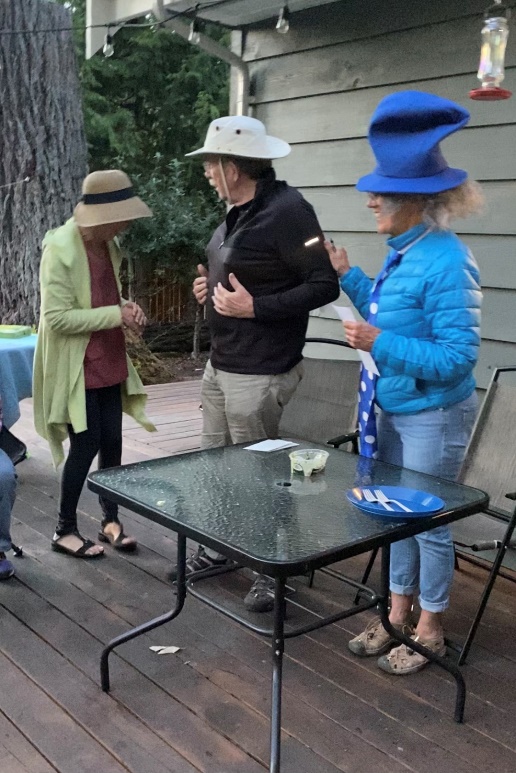 Screen shot from the Mad Hatter competition: Elegant Edith (Diane) the supplicant before (i.e., she was bribing) the judges Rick Mathias and Vicki Ulibarri.