2021 – South Alberta Tour
Leader: Doris Maron, Co-leader: Deanna Simmons
Participants: Fraser Crinklaw & Trudy Merritt, David & Annmarie Liggat, Mikkel Bonnor & Cornelia Yule, Glen & Carol Evans, Dawn Minett, Barb Oliver, Deborah Bray, Deborah Meredith,
Stuart Reynolds, Denise Howes, Nicole Christensen and Lorna Riddell
Contributions for this report made by all the riders.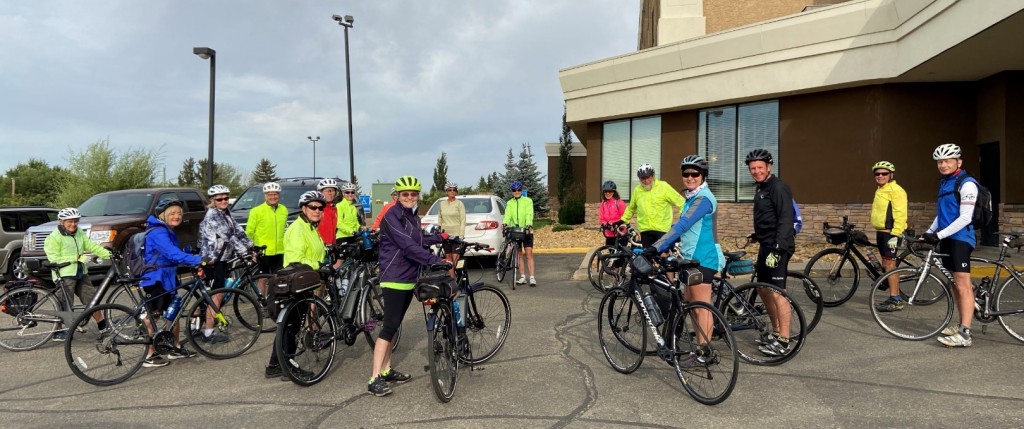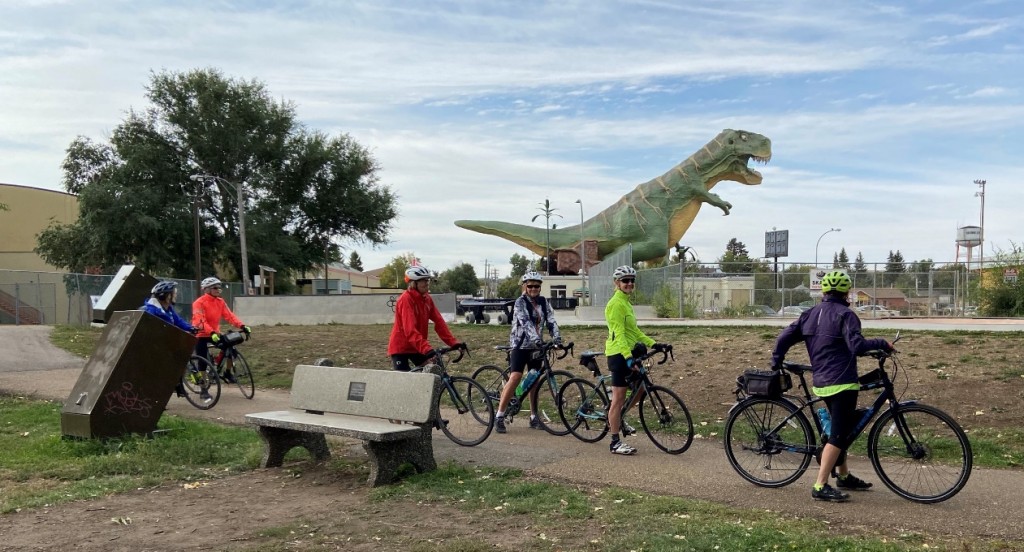 Day 1 in Drumheller started with most folks layering up for a very cool start, but expecting warm sunny weather later in the day.
The route began along the bike path following the Red Deer River, past the largest dinosaur in Canada and on to the world class Royal Tyrell Museum. Many of us returned after our ride, to explore its fascinating exhibits.
We then carried on to the smallest church (max.6) we had ever seen which has actually held wedding ceremonies! This fun stop was followed by taking in the stunning views over Horse thief canyon…then on to take the Bleriot Ferry over the Red Deer River for our return route home. It was a great introduction to the Badlands and we all got a thorough work out climbing two long intense hills and battling winds around 25 km. on our way back to the hotel.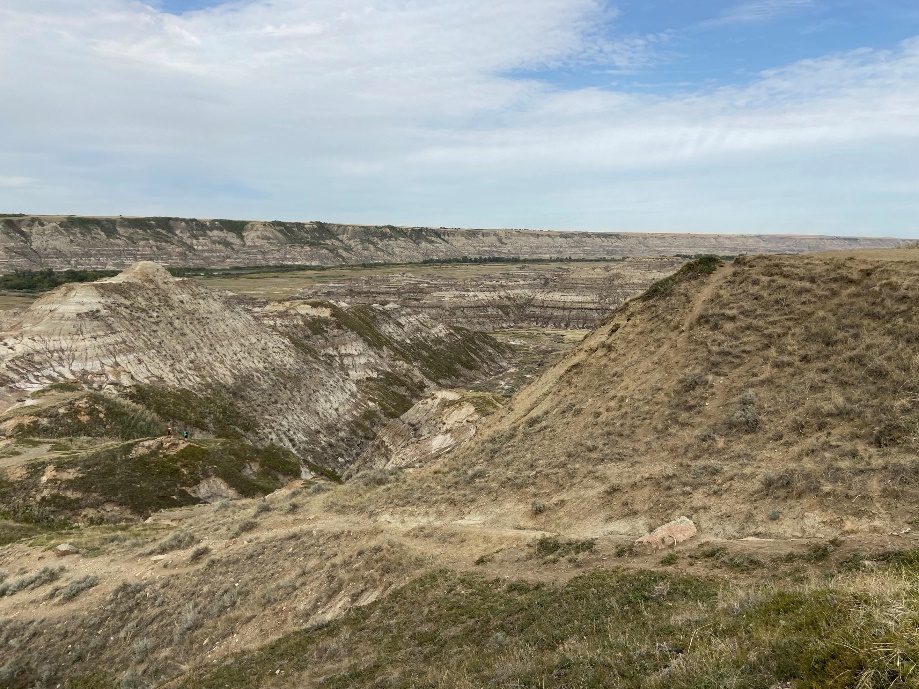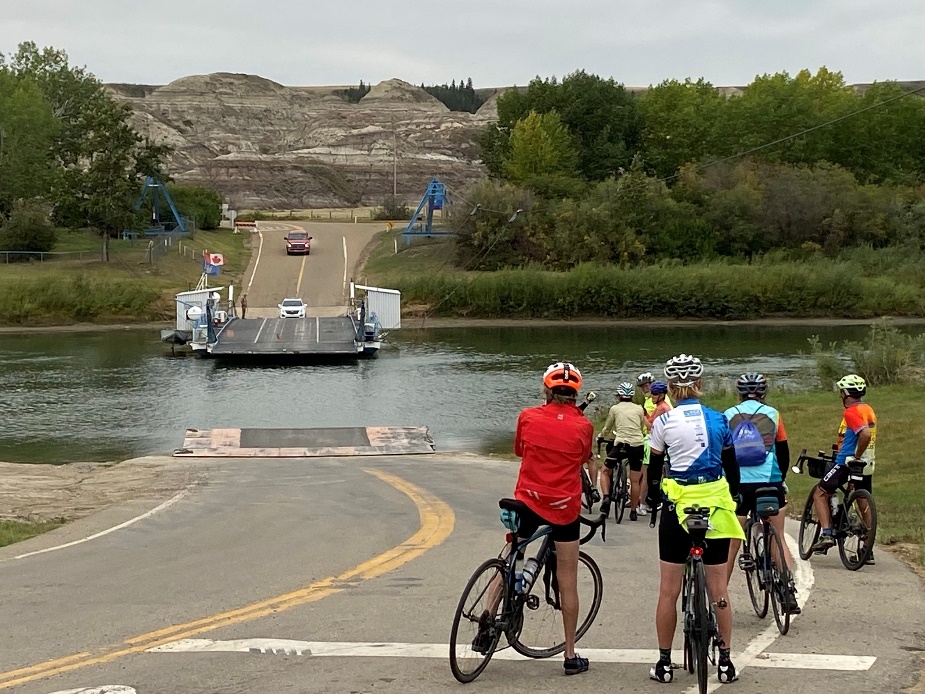 The Little Church: saving 10,000 souls, 6 at a time Horsethief Canyon Bleriot Ferry-crossing the Red Deer River
Submitted by Trudy Merritt and Fraser Crinklaw
It's 10 degrees on Thursday September 9, Day 2 of riding in the amazing landscapes surrounding Drumheller.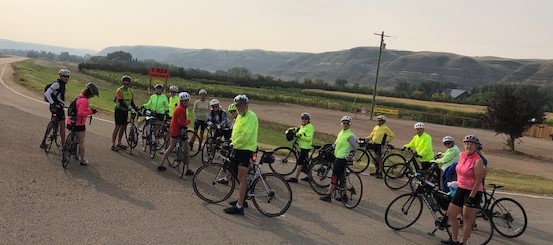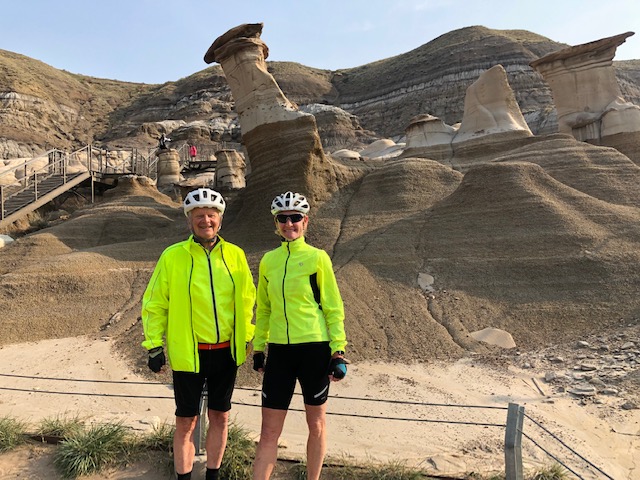 Smooth pavement to the Hoodoos Hoodoos
First stop of the day, the Drumheller Hoodoos, geological wonders in the Red Deer River Valley.
The next stop after crossing the Red Deer River was the Atlas Coal Mine #3 National Historic Site. A few of the riders took the time to tour the mine, which they found very interesting.
Cycling on to the tiny hamlet of Wayne, population 25, once a thriving coal mining town. Our destination was "The Last Chance Saloon" located in the Rosedeer Hotel – having lunch in the saloon
of a real Wild West ghost town isn't something you get to do every day! An experience that really should not be missed! Heading home in 29 degrees, with strong headwinds on the last few kms,
a fabulous ride was enjoyed by all.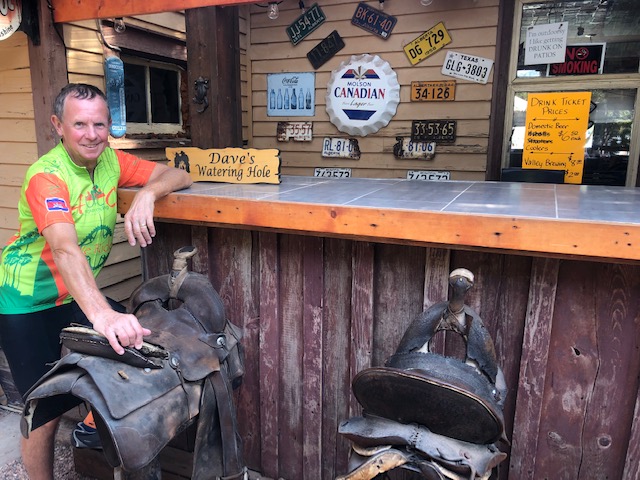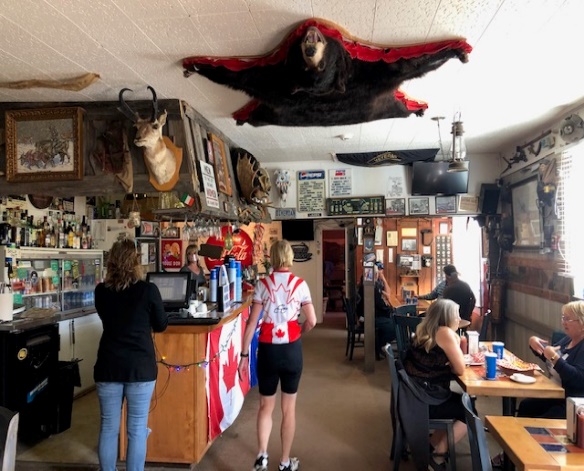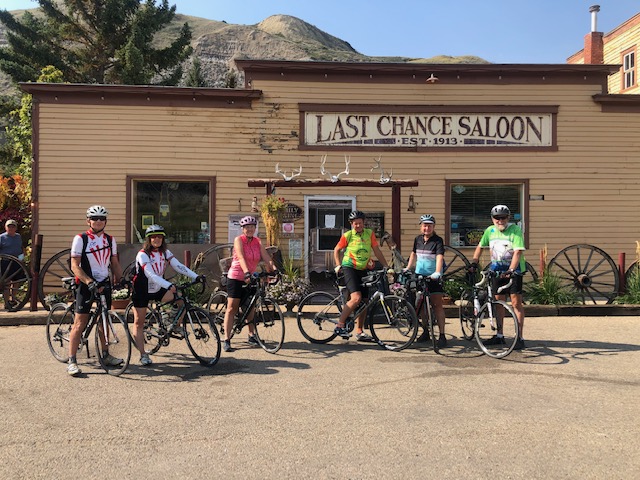 David's Watering Hole Inside the Last Chance Saloon Last Chance Saloon
Submitted by David and Annmarie Liggat
Day 3 we say good bye Drumheller and on towards Waterton Park with many kilometres to cover. Still having a rudimentary knowledge of the Province of Alberta from having lived there for nearly twenty years, we looked for roads we had never travelled before. Our first great find was a secondary road through Blackfoot terrain with a ferry crossing across the Bow River. The ferry man must have seen us come since he came out of his house, brought the ferry to our side and then sailed us across. We had a great conversation with him about the wildlife of that area. We hoped to see some and make photos of antelope, bears and coyotes, but saw none.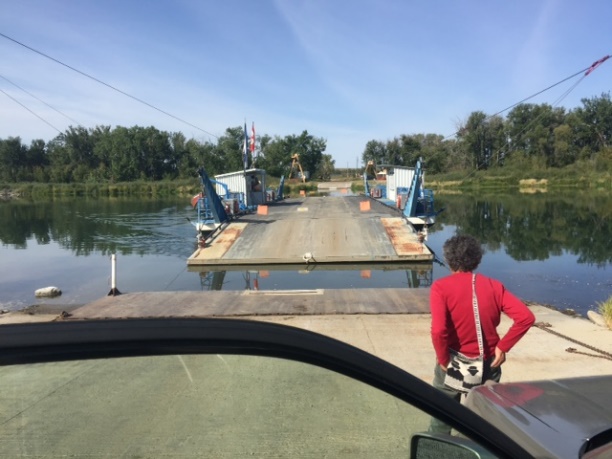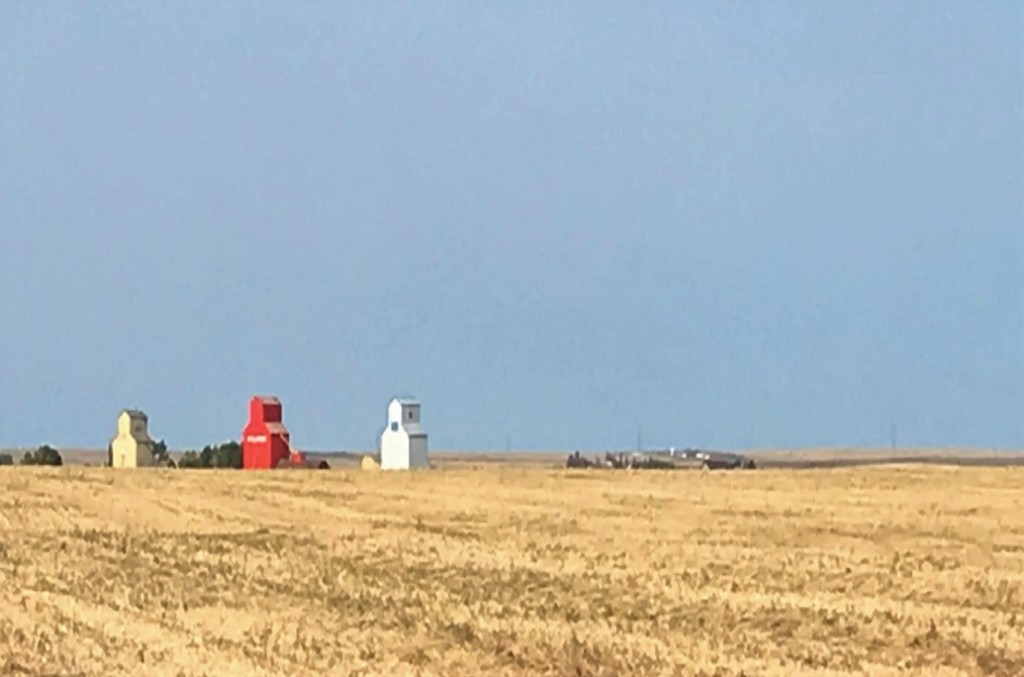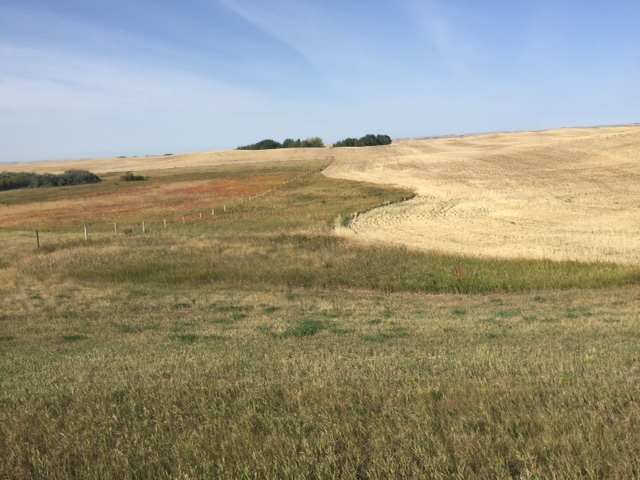 Ferry Crossing over the Bow River Alberta Landscape – Grain elevators like these are becoming extinct
Next came Vulcan. Where was everybody? Just two coffee shops and no public park to have lunch. A quiet road with bench had to suffice.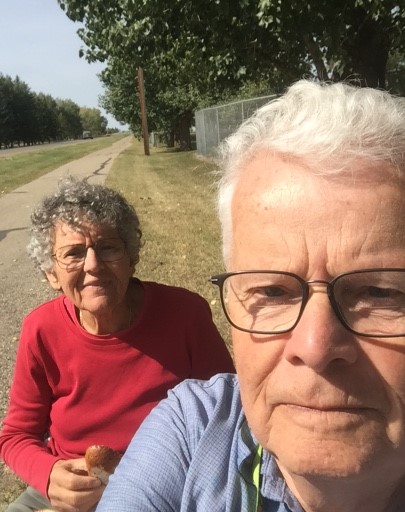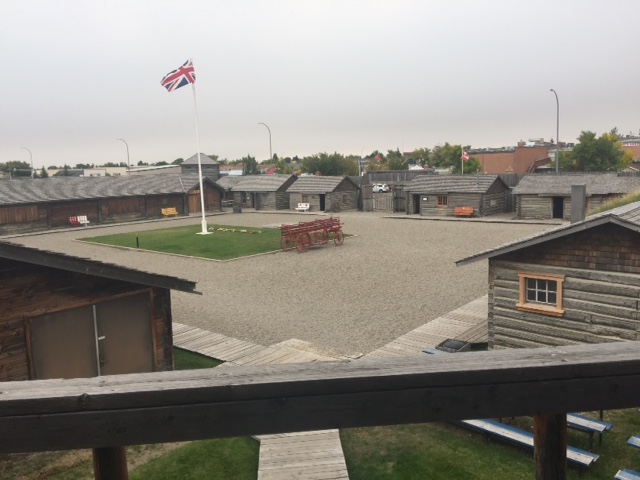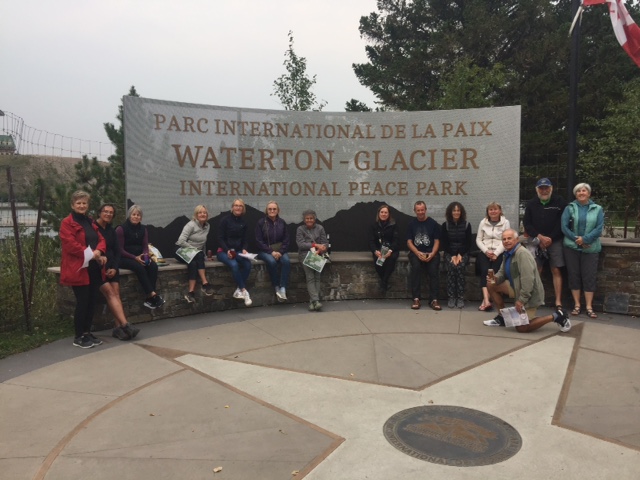 Cornelia & Mikkel Fort McLeod Most of the group
Having used up much of our playtime, we hustled South and West to Fort Macleod. The further South we travelled the more we lost the flat grain growing area and moved into cattle ranching. Earlier in the day we hardly saw any animals but by now the landscape was dotted with the famous black and red Angus cattle. Fort Macleod is an interesting site. RCMP history and lots of information about the Treaty 3 negotiations.
Now just our last push to Waterton where we were greeted by some friends from the group. Last picture: End of day briefing!
Submitted by Cornelia Yule and Mikkel Bonnor
Day 4, our first morning after arriving in Waterton, we awoke to rain and clouds bundled against the mountains circling the village. The weather forecasts were varied depending on the source – everything from rain to occasional showers to dry periods was predicted. The advantage of being in Waterton was the option of hiking. Most of the group decided on the hiking option: some for trailheads within walking distance from the hotel, others for a short drive away and then a hike. Barb and Dawn were lucky to spot 2 bear cubs from their vehicle on their return from their hike.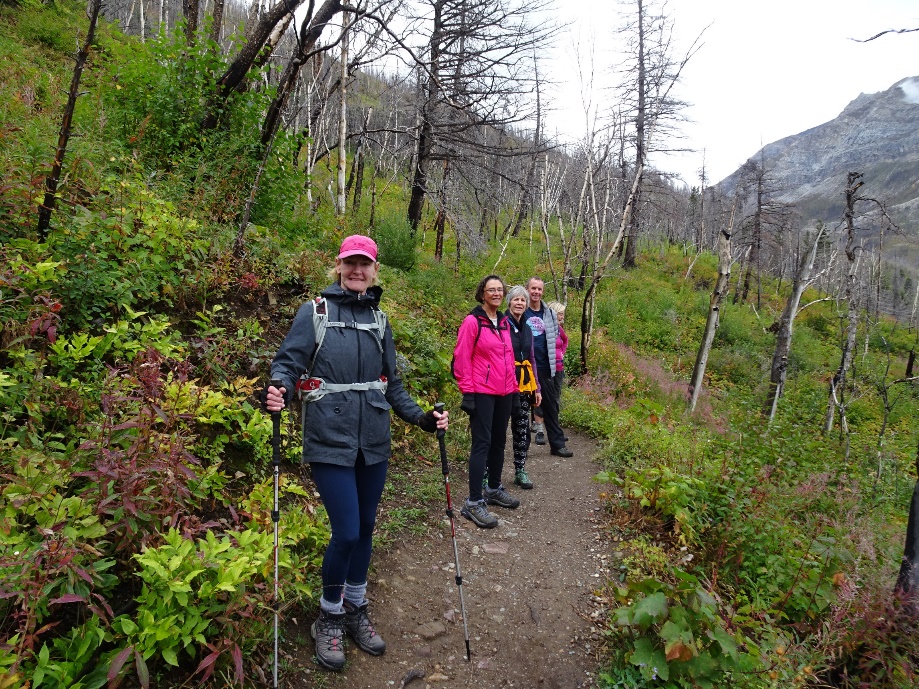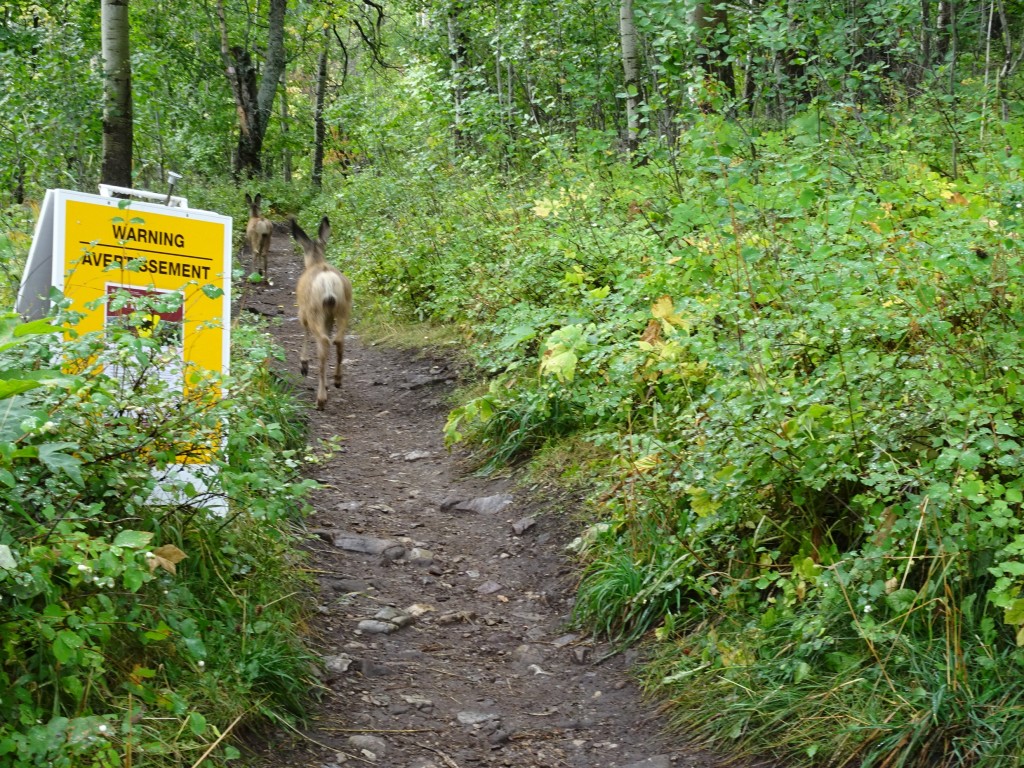 Bertha Lake Trail Bertha Lake Lower Falls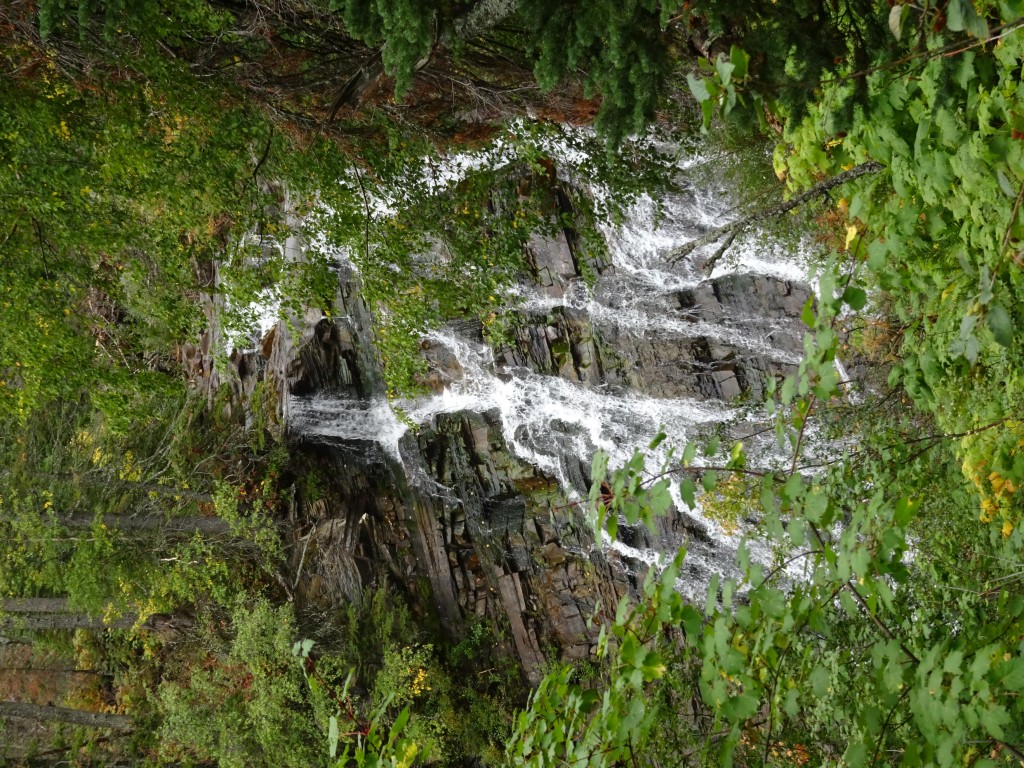 Three cyclists ventured out on their bikes to Cardston (about 45 km from Waterton) home of the Remington Carriage Museum. The Remington Museum has the largest collection of carriages, sleighs and early cars in the world. It is a world class museum and run by the Alberta government.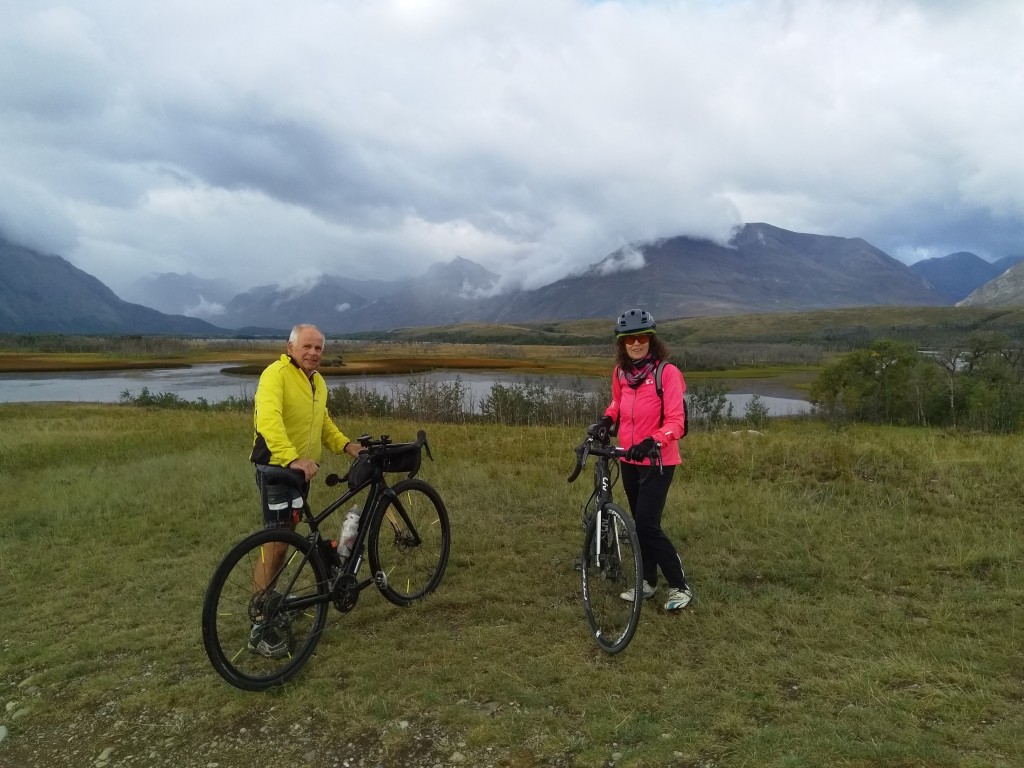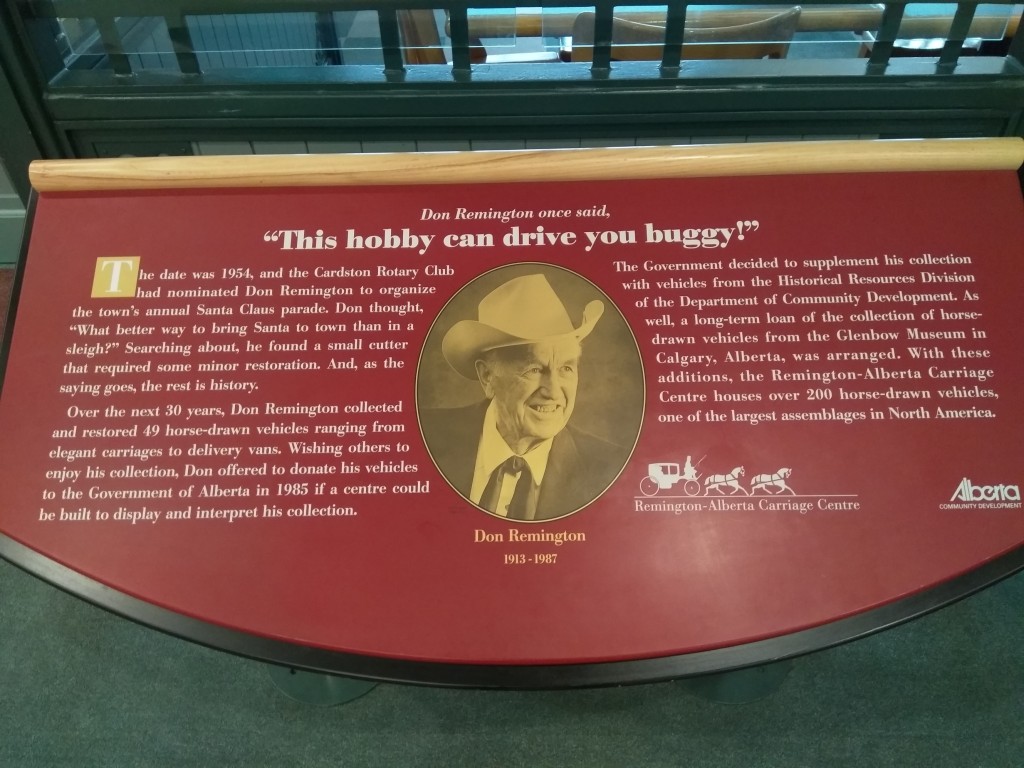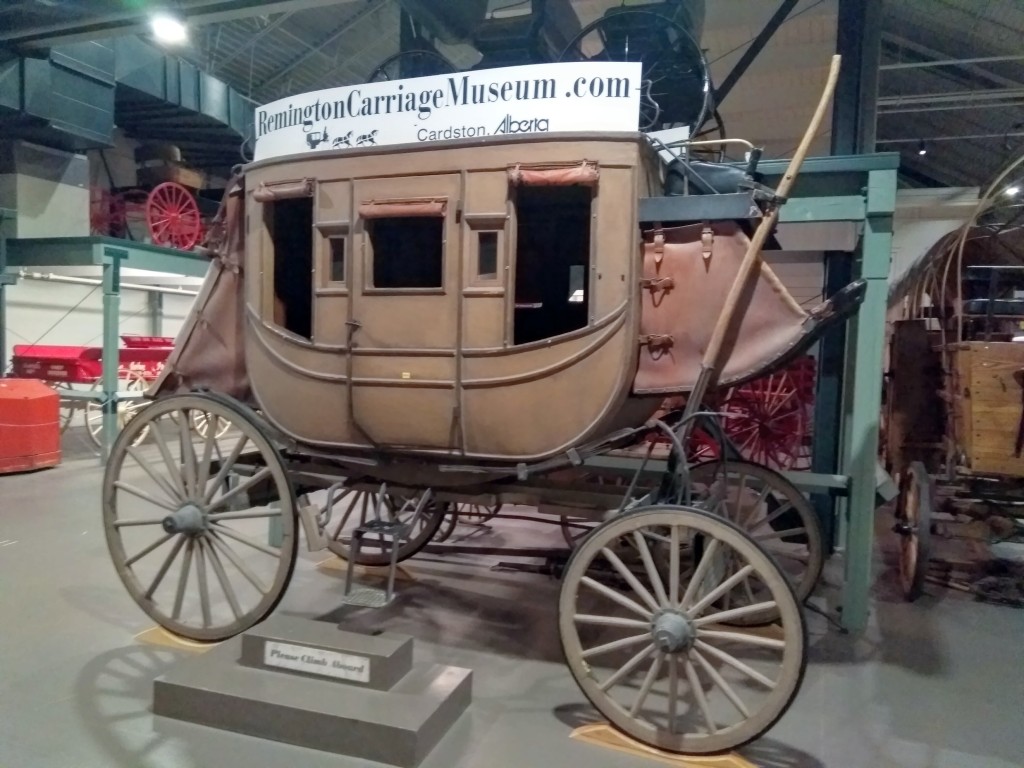 Stuart and Carol braving the elements Remington Carriage Museum
In the end all weather forecasts played out. The hikers had occasional showers and the cyclists had dry skies coming and going to Cardston although there was a steady head wind on the return. Everyone enjoyed their choice of activities.
Submitted by Glen and Carol Evans

Day 5 six ladies from our group headed out on a hiking adventure while the others went cycling.
National Geographic Magazine calls Crypt Lake Hike in Waterton one of the 20 most thrilling trails in the world. Boat ride to the trail head, Hike, Ladder, Tunnel, Cable, Lake and Back!! Oh My!!
At about 22 km round trip with an elevation gain of 700 m, the trail climbed through thick forests past four spectacular waterfalls. Then the fun began. Climbing a 3 m ladder was followed by making your way through a low-ceilinged rock tunnel lit by daylight. Once through, our path continued along a very narrow ledge while holding onto a cable that is bolted into the rock wall. Fun but scary!! Once off this ledge, the hike continued to the shores of Crypt Lake where we enjoyed our well-earned lunch. Then it was back over the obstacle course, cable, tunnel, ladder. The hike was then all downhill back to the wharf to wait for the boat to pick us up and carry us back to Waterton.
Carol, Trudy, Dawn, Annmarie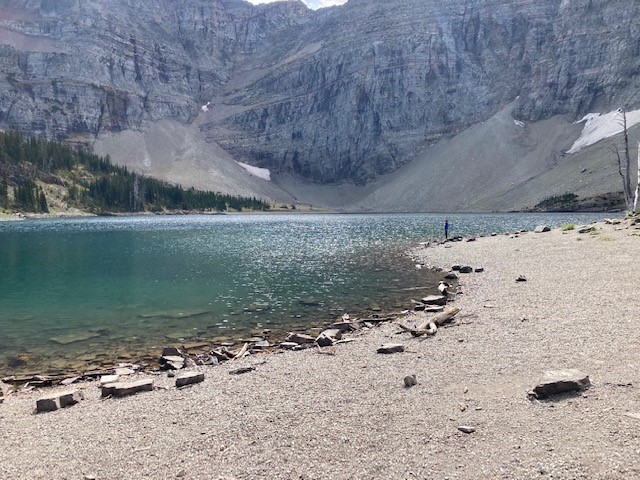 Cables…narrow ledges Tunnels Crypt Lake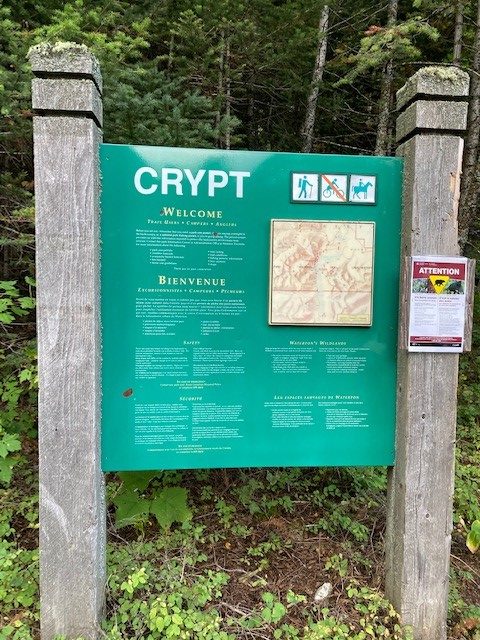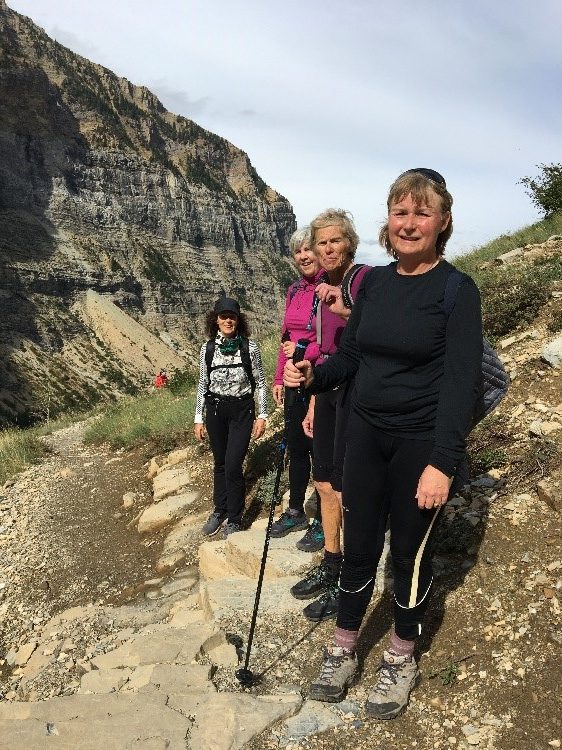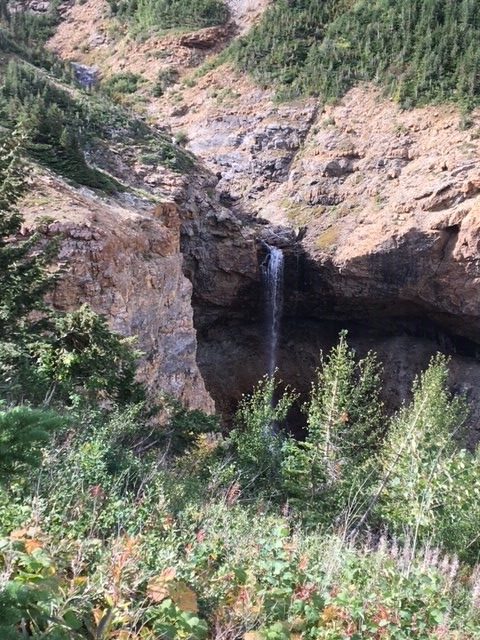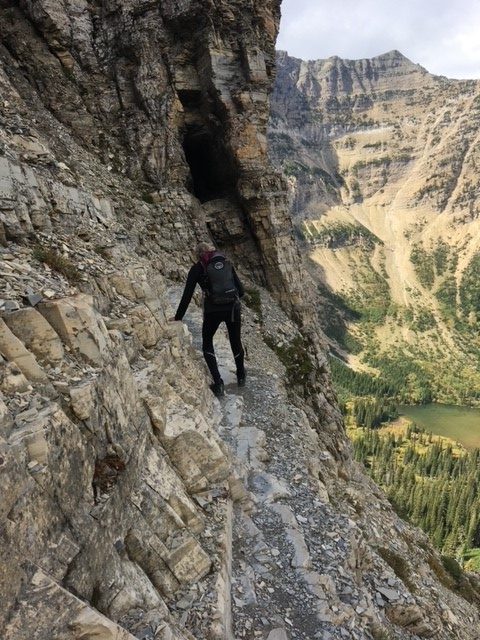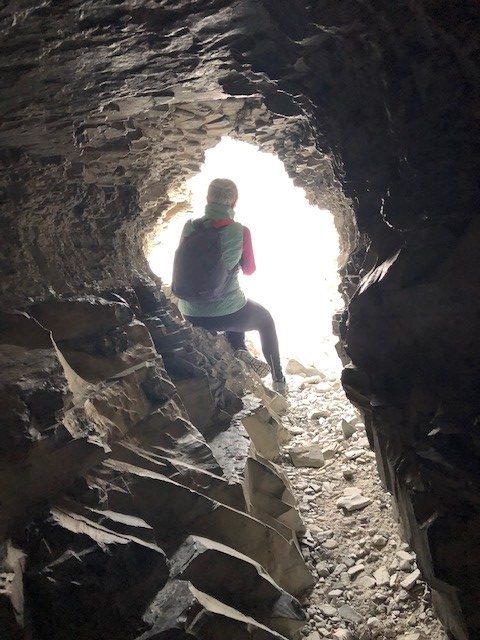 We all agreed that it was an awesome hike and we had earned our beer that was waiting back at the hotel.
Submitted by Barb Oliver and Dawn Minett
Day 6 we drove from Waterton to Canmore.  It was a lovely day.  Fraser said we should take Highway #40 through Kananaskis and was he ever right!  Spectacular….before leaving Waterton, some stopped to have a closer look at the Price of Wales Hotel at the top of the hill and take a drive into beautiful Cameron Lake. Dawn and Barb hiked Bear Hump trail.  After a stop at the Frank Slide in the Crowsnest Pass, Doris and Deborah had lunch at the Little Apple Café in Longview where they ran into Dave, Annmarie, Fraser and Trudy.  This café/coffee shop was originally owned by Ian Tyson.  Doris said she ate everything on the menu (lol) and declared it all to be excellent.  Mikkel, Deanna and Denise claim to have seen longhaired sheep, and David thought he saw a bear but later concluded it was a cow dressed in a bear costume.  Walking and cycling along the Bow River trail in Canmore was lovely.  Some of us ended the day with dinner at the Drake, with a lovely view of the Three Sisters.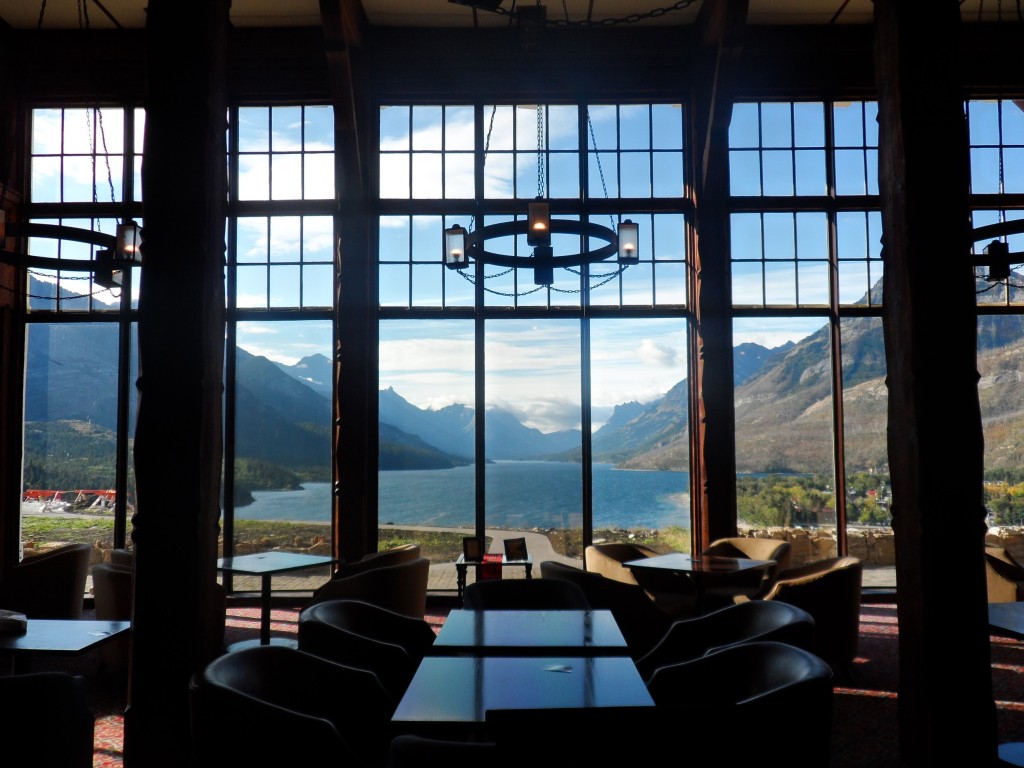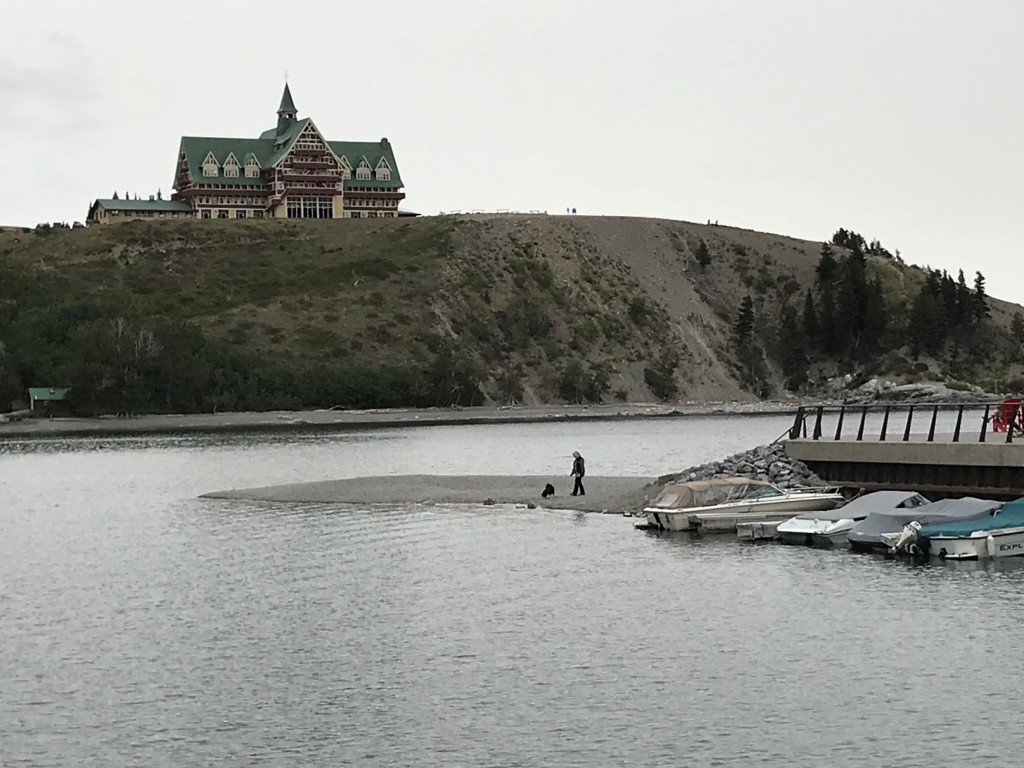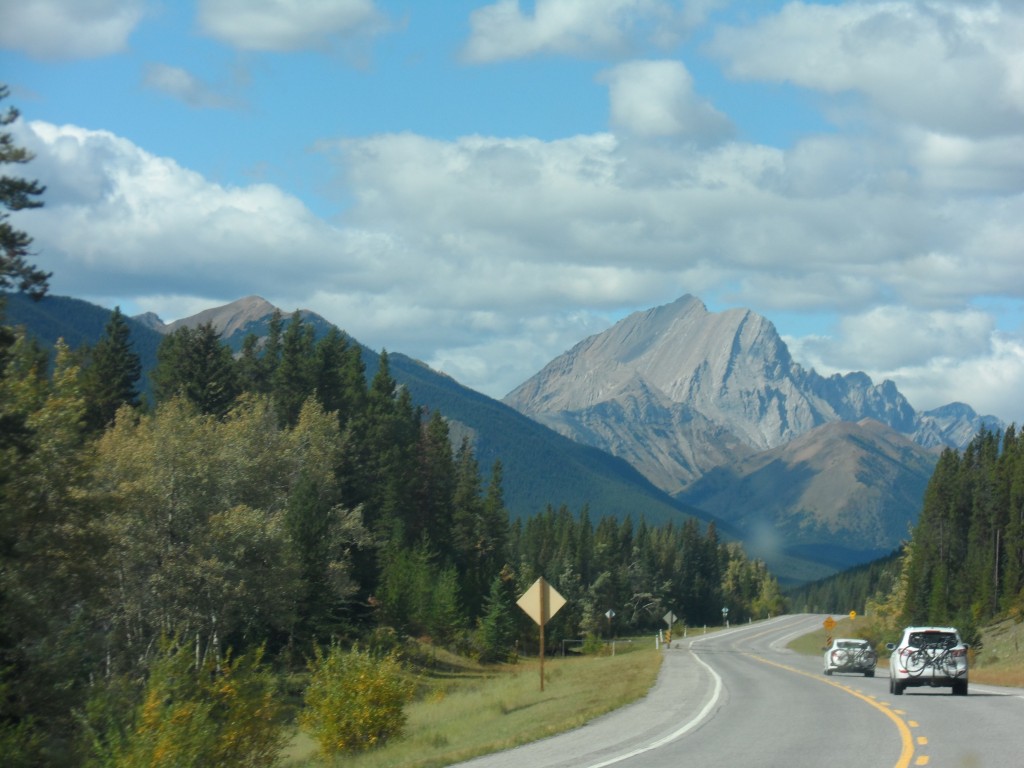 View of Waterton Lk looking from inside the Prince of Wales Hotel Driving into Canmore
Submitted by Deborah Meredith and Deborah Bray
Day 7 in Canmore we woke to beautiful sunshine and cool temperatures at about 6 degrees Celsius, surrounded by Rocky Mountains, and everybody raring to ride!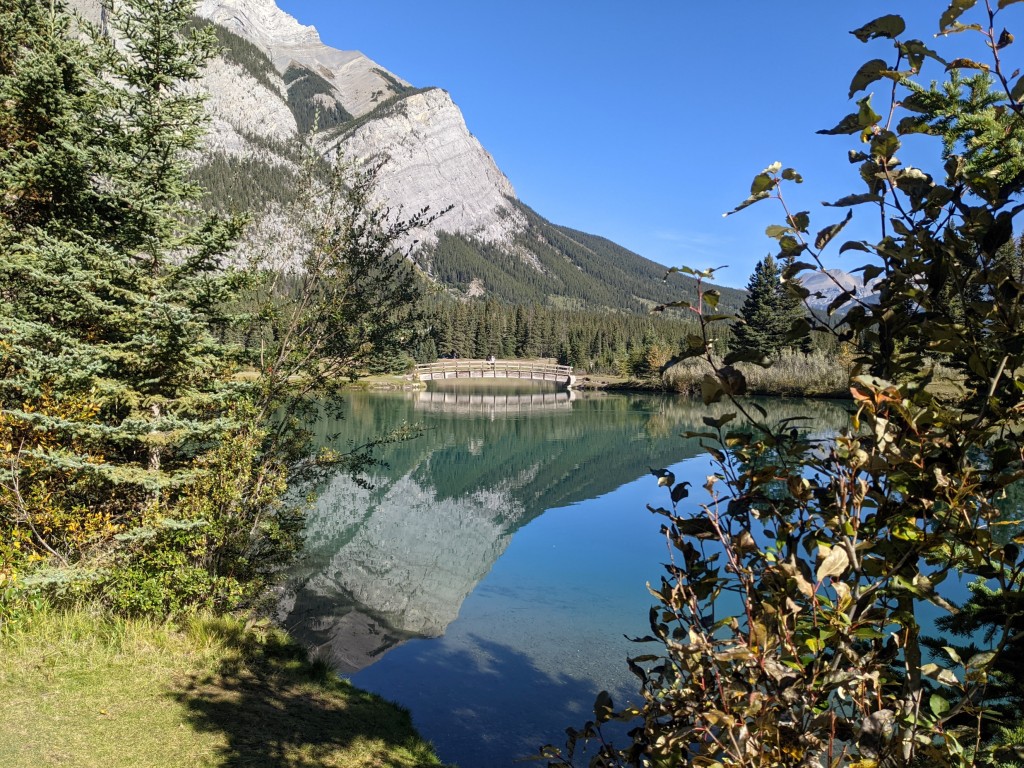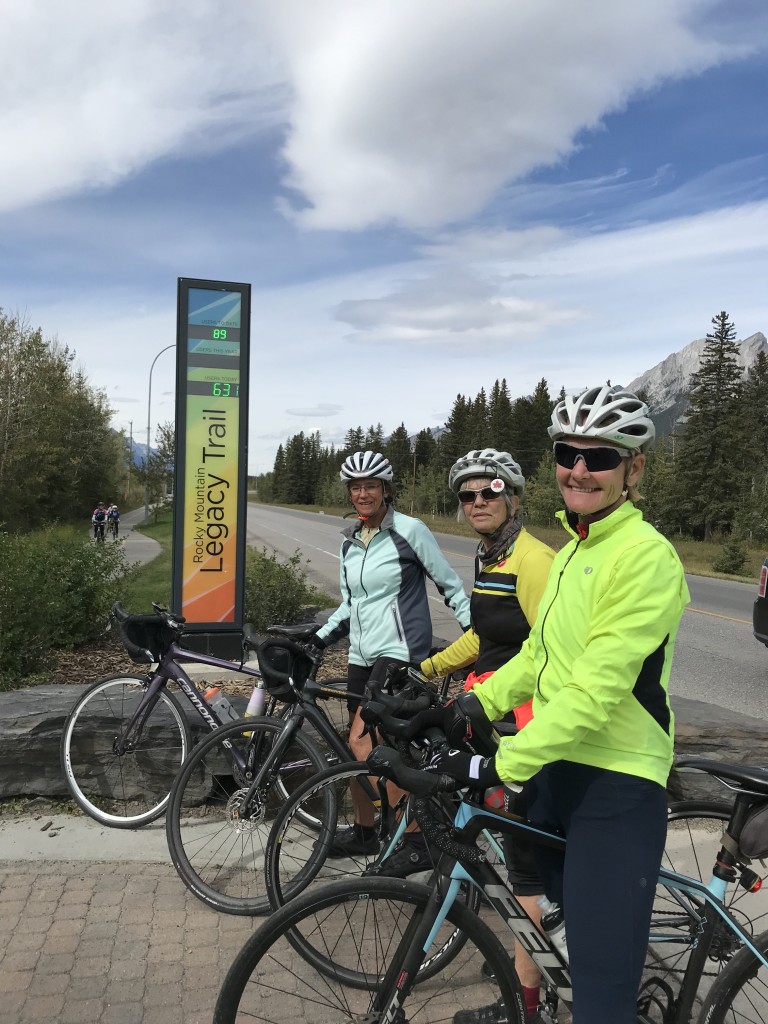 Start of the Legacy Trail Cascade Ponds Mikkel at Cascade Ponds
The Legacy Trail, that goes from Canmore to Banff, is paved and wide enough for everyone. About 18 kms in we headed out to a loop that took us past Cascade Ponds and stunning
Minnewanka Lake, picture postcard beautiful!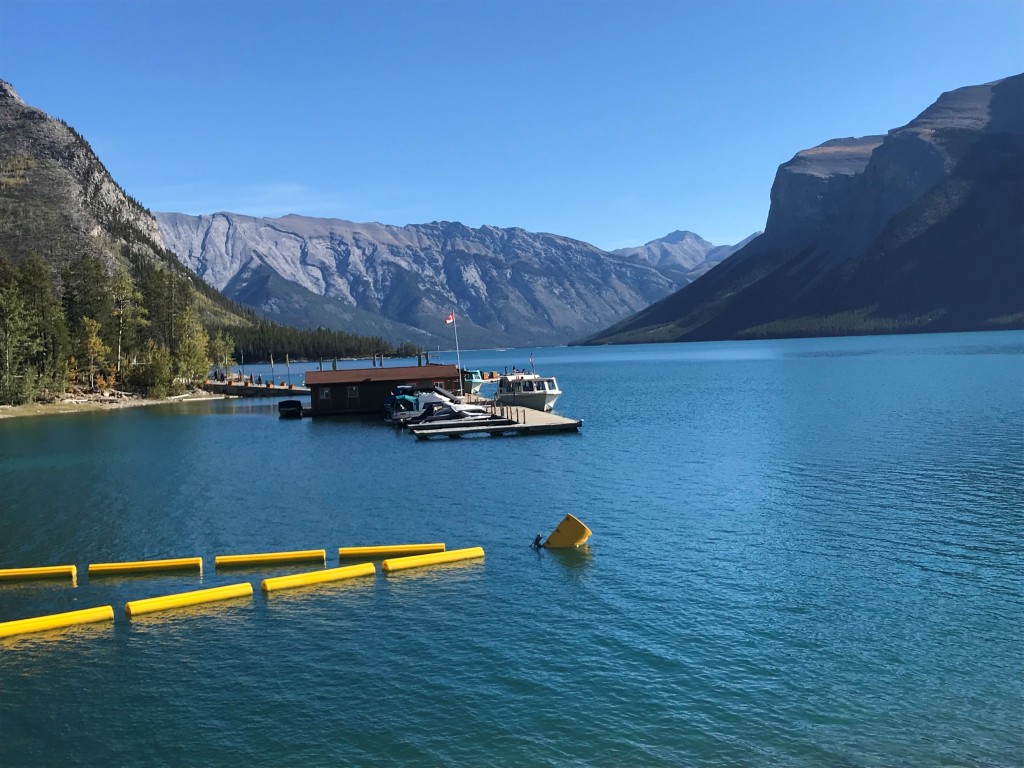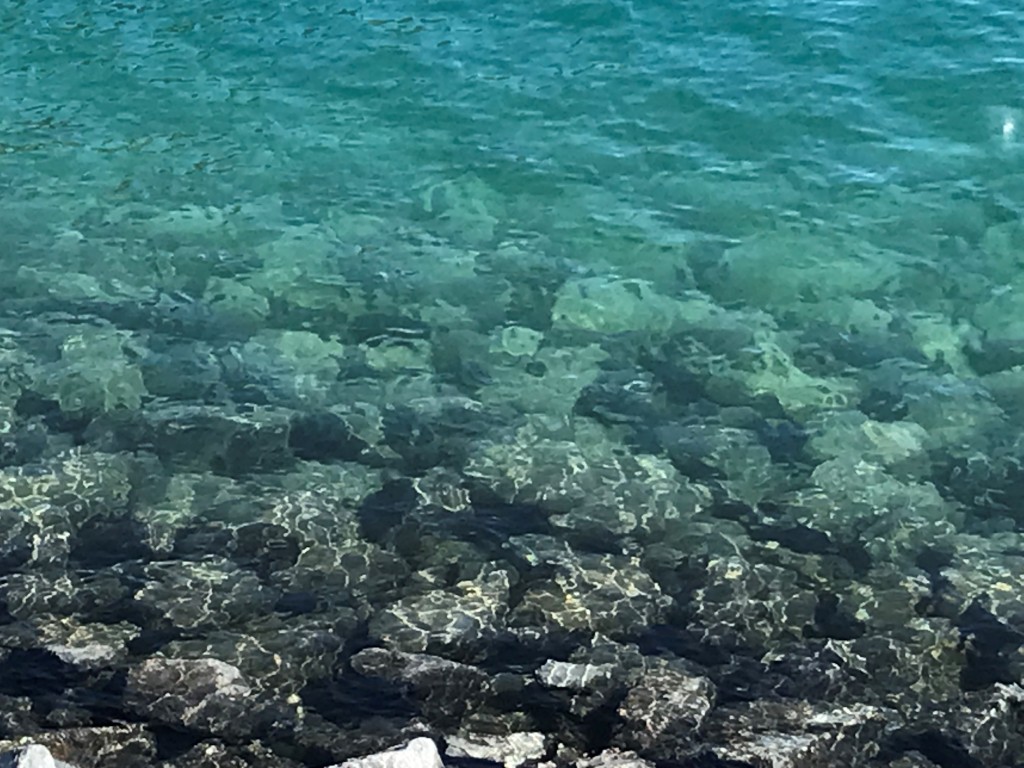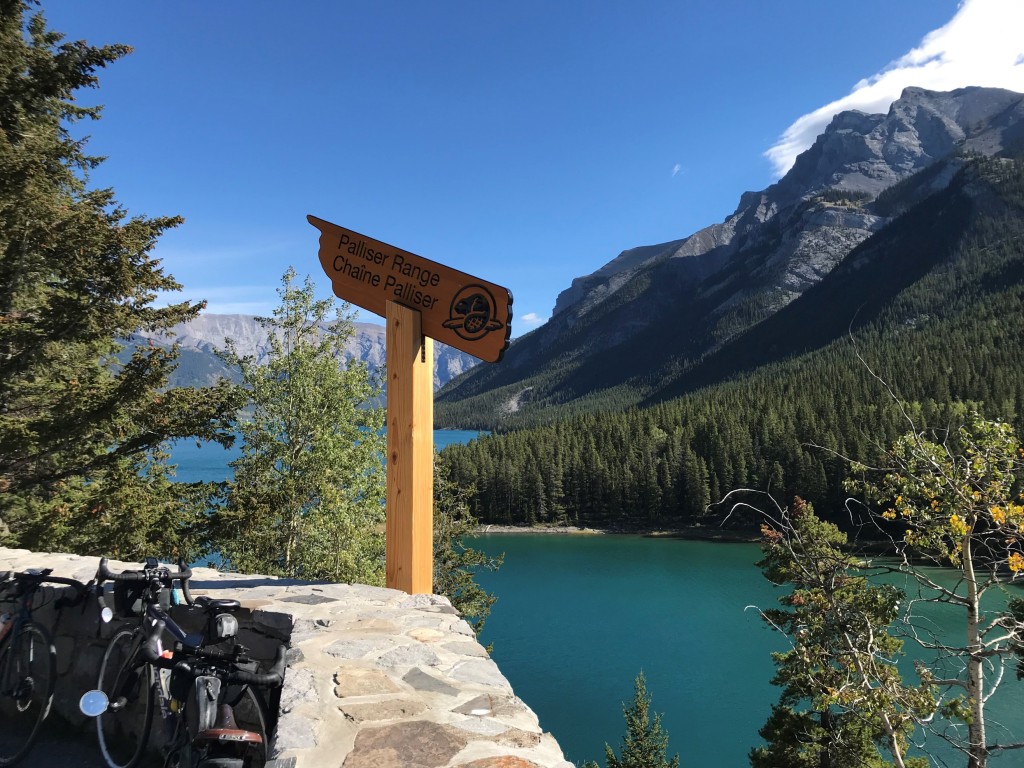 Lake Minnewanka Crystal clear Water Paliser Range bordering Minnewanka Lake
Roads were great, with a little up and lots of down. A few more Ks into Banff for coffee, lunch, and bit of shopping or just browsing. The scenery was spectacular, with lots of pictures to take home.
Back on the Legacy Trail with an easy roll to our motel, the Rundle Mountain Lodge.
Submitted by Denise Howes and Stuart Reynolds
Day8 – Banff to Johnson Canyon 
When we met at 10am it was drizzling and cloudy with snow low on nearby Rundle Mountain.  We decided everyone should plan their own day. One decided to go visit her daughter in Revelstoke, nine did the ride to Johnson Canyon when it cleared, two cycled the trails around Canmore, two went for a drive to explore the area and the rest went to Banff. 
In the evening we dined at Tavern 1883 for the last dinner of our trip. We discussed what we did that day and shared memories of a wonderful trip. Doris and Deanna were presented a small gift in appreciation for all their hard work putting together such a great event.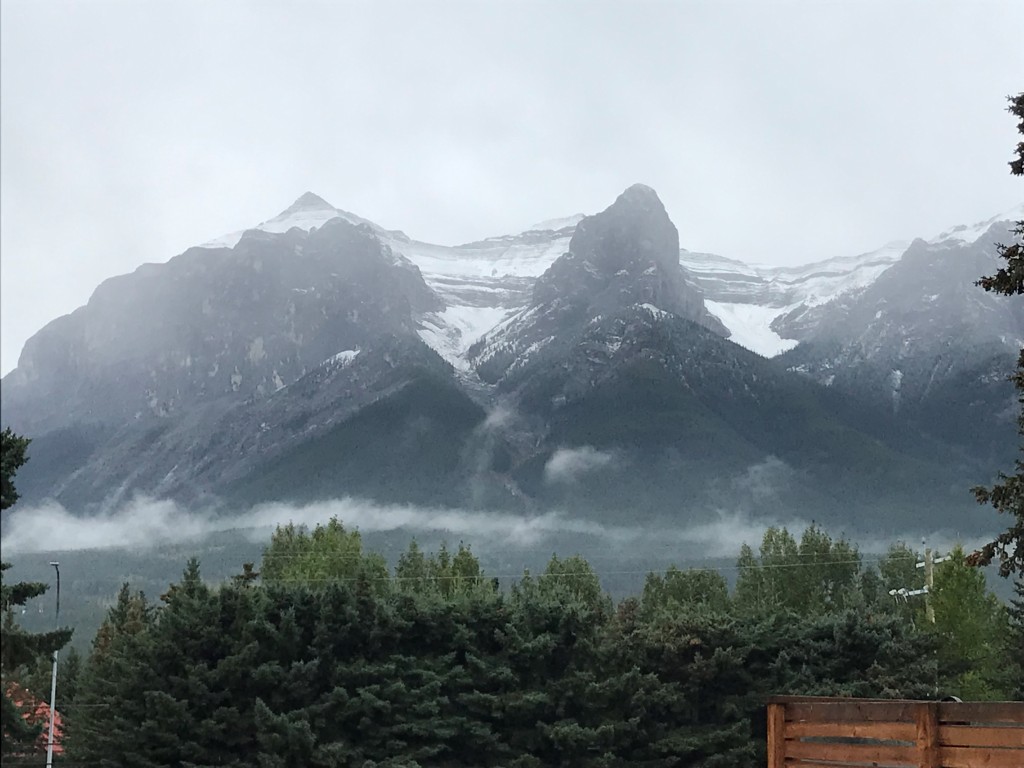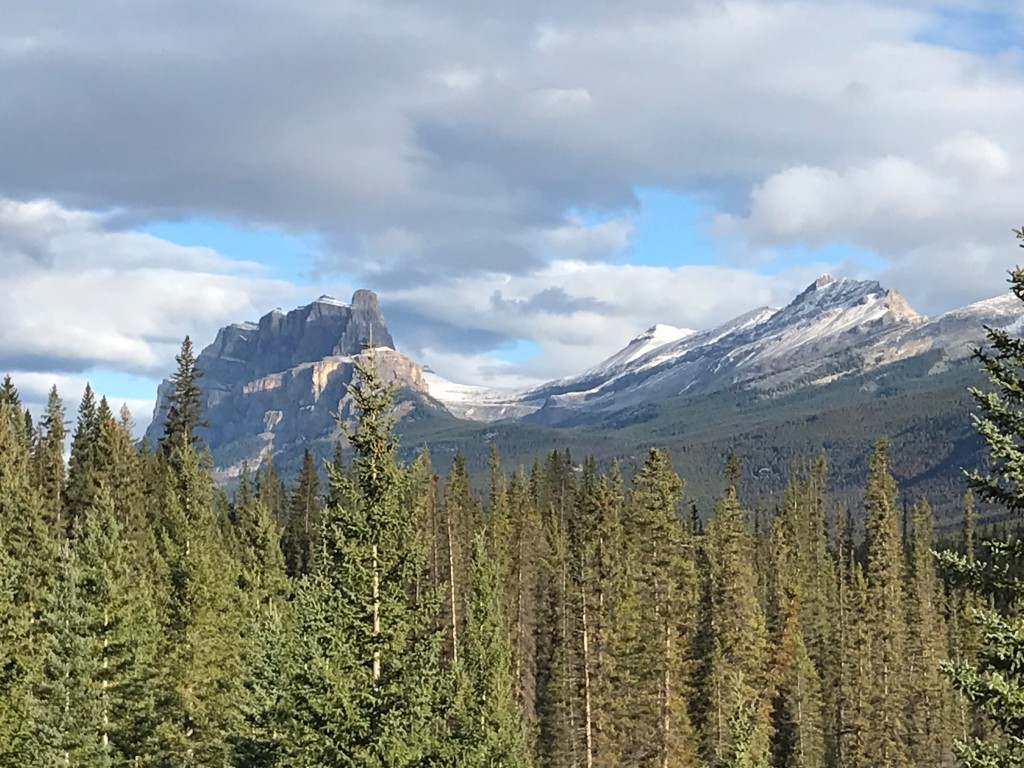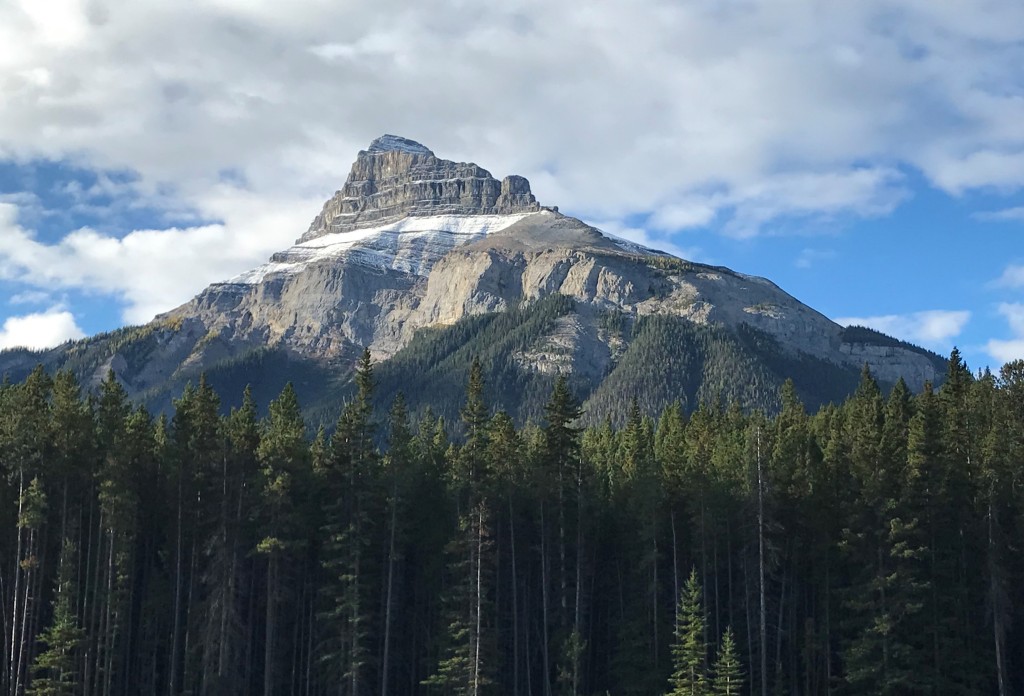 Submitted by Nicole Christensen and Lorna Riddell
Many thanks to all the participants. You had to adapt to difficult weather and a few minor changes with no complaints. You all helped make this trip a wonderful experience.
We look forward to riding with you again.
Doris & Deanna