Wonderful eastern  Washington is home to great cycling amid vast wheat plantations and well paved back roads with sparse traffic.  Wheat's vastness is grown on multi-generational farms with miles-apart homesteads served by a scatter of tiny communities, 
  The sparse traffic has nowhere to go to. Thanks to Robin and Dan and careful route finding we got to roll along empty roads gracefully winding through the gentle plowed hills.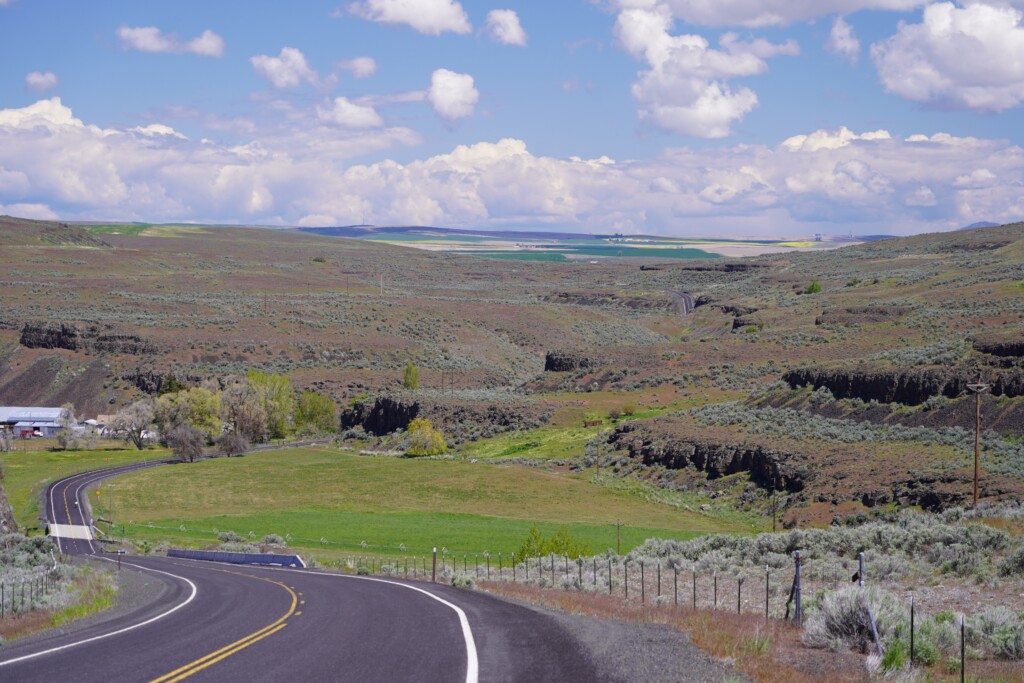 In Odessa's museum there are photos of early combine harvesters drawn by 25 horses (by actual count).  That will show how big things need to be by harvest time.  In our  visit life was just starting up and Spring hadn't yet turned to Summer..
  All that geography made Robin and Dan organize a kind of super hub-and-spoke that worked a treat:
  * First four nights in Cheney, far east near Spokane, in the modern Holiday Inn. Great breakfasts by the by.  First ride circled the Turnbull Wild Life Refuge which is very quiet and has about as much wild life as a second cup of herb tea at bedtime. 
  * Day 2 saw us start with a 28-mile drive to Fairfield City Park and bag lunch at Robin's tiny town of Latah where there used to be a café. (Don't blink.)
  * Day 3 returned to Turnbull Refuge and the gravel Columbia Plateau Trail, but maybe not for road bike tires.  Group dinner at the Farmhouse Café.  Great food.  Leave the black tie at home.
  * Drove 38 miles next morning to Davenport, more modest than Holiday Inn but warm and friendly.
Ride from Davenport to Bluestem that same day for 71km.
  * Next day was hike day after driving 25 miles up to Lake Roosevelt and Hawk Creek returning on Highway 25 beside the lake.  Back in Davenport, we had a rain delay and a no show at a research farm.  Not to worry because the Inland Railroad Museum is just up the road and undercover — and fun.
  Group dinner at the Tribune Smokehouse where indeed they lightly smoke the whole menu. Delicious! And boy did we fill up that little place. During our visit there was a magnificent hailstorm outside the window. Must have been hard to arrange with such perfect timing.
  *Last day in Davenport was a 64km ride after 14 mile drive to Reardon. Pack up in the evening and farewell to Davenport.
  * Drove another 38 miles of Odessa, again in the homeward direction.  The day's ride was was 22 miles of driving before  setting off for Wilbur where fast food backed up by major ice-cream treats.
  Next  day was the longest ride, 100km loop back toward Harrington home to a nice golf club lunch counter and a railway level crossing right through the middle of town.  Unit freight trains go through there with three engines in front, two more behind and hundreds and hundreds of shipping containers.
  Next day was a wildflower hike two miles drive from Odessa on the Odessa Craters Trail, gouged out by the glacial runoff (before our time).  Flowers:  Bitterroot pink blossoms sitting on the bare soil, yellow Balsam in the better patches, and blue-and-white iris in most favoured sites.
  Last ride was back again to Harrington city park and 92km to Sprague and return.
  Farewell dinner 6 p.m. at the Odessa Golf Club.  Next morning, an early departure to the border on the way home.