Guelph Hub and Spoke – May 26 – June 1st.
This was another very successful hub and spoke trip organized by Nel Ahmed and assisted by Geoff Kennedy, Ed Weber and Don Taylor.
The group convened at the Days Inn in Guelph. The hotel is located close to the university. We had a short ride on the Sunday afternoon to familiarize with the city. Guelph is a lovely city with old stone buildings, a beautiful cathedral and an extensive network of trails going along the river.
For the next 5 days we had the option of three rides each day. The rides were of varying lengths ranging from 47 kms to 96 kms. This allowed each of us to choose a ride suitable to our energy level of that day.
Unfortunately on Tuesday the weather was cold, windy and rainy. We didn't ride that day but that doesn't mean we sat around. Guelph is easy to explore by foot. There is a good museum and art gallery. There is also a small museum in the house of John McCrae (the author of the poem "In Flanders Fields").
The countryside surrounding Guelph is farmland with large green fields and rolling terrain. Spring had recently arrived and the blossoms were beautiful.
A few of my favorite towns were Fergus, (with a great coffee shop called the Vault), Elora, and Rockwood. Some of us enjoyed a very good lunch at the Eramosa River Café in Rockwood.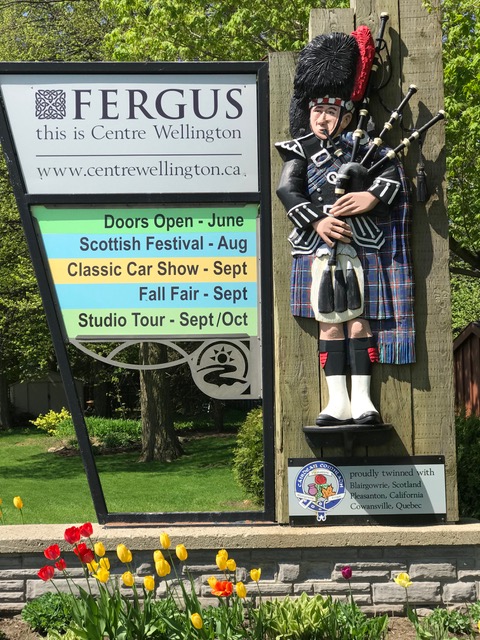 Belwoood Lake was another destination where we discovered a store selling the most delicious butter tarts in a variety of flavours.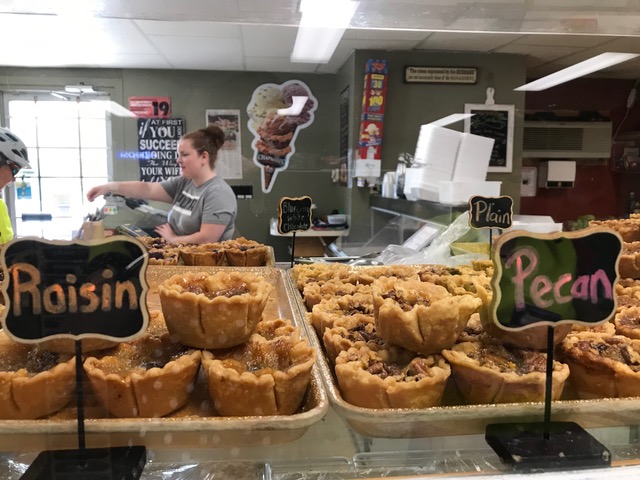 Other destinations included Oustic, Elora Gorge, Guelph Lake, Crieff and West Montrose. It was here that we rode across the Kissing Bridge, which is the last covered bridge in Ontario. It was built in 1880.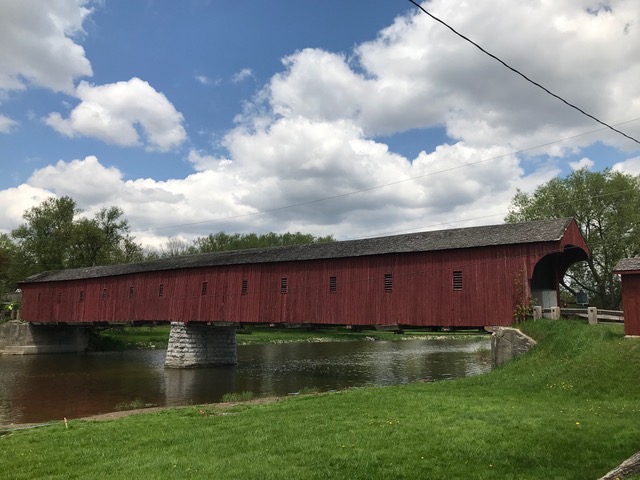 Our rides took us over a variety of surfaces from excellent pavement to rough gravel. The in between included occasional rough pavement and also beautiful trails.
In the evening people gathered in smaller groups to explore different restaurants. Some evenings people preferred to prepare food at the hotel and eat together in the common area.
On the Thursday evening a number of riders enjoyed a roast beef dinner. This was a fundraiser for one of the local churches and the $18 price sounded like a real bargain.
Also on the Thursday evening a group went to the Guelph Little Theater to see "The Man Who Shot Chance Delaney"
This is my third year of riding with the Ottawa Chapter of the CCCTS. Not only do I love to explore another area of Canada but I also enjoy the warmth and welcome of this group.
Thank you to Nel for the planning of this trip and to Geoff for preparing the cue sheets. Thank you to the entire group of fun loving cyclists. You are such a friendly and inclusive group of people.
A big shout out also goes to Angus for assisting with bike repairs and also for lending me a beautiful Trek Madone bicycle for the week.
I hope to see you all again next year.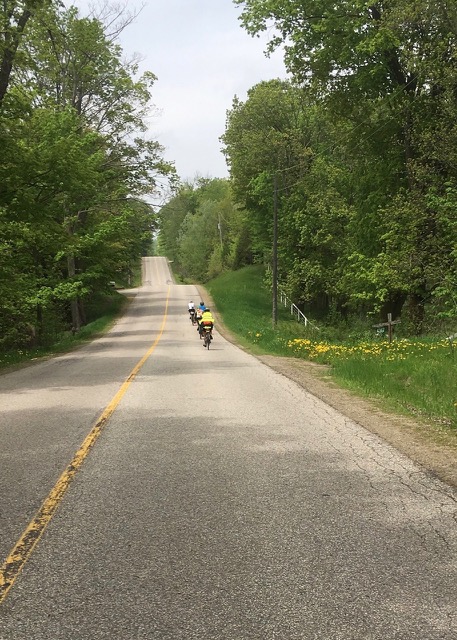 Berni Koppe