Leader: Maureen Weston 250-721-4101
Co-leader: Delores Franz Los 604-894-6189
Tour Contractor: Sitnica
Trip Dates: Mon, 17 Apr 2023 -- Wed, 3 May 2023
Trip Classification: Intermediate/Advanced
Trip Fee: $3825 CAD
Trip Numbers: minimum 12 , maximum 17
Trip Registration Opens: Fri, 9 Dec 2022 9:00 AM (pacific time)
Registration Lottery Ends: Wed, 14 Dec 2022 5:00 PM (pacific time)
Trip Registration Closes: Fri, 31 Mar 2023 5:00 PM (pacific time)
Ride Description:
Portugal has the oldest borders in Europe, with an exceptional range of different landscapes and a unique cultural heritage. Its superb cuisine, fine wines and hospitable people make this a wonderful country to explore.
Accommodation Reservations: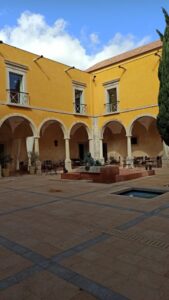 Accommodation is in three and four-star hotels/guesthouses/B&Bs/Pousadas based on two people sharing a double/twin room. Single supplement is $950 CAD.  (Please note that if you are traveling solo and would like a roommate, we will attempt to find one for you after the lottery runs.)
Riding Conditions:
Cycling will be almost entirely on paved roads. See daily mileage and elevation gain details in the Itinerary. Distances of between 42-85 km per day. Average daily elevation of 500 metres. According to the Tour Contractor's rating system, this tour has a Grade 3 rating. Defined as: For those who cycle regularly. Includes some steep climbs and longer distances. You ride regularly and like exploring routes with climbs and you have a good level of fitness.
The weather in Portugal in April is normally warm and sunny with average daily temperatures between 18 and 25 degrees.
Fee Includes:
 Accommodation: 16 nights
All breakfasts
8 dinners
Supporting vehicle with luggage transport
Water, fruit, snacks, energy bars provided from the van
English speaking guide and driver
RWGPS routes and cue sheets
SITNICA liability Insurance – although each participant should have own medical insurance
Technical assistance to a certain level
Credit card stripe fee – 3%
About $200 CAD for currency exchange risk
As per CCCTS guidelines, any extra funds at end of tour will be refunded
Fee Does Not Include:
All other meals as stated in proposal
Lunches
Transfers on free days
Bike rental  (suggestions: https://www.bikeiberia.com/ or https://www.galaciobike.com/ )
Arrival transfers from airport/Lisbon/Faro to Evora, our starting point
Departure transfers to airport Faro/Lisbon
Health medical insurance

Travel/Trip Cancellation Insurance. Participants should strongly consider obtaining

t

rip cancellation insurance before making any flight or tour payments. 
Itinerary:
 The first few days of our Tour will be spent in Alentejo , the south-central region between Lisbon and Spain. Its history is told through the spectrum of structures: ancient megaliths, converted convents, medieval castles, and Roman temples. The cork trade is king here, but the region also yields marble quarries, olive groves, and—of course—rolling vineyards of Touriga, Aragonés, and Arinto grapes.
 Day 1 17/04
The city of Evora is where we meet for the start of our Tour, sorting out the bikes and a welcome dinner based on Portuguese delicacies.
Evora is a UNESCO World Heritage City. Explore the city's Moorish streets and architectural treasures, including the Roman temple of Diana, the Cathedral, and the Lóios Convent.
Meals : Dinner
 Day 2 18/04 – Evora loop ride
60.8km (distance) 555m ( elevation gain )    9.8% ( max. grade )
Spin through pastures, vineyards, and oak groves, where the only sounds are the chirping of birds and the jangling bells of flocking sheep. We'll arrive in Arraiolos, revered for its colorful, precious hand-stitched woolen floor tapestries. Enjoy a light lunch of local tapas.
Back in Evora, your guides can suggest a few favorite restaurants in Évora.
Meals: Breakfast
 Day 3 19/04 – Evora – Estremoz
77.3km    +843m   ∆13.3%
In the spring the rich colors of the Alentejo are at their brightest. Our route winds past hillsides carpeted in wildflowers and poppies, groves of cork and olives, and whitewashed villages accented by cobalt blue trim and ornate azulejos. Our goal today is Estremoz. A short climb takes us to the citadel and a marvelous marble castle that was built to survey the countryside.
Meals: Breakfast
 Day 4 20/04 – Estremoz – Vila Vicosa
57.8km   +581m   ∆4.9%
With its brilliant fields of poppies, medieval hilltop castles, and charming villages, one might think of the Alentejo as the Provence of Portugal! The rich hues of the Alentejan heartland deepen with the changing of the seasons, from the wildflowers of spring to the crimson grapevines and golden wheat fields of autumn. Our pastoral route winds through countryside dotted with cork and olive trees, and whitewashed villages sparking in the sun.
Vila Viçosa ("shaded town"), named for its tree-lined avenues and public squares.  Explore Vila Viçosa, where local white marble adorns every building from the simplest home to the Paço Ducal. Take a guided tour of the Bragança palace, the favorite residence of Portugal's last royal dynasty.
Meals: Breakfast
 Day 5 21/04 – Vila Vicosa – Evora
67km   +712m   +6.7%
The Alentejo region is a stark contrast to the bustling metropolis of Lisbon, with its unhurried pace of life, rolling hills of gold and green, cork tree quintas, hundred-year-old olive groves, and flocks of sheep that roam the meadows. In the town of Redondo, visit an artisan potter at work in his studio before enjoying a lunch in the old town. Back to Evora.
Meals: Breakfast, Dinner
 Day 6 22/04 – Evora - free day
 Évora is the capital of Portugal's south-central Alentejo region. In the city's historic center stands the ancient Roman Temple of Évora (also called the Temple of Diana). Nearby, whitewashed houses surround the Cathedral of Évora, a massive Gothic structure begun in the 12th century. The Igreja de São Francisco features Gothic and baroque architecture along with the skeleton-adorned Chapel of Bones.
Meals: Breakfast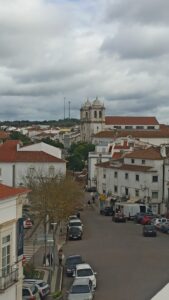 Day 7 23/04 – Evora – Grandola
85.6km   +609m   ∆8.8%
Slowly heading to the South today. Grândola is a town and municipality in Setúbal District in Portugal. The population in 2011 was 14,826, in an area of 825.94 km². Included in this municipality is Tróia, a peninsula between the Atlantic Ocean and the Sado River. Also within the municipality is Serra de Grândola.
Meals: Breakfast, Dinner
 Day 8 24/04 – Grandola – Porto Covo
69.6km    +694m    ∆6.8%
Time to get to know the Atlantic Coastline. On our way is Santiago do Cacém, whose Moorish past can be sensed in its steep winding streets and commanding castle views.
Bike a ridgetop road through groves of olive and cork trees, then descend to the coast for the crescent beach coves of Porto Covo.
Meals: Breakfast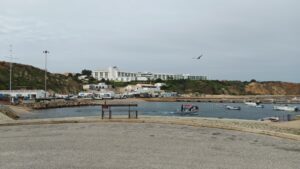 Day 9 25/04 – Porto Covo – Odeceixe
74.3km    +673m    +9.9%
Rice fields and traditional villages highlight our ride to the magnificent Praia Grande. Admire storks' nests at Cabo Sardăo, then pedal an off-road path high above the coastline for breathtaking views of sea stacks and the crashing Atlantic. Odeceixe is a village and civil parish in the northern part of the municipality of Aljezur, in the Portuguese Algarve, lying within the Nature Park of the Southwest Alentejo and Vincentine Coast. The village lies on the south bank of the Ribeira de Seixe, which here forms the border between the Algarve and Alentejo.
Meals: Breakfast, Dinner
 Welcome to the Algarve!
Between its azure skies and Atlantic shores, the Algarve boasts more shades of blue than you can imagine. Along the way we'll pedal past ever-changing ocean views: tiny fishing villages, colorful harbors, towering sea cliffs, and golden sand dunes - not to mention some of the most beautiful beaches in Europe.
 Day 10 26/04 – Odeceixe – Sagres
61km   +589m   ∆4.8%
 Spin through vineyards and farmland to Aljezur, the last town to be reclaimed from the Moors. Picnic with ocean views at the Carrapateira headlands, then cycle down the coast to Sagres, where Prince Henry founded his 15th-century navigational school.
Meals: Breakfast, Dinner
 Day 11 27/04 – Sagres free day
 Free day in Sagres. An easy ride leads to the towering cliffs of Cabo de Săo Vicente, the southwestern-most point in Europe and once the end of the known world. Afternoon free for beaches, a dolphin cruise, or a surfing lesson!
Meals: Breakfast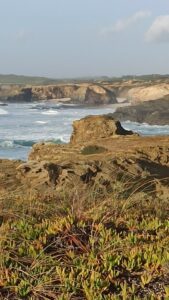 Day 12 28/04 – Sagres – Monchique
78.8km    +1,085m   ∆11.2%
 Follow the Algarve coast past tiny fishing villages, then bike inland through orchards of carob, almond, and oranges to Lagos. Enjoy the Algarvan coast before the tough part and the climbing to the Algarve's rooftop: the Serra da Monchique!
Meals: Breakfast, Dinner
 Day 13 29/04 – Monchique – Silves
42.8km    +587m    ∆8.9%
 A rather short day to Silves, a Portuguese village of orange-colored rooftops located on the banks of the river Arade. This pretty town, in the Algarve region, has two rather well-preserved castles, little winding streets, and a medieval wall built of red stones.
Meals: Breakfast
 Day 14 30/04 – Silves – Estoi / Almancil
59.8km    +848m    ∆9.2%
 Descend through cool forests of chestnut and pine to Mediterranean lowlands of oak, palmetto, and grasses.
Still some climbing to do as we spin through the tiny white villages of Alte, Barranco Velho, and Querença, with their castle ruins and pretty squares. Quiet roads lead to our palace for the night in Estoi, a small village located 10km into the hills above Faro. It's full of typical Algarve charm with a slower pace of life. 
Meals: Breakfast, Dinner
 Day 15 01/05 – Estoi/Almancil – Tavira
42.5km    +253m    ∆3.6%
 Pedal through hill towns of the Serra de Monte Figo, then descend to the coast at Fuzeta harbor, with its colorful fishing boats, nets, and octopus pots. The Ecovia bike path leads through the Ria Formosa reserve for views of marshlands, salt pans, and nesting waterfowl. End in atmospheric Tavira, with time to enjoy its riverfront, Roman bridges, and inviting plazas. Two-night stay at the Pousada Convento da Graça, built from a former monastery.
Meals: Breakfast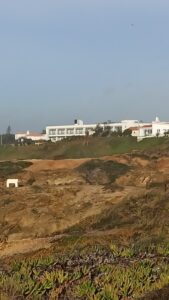 Day 16 02/05 – Tavira free day
 Free day in Tavira for sightseeing, shopping, or cycling a backcountry route to the Spanish border. Spin past river gorges, orchards, and the medieval fortress of Castro Marim before returning along the coastal ecovia. Don't miss the tiny but historically significant village of Caçela Velha, with its turreted fortress and commanding ocean views. Let's end this adventure with an amazing farewell meal.
Meals: Breakfast, Dinner
 Day 17 03/05 – Departures
Registration and Participant Selection:
Registration will be on the CCCTS website on the date shown. A computerized lottery system and waitlist will be utilized in the event that the ride is over-subscribed. A CAD $50 payment is required at the time of registration. The lottery signup will run for 6 days, after which the Ride Leader will review the results.
The selection process will consider the following criteria in evaluating candidates:
fitness and riding ability and experience required for the tour,
a history of demonstrating safe riding practices,
acceptable social behavior.
The leader may interview riders or others who know them to verify their suitability for the tour.
The leader will notify registrants of their selection status. If the ride is not filled to capacity, registration will continue until the closing dates shown.
Registration fee is $50 CAD. After you have been notified you are selected for the tour, the tour fees will be due as follows:  January 15, 2023 – Euro 510 ($735 CAD), March 31, 2023 – Euro 1530 ($2280 CAD), April 17, 2023 – Euro 510 paid in cash to SITNICA upon arrival in Evora. Please note that the registration and first two instalments are to be made in CAD funds and the final instalment will be made in Euros.
In the event of cancellation– if a replacement can't be found the tour contractor's cancellation policy will apply:
Cancellations must be made in writing to the tour leaders and to the tour contractor (sitnica@pu.t-com.hr ) 
The following charges will apply: (percentages based upon total cost of tour)
. 60 - 46 days before departure 10% 
. 45 - 29 days before departure 30% 
. 28 - 15 days before departure 60%  
. less than 15 days before departure 100%  
In the event the tour must be canceled due to COVID, refunds will be given, except for stripe fees.
 COVID Information:
CCCTS riding guidelines including applicable Covid guidelines will apply.  CCCTS requires all participants to be fully vaccinated, and proof may be requested by the leaders.
Everyone should bring a COVID test kit(s) with them on the tour and take responsibility for self-testing if they feel ill 
Participants
:
Bonita Douglas, Delores Franz Los, Denise Howes, Berni Koppe, Jody Krehel, Yvonne Mclean, Dawn Minett, Barbara Oliver, Gino Salamatian, Lani Schultz, Christine Scott, Hillary Scott, Anne M. Smith, Bruce Underwood, Maureen Weston, Brenda Worden
Wait List
(in priority order):
Peter Donkers