Leader: Beverly Wagner 206-618-3508
Co-leader: Eric O'Higgins 250-240-8750
Trip Dates: Wed, 22 Mar 2023 -- Fri, 31 Mar 2023
Trip Classification: Intermediate
Trip Fee: $870 USD Note that the fee for this trip is NOT in Canadian Dollars.
Trip Numbers: minimum 16 , maximum 19
Trip Registration Opens: Mon, 14 Nov 2022 5:00 PM (pacific time)
Registration Lottery Ends: Fri, 18 Nov 2022 5:00 PM (pacific time)
Trip Registration Closes: Thu, 9 Mar 2023 5:00 PM (pacific time)
Ride Description:
Spring Break in Arizona
Enjoy Spring Break in the high range country of eastern Arizona.  This is a 10 day/9 night clock-wise loop which begins and ends in Tucson.  Sun is promised with an average high of 24 Celsius.  Bring sun block, not rain gear. You also might want to bring your bathing suit since some hotels have pools.
The tour is van supported with motel lodgings.
You will have a day to explore Tucson, which is a very bike friendly town.  Options include the challenging Gates Pass, visiting the Sonora Desert Museum, Saguaro National park, El Presidio Historic District and REI. Tucson also features The Loop, a 100 mile bike path around the city.  You will not be bored.  You can also try some the seriously authentic Mexican food here.
In Tombstone, you can visit Boothill Cemetery and watch a gunfight between the Earps and the Clantons.  A cold one in a saloon would seem to be in order.
Bisbee is a renowned mining town and you can spend the day exploring the shops, climbing scores of off-kilter steps and touring the Queen Mine.  There are plenty of interesting coffee shops and cafes.
On your way to Nogales, be sure to stop off for coffee in quirky Patagonia. You will also be passing through Arizona's wine country.
Along your way from to Tucson from Nogales, you can visit Tubac Presidio State Historic Park and Tumacacori National Historic Park.
If you wish to extend your time in the sun before or after the tour, Sedona is less than 4 hours away by car and the Grand Canyon is 5 hours.
Accommodation Reservations: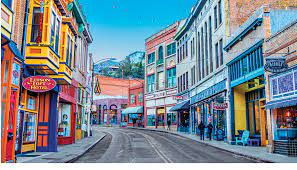 March 22, 23- Wed and Thurs- La Quinta Inn and Suites – 7001 Tucson Blvd – Tucson – 520-573-3333
March 24- Friday Quality Inn – 699 North Ocotillo road- Benson -520-586-3646
March 25- Saturday- Tombstone Grand Hotel- 580 Randolph Way-Tombstone- 520-457-9507
March 26, 27-Sunday and Monday- Copper Queen Hotel- 11 Howell Ave. – Bisbee -520-432-2216
March 28, Tuesday- Rodeway Inn- 100 Fab Ave.- Sierra Vista- 520-335-2198
March 29, Wednesday- Quality Hotel Americana- 639 N Grand Ave- Nogales- 520-287-7211
March 30, Thursday- La Quinta Inn and Suites- 7001 Tucson Blvd – Tucson – 520-573-333
March 31, Friday -end of tour
Rooms will be shared by couples or same gender singles.  Please indicate if you are a couple when signing up so that we can do a proper sort. We will try to match singles to a roommate.
Riding Conditions:
The ride is generally rolling to flat with a minimum total distance of 415 km with a rest day in Bisbee.  The longest day (from Nogales) is basically flat which the ride into Bisbee has a climb of 710 meters.
The route is a mix of low traffic interstate with wide shoulders and secondary roads with average to wide shoulders with a bike path out of Tucson.
Hybrid or road bikes are recommended and, due to desert thorns, puncture resistant tires are advised. E-bikes are welcome.
Fee Includes:
All accommodations. The hotel in Tucson provides a free shuttle to and from the airport.
Hotel provided breakfasts (except in Bisbee)
Vehicle rental and driver to haul personal luggage.  The van will transport one small airplane type carryon weighing less than 25 pounds per person. Luggage bigger than the allowed maximum will not be transported.
Pizza will be provided the first night and last night.
Leader fees, as per allowed by CCCTS policy.
Allowance for contingencies.
Fee Does Not Include:
Travel costs to and from Tucson
Meals other than those listed as included. You need to be comfortable with eating in small towns where it would not be reasonable to expect much accommodation for restricted diets.
Rental bikes, if needed. If you wish to rent a bike for the trip in Tucson, you can text (not phone) Tucson Bike Rentals and Tours at 520-391-4574. https://tucsonbicyclerentals.com/  They will deliver and pick up bikes.  If you rent, let them know you are with CCCTS.  Delivery is free if we rent 4 or more bikes. If less than 4 bikes, the delivery fee is $80. 
Parking and other personal costs.
Itinerary: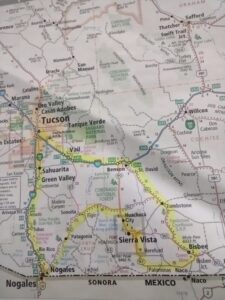 Destinations and distances/elevation gain:
March 22, (Wed) Group meeting (~5 pm) with pizza and snacks. (La Quinta Inn Airport)
March 23, (Thurs) Ride of your choice around Tucson.  Suggestions will be provided
March24, (Fri) Tucson to Benson (Quality Inn) 73 km, 679 meters
March 25, (Sat) Benson to Tombstone (Tombstone Grand Hotel) 40 km, 390 meters
March 26, (Sun) Tombstone to Bisbee (Copper Queen Hotel) 42 km, 715 meters
March 27, (Mon) Bisbee (Copper Queen Hotel) Explore Bisbee.
March 28, (Tues) Bisbee to Sierra Vista (Rodeway Inn) 62 km, 360 meters
March 29, (Wed) Sierra Vista to Nogales (Quality Hotel Americana) 98 km, 715 meters
March 30, (Thurs) Nogales to Tucson (LaQuinta Inn Airport) 100 km, 200 meters – Farewell pizza at ~5 pm
March 31, (Fri) Depart
Total kms -415
Registration and Participant Selection:
Registration will be on the CCCTS website on the date shown.  A computerized lottery system and waitlist will be utilized in the event the ride is over subscribed.  A $50 deposit is required.  The deposit will not be refunded for any reason unless you are not selected for the tour, in which case it will be refunded. The lottery signup will run for 5 days, after which the leader will review the results. Priority will be given to those who signed up for the cancelled 2020 tour. Please feel free to sign up if you are traveling solo, would like a roommate, but have not identified one.  We will attempt to match you with another same-sex solo traveler.
The selection process will consider the following criteria in evaluating candidates:
Fitness, riding ability and experience required for the tour,
A history of demonstrating safe riding practice, and
Acceptable social behavior.
The leader may review riders and others who know them to verify their suitability for the tour.  The ride leader may select up to 30% of the candidates based on preference. Selection may also be based on pairing same gender singles to hotel rooms.
The leader will notify registrants of their selection status and request the successful registrants to make further payments. If the ride is not filled to capacity, registration will continue until the closing date shown. 
After you have been notified you are selected for the tour, a deposit of $500 is due on December 15, 2022.
The remaining tour fee payment of $320 is due on February 1, 2023.
On the event of cancellation- If a replacement can't be found, we will refund any costs that can be avoided (e.g., motel rooms that can be cancelled without penalty). However, if there are costs that cannot be avoided, these will not be refunded.
Covid and Health Information
All participants must bring a Covid 19 Antigen rapid test device kit and will use it to test themselves if they have any cold, flu-like or COVID symptoms such as fever, cough, sore throat, runny nose, headache or shortness of breath.  Anyone testing positive will be asked to self-isolate until they are feeling better and testing negative, at which time they may re-join group activities.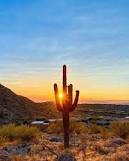 Participants
:
Danielle Amerongen, Joanne Boutin , Sandy Brodie, Daniel Carey, Nicole Christensen, Barbara Hall, Vivian Holford, Robin Howe, Debbie Kinnear, Nancy Knight, Carole Laflamme, Donna Nyberg, Eric OHiggins, Nancy OHiggins, Suzanne Potvin, Stuart Reynolds, Suzanne Stack, Beverly Wagner, Ed Weymouth