Leader: Elizabeth Buckingham 613-233-0234
Co-leader: John Stephenson 613-276-7969
Trip Dates: Fri, 10 Jun 2022 -- Fri, 17 Jun 2022
Trip Classification: Intermediate
Trip Fee: $50 CAD
Trip Numbers: minimum 8 , maximum 20
Trip Registration Opens: Mon, 7 Feb 2022 5:00 PM (pacific time)
Registration Lottery Ends: Fri, 11 Feb 2022 5:00 PM (pacific time)
Trip Registration Closes: Sat, 30 Apr 2022 5:00 PM (pacific time)
Ride Description: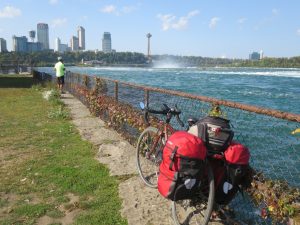 In addition to scenic views, waterfront parks and wine-tasting, the Niagara and Lake Erie region boasts a number of dedicated bike paths.  Starting in Brantford Ontario (home of Wayne Gretzky), this tour will explore both paved and unpaved bike paths as well as quiet rural roads in the region, following the Waterfront Trail along Lake Erie, the Niagara River and Lake Ontario and several rail trails including the Hamilton Brantford and Lynn Valley trails.  This is a self-supported tour where each rider will be required to carry his/her own gear.  We will stay in hotels/motels along the way and sample local restaurant food or pick something up from the grocery store.  Rest days on Lake Erie and at Niagara Falls will enable us to explore local sights, do a day ride without panniers, and do some wine-tasting. 
Accommodation Reservations:
Each participant will be responsible for their own accommodation bookings.  A block of rooms has been reserved at all the hotels, and it is expected that participants will stay in these hotels with the rest of the group.  Hotel prices range from $100 to $160 per night (plus tax) for a room with 2 beds.  The full list of hotels will be provided to the participants after they are selected.  Participants will be required to contact each of the hotels to make their own reservations by the end of February.  Participants will be responsible for any costs associated with cancellation of their own individual reservations. 
Riding Conditions: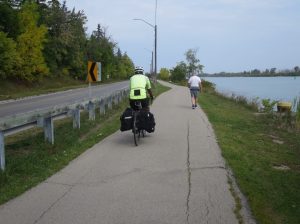 We will be riding on rural roads and bike paths.  Approximately 20% of the ride will be on unpaved bike paths which are mostly (but not necessarily all) good quality stone dust.  It is recommended that riders have 32 mm or wider tires.  Daily distances range from 60 – 100 km, and the route is mostly flat with some rolling hills and a few steep climbs.
Riders are responsible for getting themselves to the hotel each night, and for carrying all of their gear.  In case of inclement weather or sickness/injury, riders should be prepared to arrange and pay for their own transportation to the next hotel or back to their car, as appropriate. 
We will be riding in 2-3 separate groups each day, each with its own ride leader, providing options for different distances, cycling speed and departure times.  
Participants will be required to download the Ride With GPS routes from the CCCTS route library, and/or to print their own copies.  Routes will be finalized and available to download a week before the trip.
Fee Includes:
The $50 fee will cover organizing costs and an honorarium for the tour leader and co-leader.
Fee Does Not Include:
Accommodation, transportation, meals, park admission costs or individual expenses of participants.
Itinerary: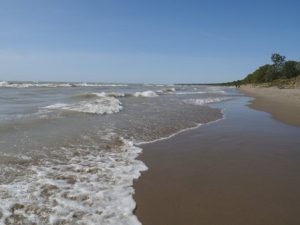 June 10:  meet at 3:00 p.m. at hotel in Brantford for a short optional familiarization ride.  20-40 km
June 11:  ride the Hamilton Brantford Rail Trail from Brantford to Grimsby.   75 km.
June 12:  ride the Waterfront Trail from Grimsby to Niagara Falls.  Mix of bike path and roads with paved shoulders.  76 km
June 13:  day ride without panniers to Niagara on the Lake and the Welland Canal, with a stop for wine touring along the way OR take a rest day to explore Niagara Falls and the region by foot or take an organized wine-tasting tour.  65 or 80 km options
June 14:  ride the Waterfront Trail along the Niagara River to Fort Erie and then the Friendship Trail to Port Colborne.   65 km, mostly on bike path
June 15:  ride the Waterfront Trail along the shores of Lake Erie from Port Colborne to Port Dover on mostly quiet roads with views of the lake.  100 km
June 16:  day ride without panniers from Port Dover to Turkey Point or Long Point on rural roads OR take a rest day and tour Port Dover and the beaches of Lake Erie.  40-80 km options
June 17:  ride the Toronto Hamilton Buffalo Rail Trail and Lynn Valley Rail Trail from Port Dover to Brantford. Tour ends when we arrive back in Brantford – riders may choose to drive home or book an extra night in Brantford.  60 km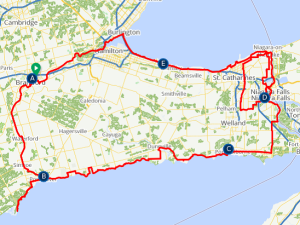 Registration and Participant Selection:
Registration will be on the CCCTS website on the date shown.
The selection process will consider the following criteria in evaluating candidates:
fitness and riding ability and experience required for the tour,
a history of demonstrating safe riding practices,
acceptable social behaviour.
The leader may interview riders or others who know them to verify their suitability for the tour.
The leader will notify registrants of their selection status. Registration will continue until the ride is filled.  The $50 fee is non-refundable in the event of participant cancellation.  Wait listed cyclists who don't make it to the ride's "Go List" are eligible for refund of their registration fee, unless they request removal from the wait list.  In case of cancellation by CCCTS due to Covid conditions the registration fee will be refunded.  
Covid Considerations: 
This tour will follow the current CCCTS website posted  "CCCTS Staying Safe: COVID 19 Guidelines for 2022", and will comply  with all regional and provincial public health orders.  CCCTS requires all participants to be fully vaccinated, and proof may be requested by the leaders.  
Participants
:
Angela Bourne, William Bourne, Elizabeth Buckingham, Dale Featherstonhaugh, David Featherstonhaugh, Peter Haggerty, Anna Lenk, Susan Monaghan, Alexandra Phillion, Bernard Phillion, Odette Regimbal, margo roden, Robert Roden, John Stephenson, Joanne Tuttle, Jerry WYSHNOWSKY