The Cross Canada Cycle Tour Society       July 2022,  Volume 39, Issue #6
From the Tour Director's Desk – July 2022

The happy group from the Wheatlands 2022 tour –
The 2022 summer tours are in full swing. The two Niagara Pannier tours have completed and we heard that people had a great time on these tours. The Southern Rockies camping tour and Laurentian Pannier tour will depart later this month. (My husband Dan and I are very much looking forward to cycling in Quebec with the Ottawa members on the Laurentian tour.) It is so nice for CCCTS to be back in the tours game. The Sunshine Coast Group 1 and Group 2 tours depart in September and they are both full. Our January 2023 Thailand tour is open for registration and there is still plenty of space available on that one. Thailand is now fully open for visitors and COVID entry requirements are limited to proof of vaccination. Visas can be obtained upon arrival. If you are interested in cycling in the warmth and sunshine in winter, beach walking, swimming, experiencing another culture, and enjoying the fabulous Thai cuisine all along the way, you may want to join this tour.
We had an excellent response to our 2022 tour offerings and are looking forward to tours in 2023 and beyond.
As of today, this is what our 2023 tours lineup looks like:
Thailand – Bangkok to Phuket (January 8 thru 23)
X-C Ski in B.C. or Washington State (February)
Arizona (March)
Mallorca (late March/early April)
Portugal (April)
Vernon, Penticton, & Oliver (late spring)
Washington State tour – TBD location (Summer)
Croatia (September)
PEI and Isle de Madelaine (September)
Japan (September)
Details for each tour will be posted when tour proposals and budgets are finalized and the Board has approved them. So, watch your CCCTS emails and the website since tours will be posted one at a time as they are ready.
We really need more tours in Canada. It is very clear that Canada tours are the most popular with our membership. We can only offer them if you step forward to lead them. Of the 53 CCCTS rides Dan and I have participated in, the majority have been in Canada. It is probably fair to say we have traveled to more parts of Canada than the average Canadian. In addition to the more familiar Canadian destinations, we have also cycled in:
Haida Gwaii
Yukon territory
Northwest Territory (Dempster Highway)
Quebec
New Brunswick, Nova Scotia, PEI, and Cape Breton
Newfoundland (where I would relocate to today if I could)
We loved every single one of those tours and would like to visit more parts of Canada with the club. Please give me a call or send an email if there is a tour you would like to lead. We are open to any tour idea you have for cycling or winter cross-country skiing as long as it is a safe place for travel. (robincooksandsews@gmail.com, 206.899.7255)
Happy Summer Cycling!
Robin Howe, CCCTS Tour Director
Duncan #1 Hub and Spoke, May 30 – June 03, 2022
The Duncan Hub and Spoke on Vancouver Island, May 30 to June 3, organized by Chris Hodgson and Diane Swindell, was an outstanding success.
Twenty participants enjoyed four and a half days of riding on bucolic quiet country rides and restored rail trails. Key destinations were the historic Kinsol Trestle, Chemainus and its murals, Cowichan Lake and the renowned Duncan wild bird raptor centre. Rides averaged 65 km, just the right distance to start off the season.
We rode each day in three groups, including leaders and sweeps, which set out in different directions each day. This enabled riders to choose their comfort zone with nobody left behind. The accommodations were basic but clean, centrally located, and affordable. Dining facilities were within walking distance.
Apart from the rides, the best thing for me was the social activities particularly the gathering after rides. There was lots of fun and laughter, old friends reconnecting, new friends made.
The only downside was after four days of perfect weather we had torrential rain on the last day and our wine tour had to be cancelled. Never mind, we'll do that next time!
Allan Smyth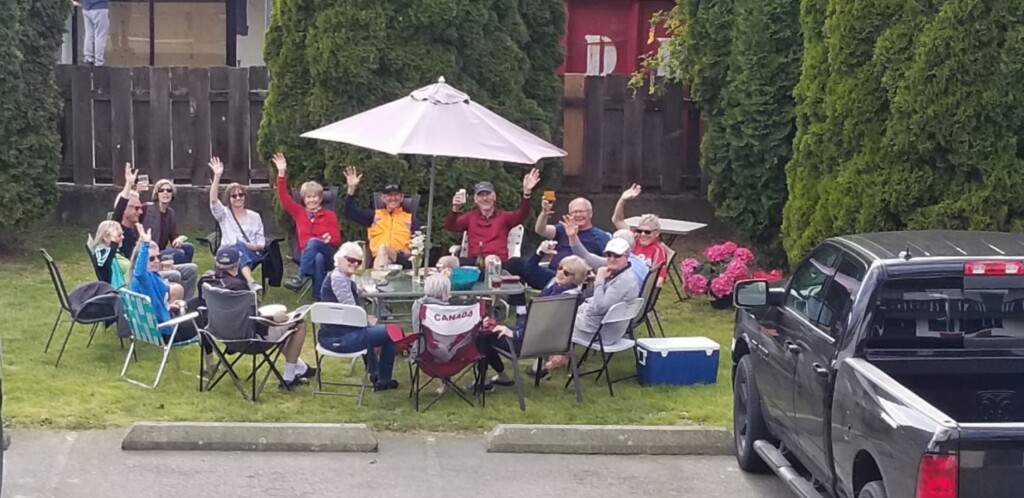 Happy Hour at our Digs at Duncan Motel.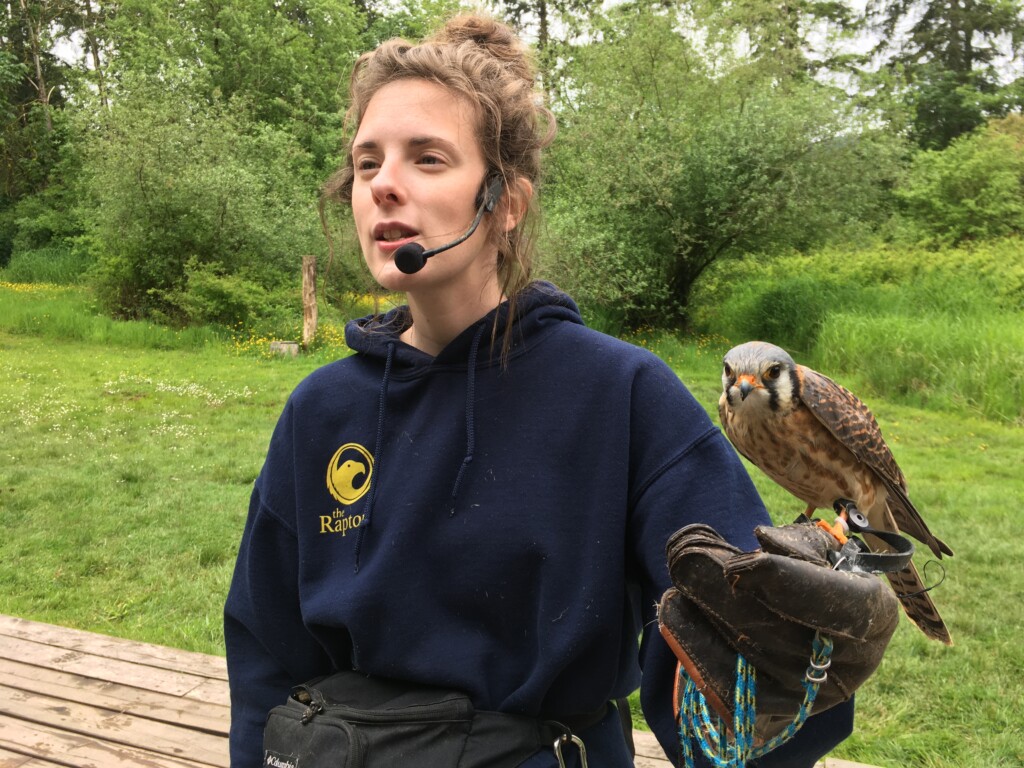 Kestrel falcon at Raptor Centre.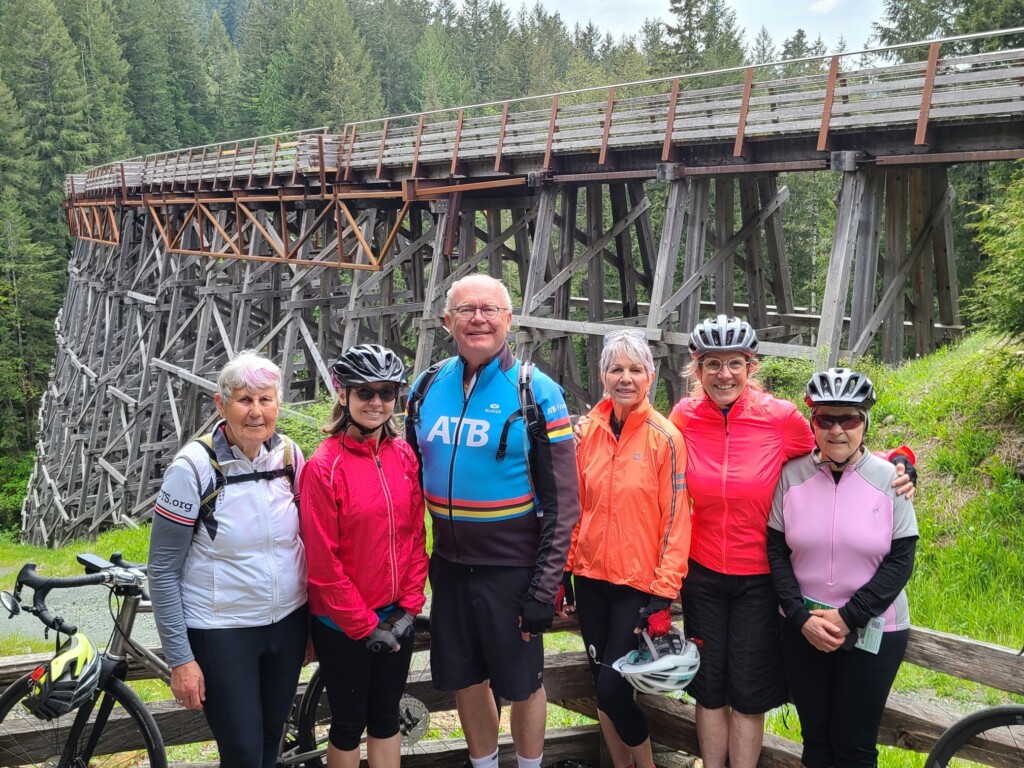 At Kinsol Trestle with Jean, Sharon, Rob, Denise, Vicki and June.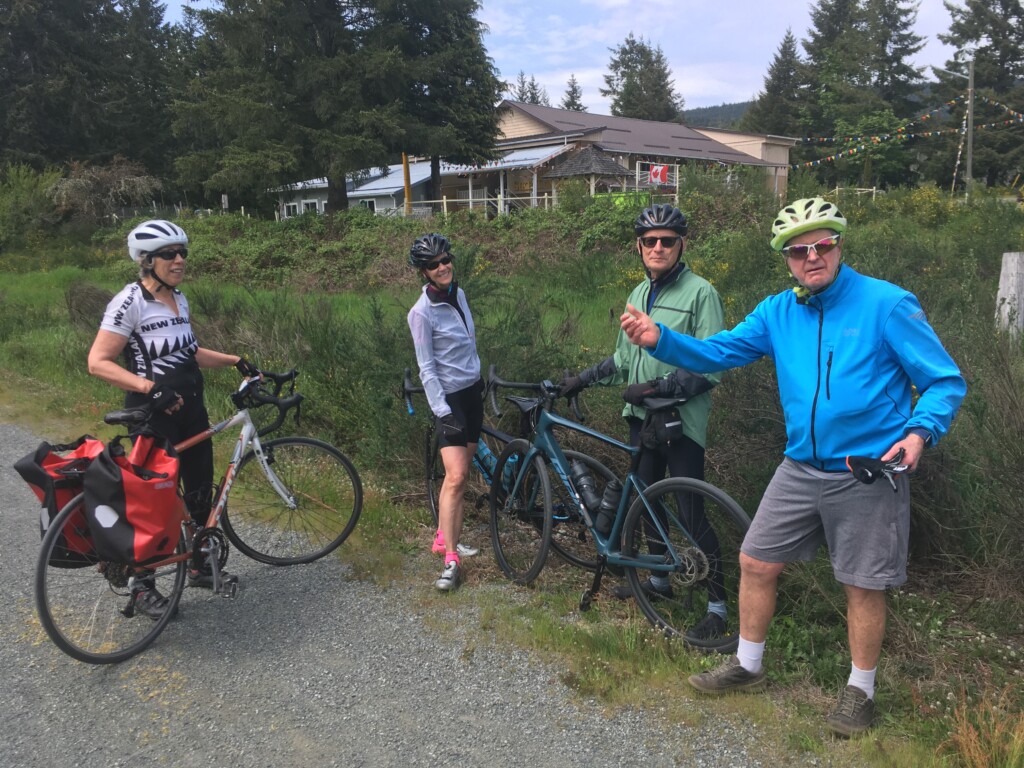 Allan Smyth explaining the Sikh Temple at Paldi to Diane, Mary, Dale and Allan.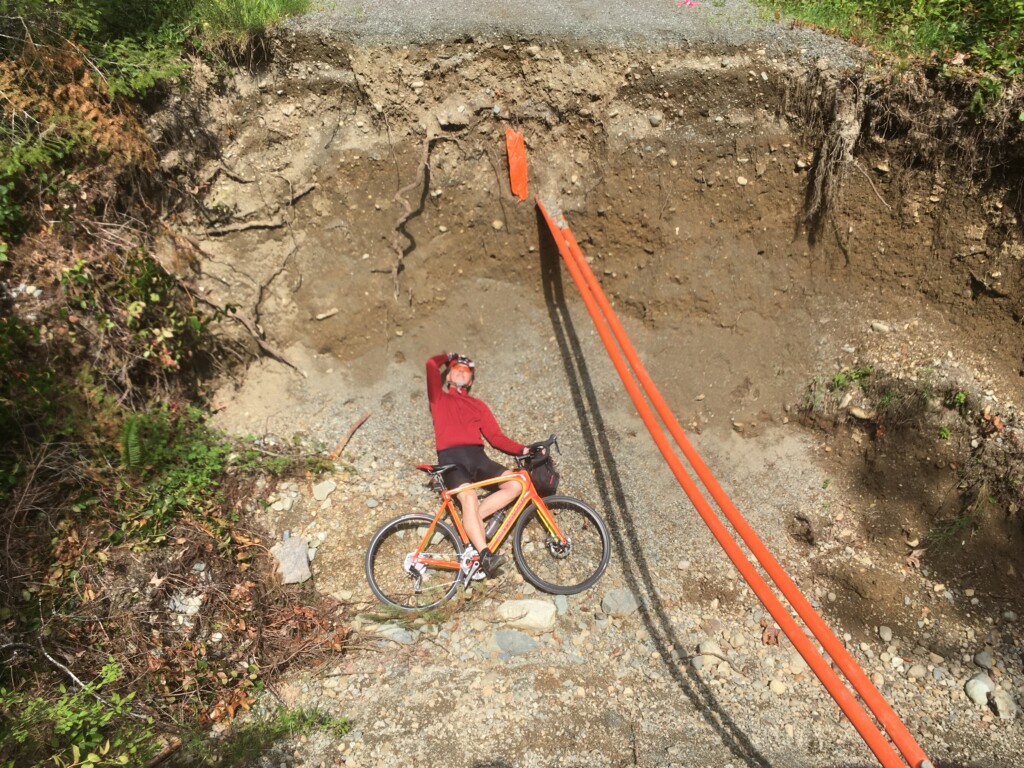 Allen Olsen faking a crash along rail trail washout near Duncan.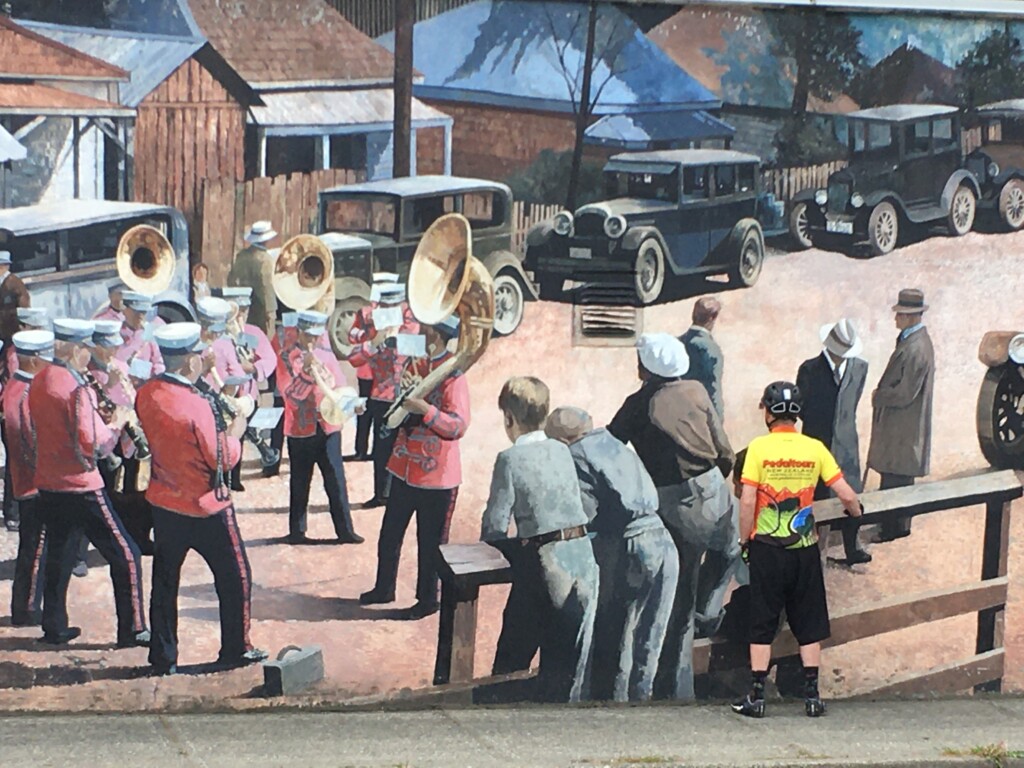 Mike Young taking in the 1924 Canada Day parade in Chemainus.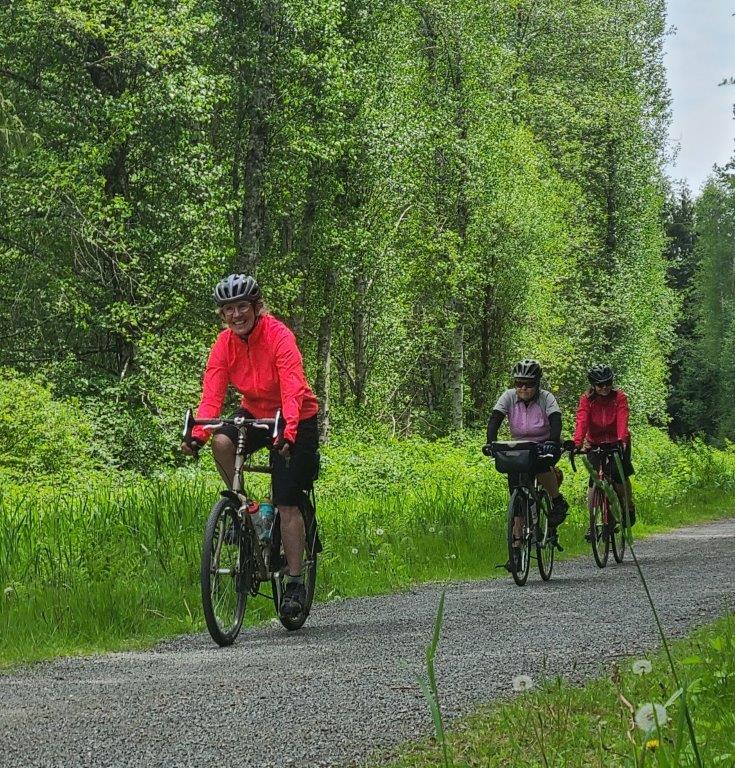 Vicki, June and Sharon on the Trans-Canada rail trail.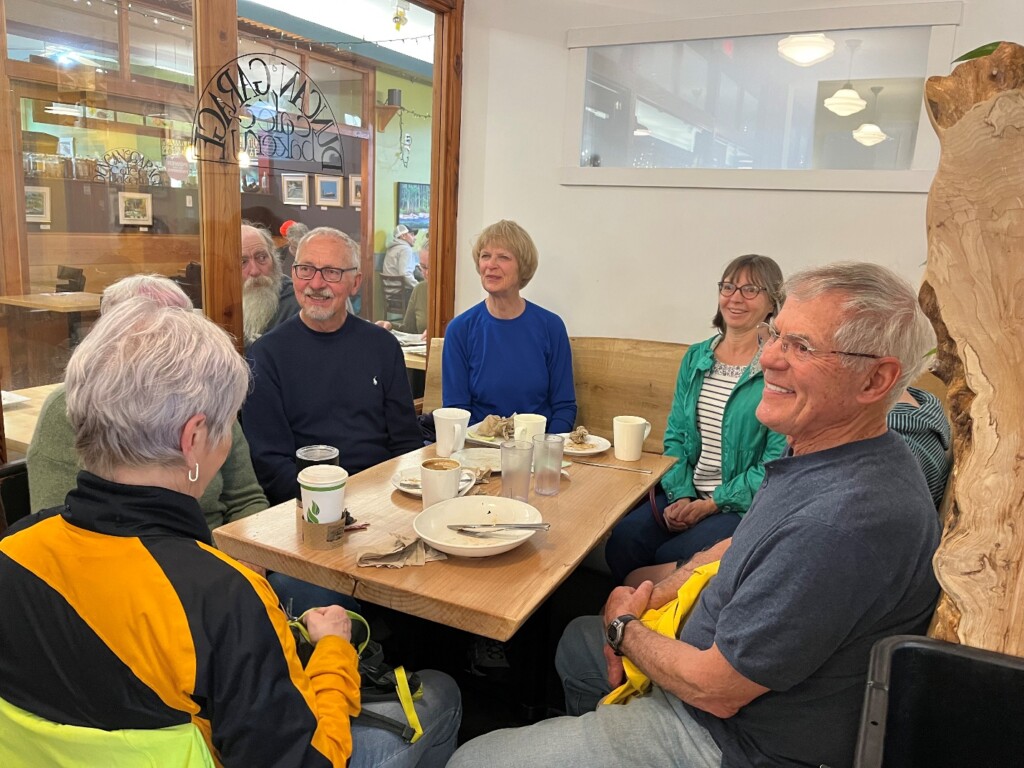 Garage café in Duncan – the best coffee in town.
Tours.
Hub and Spokes
New Members
| | | | |
| --- | --- | --- | --- |
| Bill | Burgers | Victoria | BC |
| Chris | Taggart | Vernon | BC |
| Pat | Roberts | Comox | BC |
| Suzanne | Reeve | Victoria | BC |
| Danielle | Bavis | Vancouver | BC |
| Byron | Henry | North Vancouver | BC |
| Mary | Davidson | Denver | CO |
Published at least ten times a year by The Cross Canada Cycle Tour Society, a non – profit organization for retired people and others who enjoy recreational cycling. 
Items for the NEWSBRIEF must be received by the 28th of the month. The Editor reserves the right to edit for clarity, brevity and suitability of publication. The views expressed in the "NEWSBRIEF" are not necessarily those of the CCCTS or the Editor.
Submissions for NEWSBRIEF should be emailed to alaird212@gmail.com