Andalusia lies in southernmost Spain, where history, cultures and tectonic forces have collided. Fortunately, none of our bikes were involved in that collision. Sixteen of us enjoyed a three week circuit of the highlights of Andalusia, capably coordinated and guided by Croatians Alen Augustin and Ivan Bojzits and with CCCTS leadership by Robin Howe and Dan Carey. The clockwise tour of about 1,000 kms covered a region of 300 by 150 kilometers.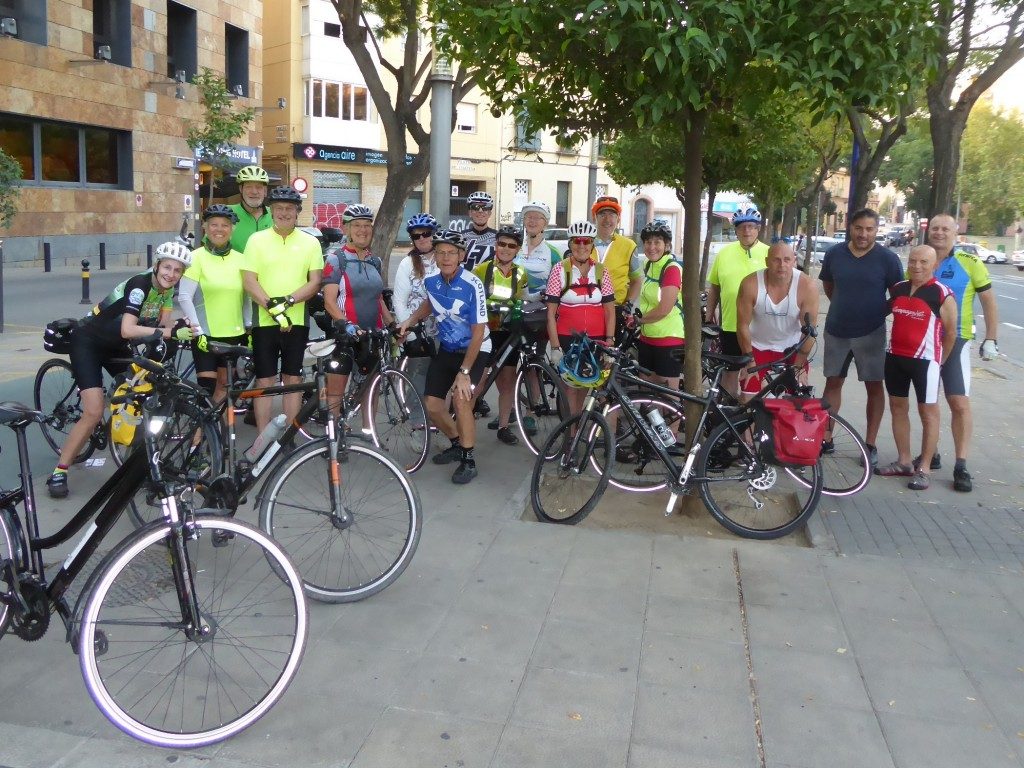 Just about to depart Seville. Alen at far right, Ivan in white shirt 4th from right, Dan in yellow jersey behind Ivan, Robin in blue helmet beneath light pole. 
How to sum up Andalusia? In the Middle Ages it was a serious battleground between Christians and Muslims, with every strategic hill protected by a castle. Over generations, tight, whitewashed towns grew around each castle and (guess what?) are still there. The present economy is based on olive oil production, with olive groves blanketing at least 90% of the region we cycled through. Rail lines built in the 1900's to collect and market the olive oil were constructed in valleys well below the hills, so typically a strenuous hike is called for between each town and its railroad station. Nowadays, all of these railroads – named Via Verdes del Aceite (Green Oil Roads) – have been converted to cycle paths, very convenient for the likes of us. I kept thinking as we cycled through endless olive groves, with olive trees planted (as Barbara pointed out) every seven metres, that it was like a pixelated digital scene requiring the effort of someone on high to twizzle the dial and fill in the green gaps in the resolution. But to dispel any doubt about vertical relief, I should mention the average ascent per day was 740 metres.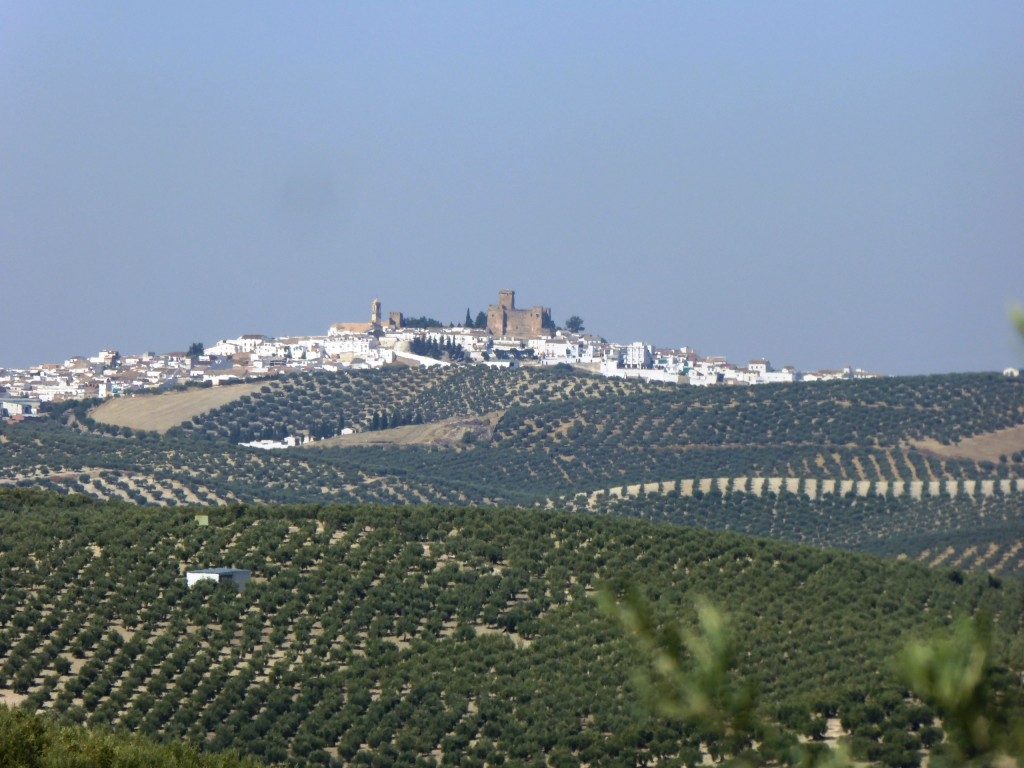 Espejo, a typical village and castle in the pixelated olive belt.
Of course the "bucket list" sites, the Giralda tower in Sevilla, the Mesquita in Cordoba, the Alhambra in Granada and the incredible gorge at Ronda were touristic highlights. But some of the nicest places we visited were much less well known. For example, Cazorla, located at the edge of a national wilderness park, where on October 12 – Columbus Day – after a cruise through the wilderness we enjoyed free street theatre performances of "La Vie en Rose", "O Sister, Stompin' in Joy" and more. Lunch in the plaza that day was a madhouse of movement and confusion at 120 decibels. Cazorla, well off the tourist map, was a buzzin'. We visited several other small towns and villages of interest such as Alcaudete, Antequera and El Chorro.  
Alen arranged very diverse accommodation along the route, from high end hotels to hostels and even a converted convent, the Convento de Magdalena in Antequera, one of our best overnights.  During the tour we enjoyed a hamam (three baths and a steam room) in Alhama de Granada, a classical Spanish guitarrista concert in Ronda, Flamenco dancing in Granada and dinner at a Michelin restaurant in Montellano.
Andalusian weather in October can be and certainly was variable: two weeks of heat and clear skies followed by another two of cooler weather and storms. The most dramatic storm was in Ronda where 1.5 feet (yes, FEET!) of rain fell on our departure day up until 4:00 pm. Don't know what happened after that – check U-Tube. We were stranded when the first taxi gave up bucking the flash flood and sewer pipe geysers after three blocks, and no more taxis were to be found for another four hours. Happily, the delightful "bohemian" hotel we were in had an olive wood fire blazing and was offering free wine for the duration. The next day: a beautiful ride in purest sunshine as if nothing had ever happened.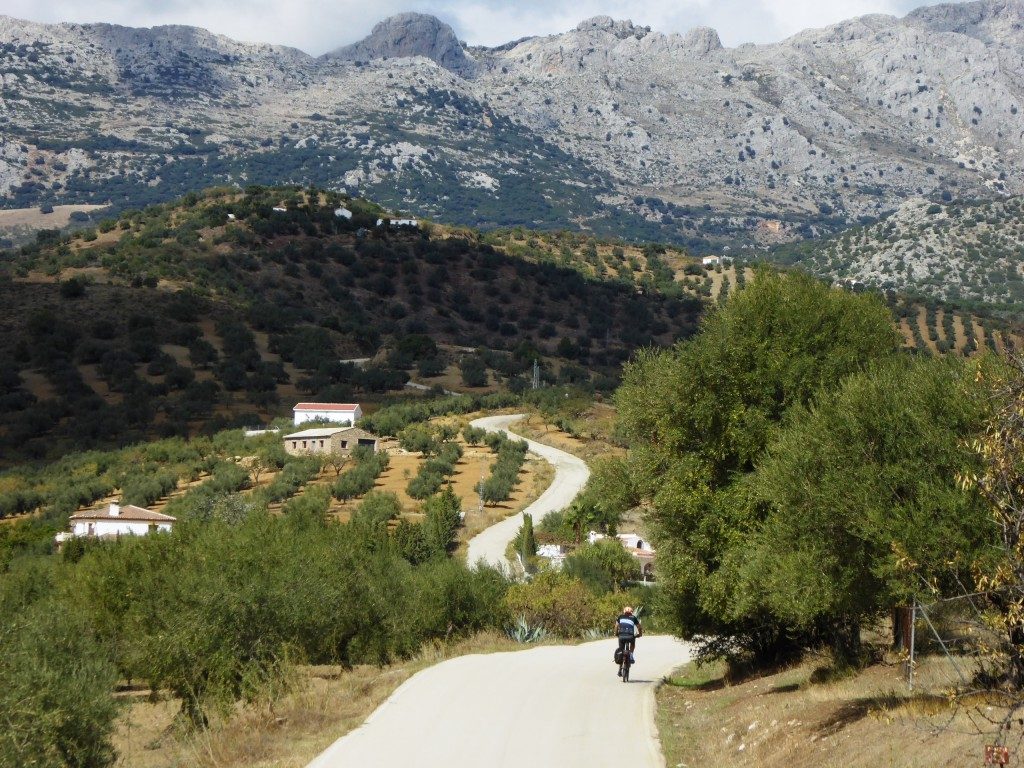 Cycling in southern Andalucia.
All in all, a tour to remember.
Many thanks to Robin, Alen, Ivan and the beautiful countryside of Andalusia for all your efforts to make it a successful tour!
Chris Hodgson